Return to My Homeland, A Guest Blog Post by Yannis Arvanitis
Yannis joined Robert O'Toole and I at Lake Kerkini late last winter as our co-leader/interpreter. It was great having him along especially at our favorite restaurant!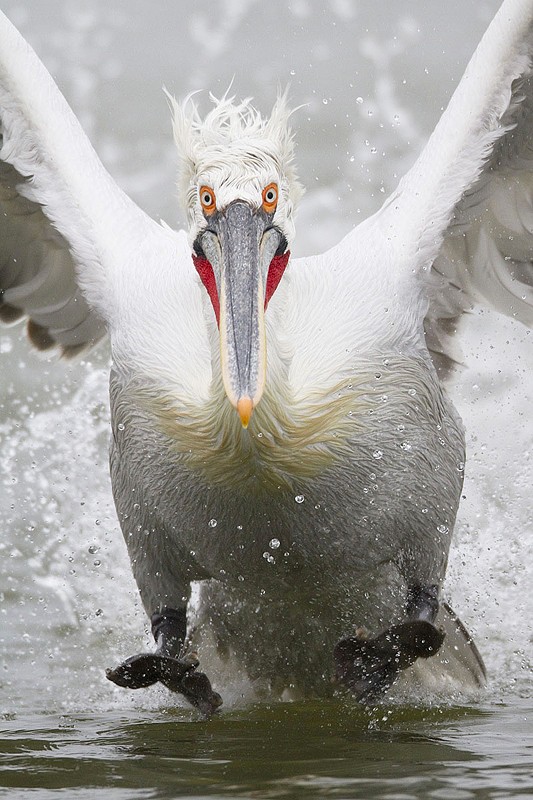 This image of a Dalmatian Pelican splashing down for a landing was created on the Lake Kerkin, Greece Dalmatian Pelican IPT with the the tripod-mounted Canon 800mm f/5.6L IS lens and the EOS-1D Mark IV. ISO 1000. Evaluative metering likely at +1 2/3 stops: 1/1250 sec. at f/5.6 set manually.
Image copyright 2011: Yannis Arvanitis/ArvaMont Photography
Return to My Homeland, by Yannis Arvanitis
Most people know Greece by its warm and sunny summers, ancient ruins in Athens, Olympia and Delphi, islands of white hillside houses surrounded by brilliantly blue water, and, of course, baklava. I have always known Greece as hanging out in Athens with relatives, and picking fresh tomatoes or oranges on Uncle Nick's farm in the village. (And, yes, I grew up with mom's baklava :)). I have enjoyed all my visits, but in the many trips to Greece that I have made over the years, I have not really ventured far from Athens or the village near Olympia, and I have never gone bird watching/photographing (unless you count watching my grandmother feeding the chickens many, many years ago). So, when I agreed to be the bilingual guide for Artie and Robert on a trip to northern Greece in the winter, I looked forward to seeing a different side of Greece (and, obviously, catching up with some of my relatives after the IPT).
I arrived a few days before the IPT to adjust to the 8-hour time difference, and to photograph a little on my own. My uncle Poti suggested the cliff-side monasteries of Meteora; I remembered my mom and sister talking about winters in Greece being wet and dreary, so I decided to play it safe and spend 2 days at Meteora just in case. Day 1 confirmed that to be a wise decision – with visibility in fog of a couple hundred feet, there was not a cliff or monastery to be seen other than in the postcard section of the tourist shop. Fortunately, day 2 lifted the clouds somewhat and I could see these spectacular examples of devoted construction.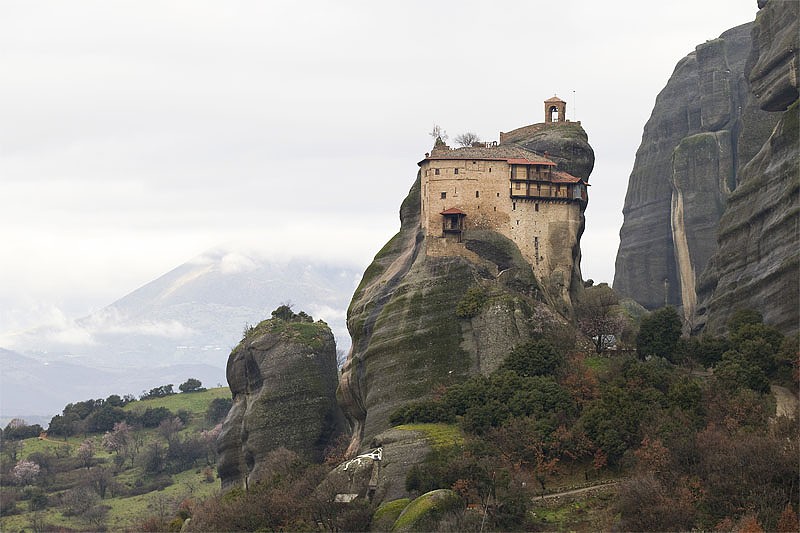 This image depicting the Monastery Agios Nikolaos Anapafsas (believed to have been founded in the early 14th century) was created with the Canon 70-200mm f/2.8L IS II lens (at 120mm) and the Canon
EOS-1D Mark IV. ISO 800. Evaluative metering likely at +1 1/3 stops: 1/1000 sec. at f/4 set manually.
Image copyright 2011: Yannis Arvanitis/ArvaMont Photography
I also stopped by Kastoria, a charming lakeside town that was supposed to provide good access to cormorants and grebes; it did not disappoint.
The image above is a stitched panorama.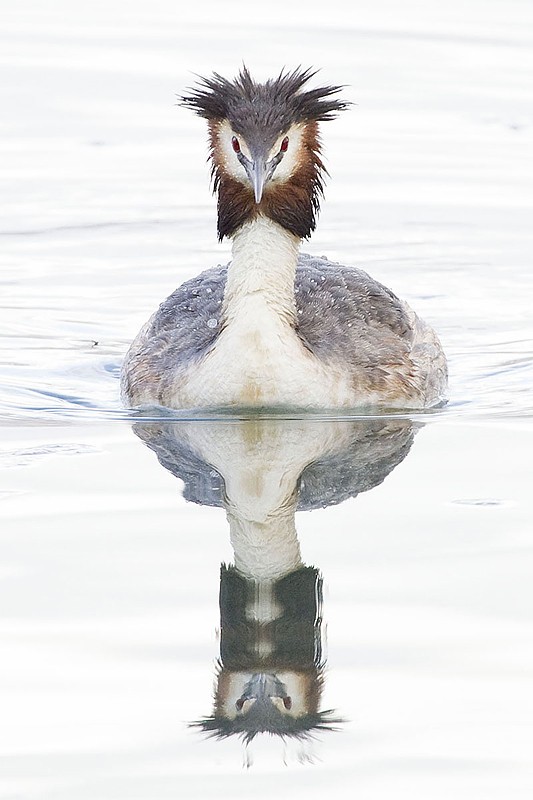 This Great-crested Grebe image was created with the Canon 100-400mm IS L zoom lens and the Canon EOS-1D Mark IV. ISO 800. Evaluative metering likely at +1 1/3 stops: 1/640 sec. at f/5.6 set manually.
Image copyright 2011: Yannis Arvanitis/ArvaMont Photography
But the best was yet to come – Lake Kerkini. A popular summer destination for all its outdoor activities, it is a quiet place in the winter. And that meant that the traditional Greek hospitality was amplified: Niko and Evagelia took great care of our group in the little village of Chrisohorafa, accommodating our dynamic shooting schedule and Artie's funky diet. Fisherman Tom and his son Gregory made sure we had ample opportunities to photograph the huge and entertaining Dalmatian Pelicans.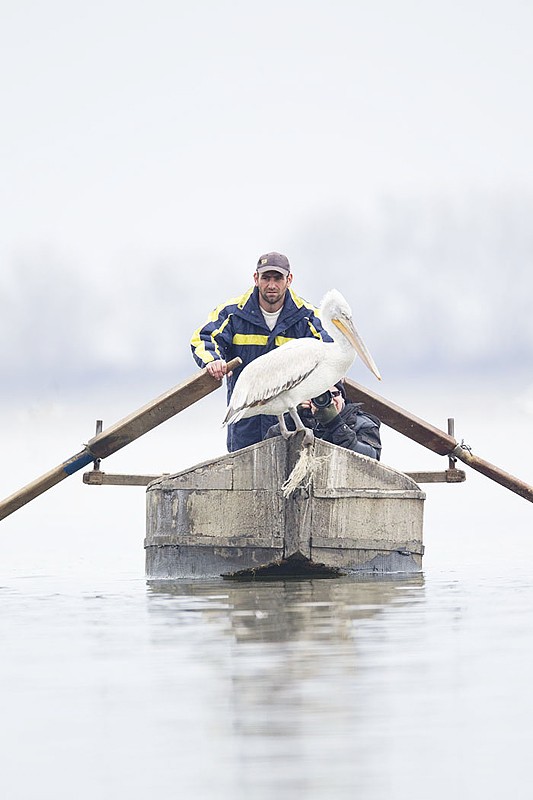 This image of a young Dalmatian Pelican and Gregory was created with the the tripod-mounted Canon 800mm f/5.6L IS lens and the EOS-1D Mark IV. ISO 8000. Evaluative metering likely at +1 1/3 stops: 1/640 sec. at f/5.6 set manually.
Image copyright 2011: Yannis Arvanitis/ArvaMont Photography
Artie and Robert worked hard to get us to the right spots and the photography tips that he and Robert offered helped to ensure that we all created some great images. And they had to work really hard to get us close to the birds. Not!
By the end of the week in Lake Kerkini, I was exhausted and delighted. Delighted not just with my photo results, but with the impression that all the IPT participants left with a great photographic experience (i.e. a zillion photos), and a taste of the famous Greek hospitality. As they headed off to their various home countries, I boarded a train for Athens to spend a little time catching up with my relatives (alas, Uncle Nick passed away a few weeks before the trip, so there would be no visit to the village).
Thank you Artie and Robert for suggesting this trip and for running a great IPT. You know, I could see doing this kind of trip again…I might even bring some baklava. :)
Note from Artie
Thanks a stack Yannis for the article and the great images. You can see more of Yannis's wonderful Lake Kerkini IPT images here–you will enjoy his opening three panel "Punky Pelicans" composite. You can check out more of his Photo Journals here–be sure to check out the San Diego IPT journal (BIRDS AS ART Photography Workshop/Jan. 2010. Lastly you can learn about his iPhone/iPad app development offerings here.
Posse News/Robert O'Toole
Dalmatian Pelican Workshop, Northern Greece, Feb 6-11, 2012. Six full days. $2799. Three photographers/boat, leader: Robert O'Toole (You need to be at the hotel on the late afternoon or early evening of Feb 5, 2012).
Robert's first trip to Greece with me to photograph the amazing pelicans was one of his best trips ever. The biggest problem was trying to keep from filling our cards. I came close to filling a 32GB CF card for the first time ever. This workshop will offer morning and late afternoon in-the-field instructional photography sessions from shore and on the water from boats. Afternoons will be spent on image optimization, workflow and friendly helpful critique sessions as a group and one on one.
For more information, click here.
You can try Robert on his cell at 310.619.8017 or reach him via e-mail. Note: we will both be on the bear boat till 10 AUG.
Shopper's Guide
Below is a list of the gear used to create the images in this blog post. Thanks a stack to all who have used the Shopper's Guide links to purchase their gear as a thank you for all the free information that we bring you on the Blog and in the Bulletins. Before you purchase anything be sure to check out the advice in our Shopper's Guide.
Support both the Bulletins and the Blog by making all your B & H purchases here.
Canon 100-400mm IS L zoom lens. Though this versatile lens is often much maligned by the internet "experts" I created hundreds if not thousands of professionally sharp images that I am quite proud of with mine.
Canon 800mm f/5.L IS lens. Right now this is my all time favorite super-telephoto lens.
Canon 70-200mm f/2.8L IS II lens. Man, I am loving this lens on my shoulder with the 2X III teleconverter. I also use it a lot with the 1.4X III TC which is designed to work best with the new Series II super-telephoto lenses.
Canon EOS-1D Mark IV professional digital camera body. My two Mark IVs are my workhorse digital camera bodies.
And from the BAA On-line Store:
LensCoat Canon 800 f/5.6. I have LensCoats on all my big lenses to protect them from nicks and thus increase their re-sales value. All my big lens LensCoat stuff is in Hardwood Snow pattern.
LegCoat 3530 LS. I have four tripods active and each has a Hardwood Snow LegCoat on it to help prevent further damage to my tender shoulders :)
Gitzo GT3530LS Tripod. This one will last you a lifetime.
Mongoose M3.6 Tripod Head. Right now this is the best tripod head around for use with lenses that weigh less than 9 pounds. For heavier lenses, check out the Wimberley V2 head.
CR-80 Replacement Foot for Canon 800. When using the 800 on a Mongoose as I do, replacing the lens foot with this accessory lets the lens sit like a dog whether pointed up or down and prevents wind-blown spinning of your lens on breezy days by centering the lens directly over the tripod.
Double Bubble Level. You will find one in my camera's hot shoe whenever I am not using flash.
Be sure to check out our camera body User's Guides here.
The Lens Align Mark II. I use the Lens Align Mark II pretty much religiously to micro-adjust all of my gear an average of once a month and always before a major trip. Enjoy our free comprehensive tutorial here.
Delkin 32gb e-Film Pro Compact Flash Card. These high capacity cards are fast and dependable. Clicking on the link below will bring you to the Delkin web site. There is lots of great stuff there. If you see a product that we do not carry let us know via e-mail; we will be glad to have it drop-shipped to you and save you a few bucks in the process.
I pack my 800 and tons of other gear in my ThinkTank Airport SecurityTM V2.0 rolling bag for all of my air travel and recommend the slightly smaller Airport InternationalTM V2.0 for most folks. These high capacity bags are well constructed and protect my gear when I have to gate check it on short-hops and puddle jumpers. Each will protect your gear just as well. By clicking on either link or the logo below, you will receive a free gift with each order over $50.