And the Winners in the Tight Category Are!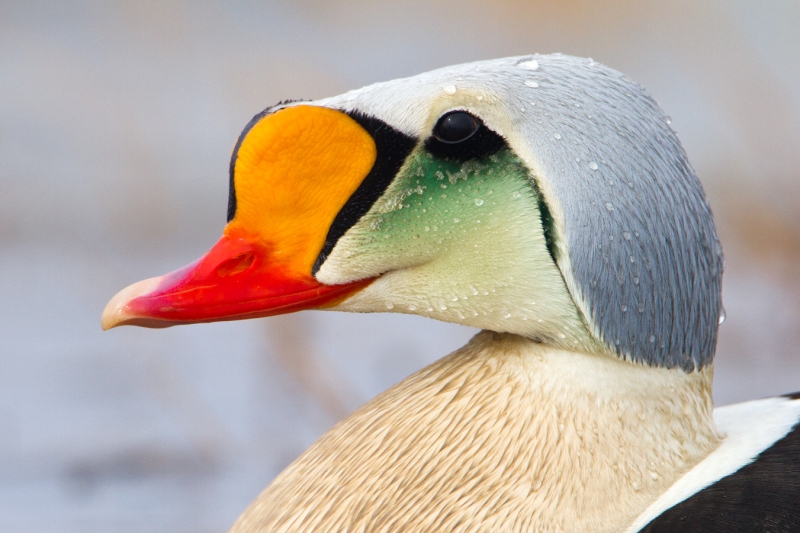 Congratulations to Judd Patterson of Miami, Florida. His King Eider head portrait image was awarded first place in the Tight category of the BIRDS AS ART 1st International Bird Photography Competition.
Canon 500mm f/4L IS lens with the 1.4X teleconverter and the EOS-7D hand held while lying prone on the tundra. ISO 400. Evaluative metering +2/3 stop: 1/1000 sec. at f/8 in Av mode.
King Eider head portrait
From Judd:
It was mid-June at the top of the world in Barrow, AK and I had been stalking King Eider all week. I had a few images to show for it, but all were of younger birds and I was still keen to improve my images. While scouting for Yellow-billed Loon with a friend we stumbled across two male King Eiders that were following a female. Based on other eiders that had flushed on our approach we were not particularly optimistic. However, by paying careful attention to their behavior we managed to belly-crawl right up to the males. I took this tight head portrait as the two drakes slowly followed the female and occasionally dipped their heads into the icy water to feed.
Take a stunningly colorful, almost bizarre subject, add perfect field technique in wet, icy conditions, throw in a dose of technical expertise—the exposure and sharpness are spot-on, and combine all of the above with an intimate perspective and the ideal head angle and you have the recipe for a prize winning image.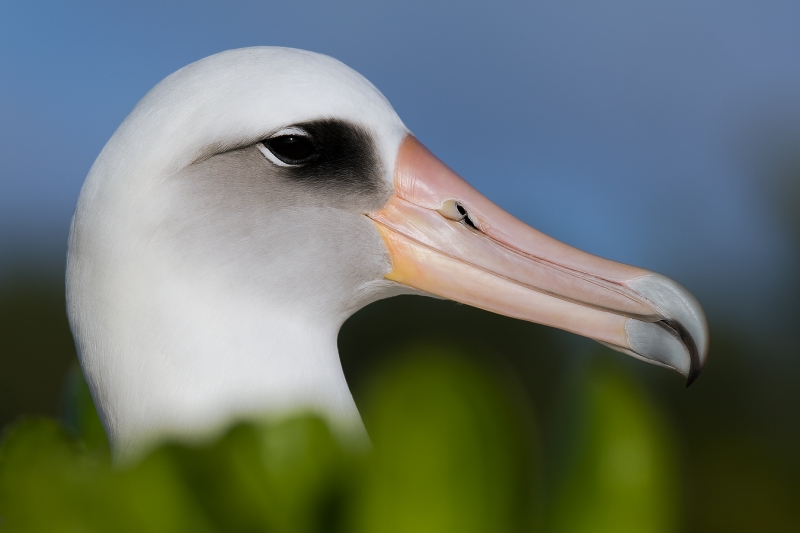 Congratulations to Paul Mckenzie of Hong Kong His image, Laysan Albatross head portrait, was awarded 2nd Place in the Tight category of the BIRDS AS ART 1st International Bird Photography Competition.
Canon 300mm f/2.8L IS lens with the EOS-1D Mark III hand held while lying prone on the tundra. ISO 100. Evaluative metering -1/3 stop: 1/400 sec. at f/10 in Av mode.
Laysan Albatross head portrait
From Paul:
Albatrosses are beautiful birds and most of them are also incredibly "clean," often with an almost complete absence of dirt or blemishes on their bills and feathers. No matter how many tight portrait shots one has taken, it is hard to resist taking more. Midway Atoll also provides a myriad of attractive backdrops to photograph the birds against. However, the challenge is to try and go beyond this. One of my favorite techniques is to use an out of focus foreground subject of complementary colour to frame the birds – in this case, native Naupakia bushes which provide the green "flames" at the bottom of the frame.
The perfect exposure, the incredible detail, the nice framing with just a bit more room in front of the bird than behind, the perfect head angle, and the beautiful out-of-focus foreground greens all add up to a superb image.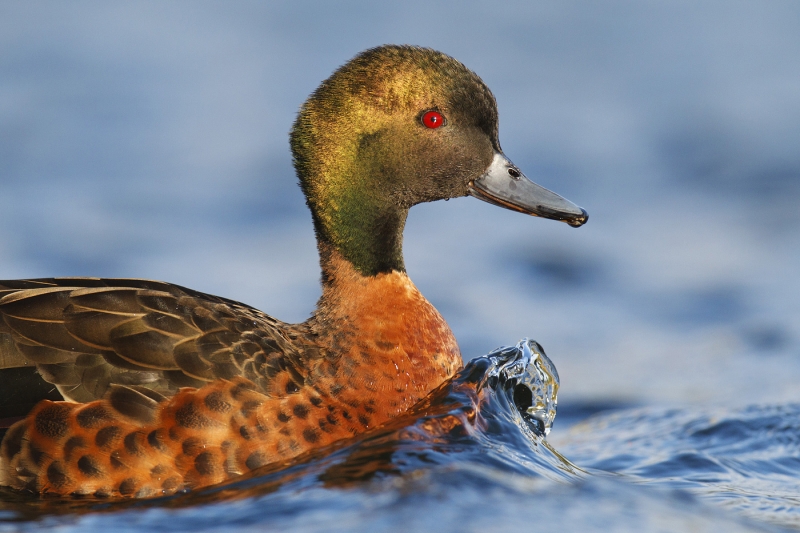 Chestnut Teal (Anas castanea), Melbourne, AustraliaI found this stunning drake on a cold winter morning on a local lake. It was ensnaring a few females. When the sun came above the horizon, the wind picked up as well and created tiny waves on the lake. I was hiding along the shore line when the drake came very close on its way around the lake. When it pursued one female, it had to swim against the wind, which made the waves splash against its proud breast.
Congrats to Jan Wegener of Melbourne, Australia. His image, Chestnut teal with wake, was awarded 3rd place in the Tight Category of the BIRDS AS ART 1st International Bird Photography Competition.
Canon 600mm f/4L IS lens with the EOS-1D Mark IV on a Gitzo 5541LS tripod with a Wimberley V2 head. ISO 800. Evaluative metering -1/3 stop: 1/1000 sec. at f/8 in Av mode.
Chestnut teal with wake
From Jan:
Before moving to Australia this was one of the species I really wanted to photograph. I was stunned by the colors of the male. I discovered a small lake in Melbourne where a few of these ducks hung out regularly. They were more skittish than all the other ducks there and did not come to food. I decided that the best approach would be to pick a good spot along the shoreline and hide there. The second morning I got lucky and this male swam by at close range displaying to a few nearby females. He was so involved in his display, that he didn't notice me and even came within my minimum focusing distance. I loved how in this particular image the wave in front of the duck breaks and how clearly the spectacular plumage and colors of this species can be seen.
Sharpness, a perfect head angle, a good job with the composition, sweet, sweet light, a gorgeous red eye, and that killer bow wave; this image has it all.
Congrats!
Congrats to the three winning photographers and to those who created the eleven other spectacular images that made it to the final round of judging. Getting a single image to the final round is a great accomplishment. With 413 images entered, this was a popular category.
The prizes (see below) will be shipped once all the winners are announced as several folks had more than one top three image. Be sure to patronize our sponsors; without them, this contest would not exist. There will be more educational stuff from this category coming soon. Then we have just one more category to go.