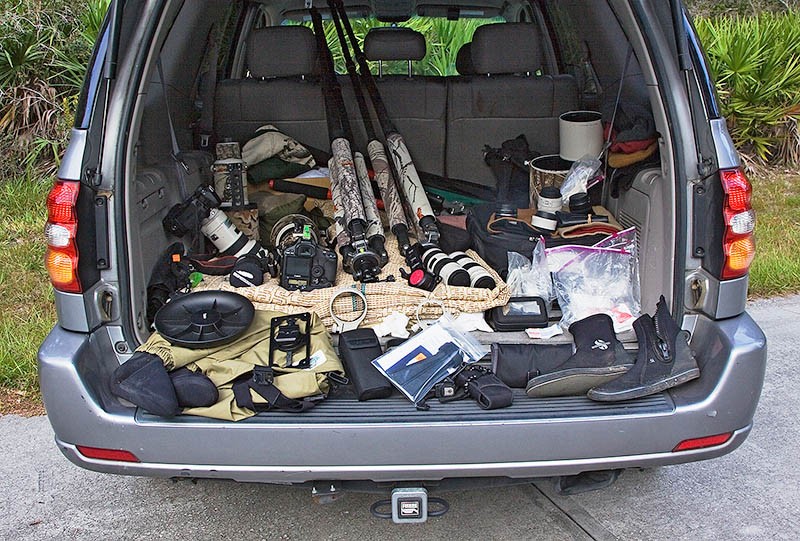 Here is my current Gear Bag
Canon 500mm f/4L IS lens. Sold, awaiting the 500mm f/4L IS II.
Canon 400mm f/4 IS DO lens. Will be selling this one soon.
Canon 100-400 IS L zoom lens. Sold.
Canon 70-200mm f/4 L IS lens (on my shoulder with a 7D for most outings). Sold. Gone to the 70-200 f/2.8L IS II and loving it with both the 1.4X III and the 2X III TCs.
Canon 70-200mm f/2.8L IS lens (for use in extreme low light conditions). Sold.
Canon 70-200mm f/2.8L IS II lens My favorite new lens. Just check out most recent Bulletins and Blog posts to see tons of images made with this lens alone and with either the 1.4X III TC or the 2X III TC.
Canon 24-105 IS L zoom lens.
Canon Super Wide Angle EF 14mm f/2.8L II USM Autofocus Lens. (I borrow this one on occasion.)
Canon 10-22 IS zoom lensCanon 24mm Tilt Shift II lensCanon 580 EX II flashes (2).
Canon 180mm Macro lens and the Macro Twin light.
Canon EOS-1 D Mark IV bodies (2).
Canon EOS-7D body (1). Sold.
Giotto's tiny ballhead (MH 1302-655)
Wimberley WH-100 head: 1 (taller is better in a safari vehicle)