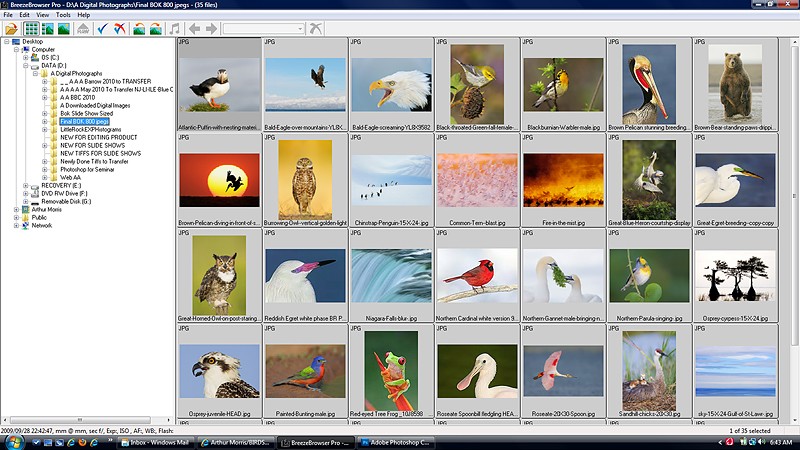 I could not exist without BreezeBrowser. When folks watch me edit my digital images using the slide show mode, they are blown away by quickly BreezeBrowser loads the images. In addition, the conversions are great and there are lots of great features (Show Focus Points, the High Quality option, and Show Flashing Highlights) that make my life easier.
Tips on how I use BreezeBrowser for editing, converting raw images, and file management are described in the Digital Basics PDF file. — Artie
What is BreezeBrowser Pro?
It's a compact and robust downloadable software program that uses a "browser" style interface to present and organize digital images, convert raw images, generate web pages, produce proofs and contact sheets. BreezeBrowser Pro handles most major digital image formats.
Why Use BreezeBrowser Pro?
BreezeBrowser Pro helps the professional photographer to:
Convert, resize, sharpen and level raw images from Canon, Nikon, Pentax, Minolta and Olympus cameras
Select images for presentation
Generate attractive, captioned web pages with watermarking and online ordering (optional)
Produce contact sheets and proofs (print straight to your printer or print to file)
Batch rename images and managing folders
Caption and edit comments and IPTC data>
BreezeBrowser Pro also enables photographers to:
Compare up to four high resolution images side by side
Rotate JPEG's with no loss of quality
Display images and shooting data from most major formats and makes of camera (including RAW, JPEG, TIFF)
Display sharp preview images using the unique 'HQ mode'
Present slideshows on laptop or pc
Adjust date and time for batches or single images
What Do I Need to Install BreezeBrowser Pro?
An internet connection and Windows 98, ME, 2000 or XP installed on your computer.
Who Uses BreezeBrowser Pro?
In short…everyone! BreezeBrowser Pro is so easy to use yet contains all the features that working professionals have come to demand. You'll be up and running in minutes…no lengthy learning curve, no crowded and confusing interface and no need to get bogged down trying to master tricks that you may never use. On the other hand, BreezeBrowser Pro is a deep, full featured program that can take you as far as you want to go…smoothly, quickly and intuitively.
How Much Does BreezeBrowser Pro Cost?
Take advantage of our introductory price for BreezeBrowser Pro of just US $69.95.
Why Use Downloader Pro?
Gives you a fast and simple way to transfer and store digital photos from your camera to PC
Automatically rename and organise photos in a meaningful way as they are downloaded
Save time locating images by assigning them recognizable and clear names and folders
Avoid duplicating images on your PC; Downloader Pro identifies duplicate images and only downloads them once. Particularly useful when downloading from mass storage devices
Simplify workflow by automating the creation of sets of related directories for each download directory e.g. Vacation2004\originals, Vacation2004\working, JobXYZ\final (using the new Directory Maker plug-in)
Time saving automatic rotation of JPEG's from cameras with orientation sensors
Specify download path using shooting data
Ease reorganization of existing photos held on PC
Integrated with BreezeBrowser
Photoshop users can automatically adjust dpi of JPEGs to their preferred value during download
Photoshop users can automatically tag JPEGs with colour profile according to camera model
How Much Does Downloader Pro Cost?
Take advantage of our introductory price for Downloader Pro of just US $29.95.
BIRDS AS ART IS NOT ABLE TO ACCEPT CREDIT CARDS OVER THE PHONE or checks FOR BREEZE BROWSER PURCHASES

Breeze Browser Pro costs US $69.95 (click here for free trial* or to purchase) and includes one full year of free upgrades.

Existing BreezeBrowser customers pay even less. Upgrade for only US $35.00

Downloader Pro for US $29.95

Now available- BreezeBrowser Pro and Downloader Pro Bundle for US $89.90 – Save US $10.00 !

Download the program at BreezeBrowser
for a free trial.
*Risk Free. Try before you buy. When you do decide to buy there is no need to download the software again – simply place your order and then enter your registration code to unlock the software.