More than three years ago I designed the perfect big lens bean bag. Problem was, try as I might, I just could not get it made. In late 2006, I hooked up with John Stanford, founder and original owner of Vested Interest, the folks who make the great X-tra Hand vest that I use every day. (John sold the business to the very capable John Storrie a few years back. To learn about X-tra Hand vests visit: http://www.vestedinterest.com)
Well, after we tested several prototypes, I was happy; heck, I was thrilled. I am so in love with what I have created that I ordered 100 units of the BAA Big Lens Ultimate Beanbag, the BLUBB; we sold all of t hose within a week. The BLUBB is made of durable nylon pack cloth and each section is individually hot-cut to sear the edges; this prevents raveling. As nylon can be rather noisy and slippery, the surface that the lens is placed on has a layer of heavy duty cotton duck fabric sewn on top of the nylon fabric. The entire upper surface of the BLUBB is concave so that the lens will stay put. The inner surfaces that are placed over the door-frame or car window have a large piece of Toughtek non-slip fabric sewn in place to help keep the bag from slipping, especially in vehicles where the driver's window angles downward to the right. All of the fabrics have a water-repellent (but not water-proof) finish. The entire bag is sewn with nylon thread used in the parachute industry. The bag closes with a top quality YKK nylon zipper. All seams are sewn twice to help prevent failure. The bags are made in the USA and each is individually hand-sewn to extremely high standards.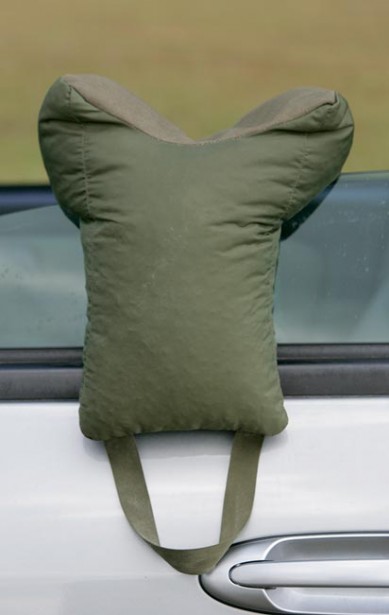 The bag is large (roughly 12X10X6″) so that your lens will be totally steady. My bag, the final prototype, weighs almost exactly 16 lbs. after being filled with nearly four complete 4 lb. bags of Goya Pinto Beans purchased at Wal-Mart. For flight or action photography from your vehicle combining the BLUBB with a Panning Ground Pod is an amazing combination. All BLUBB purchases will include a detailed instructional file sent by e-mail explaining exactly how to use and get the most out of your BLUBB.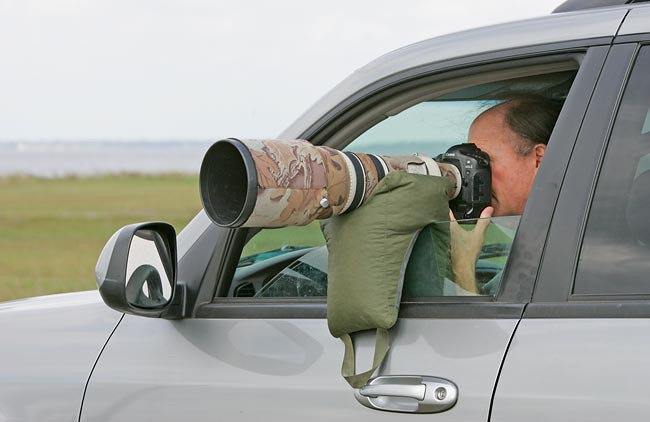 If you are hiding behind your vehicle the image above shows how to use the BLUBB. If you do not have too far to walk, you can also use it this way on the ground, or on a dock.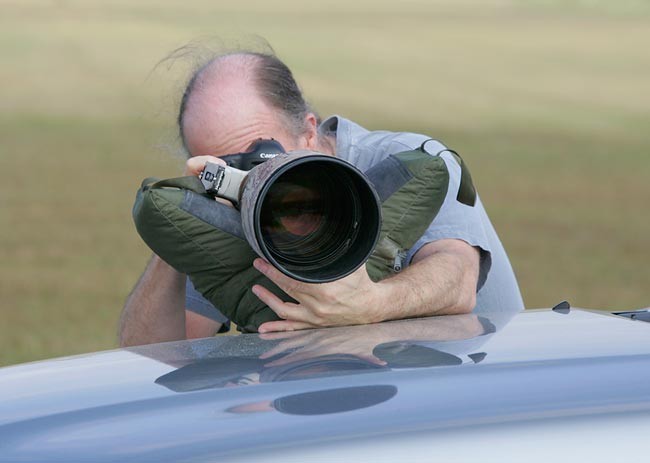 Making Sharp Images From Your Vehicle
When working from the car there are several options for supporting your outfit. Most are described on pages 120-121 of "The Art of Bird Photography; The Complete Guide to Professional Field Techniques. "
In 2003, I developed a design for the ultimate big lens beanbag but I was unable to get it manufactured. In late 2005, I finally hooked up with John Stanford, founder of Vested Interest. (John eventually sold the business to John Storie who now custom-produces the fabulous X-tra Hand vests.) After testing several prototypes, we came up with the perfect design, the BIRDS AS ART Ultimate Big Lens Beanbag (as seen in the photo to the left).
When working with a big lens from inside a vehicle, this beanbag makes it easy to produce sharp images with teleconverters at slow shutter speeds. It provides an extremely solid base from which to work. When using autofocus, simply rest the lens barrel atop the beanbag after draping it over the window as shown below. If you are in a situation where you will likely be following birds or animals in action, or where you need to focus manually, it is best to mount the lens on a Panning Ground Pod and then place the entire rig atop the Big Lens Beanbag. The base of the ground pods seats solidly on the deep concave upper surface of the beanbag; with this set up, it is easy to follow wildlife in motion and even birds in flight. When using any beanbag it is best to raise and lower the window as needed depending on the location of the subject. If the subject is on the ground close to the car, you will need to roll the window down all the way down. If the subject is perched above well eye-level, or if you are attempting to photograph birds in flight with the Panning Ground Pod, you will want to raise the window.
As I expected, we have had trouble keeping these in stock. Supply is quite limited demand has been sky-high. Everyone who has seen me testing the various prototypes has said, "Put me down for one."
One BLUBB will cost you $100 (shipped empty, no beans included) plus $6 shipping and handling (US Priority Mail/signature required). When paying by credit card, your credit card will not be billed until the product ships. We will ship BLUBBs overseas only by Fed-X; please e-mail for costs and be sure to include your complete address including country. If you work from your vehicle you will surely want to be the first kid on your block to have your very own BAA BLUBB. NOTE: For Canada shipping, your total cost will be $113.00. For overseas costs, please e-mail us.
E-mail Question About the BLUBB
re: I know you have used a Kirk window mount at times. I think it would be easier to keep the rig level with a window mount then using the ground pod on the bean bag.
AM: That is true only if you take the time to square the top of the window mount, and as most windows are slanting downward to the right, this decreases stability of the window mount even more (than usual). I always use a bubble level in the car to get square to the world and the stability that comes with using a big bean bag properly is far, greater than with any window mount. I know, I have used them all.
However, the weight of the mount is significant. I suspect that is the trade off. Any thoughts?
AM: Other than having to buy beans and fill the bag at a new location, there are no trade-offs. Working with the BLUBB will absolutely produce sharper images and allow the use of slower shutter speeds than any other method when working out of your car. When you get to know me better you will come to realize that I never BS folks to sell a product.
To order by credit card please call 863-692-0906.
To pay by check or money order, please send your check to Arthur Morris, PO Box 7245, Indian Lake Estates, FL 33855. Please make checks out to Arthur Morris
To order via the BAA Store, click https://store.birdsasart.com/shop/item.aspx?itemid=12.