Homer Bald Eagle Photography Lessons
Click on the play triangle to learn about getting the right exposure for black and white subjects in sun or on cloudy or snowy days, the best lenses for eagle photography in Homer, creating pleasing blurs, basic and advanced composition, and tons more in this free video. Click on the little broken white square lower right next to YouTube to view the video full screen. Hit Escape to exit full screen. Enjoy!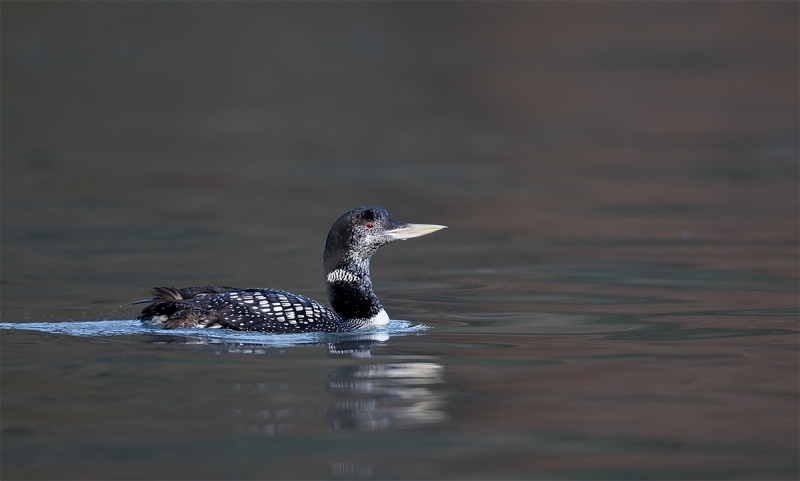 This image was made with the handheld Canon 800mm f/5.6L IS lens rested on the gunnels of the boat.
If you missed the Homer IPTs announcement (there are two separate trips), or if you are thinking of attending, be sure to see the complete offeriings here.
Image #28: Yellow-billed Loon beginning molt into breeding plumage
Rarities in Homer
Aside from a gadzillion Bald Eagles and virtually non-stop flight photography, we have encountered some of North America's most highly sought-after avian rarities. Those have included Emperor Goose, Slaty-backed Gull, and Yellow-billed Loon (above). Who knows what we might turn up this year?
What's Up
Monte Brown stayed on after the IPT for one last morning and again we enjoyed a stellar session with the Brown Pelicans and the nesting Brandt's Cormorants. I was thrilled to sign up several folks for Homer yesterday. First-timer Mukesh Patel and IPT veteran Marvin Falk are joining the first IPT and good friends and multiple IPT veterans Greg Ferguson and avid international birder Kevin Watson will be joining mega-multiple IPT veteran and great friend Anita North and I on the second IPT. As I have several other folks interested, it would behoove you to get in touch very soon.
On Thursday morning multiple IPT-veteran and good friend Luis Alberto Grunauer and I will be taking a busman's holiday trip up to Morro Bay. I should be back in San Diego in less than a week. I fly home on 27 JAN.
If you have any questions on. the video or if you would like to share your thoughts on today's twoo featured pelican shots, you can do so by leaving a comment below.
More On Homer
For the first trip only, I am offering a $500/person discount for those who sign up with a friend or spouse. You can access the complete trip offering here.
IPT #1: FEB 25 through the full day on MAR 1, 2020. Six full days: $4799.00. Limit 5 photographers/Openings: 3.
IPT #2: MAR 3 through the full day on MAR 7, 2020. Five full days: $3999.00. Limit 5 photographers/Openings: 2.
Via e-mail from Multiple IPT veteran Greg Ferguson:
I attended this IPT in 2011 and can only say it was the most intensive bird photography I have ever experienced. My arms were tired and sore from shooting so many action photos. It is highly recommended! I called Jim today and signed up for a reprise. Greg
Via e-mail from Multiple IPT veteran Dick Curtain:
I attended the Homer IPT in the past and can only say it was a great experience. Many eagles, beautiful scenery, great instruction, and many fond memories. Don't miss it.
IPT Updates
Coming soon: one or two Spoonbill Boat IPTs, a spring Fort DeSoto Sandbar Secrets IPT, and a Nickerson Beach IPT this summer.
Do check out the Galapgos Gallery here.
The GALAPAGOS Photo Cruise of a Lifetime IPT/The Complete Galapagos Archipelago Photographic Experience. August 17-31, 2021 on the boat. 13 FULL and two half-days of photography: $14,999.00.

You can see complete IPT info and details here.

Money Saving Reminder
If you need a hot photo item that is out of stock at B&H, would enjoy free overnight shipping, and would like a $50 discount on your first purchase over $1000.00, click here to order and enter the coupon code BIRDSASART at checkout. If you are looking to strike a deal on Canon or Nikon gear (including the big telephotos) or on a multiple item order, contact Steve Elkins via e-mail or on his cell at (479) 381-2592 (Eastern time) and be sure to mention your BIRDSASART coupon code and use it for your online order. Steve has been great at getting folks the hot items that are out of stock at B&H. Those include the SONY a7r IV, the SONY 200-600, the SONY 600mm f/4 GM, and the Nikon 500mm PF. Steve is eager to please.
Gear Questions and Advice
Too many folks attending BAA IPTs and dozens of photographers whom I see in the field and on BPN, are–out of ignorance–using the wrong gear especially when it comes to tripods and more especially, tripod heads… Please know that I am always glad to answer your gear questions via e-mail. Those questions might deal with systems, camera bodies, accessories, and/or lens choices and decisions.
BIRDS AS ART
BIRDS AS ART is registered in the U.S. Patent and Trademark Office.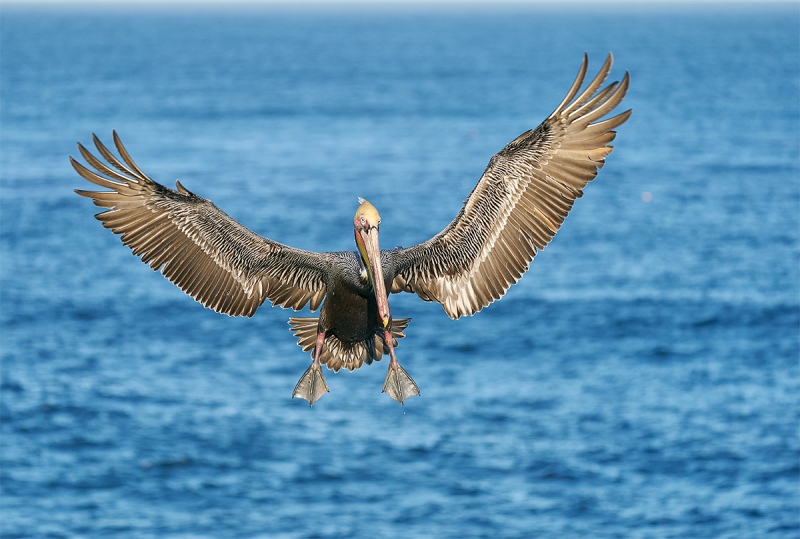 This image was created on January 10, 2020 at La Jolla, CA. I used the hand held Sony FE 200-600mm f/5.6-6.3 G OSS lens (at 234mm) with the blazingly fast AF King, the Sony Alpha a9 II Mirrorless Digital camera body. ISO 500: 1/1250 sec. at f/6.3 in Manual mode. Exposure determined by Zebras: 1/2000 sec. at f.6.3 in Manual mode. AWB at 4:06pm in cloudy conditions.
Wide Continuous tracking (C) AF worked perfectly by getting sharp focus on the bird's eye.
Image #1: Brown Pelican braking to land

Your browser does not support iFrame.
Just a Coincidence?
Today's two featured images are among my all-time favorite La Jolla pelican flight images. Is that just a coincidence or is it related to my having switched to SONY gear?
Consider the following:
1- The a9 II's 15 frames per second (actual) enabled me to create 9 images of this incoming pelican and increased my chances of getting the perfect incoming breaking position with the underwings evenly lit (as in Image #1).
2- Every one of those images was tack sharp as are 98 to 99% of the flight images I make with this rig.
3- The 200-600 gives my great reach (a max of 12X) while at the same time allowing me to zoom out for flight photography so that I can fit the bird in the frame.
4- The 2-6 is just light enough for me to hand hold for extended flight photography sessions.
5- The Zebra technology enables me to quickly come up with the great exposures before I make an image. There is no need to make a test frame and then check the histogram. See more on that in the section under Image #2.
So from where I sit, this happenstance is not a coincidence at all.
Does Anything Bug You?
Does anything about this image bug you? As much as I like it, two things about it bug me. Go ahead and take a shot: leave a comment.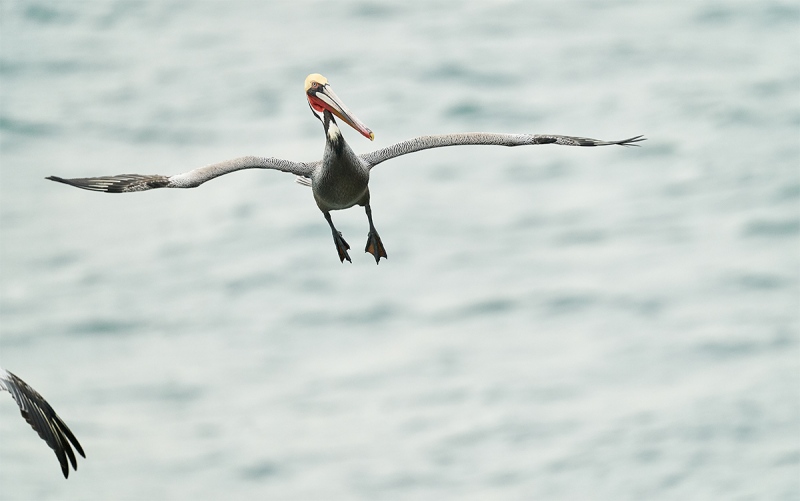 This image was created on the "flying circus" afternoon of January 9, 2020. I used the Induro GIT 404/FlexShooter Pro-mounted Sony FE 600mm f/4 GM OSS lens, the Sony FE 1.4x Teleconverter and the blazing fast Sony Alpha a9 II Mirrorless Digital camera body) that features incredibly accurate AF. ISO 4000. Exposure determined by Zebras: 1/2000 sec. at f/6.3 in Manual mode. AWB at 4:06pm on in cloudy conditions.
WIDE Continuous/tracking (C) AF was active at the moment of exposure. Click on the image to see a larger, inexplicably sharper version.
Image #2: Brown Pelican just after near collision

Your browser does not support iFrame.
A Near Midair Collision!
The forecast was for rain starting at 1pm. That did not stop us. With a strong west wind and dozens of pelicans in the air at any one time, conditions for long lens/high ISO flight photography were ideal. We were set up at my favorite afternoon spot for pelican flight photography in stormy conditions. I was tracking the rather handsome bird featured in Image #2 when it just missed colliding with another pelican. It was as if there was a loud warning, Pull up! Pull up! It was right out of Air Disasters. Wide AF performed admirably as I managed three sharp frames despite the almost instantaneous change of course.
Hand Held Flight versus Tripod-mounted Flight
Hand holding for flight is a great technique if and only if you have the strength and stamina to remain effective and comfortable during extended shooting sessions. Shooting flight off a tripod is the only way to go if your rig is too heavy to be hand held. Both techniques require superb hand-eye coordination so that you can keep the bird centered in the viewfinder. Most folks will not be shocked to learn that the more you practice either one the more proficient you will become. Note: the FlexShooter Pro is the best flight photography tripod head I have ever used.
Would You?
If this were your image would you have left the partial wing of the other bird in the frame? Why or why not?
Zebras Rock!
Earlier that afternoon, the sun was going in and out every few minutes. The birds in flight were in the same light as the birds on the cliffs across a small inlet. I had set my shutter speed to 1/2000 second and the aperture to f/6.3 with ISO on the rear wheel. Whenever the light changed, I would frame the distant birds, lower the ISO if I saw lots of Zebras, or raise it until I noted just a smattering of Zebras on the highlights. In The SONY Zebras Exposure Guide Short Video you will learn how to set your Zebras correctly so that you too can consistently come up with near-perfect exposures in short order.
The SONY Zebras Exposure Guide Short Video
If you own a high-end SONY camera body, there is absolutely no reason that you should not be getting a perfect or near-perfect exposure every time with every image even in the most difficult situations — white birds, dark backgrounds, dark birds against white skies, simply pick your shutter speed and aperture and then adjust the ISO on the Control Wheel until you see faint Zebras. It's that simple. Learn how in the SONY Zebras Exposure Guide Short Video. To order your copy, please send a Paypal to us at birdsasart@verizon.net for $30. Please state in the Paypal that the payment is for the SONY Zebras Exposure Guide Short Video.
Alternatively, you can place a phone order for the SONY Zebras Exposure Guide by calling Jim at 863-692-0906 MON to THURS and most FRI mornings.
Folks who have purchased a SONY lens and/or a SONY body using either my B&H affiliate links or from Steve Elkins at Bedfords will enjoy a $20 discount. If you qualify, please shoot me an e-mail so that I can confirm your discount.
Folks who have purchased the SONY 600mm f/4 GM lens using my links will receive the file for free. If you qualify for a free copy, please shoot me an e-mail so that I can confirm your discount.
After I confirm your discount, you can either call Jim or send us a Paypal (as above).
If In Doubt …
If you are in doubt about using the BAA B&H affiliate link correctly, you can always start your search by clicking here. Please note that the tracking is invisible. Web orders only. Please, however, remember to shoot me your receipt via e-mail.
Please Remember to use my Affiliate Links and to Visit the BAA Online Store 🙂
To show your appreciation for my continuing efforts here, we ask, as always, that you get in the habit of using my B&H affiliate links on the right side of the blog or Bedfords, for all of your photo and electronics purchases. Please check the availability of all photographic accessories in the New BIRDS AS ART Online Store, especially the Mongoose M3.6 tripod head, Wimberley lens plates, Delkin flash cards and accessories, and LensCoat stuff.
As always, we sell only what I have used, have tested, and can depend on. We will not sell you junk. We know what you need to make creating great images easy and fun. And please remember that I am always glad to answer your gear questions via e-mail.
I would, of course, appreciate your using our B&H affiliate links or Bedfords for all of your major gear, video, and electronic purchases. For the photographic stuff mentioned in the paragraph above, and for everything else in the new store, we, meaning BAA, would of course greatly appreciate your business. Here is a huge thank you to the many who have been using our links on a regular basis and those who will be visiting the New BIRDS AS ART Online Store as well.
Facebook
Be sure to like and follow BAA on Facebook by clicking on the logo link upper right.
Typos
In all blog posts and Bulletins, feel free to e-mail or to leave a comment regarding any typos or errors. Just be right :).