The One Big Secret to Making Great Bird Photographs
With Arthur Morris/BIRDS AS ART — Free NANPA Webinar
Yes, boys and girls. There really is just one big secret. It will be revealed at the very end of the webinar. Join me on July 13 from 4:00 to 5:00 pm EDT to learn a ton. Click here to register. This program is free and open to all. Covered topics will include seeing the shot, finding the best perspective, getting close to free and wild birds, the importance of wind direction in bird photography, understanding the direction and qualities of natural light, flight photography tips, getting the right exposure, image composition and design, and lots more.
What Up?
Mr. Lazy Man slept in on Tuesday morning and left early to drive the four hours from Jacksonville back to ILE. He was home before 11am. And took a nap.
Today is Wednesday 6 July 2022. The morning forecast for ILE is for clear and sunny with a faint breeze from the ESE. Jon Hoiles and I could have used some of that at Huguenot Memorial Park as we were working with wind-against-sun conditions most of the time. Wherever you are and whatever you are doing, I hope that you too have a great day. This blog post took about 90 minutes to prepare and makes one hundred eight days in a row with a new one.
Please remember to use the B&H and Amazon links that are found on most blog pages and to use the BIRDSASART discount code at checkout when purchasing your new gear from Bedfords to get 3% back on your credit card and enjoy free second-day air FedEx. Please, also, consider joining a BAA IPT. You will be amazed at how much you will learn!
JAX
If you would like to join me for the July 15-19 Jacksonville IPT, or for some In-the-Field sessions there on those dates, please get in touch via e-mail.
Instagram
Follow me on Instagram here. I am trying to feature both new and old images, especially images that have not appeared recently on the blog. Or search for birds_as_art.
BIRDS AS ART Image Optimization Service (BAA IOS)
Send a PayPal for $62.00 to birdsasart@verizon.net or call Jim at 863-692-0906 and put $62.00 on your credit card. Pick one of your best images and upload the raw file using a large file sending service like Hightail or DropBox and then send me the link via e-mail. I will download and save your raw file, evaluate the exposure and sharpness, and optimize the image as if it were my own after converting the raw file in Adobe Camera Raw. Best of all, I will make a screen recording of the entire process and send you a link to the video to download, save and study.
Induro GIT 304L Price Drop
Amazingly, we have two, brand-new-in-the-box Induro GIT 304L tripods in stock. They are $699.00 each (were $799.00) and the price now includes the insured ground shipping to the lower 48 states. Weekday phone orders only: 863-692-0906.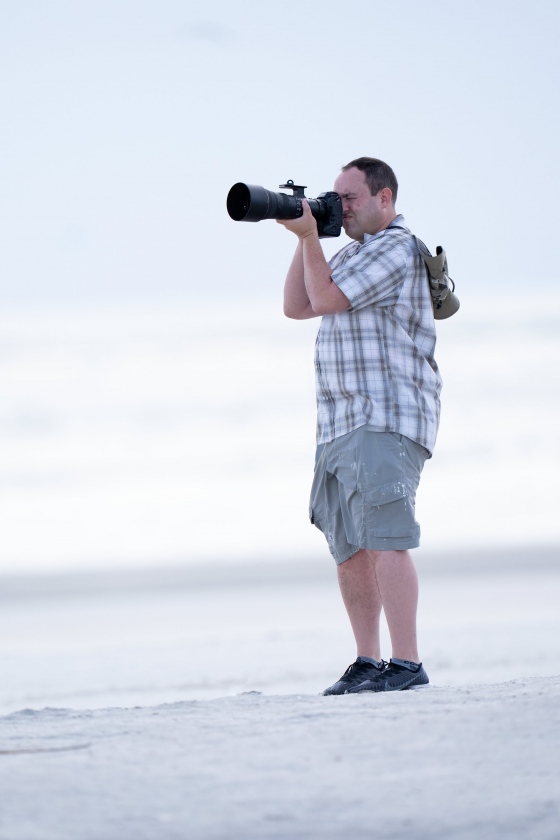 This image was created on 2 July 2022 on the beautiful beach at Huguenot Memorial Park. I used the handheld Sony FE 400mm f/2.8 GM OSS lens and The One, the Sony Alpha 1 Mirrorless Digital Camera). The exposure was determined via Zebra technology with ISO on the Thumb Dial. ISO 1250. 1/2000 sec. at f/2.8 (wide open) in Manual mode. When evaluated in RawDigger, the raw file brightness was determined to be perfect. (Sorry for boring you.) AWB at 6:56:04am on sunny morning.
Tracking: Spot S AF-C with Bird Face/Eye detection enabled performed to perfection. Most of the time, Bird works just fine for human subjects. Be sure to click on the image to enjoy a high-res version.
Image #1: Jon Hoiles on the beach with his Nikon rig

Your browser does not support iFrame.
Jon Hoiles
Jon Hoiles retired from the Navy in 2020. As director of the Navy blood program, he held the rank of Commander. He now works for Cerus, a company
headquartered in Concord, California, that develops and supplies vital technologies and pathogen-protected blood components to blood centers, hospitals, and ultimately patients who rely on safe blood. Jon is currently the product manager for pathogen-reduced red blood cells. Simply put, Cerus and Jon work to ensure that donated blood (in it various forms) is safe.
Jon got the bug for bird photography about 10 years ago while stationed in Okinawa, Japan. He was out doing landscapes and would often run into some bird photographers. What they were doing looked a lot more fun to him than taking pictures of seascapes and waterfalls. His first birds were Black-Faced Spoonbill, Japanese Common Kingfisher, and Japanese White-eye that had to be photographed on cherry blossoms in the spring.
Via e-mail from Jon
Art,
Thanks again for a great trip to photograph the Royal Terns and Laughing Gulls at Huguenot Memorial Park. What a great location. They say you learn from your mistakes, and, while I am happy with the image I made, I know I missed quite a few. I underexposed far too many, had too many birds with clipped wings, paid no attention to shadows, and had lots with uninteresting or distracting backgrounds (especially the birds in flight). I'd also like to take the 600mm f/4 out there next time. And the 800mm when that gets delivered!
The Z9, on the other hand, did great. It took me some time to figure out the best way to use the various autofocus modes, but, with the help of Warren Hatch's great Z9 Guide, I had it figured out and the camera worked very well.
Thanks again for your help with getting the TC-E14 (teleconverter) ordered with Bedfords. I look forward to shooting with you in the future. It is always a treat and great a learning experience.
Jonathan
My Reply
Hey Jon,
Thanks for the images and thanks again for joining me. Clipped wings happen all the time with fixed focal length lenses (and even with zooms as everyone gets greedy). The shadows result from working off sun angle. And getting the right exposure is more difficult than with Sony. I'd advise getting into RawDigger. One last suggestion: when you have tons of light for flight photography with an f/5.6 lens, aim for 1/4000 second or 1/3200 second. You will still enjoy relatively low ISOs.
with love, artie
Blessed by Soft Light
On Saturday afternoon we enjoyed the best conditions of the weekend with light clouds and the wind from the south. We stood near the ropes and had the birds landing at us. Jon and the Z9 did the rest.
Wind Against Sun and Chick Feeding
So if the wind was in Jon's face, why was this begging chick facing right at him? Because the adults land into the wind and the chicks face them expectantly.
Jon on the Z9 Guide
The guide was great. Nikon's default method of changing AF methods is difficult at best to use. You need three hands. Warren's multi back-button approach saves the day. Not to mention his complete coverage of all relevant menu items and lots of great tips. I am glad that I read the guide completely. When I got to JAX I realized that I had left the battery charger at home. I remembered reading how to charge the camera directly using a compatible USB cable so I opened up the guide, found the info, and saved my weekend."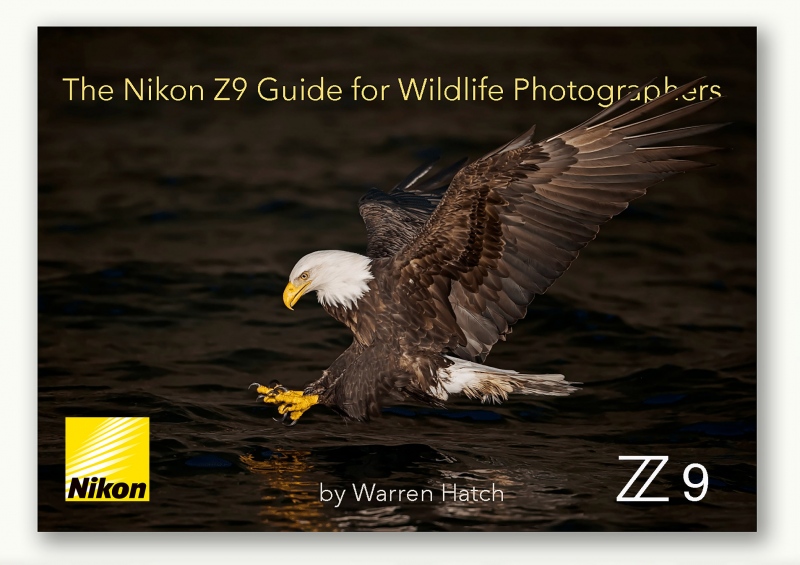 You can purchase your copy here in the BAA Online Store for $69.00. Or Call Jim weekdays at 863-692-0906 with a credit card in hand.
The Nikon Z9 Guide for Wildlife Photographers
The Nikon Z9 Guide for Wildlife Photographers/by Warren Hatch
Editorial Consultant: Arthur Morris
In this downloadable e-book (you will receive a link by e-mail), you'll learn everything a wildlife photographer needs to know about the Nikon Z9. The Z9 is one of the most complex camera bodies ever made. In this guide, the brilliant Warren Hatch will teach you exactly how to set up your Z9 for bird, wildlife, and nature photography. The camera offers hundreds of settings and options. Selecting the right combination of these is essential in order to effectively use the Z9 in the field.
This 83-page guide, created in the tradition of the many mega-successful BIRDS AS ART Camera User's Guides, includes:
1- Extensive information on the autofocus system and the optimal settings for the various shooting situations that wildlife photographers encounter including and especially for birds in flight.
2- The camera controls – what they do and how to customize them for your shooting style and varying conditions.
3- Configuring the camera so that you never need to take your eye from the viewfinder when the action unfolds.
5- Insights and details on using legacy F-mount lenses on the Z-9.
6- Practical advice about the camera batteries and chargers.
7- How to take advantage of the new capabilities introduced with firmware v2.00.
8- The AF-area Modes you should use and those you should avoid.
Order yours here in the BAA Online Store for $69.00. Or Call Jim weekdays at 863-692-0906 with a credit card in hand.
Alan Murphy on the Z9 Guide
I was excited to learn that Warren had written a guide to the Nikon Z9 as I have been learning so much about the camera from him. I've had the Z9 for several months. Whenever I was puzzled by my new mirrorless camera body, I'd call Warren. He always had the answer. Now, everything that he knows about this great camera body — it continues to amaze me, is available to everyone. Warren's Z9 guide is great asset for Nikon shooters.
The Backstory
I'd been thinking about trying to find someone competent to write a Z9 for BIRDS AS ART ever since I heard that Nikon had released a mirrorless camera that was great for bird photography. Warren Hatch attended an IPT several decades ago, learned the basics, and was inspired by the original The Art of Bird Photography. When a participant on the last 2022 Homer IPT had to leave early, Warren joined the IPT for several days. He raved about his Z9. After he told me about the work he had done extracting metadata for the last ten years of Nikon camera bodies for ExifTool, I was pretty sure that I had found the author I needed for a Z9 guide …
When I broached the subject of doing a Z9 guide for BIRDS AS ART, he did not seem too thrilled. But I talked him into it. We sent him a few of my Camera User's Guides for reference. I was shocked when he sent me a link to his first draft in what seemed like only a week. Even better, the layout and design of the document was beyond impressive. I was busy getting ready for the GNPA EXPO (and then came home with COVID) so it took me a while to get into it. As the editorial consultant, my job was to bust Warren's b____s when it came to clarity and readability. So I did. We exchanged three or four edited versions, each one a great improvement from the previous version. When we were almost done, Warren enlisted the help of Kaitlin Marks-Dubbs who did a professional job of copy editing the document. The last step was to send the final draft to the esteemed and talented lifelong Nikon shooter Alan Murphy who gave the project his blessings. That brings us to the publication of The Nikon Z9 Guide for Wildlife Photographers by Warren Hatch. 🙂
So Who the Heck is Warren Hatch?
When it comes to Nikon camera bodies and nature photography, Warren Hatch is not chopped liver.
Warren retired from the information technology field eight years ago. He began as a computer programmer and retired as the Chief Information Officer of a multibillion-dollar consulting firm. He has been photographing full-time since then. His images have been honored by Audubon, Nature's Best, and other international photo contests. Like me, photography is both his profession and his passion. For decades, Warren has made a concerted effort to understand what each and every camera body feature does and believes that his in-depth knowledge of his cameras' buttons, dials, and capabilities has improved his photography.
Because of his close ties to Nikon, Warren was one of the first in the US to get his hands on a Z9. Not to mention a Nikon NIKKOR Z 400mm f/2.8 TC VR S lens!
For the past ten years, Warren has extracted the encrypted metadata from the Nikon NEF (raw) files for all Nikon professional camera bodies. The metadata contains the camera settings that include detailed autofocus information that is not available in Nikon's NX Studio. He shares the extracted metadata with Phil Harvey who uses it in his hugely popular ExifTool software.
Typos
With all blog posts, feel free to e-mail or to leave a comment regarding any typos or errors.