What's Up?
The long dreamed of epic photo session arrived a day late for Homer IPT group #2. I created 6470 images (a record) and kept a ridiculous 698 images after the first edit (a record by far). It was snowing when we left the harbor at 8:30am and quit at about ten. We had about 5 inches of fresh, unblemished, pristine white snow to work with. In addition to the white studio backgrounds, the snow acts as a giant reflector that lights up the undersides of the eagles' dark wings. Fierce winds were predicted to follow the snow and a bit after noon, we noticed blowing snow on the mountains in China Poot. We continued to photograph. Captain Gabe kept a weather eye out and when the snow on the beach began blowing, he let us know that it was time to cross back. Our remarkable five-hour session was over. With 38+ mph gusts, the trip back across Kachemak Bay was an E-ticket ride for sure.
If you are interested in joining me on one or both of the 2024 Homer IPTs next February, please shoot me an e-mail.
I was completely overwhelmed by the number of folks who commented on yesterday's post, and by the quality of the responses Check them out. My favorite Glaucous-winged Gull image was #5 for the frosty, almost glowing look of the gull and the pink feet. My least favorite was #2 because there was some motion blur to the head and the bill was a mess. Huge thanks to all who commented … Just what do y'all have against gulls?
Today is Thursday 2 March 2023. The marine forecast is calling for a 30mph wind from the northwest with seas building to from 8-10 feet. Though it is likely that we will not sail in the morning, we never believe the forecast until the fat lady sings. I am hoping to at least get in an afternoon session. This blog post took less than an hour to prepare and makes three hundred thirty-seven days in a row with a new educational post written just for you. Wherever you are and whatever you are doing, I hope that you too have a great day.
Please, please, pretty please remember to use my B&H or Bedford's affiliate programs for all your new gear purchases. If you use B&H, please be sure to click on any B&H link in the blog to start your search. Or simply start with this link. There is always the option of e-mailing me for gear advice and for the correct links.
The plan is to continue to post every day until the streak reaches one year and one day and then begin posting every other day.
Please remember to use the B&H and Amazon links that are found on most blog pages and to use the BIRDSASART discount code at checkout when purchasing your new gear from Bedfords to get 3% back on your credit card and enjoy free second-day air FedEx. Please, also, consider joining a BAA IPT. You will be amazed at how much you will learn!
You can find some great photo accessories (and necessities, like surf booties!) on Amazon by clicking on the Stuff tab on the orange/yellow menu bar above. On a related note, it would be extremely helpful if blog-folks who, like me, spend too much money on Amazon, would get in the habit of clicking on the Amazon logo link on the right side of each blog post when they shop online. As you might expect, doing so will not cost you a single penny, but would be appreciated tremendously by yours truly. And doing so, works seamlessly with your Amazon Prime account.
Please remember that if an item — a Delkin flash card, or a tripod head — for example, that is available from B&H and/or Bedfords, is also available in the BAA Online Store, it would be great, and greatly appreciated, if you would opt to purchase from us. We will match any price. Please remember also to use my B&H affiliate links or to earn 3% cash back at Bedfords by using the BIRDSASART discount code at checkout for your major gear purchases. Doing either often earns you free guides and/or discounts. And always earns my great appreciation.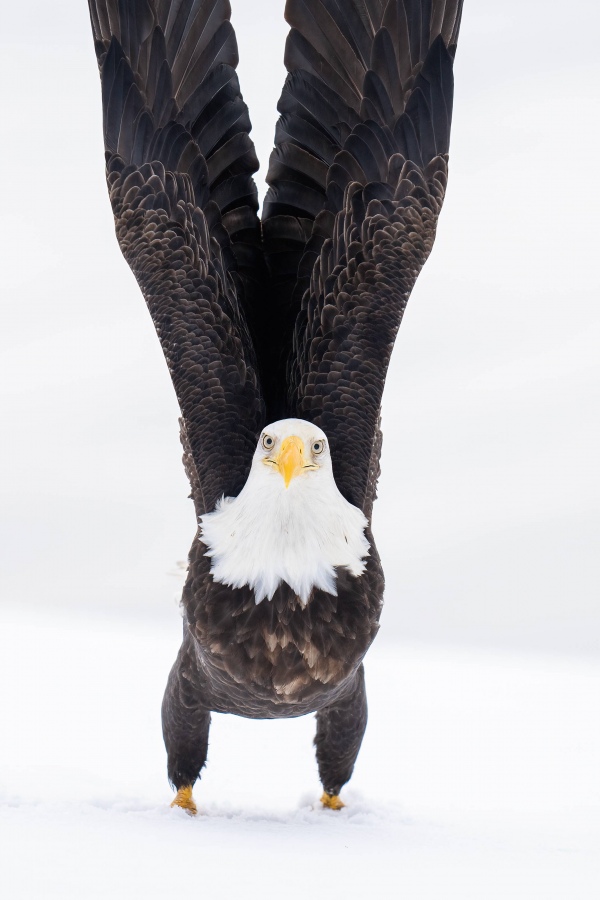 This image was created on 1 March 2023 on the second Homer IPT. Sitting on the snow, I used the handheld Sony FE 400mm f/2.8 GM OSS lens and The One, the Sony Alpha 1 Mirrorless Digital Camera). The exposure was determined via Zebra technology with ISO on the Thumb Dial. ISO 400. 1/2500 sec. at f/2.8 (wide-open) in Manual mode. When evaluated in RawDigger, the raw file exposure was determined to be dead solid perfect (ho hum). AWB at 11:59:07am a while before the sun broke through.
Tracking: Zone/AF-C with Bird Face/Eye detection enabled performed to perfection. Click on the image to enjoy a high-res version.
Image #1: Bald Eagle taking flight

Your browser does not support iFrame.
Sitting for Flight with the Sony 400mm f/2.8 GM Lens
You have been hearing the basics here for many months. I am now in love with the lens I used to hate. I did, however, make an important discovery yesterday. Like many quantum leaps in technique, it seems obvious once the realization comes to you. Using the big lens from the boat for flight, the problem, and the strain and fatigue, comes from having to lift the lens from the rest position to your eye time after time after time. In his e-Book, Flight Plan Guide, old buddy Jim Neiger was the first to write about the rest position when photographing with telephoto lenses. Not even the strongest photographers can hold a heavy lens with their eye to the viewfinder for more than a short period of time. The standard rest position involves having the lens straight down at your side while waiting for a bird to approach. At times, there might be something to rest the lens on, say the gunnels of a small boat, before raising the lens.
When we got off the boat yesterday and into position to photograph the braking, incoming eagles (with the wind right behind us, of course), I decided to try sitting when handholding the 400mm f/2.8. While waiting for action, I simply rested the rig on my left knee. That done, when a bird approached, the lens needed to be raised only a very short distance. This reduced shoulder strain and muscle fatigue, seemingly by a factor of ten. Thus, I was able to find the bird in the viewfinder much more quickly and easily than when standing and was able to keep them centered in the frame until they landed.
Note: This image was cropped from a horizontal original.
Success!
Of all the great flight sequences I had yesterday, the 82-frame sequence in this one-minute video illustrates best the success that I had while doing handheld flight photography while seated. The images were created in less than three-seconds and every one is razor sharp on the eagle's eye or eyes.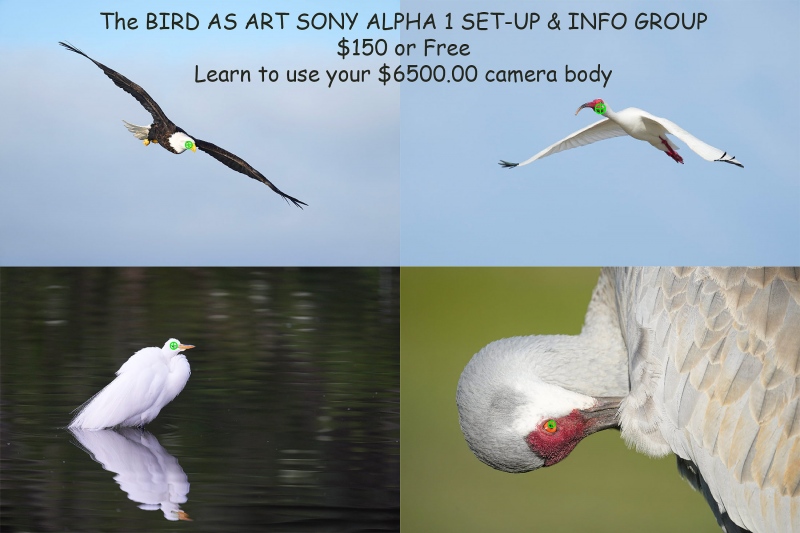 Click on the image to better see the green eye-AF boxes in action.
Sony Alpha 1 Flight Photography AF Points!
The SONY Alpha a1 Set-up Guide and Info Group: $150.00 (or Free)
The SONY Alpha a1 Set-up Guide and Info Group is going great guns as more and more folks chime in with thoughtful questions and experience-based answers. As the a1 is becoming more readily available, more and more folks are getting their hands on this amazing body. By June 1, 2022, the group was up to an astounding 124 lucky and blessed folks. (More than a few folks own two or more a1 bodies! Early on, we discussed the myriad AF options. I gave my opinion as to the best one for flight and general bird photography. The best news is that everyone in the group receives an e-mail that includes a .DAT file with my a1 settings on it, and explicit directions on how to load my settings onto your a1; talk about convenience! I am now offering a .DAT file compatible with firmware update 1.20. Your entry into the group includes a consolidated Sony a1 CAMSETA2 INFO & GUIDE. New a1 folks will now receive six e-mails instead of the previous 28! You will receive new e-mails as they are published. Simply put, this e-mail guide is an incredible resource for anyone with an a1.
All who purchased their Alpha 1 bodies via a BAA affiliate link — B&H or Bedfords — will receive a free Sony Alpha a1 Set-Up Guide and free entry into the Info Updates group after shooting me their receipts via e-mail. (Note: it may take me several days to confirm B&H orders.). Others can purchase their guide here in the BAA Online Store.
Typos
With all blog posts, feel free to e-mail or to leave a comment regarding any typos or errors.