What's Up?
On yet another dark, dingy morning I left the hotel at 7:00am and headed to DeSoto. Though rain in the area was forecast for about 9am it began drizzling pretty hard as I got near the turn to the park so I just kept on driving. With no traffic I arrived home in one hour 50 minutes, pretty much a record. Spent the day working on e-mails and images. And this blog post. This one took close to five hours to prepare and was published from my home at Indian Lake Estates, Florida at 7:09am.
After breakfast I will spend some serious time working on the 7D Mark II User's Guide.
Hooptie Spoonbill Mini-IPT
The Hooptie Roseate Spoonbill Mini-IPT announced on Wednesday now has only two slots left. See our morning and Saturday-only rates below. Scroll down for additional details. Please e-mail me to check on availability. See yesterday's blog post for prices and details.
Comment from Cris Hamilton
Cris was a participant on the recently concluded Hooptie Spoonbill IPT:
I was fortunate enough to be a participant in the Hooptie Deux/DeSoto class, which ends, sadly, tomorrow (Fri 27th). It's been so much fun and I have learned TONS!!! Thank you, thank you, Artie!!!!! And thank you to James Shadle, the master boat commander. James is a vital and fun part of this duo. Super great guy. And, thanks to all the other participants for putting up with all my questions!!! 🙂 We had a great group and a super time.
Estero Help Needed
I have heard from several folks that Little Estero Lagoon on Fort Myers Beach is very poor at best this year, that the lagoon has been cut off from the Gulf, is mostly dry, and that there are very few if any birds present. If you have visited recently I would appreciate your leaving a comment and sharing your experience with us.
South Georgia October 2015
Do consider joining me in South Georgia next October for the trip of a lifetime. Click here for complete details.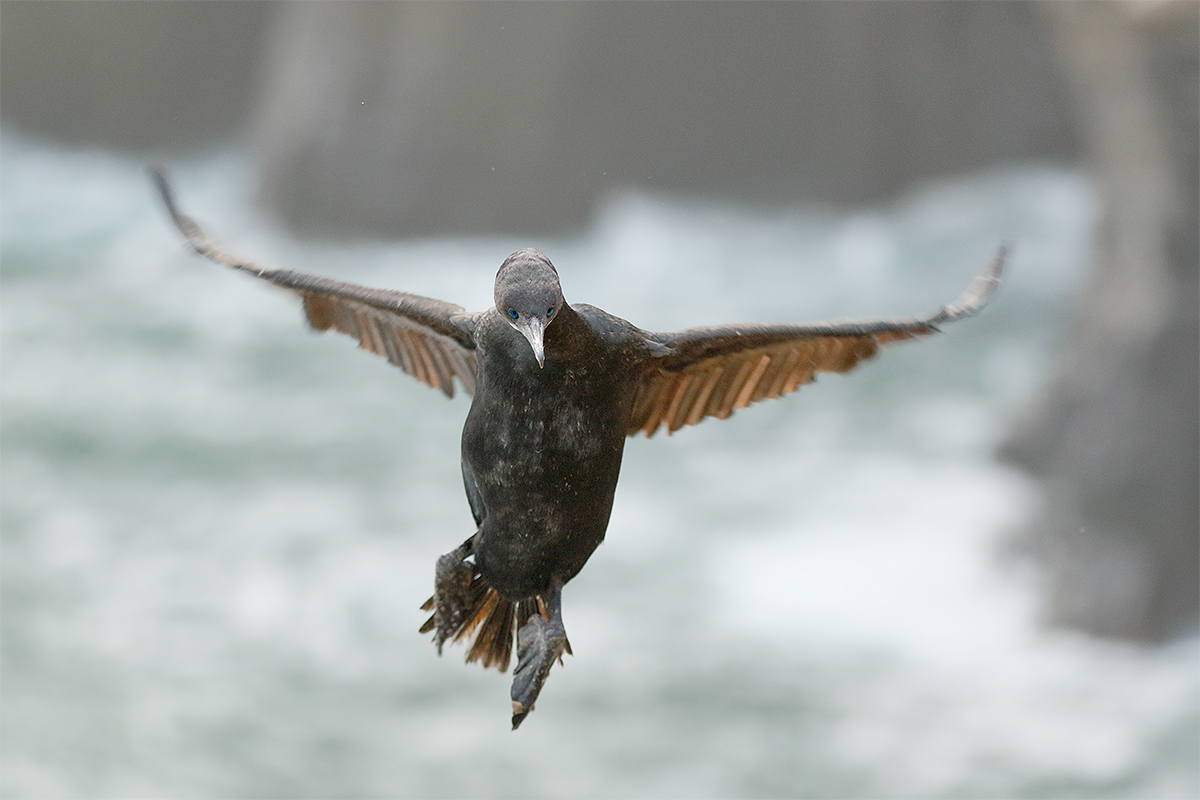 This image was created on a foggy morning in LaJolla CA on February's San Diego IPT with the hand held Canon EF 70-200mm f/2.8L IS II USM lens (at 160mm) and the Canon EOS 7D Mark II. ISO 800. Evaluative metering +2 stops off the distant green water background: 1/800 sec. at f/2.8 in Manual mode. Cloudy WB.
Center AF point (manual selection)/AI Servo Shutter Button AF was active at the moment of exposure (as is mandatory with flying birds). The active AF point fell on the bird's right eye as originally framed.
Click on the image to see a larger version.
Incoming Brandt's Cormorant
Notice how the bird is concentrating intently on its chosen landing site.
Having the bird perfectly framed by the base of the cliffs in the background was serendipitous.
Your browser does not support iFrame.
Canon 7D II Low Light Questions…
In the "Canon 600 II/1.4X III/7D II Wings Raised, Early Morning Light Roseate Spoonbill Image" blog post here, I wrote, "I have come to realize that the 7D II is at its best when the sun is out. With the fog and clouds I have turned most often to my 1D X bodies."
The First Question
Max Warner asked a good question in the Comments section:

The first question
The Follow-up Question
Then Don Thompson asked a follow-up question; the interesting exchange below followed.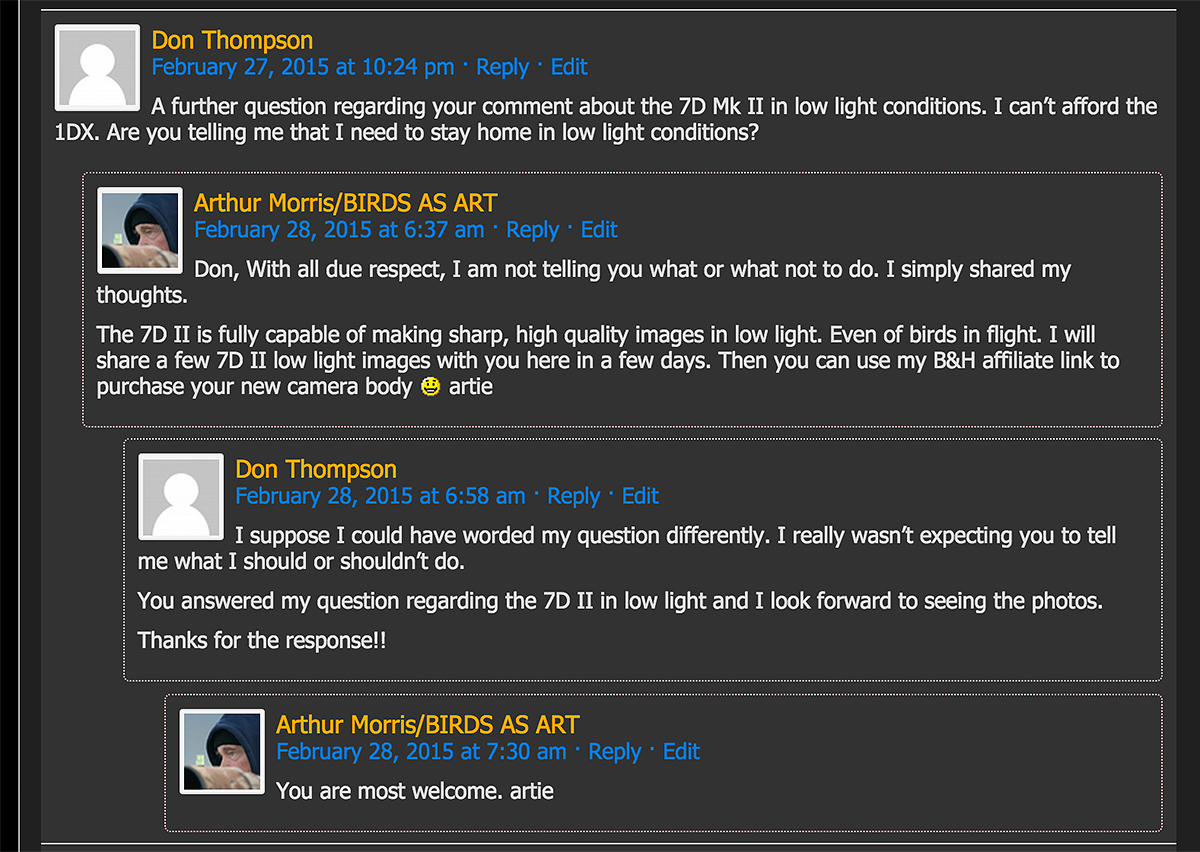 The follow-up conversation
The First 7D II Low Light Image/Many More to Come
Yes. AF accuracy with the 1D X is a bit more consistent than with the 7D II. And noise is a bit lower with the 1D X. And the colors in dreary light are a bit more vibrant with the 1D X. But there are many rejoinders…. Wouldn't you expect AF to be a bit better with a camera that costs $4200 more? Noise is easily dealt with during the RAW conversion in DPP and the color just as easily juiced up (without overdoing it) in post processing. The latter for me is in Photoshop.
And most importantly for me, operator error or the lack thereof is a far greater factor in the success or failure of my flight photography attempts than the small differences in AF tracking accuracy. In other words, with either camera when I get the AF point on the bird's eye, face, or neck and acquire focus at just the right time so that the system tracks properly, the resulting images will be sharp regardless of which camera I am using. Or lens.
The Answer
Today's image shows unequivocally that the 7D II in dismal light can create sharp, high quality images with nice color, even of birds in flight. Note: Except if referring to the eye, I would never use the word "vibrant" when referring to a winter plumage Brandt's Cormorant 🙂
Stay tuned as I will be sharing many more 7D II low light images to bolster the case that I make above.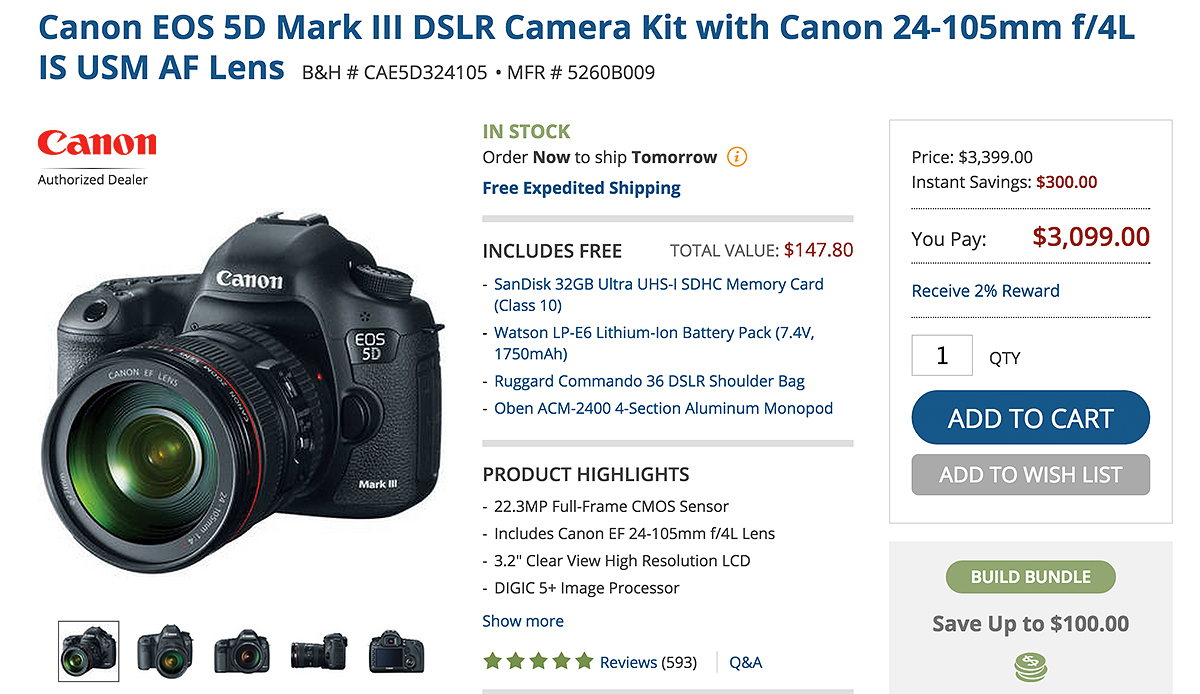 Announced today: Perfect timing for Dave. Save $300 on the 5D Mark II/24-105 kit by clicking here. Or save $300 on my favorite landscape/in-camera HDR/Palouse camera body alone by clicking here.
Canon 100-400mm IS II and/or a Canon 70-200mm L IS Lens?
Long-time BIRDS AS ART/A Creative Adventure friend and client Dave Klein e-mailed recently:
I believe I will make my first foray away from the the dark side and order the Canon EF 24-105mm f/4L IS USM lens/Canon EOS 5D Mark III combo. I will wait till after my Florida trip to move everything else along but I am wondering, with the release of the new 100-400 II, would I need or miss having a 70-200 2.8? I have had Nikon's latest version of the 70-200 for quite a while, but since acquiring the 80-400 VR II two years ago, I have almost never used it…. What are your thoughts? Just wondering; all of my purchases will be made using your B&H links. Thanks. Dave
Note: Dave who has been using Nikon gear since Day One is 99.9% committed to making the switch to Canon.
Several others who own the Canon EF 100-400mm f/4.5-5.6L IS II USM lens have asked about the 70-200s….
Here are my thoughts.
Those who own a 100-400 II along with the venerable 24-105mm as their all-purpose short zoom lens will of course enjoy complete focal length coverage from 24-400mm. Those like me who own the Canon EF 24-70mm f/2.8L II USM lens will have a focal length gap from 70-100mm. That would likely affect landscape folks a lot more than bird photographers. For folks who own both lenses, the new 100-400 and one of the 70-200 f/2.8s, complete focal length coverage is not the only consideration: the elephant in the room here of course is lens speed. The 100-400II is relatively slow with a maximum aperture of f/5.6 at the longer focal lengths. That gives any of the Canon 70-200 f/2.8s a huge edge with their larger maximum apertures.
Note: the focal length gap for Nikon folks who one the 80-200mm VR II is much smaller: 10mm is as close to insignificant as you can get.
Folks might also miss their 70-200s in a few specific situations at Bosque (or in similar situations elsewhere). First, they might miss the extra 30mm of wide end overage when attempting to frame either blast offs or bird-scapes. In addition, they might miss the speed of their 70-200 f/2.8 lenses on days with very early pre-dawn color.
As noted in the paragraph above, there are times when fast lenses earn their keep; today's featured image is a perfect example. It was foggy and dark with lots of cormorants flying right at us and landing at close range. Realizing that before leaving my rental vehicle I put the Canon EF 70-200mm f/2.8L IS II USM lens in the large rear pouch of my X-trahand vest. In addition to the 70-200 I also had my new 100-400 II with me on the cliffs that morning. With the dismal light and the birds at close range, the 70-200 f/2.8 was the obvious best tool for the job. I went with the 7D II in part for the extra reach and in part to experiment.
Why was the 70-200 the best choice in this situation? In order to get the same shutter speed (a marginal 1/800 sec.) at f/5.6 ,I would have needed to go to ISO 3200…. That is not something that I would be quick to do with the 7D II. As I am fine working at the wide open aperture for flight photography, I set the lens opening to f/2.8 and work at a relatively safe ISO 800.
The Other Canon 70-200mm
With the availability of the Canon 100-400mm II zoom lens, an older version of the 70-200 comes boldly into the conversation. The Canon EF 70-200mm f/4L IS USM lens just might be the perfect complement to those owning the Canon EF 100-400mm f/4.5-5.6L IS II USM lens. The f/4 version of the 70-200 is 1.61 pounds lighter than the f/2.8 version. In terms of size and bulk it is relatively tiny when compared to its faster, heftier cousin. It is far easier to travel with and far easier to hand hold during extended flight photography sessions. On last year's UK Puffins & Gannets IPT most folks could barely raise their 70-200mm f/2.8s after the first hour. The 70-200mm f/4L IS is only a stop slower. A drawback for folks doing landscapes and bird-scapes is that a tripod collar is not included with your purchase. The Canon Tripod Mount Ring A-2 for 70-200mm f/4L is an optional accessory.
Whether or not I sell my Canon EF 70-200mm f/2.8L IS II USM lens, I will surely have the lighter, smaller f/4 version in my hands on the gannet boat next July.
Please Support the Blog
If what you learned here today helped you decide which camera or lens would be best for you, please consider using our B&H affiliate links to make your purchases. Doing so will not cost you one cent more and is a great way to thank me for my efforts here on the blog.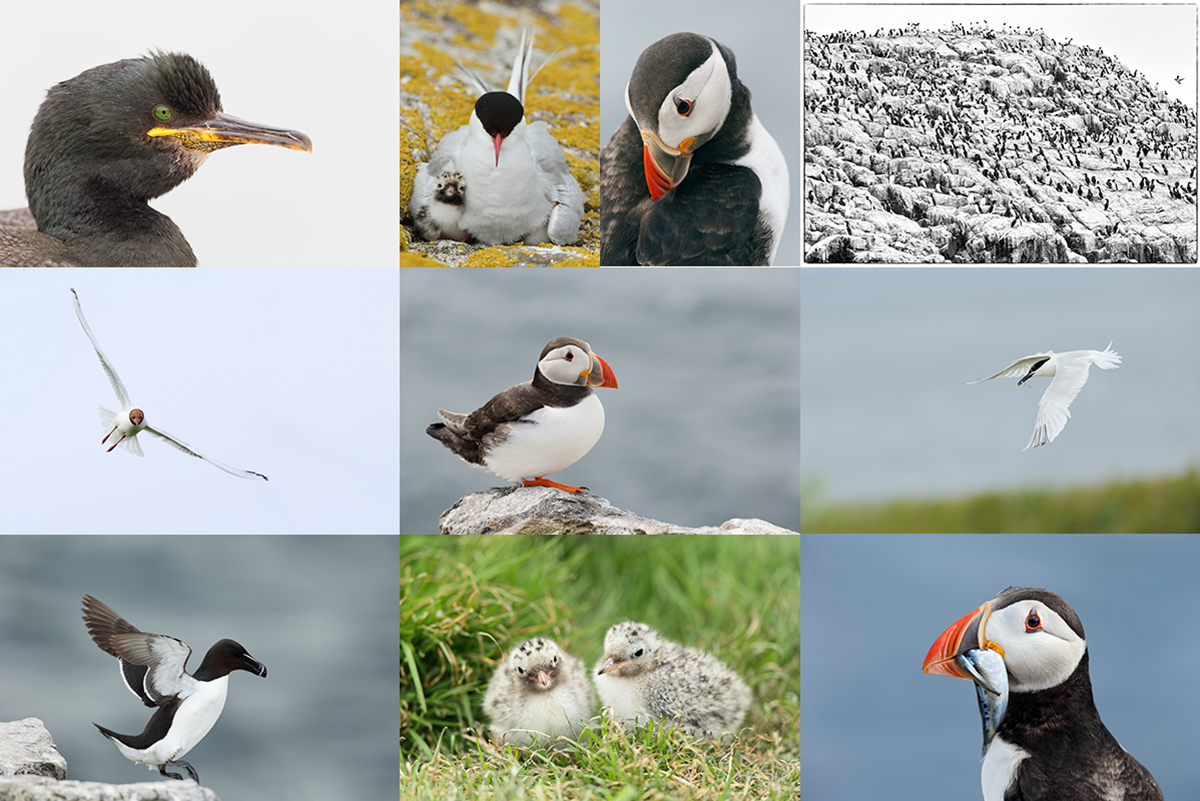 Images and card design copyright 2014: Arthur Morris/BIRDS AS ART. Click on the card to enjoy a spectacular larger version.
The 2015 UK Puffins and Gannets IPT
June 29 through July 5, 2015: $5499: Limit 10 photographers/One opening due to a recent cancellation. Two great leaders: Denise Ippolito and Arthur Morris.
Here are the plans: take a red eye from the east coast of the US on 28 June arriving in Edinburgh, Scotland on the morning of Monday 29 June (or simply meet us then either at the Edinburgh Airport (EDI) or later in the day at our cottages if you are driving your own vehicle either from the UK or from somewhere in Europe. Stay 7 nights in two gorgeous modern country cottages.
There are 5 days of planned puffin/seabird trips—weather permitting, and 1 full day of gannet photography with 2 sessions on the boat.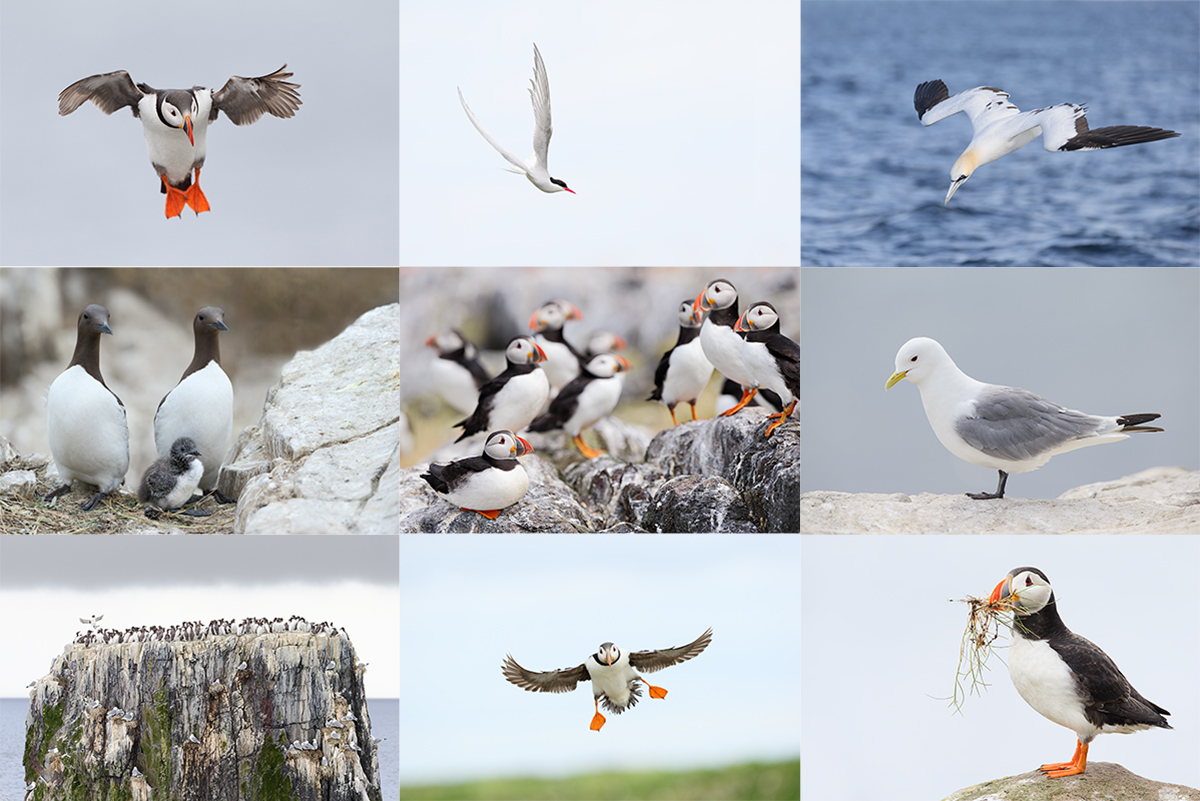 Images and card design copyright 2014: Arthur Morris/BIRDS AS ART. Click on the card to enjoy a spectacular larger version.
The Details
We will be staying in upscale country-side cottages that are beyond lovely with large living areas and lots of open space for image sharing and Photoshop lessons. The shared rooms are decent-sized, each with two roomy single beds and a private bathroom. See the single supplement info below.
All breakfasts, lunches and dinners are included. All 5 puffins boat lunches will need to be prepared in advance, taken with, and consumed at your leisure. I usually eat mine on the short boat trip from one island to the other. Also included is a restaurant lunch on the gannet boat day and a farewell fine dining thank you dinner. The cost of your National Heritage Trust is also included; that covers the twice a day landing fees.
Plan to fly home on the early morning of Monday 6 July or to continue your stay or travels.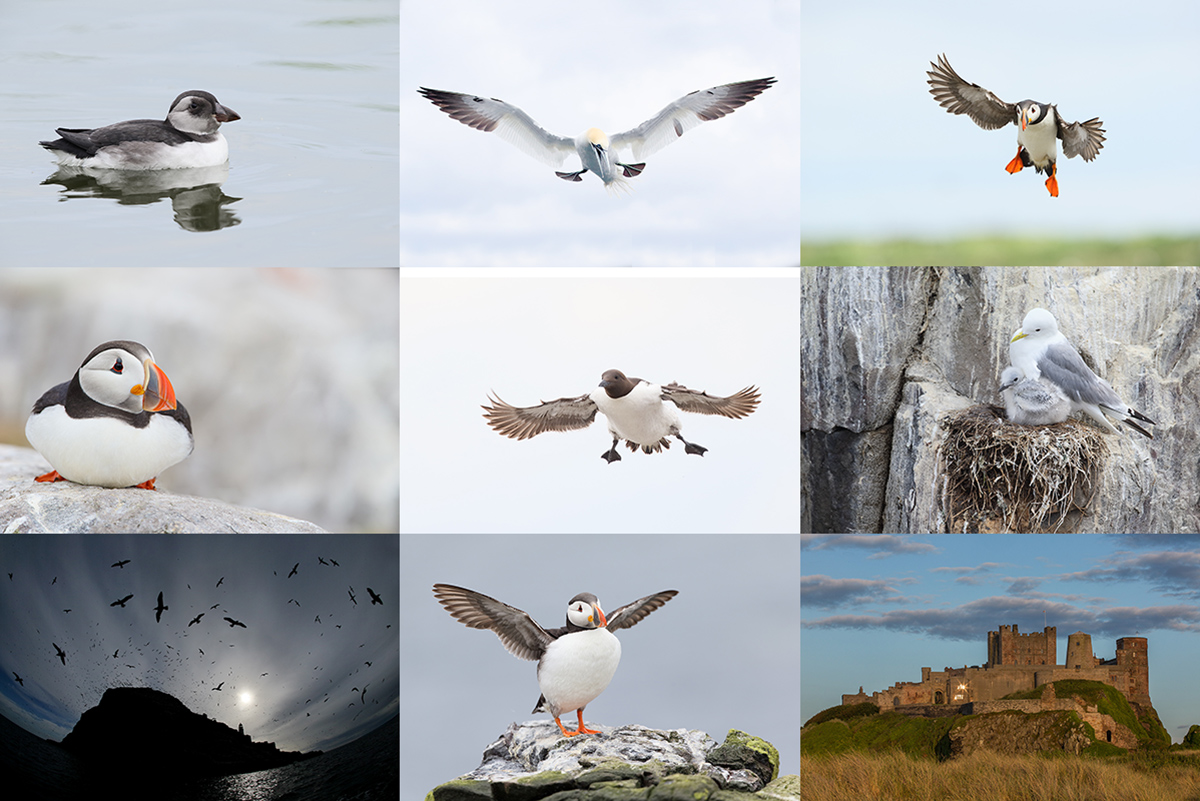 Images and card design copyright 2014: Arthur Morris/BIRDS AS ART. Click on the card to enjoy a spectacular larger version. Scroll down to join us in the UK in 2015.
Single Supplement Info
The single supplement is $1475. As we will be renting a third cottage the $1475 is due with your deposit and is also non-refundable.
If you are good to go please send your $2,000 deposit check now to save a spot. The balance will be due on March 29, 2015. Please make your check out to "Arthur Morris" and send it to Arthur Morris/BIRDS AS ART, PO Box 7245, Indian Lake Estates, FL, 33855. If you cancel and the trip fills, we will be glad to apply a credit applicable to a future IPT for the full amount less a $100 processing fee. If we do not receive your check for the balance on or before the due date we will try to fill your spot from the waiting list. Whether or not your spot is filled, you will lose your deposit. If not, you can secure your spot by paying your balance.
We do hope that you can join us.
Used Photography Gear
You can see the complete list by clicking here or by clicking on the Used Photography Gear for Sale tab on the second gold tool bar at the top of each blog page.
Today's Relevant Featured Items
Used Canon EOS-1D X
Sold immediately as predicted!
Gary Meyer is offering a used Canon EOS-1D X in mint condition for only $4,450.00. The shutter count is only 5335. The sale includes an extra battery, the front cap, the original box and packaging along with all manuals, cords and CDs. Also included is insured shipping via UPS Ground. Your item will not ship until your check clears unless other arrangements are made. Paypal OK.
Please contact Gary by e-mail or by phone at 612-221-0150 (8am to 10pm Central time).
As a new 1D X sells for $5999, this one should sell instantly with the price drop. I currently own two EOS-1D X bodies and will not be selling either one soon. Super-fast frame rate, full frame body, rugged construction, vibrant, accurate colors, high quality image files, very good high ISO performance, and the world's best AF system. The world's best flight photographers choose and use the 1D X. artie
Canon EF 70-200mm f/2.8L IS USM Mk II Lens
Price reduced $51 on 1/27/2015!
Muir Robertson is offering a used Canon EF 70-200mm f/2.8L IS USM Mk II lens in like-new condition for $1799. The sale includes the original box and accessories and includes a Really Right Stuff lens foot and insured ground shipping to lower 48 US addresses.
Interested folks please contact Muir first by e-mail and then by phone at 513-314-2471.
As regular readers know the 70-200 f/2.8L IS II lens is with me every time I head into the field. It is amazingly versatile. I use mine often alone and with either TC. artie
I currently own two EOS-1D X bodies and will not be selling either one soon. Super-fast frame rate, full frame body, high quality image files, high ISO performance, and the world's best AF system. The world's best flight photographers choose and use the 1D X. artie
Facebook
Be sure to like and follow BAA on Facebook by clicking on the logo link upper right. Tanks a stack!
Support the BAA Blog. Support the BAA Bulletins: Shop B&H here!
We want and need to keep providing you with the latest free information, photography and Photoshop lessons, and all manner of related information. Show your appreciation by making your purchases immediately after clicking on any of our B&H or Amazon Affiliate links in this blog post. Remember, B&H ain't just photography!
…..
Amazon.com
Those who prefer to support BAA by shopping with Amazon may use this link:
Amazon Canada
Many kind folks from north of the border, eh, have e-mailed stating that they would love to help us out by using one of our affiliate links but that living in Canada and doing so presents numerous problems. Now, they can help us out by using our Amazon Canada affiliate link by starting their searches by clicking here. Many thanks to those who have written.
Typos
In all blog posts and Bulletins, feel free to e-mail or to leave a comment regarding any typos or errors. Just be right :).