What's Up?
On Thursday we had a great day (even with wind against sun in the morning). We endured the threat of thunderstorms pretty much all day long but escaped unscathed. As the skies got black toward sunset we beat a hasty retreat and as we headed back to the hotel it poured. It is 9:06pm now and I am off the bed. So good night and good morning.
Gear Questions and Advice
Too many folks attending BAA IPTs and dozens of the folks whom I see in the field, and on BPN, are–out of ignorance–using the wrong gear, especially when it comes to tripods and more especially, tripod heads… Please know that I am always glad to answer your gear questions via e-mail.
The Streak: 322!
Today's blog post marks a totally insane, irrational, illogical, preposterous, absurd, completely ridiculous, unfathomable, silly, incomprehensible, what's wrong with this guy?, makes-no-sense, 322 days in a row with a new educational blog post. There should be no end in sight until my big South America trip next fall. Or not… As always-–and folks have been doing a really great job recently–-please remember to use our B&H links for your major gear purchases. For best results use one of our many product-specific links; after clicking on one of those you can continue shopping with all subsequent purchases invisibly tracked to BAA. Your doing so is always greatly appreciated. Please remember: web orders only. And please remember also that if you are shopping for items that we carry in the new BAA Online Store (as noted in red at the close of this post below) we would appreciate your business.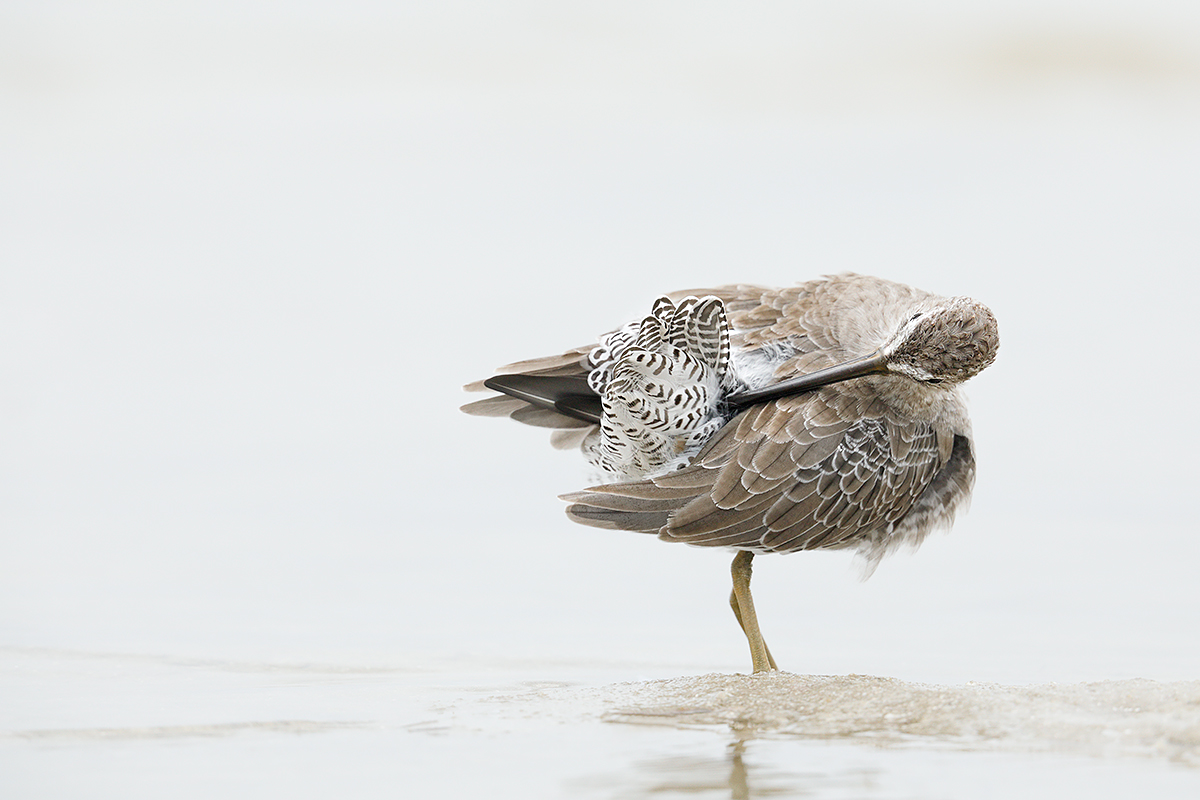 This image was created on the first afternoon of the Fort DeSoto Fall IPT with the Induro GIT 304L/Mongoose M3.6-mounted Canon EF 500mm f/4L IS II USM lens, the Canon Extender EF 2X III, and the Canon EOS 5D Mark IV. ISO 1600. Evaluative metering +1 2/3 stops: 1/500 sec. at f/9. Daylight WB.
I selected a single AF point that was three to the right of the center AF point/AI Servo Expand/Shutter Button AF as originally framed was active at the moment of exposure. The selected AF point was squarely on the base of the bird's bill. The optimized image is a small crop from our left and above.
LensAlign FocusTune AF micro-adjustment: -5.
Short-billed Dowitcher/adult preening with tail splayed
A Whole New World: 500 II + 2XIII TC + 5D Mark IV…
I decided a while back to leave the 600 II at home and take the 500 II to South America to save weight and to help keep my right shoulder in the great shape it is now. Plus it is way easier to travel with the 500 II than it is to travel with the far bulkier 600 II. So I committed to using the 500 II as my long tripod-mounted super-telephoto on the DeSoto Fall IPT. As compared to the 600 II, its smaller size and lighter weight makes it exponentially easier to get into position. With the 5d IV AF is fast and sure and stable.
LensAlign/Focus Tune Micro-adjusting
LensAlign/Focus Tune micro-adjusting is a pain in the butt. I recently spent well more than two full days doing all of my lenses and TCs with my two new Canon EOS 5D Mark IV bodies. My time was well spent. The breathtakingly sharp images that I am producing made all of that time spent dealing with the sometime huge challenges that come with micro-adjusting beyond well worth it.
A Realization
When trying to figure out the reasons that I have long been able to create super-sharp photographs such as today's featured image with the 2X TCs and f/4 super-telephoto lenses while others have struggled mightily one factor that pops into mind is the fact that I have been micro-adjusting (MA-ing) my gear ever since LensAlign and FocusTune came into being. Here's the key: the MA values with TCs are generally greater than the MA values with the prime lenses alone and the MA values with the 2X TCs are generally greater then the MA values with the 1.4X TCs. Fact: the longer the effective focal length, the harder it is to come up with a good MA value… So add perfect sharpness techniques to a lens/TC/body combo that has been accurately FocusTuned and the sharpness can be astounding.
An Interesting Pat Sparkman Thought on the 500 II versus the 600 II
My friend Patrick Sparkman, a brilliant photographer who is far more technically proficient than yours truly, has long reasoned that dropping down from the 600 II to the 500 II will allow you to create sharper images, images that when cropped to the same subject size as images made with the 600 will be at least as sharp if not sharper… I am now in the process of proving that to be true.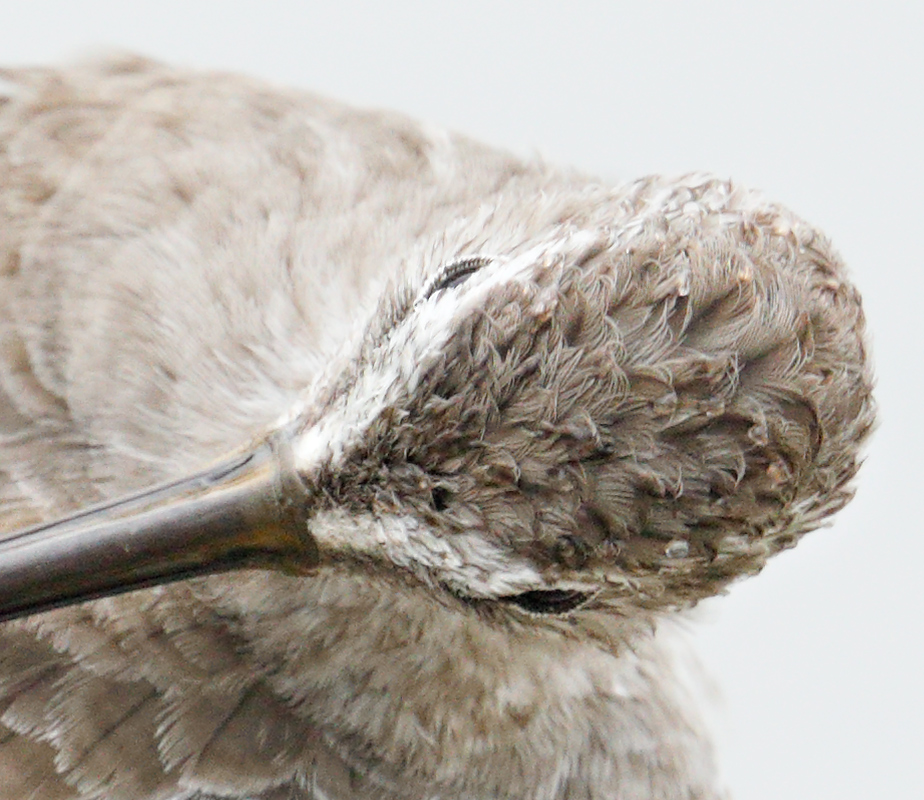 100% crop of today's featured image
100% Crop of Today's Featured Image
When exposed well to the right high ISO images from the 5D Mark IV can be virtually noise free. The only noise reduction applied to today's image was done during the RAW conversion in DPP 4. The image file was so clean that I did not even consider running NeatImage on it. Remarkable indeed.
Your Thoughts?
Please leave a comment and let us know what you think of the fine feather detail and noise levels in today's ISO 1600 featured image.
If…
If the images you are seeing here on the blog and what you are reading inspires or prompts you to purchase a Canon EOS 5D Mark IV, please consider using my B&H affiliate link. Doing so will not cost you one penny and is the best way to thank me for my efforts here on the blog and the time spent answering your gear and photo related questions via e-mail.
Please Remember to use my Affiliate Links and to Visit the New BAA Online Store 🙂
To show your appreciation for my continuing efforts here, we ask, as always, that you get in the habit of using my B&H affiliate links on the right side of the blog for all of your photo and electronics purchases. Please check the availability of all photographic accessories in the New BIRDS AS ART Online Store, especially the Mongoose M3.6 tripod head, Wimberley lens plates, Delkin flash cards and accessories, and LensCoat stuff.
As always, we sell only what I have used, have tested, and can depend on. We will not sell you junk. We know what you need to make creating great images easy and fun. And we are always glad to answer your gear questions via e-mail.
I would of course appreciate your using our B&H affiliate links for all of your major gear, video, and electronic purchases. For the photographic stuff mentioned in the paragraph above we, and for everything else in the new store, we, meaning BAA, would of course greatly appreciate your business. Here is a huge thank you to the many who have been using our links on a regular basis and those who will be visiting the New BIRDS AS ART Online Store as well.
Facebook
Be sure to like and follow BAA on Facebook by clicking on the logo link upper right. Tanks a stack!
Typos
In all blog posts and Bulletins, feel free to e-mail or to leave a comment regarding any typos or errors. Just be right 🙂