The Streak Continues: 264
This blog was published at about 5:30am from my Mom's home at Holbrook, Long Island, NY. It took me about 2 hours to assemble this post which makes 264 consecutive days with a brand new blog post. I am in NY for a week of visiting my elderly (gonna be 92 soon) Mom, my younger sister Arna, my younger daughter Alissa and her wonderful family, and doing some late summer bird photography.
As always, I would appreciate your using the BIRDS AS ART B&H affiliate links for all of your major gear, video, and electronic purchases, using our Amazon logo-link for all of your household purchases, and visiting the BAA Online Store for your tripod, tripod head, LensCoat, miscellaneous, accessories, and eGuide purchases as well.
The 2015 UK Puffins and Gannets IPT
There are now just 2 slots left on the 2015 UK Puffins and Gannets IPT; if you are seriously interested in joining us on this truly wonderful trip it would be best not to tarry…. Scroll down here for complete details. artie and denise
Nickerson Beach Update
From Greg Gulbransen: Lots of skimmers feeding chicks out front in the open at Nickerson. Lots of photo ops. Next week will be perfect. For info on my 2-DAY IPT next Monday and Tuesday scroll down here. Call 1-863-692-0906 and ask Jim about the very late registration discount.
2015 Palouse IPT #2
The first 2015 Palouse IPT is sold out with a long waiting list. There are now just 4 slots left on the Palouse IPT #2. Scroll down in this blog post for complete details.
Selling Your Used Photo Gear Through BIRDS AS ART
Selling your used (or like-new) photo gear through the BAA Blog or via a BAA Online Bulletin is a great idea. We charge only a 5% commission. One of the more popular used gear for sale sites charges a minimum of 20% plus assorted fees! Yikes. The minimum item price here is $500 (or less for a $25 fee). If you are interested please e-mail with the words Items for Sale Info Request cut and pasted into the Subject line :). Stuff that is priced fairly–I offer free pricing advice, usually sells in no time flat. In the past few months, we have sold just about everything in sight. You can see the additional listings here. Immediately below is today's featured listing.
Used Canon EF 100-400 f 4.5-5.6 L IS Lens
Bruce Boswell is offering a used Canon EF 100-400 f 4.5-5.6 L IS lens in very good condition for $999 plus insured shipping via UPS Ground to US Continental addresses only. The tripod and zoom rings have a few minor blemishes. The sale includes: the original case, the front and rear caps, the lens hood, and the lens manual. Your gear will be shipped only after your check clears.
Please contact Bruce via e-mail or by phone at (309) 451-1506 or (309) 530-8493 (cell) (Central).
The 100-400 is a versatile intermediate telephoto zoom lens with 1,000+ uses. It makes a great starter lens especially for folks who do general nature and wildlife in addition to birds. I've sold 100s of images made with a 1-4 and denise loved hers for many years forsaking it only recently for the Canon EF 70-200mm f/2.8L IS II USM lens. Bruce's 100-400 is priced to sell.
Your Help Is Needed
Sales for the first half of August, 2014 via our BIRDS AS ART B&H affiliate links have been microscopically abysmal at best. If you need to purchase some new camera gear, please remember to use either our B&H logo link below or one of the product-specific links in the blog or the Bulletins. All should feel free to write me via e-mail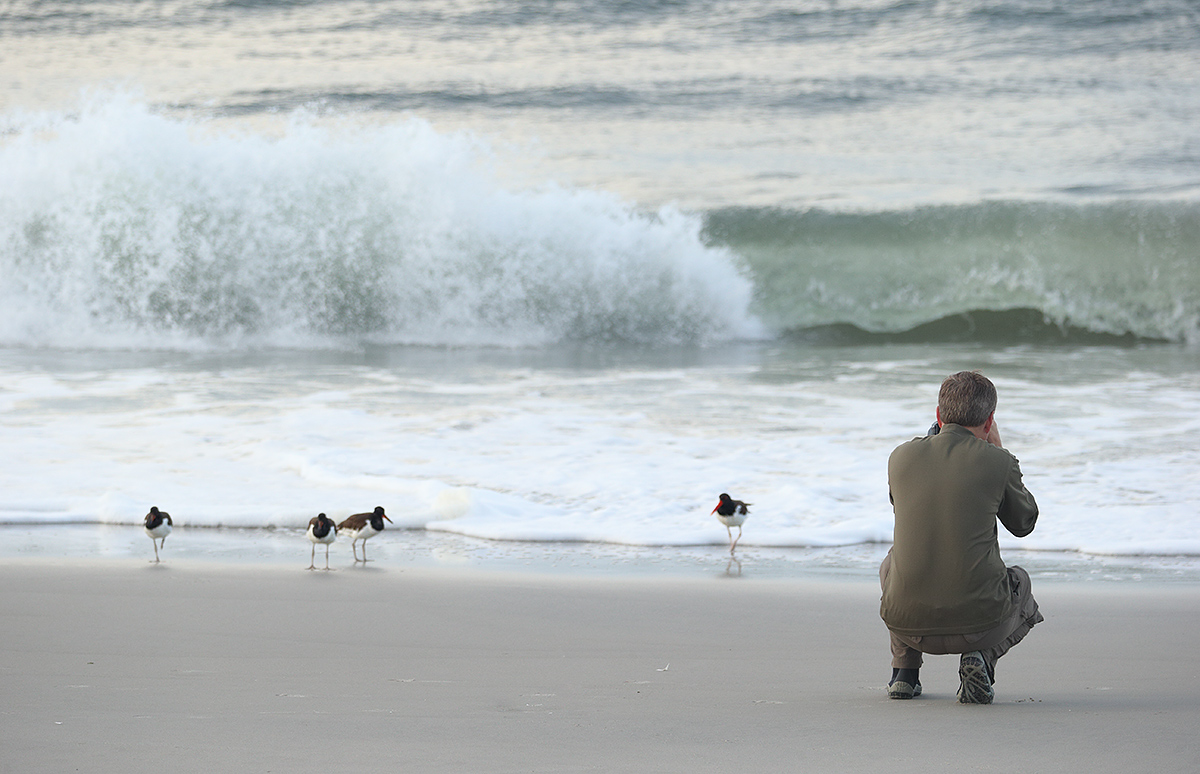 This image was created at 11:04am on a very cloudy day on last July's Nickerson Beach IPT with the hand held Canon EF 70-200mm f/2.8L IS II lens , the Canon Extender EF 2X III (at 140mm), and the Canon EOS-1D X. ISO 800. Evaluative metering +1 stop as framed: 1/250 sec. at f/6.3 in Manual Mode. Color Temperature 9100K; what was I thinking? But with RAW capture it was easy to cool down the image with the Color Temperature slider in DPP 4.0.
Central Sensor Surround/AI Servo Rear Focus AF on Dave's neck and re-compose. Click here to see the latest version of the Rear Focus Tutorial. Click on the image to see a larger version.
What Mr. Dave Did Right
Above is multiple IPT veteran Dave Klein on last July's Nickerson Beach IPT, the one that I co-led with Denise Ippolito. What did Dave do right? Lot's. First, he selected a nice clean section of beach. Though you can't see it in this image he approached the birds lowly and slowly. Just like we taught him. And though the bird's were very tame, he went off by himself and found a cooperative family. That made it much less likely that the birds would be flushed. And most importantly, he got down low. Though you can't see his left hand and arm, he is properly supporting his Nikon AF-S NIKKOR 80-400mm f/4.5-5.6G ED VR lens 80-400 VR II with his left hand well out on the lens barrel.
What artie Did Right
What did I do right? Lots. I made sure that I had the right exposure and set that manually. That is very important because if I had been in an automatic mode the white of the breaking waves would have fooled the meter. I focused on Dave and recomposed. After pressing the rear button to set the focus I concentrated on standing stock still so as not to throw off the focus. I chose a perspective that put Dave on one side of the frame with three of the oystercatchers on the opposite side of the frame. This yielded perfect compositional balance. What made this image the best of the series? I timed the breaking wave to mirror the four birds while the green part of the wave served to set Dave off nicely. As you have come to learn here, stuff like that does not happen by accident. As Sam Abell (check spelling) said in his keynote address at NECCC, "See the situation, compose the shot, and then wait. " Though he was a documentary photographer his advice is often spot-on for nature photographers as well.
Image Questions
Why is the arrangement of the birds slightly less than perfect?
Is there anything else about the image that bothers you?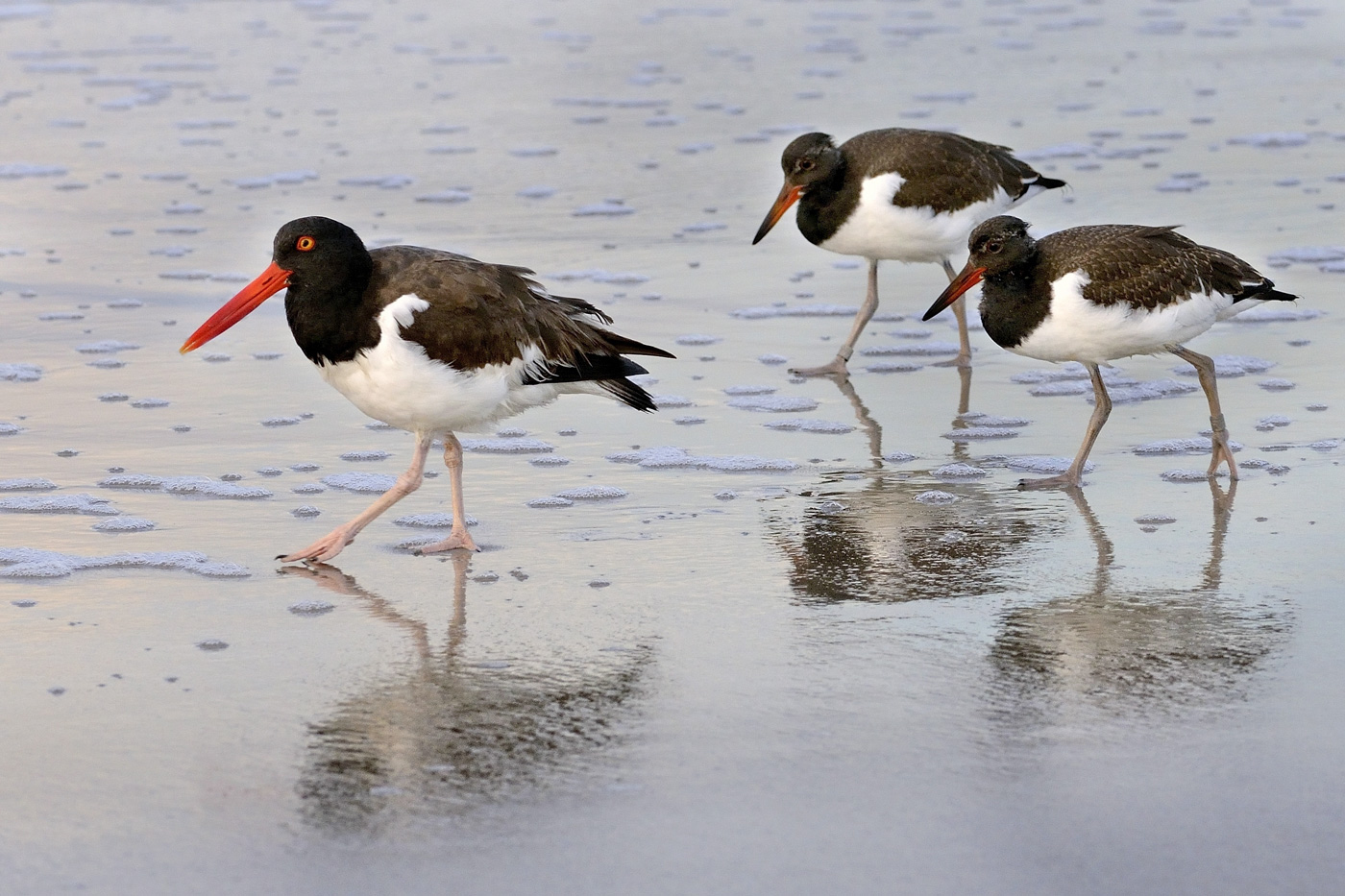 Dave created this image on the Nickerson Beach IPT that I co-led with Denise Ippolito in a similar situation with the Nikon AF-S NIKKOR 80-400mm f/4.5-5.6G ED VR lens (hand held at 125mm/Digital Zoom: 1.5X = 187mm) and the Nikon D600 (now replaced by the Nikon D610 ). ISO 1000. Matrix metering +2/3 stop: 1/640 sec. at f/8 in Av mode. AWB.
American Oystercatcher family foraging. Image courtesy of and copyright 2014 Dave Klein
My Comments on Dave's Image
The three birds here are perfectly juxtaposed and the image is sharp and well exposed. With a relatively short focal length, f/8 was more than enough to cover the entire family. I like the foam left over from a breaking wave and I love the soft reflections. The image is beautifully framed/cropped with more room in front of the lead bird than behind the last bird. This image was created in soft light on the late afternoon (5:21pm) of July 17, 2014. Yikes! I almost forgot: three very good head angles.
The Nikon D810 Digital Camera Body
The Nikon D810 DSLR has been hard to keep in stock since its recent release. B&H just received a large shipment of the camera that is reputed to create the highest quality images of any dSLR on the planet….
Nickerson Beach Short-notice Weekday Beach-nesting Birds IPT: 2-Full Days/August 25-26, 2014: $749*. Leader: Arthur Morris
Call 1-863-692-0906 and ask Jim about the very late registration discount.
Join me on Long Island, NY soon to photograph Black Skimmers with chicks and young of all sizes, adult and juvenile Common Terns, and American Oystercatchers with grown young. The skimmers will be the stars of the show. Mid- to late August is prime time for photographing young skimmers. Chances are great to witness Great Black-backed Gull predation. The will also be chances to photograph a variety of shorebird species including large flocks of southbound migrant Sanderlings. Car-pooling is recommended; if we opt to return to the beach before 5pm there is a $30/vehicle parking fee that is not included so it is best to share that expense. Parking in the morning is free.
Call Jim or Jen weekdays at 863-692-0906 with a credit card in hand to register and to pay in full. Please print, complete, and sign the form that is linked to here and then shoot us a scanned copy via email or bring a hard copy with you to the workshop.
If you have any questions please feel free to contact me via e-mail or on my cell at 863-221-2372; please leave a message if I do not pick up.
Facebook
Be sure to like and follow BAA on Facebook by clicking on the logo link upper right. Tanks a stack!
Support the BAA Blog. Support the BAA Bulletins: Shop B&H here!
We want and need to keep providing you with the latest free information, photography and Photoshop lessons, and all manner of related information. Show your appreciation by making your purchases immediately after clicking on any of our B&H or Amazon Affiliate links in this blog post. Remember, B&H ain't just photography!
…..
Amazon.com
Those who prefer to support BAA by shopping with Amazon may use this link:
Amazon Canada
Many kind folks from north of the border, ay, have e-mailed stating that they would love to help us out by using one of our affiliate links but that living in Canada and doing so presents numerous problems. Now, they can help us out by using our Amazon Canada affiliate link by starting their searches by clicking here. Many thanks to those who have written.
Typos
In all blog posts and Bulletins, feel free to e-mail or to leave a comment regarding any typos, wrong words, misspellings, omissions, or grammatical errors. Just be right.