What's Up?
I am in Stanley, The Falklands. It is 4:55pm on the afternoon of FRI OCT 21, 2016 as I type. We just enjoyed six of the greatest days of bird photography in my career on Saunders and Bleaker. It was so wonderful that I am announcing a return IPT in two years. Please see the details below. I hope that you are well. I am doing far better after the gall bladder surgery than I had any right to expect. I beat my cold on Bleaker on WED but it seems as if I am fighting another one now. We get on the ship tomorrow …
Jim and Jen are at the office most days to help you with your mail order needs and Instructional Photo-Tour sign-ups. I still need folks for San Diego, Japan, Galapagos, the Palouse, and the Bear Boat (Grizzly Cubs) trips. Among others 🙂 Please e-mail for couples and discount info for all of the above. Click here for complete IPT info.
Please note that I will be offline 100% from 22 OCT to 6 NOV so do not be shocked if I do not answer your e-mails either during that period or in the weeks that follow when I will have limited internet access. As always, I will do my best.
Gear Questions and Advice
Too many folks attending BAA IPTs and dozens of the folks whom I see in the field, and on BPN, are–out of ignorance–using the wrong gear, especially when it comes to tripods and more especially, tripod heads… Please know that I am always glad to answer your gear questions via e-mail.
The Streak: 344!
Today's blog post marks a totally insane, irrational, illogical, preposterous, absurd, completely ridiculous, unfathomable, silly, incomprehensible, what's wrong with this guy?, makes-no-sense, 344 days in a row with a new educational blog post. There should be no end in sight until my big South America trip next fall. Or not… As always-–and folks have been doing a really great job recently–-please remember to use our B&H links for your major gear purchases. For best results use one of our many product-specific links; after clicking on one of those you can continue shopping with all subsequent purchases invisibly tracked to BAA. Your doing so is always greatly appreciated. Please remember: web orders only. And please remember also that if you are shopping for items that we carry in the new BAA Online Store (as noted in red at the close of this post below) we would appreciate your business.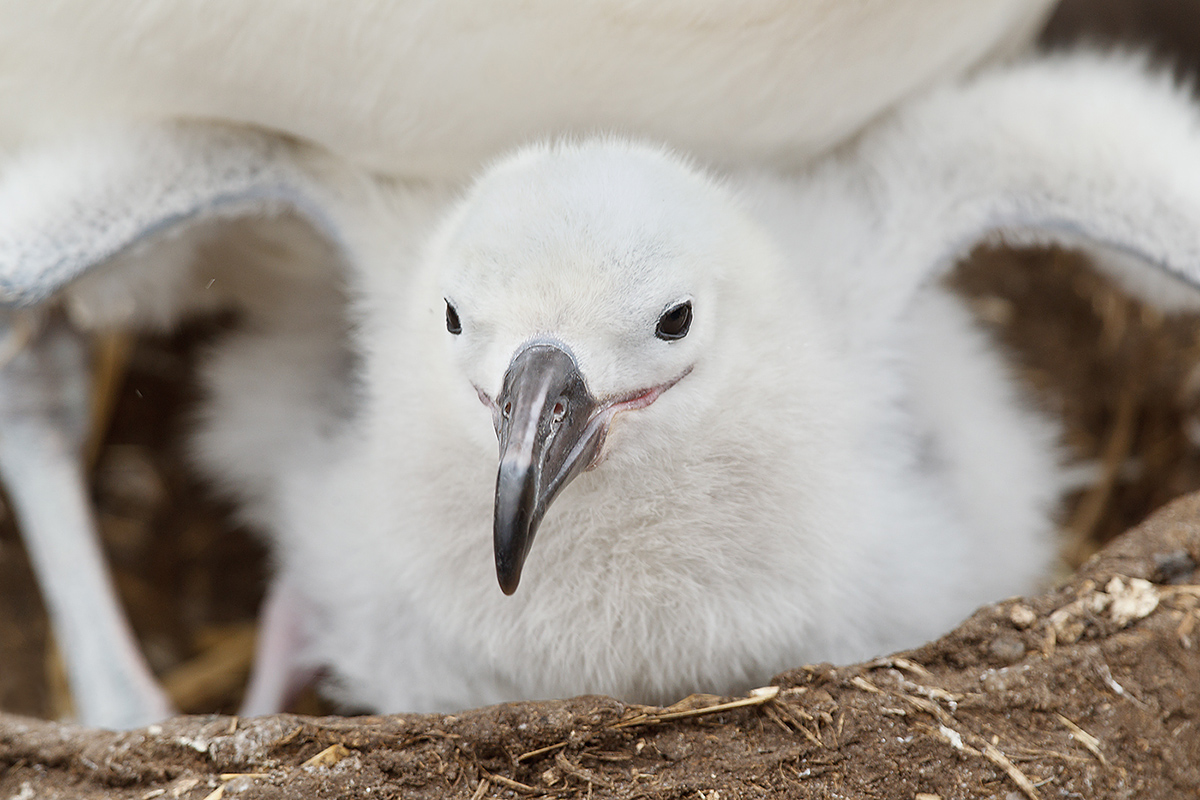 Image #1: Black-browed Albatross chick flapping
Falklands Cheap Land-based IPT DEC 22, 2018 thru JAN 5, 2019: Limit 7 photographers/Openings 6: $7499
Just so you know, I will be leading an innovative land-based Falklands IPT leaving from Stanley, The Falklands on SAT 22 DEC 2018 and flying back to Santiago, Chile on SAT JAN 5, 2019. Why innovative? We will be spending six nights at The Neck on Saunders Island, one of the premier wildlife photography destinations on the planet. We will be ending up on the amazing Bleaker Island. I will let you know in January when the trip will be formally announced as to we will be spending seven nights on Bleaker or 3 nights on Sea Lion Island and 4 on Bleaker. I will make that decision after visiting Sea Lion on the DEC 2016 land-based Falklands IPT that I am leading.
What else is innovative? Most two-week land-based photo trips have you visiting four or five islands hopping on a FIGAS plane every two days or so. As you are at the mercy of the flight operations you may miss several mornings or afternoons of photography. Why not stay in two or three of the best locations, locations that offer the best photo opps without any long walks. Those are a total wasted. Saunders and Bleaker will get you close-up to the great species with ease. At The Neck we will be staying in rustic cabins right in the heart of the action. On Bleaker we will be enjoying near-luxury accommodations and great home-cooked meals. We will have two vehicles at our disposal.
What else? The first Black-browed Albatross chicks hatch every year on or about 12 DEC. If you visit in early January you will miss most of the tiny chicks. And worse yet, the Rockhopper Penguin chicks are leaving by the second week of January. This trip if timed to get you tons of chances on tiny fluffy white albatross chicks, some of the larger fluffy white chicks, and the rockhopper chicks as well.
With several years of experience on the Falklands, more than six in fact, nobody knows how to read the sky conditions, the wind, and the light better than me and have the group in the best possible spot at all times. With lots of strong west winds, you will need someone who knows how to put you in position to make good images on near impossible mornings.
If you are seriously interested, please shoot me an e-mail and I will get back to you during the second week of November.
ps: No lens longer than 300mm was used to create the five images here.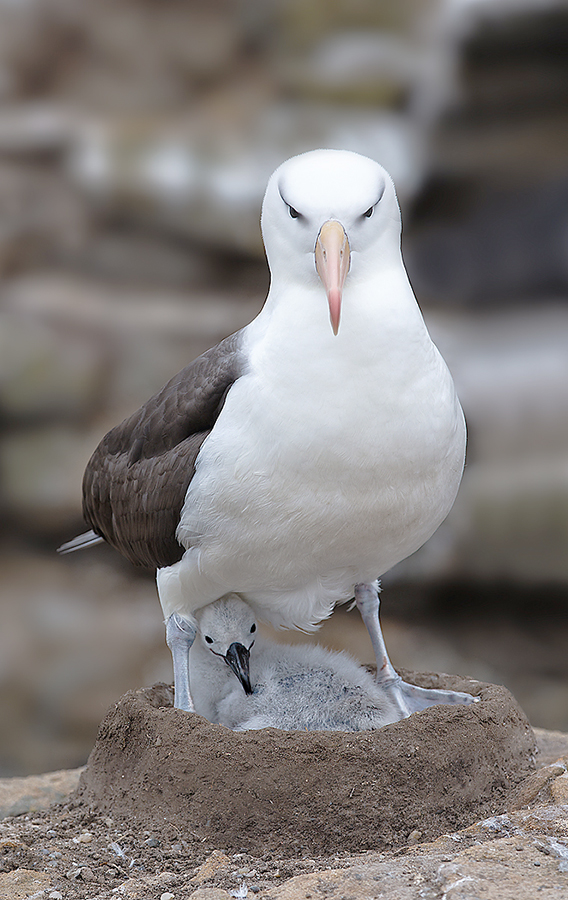 Image #2: Black-browed Albatross on nest with small chick.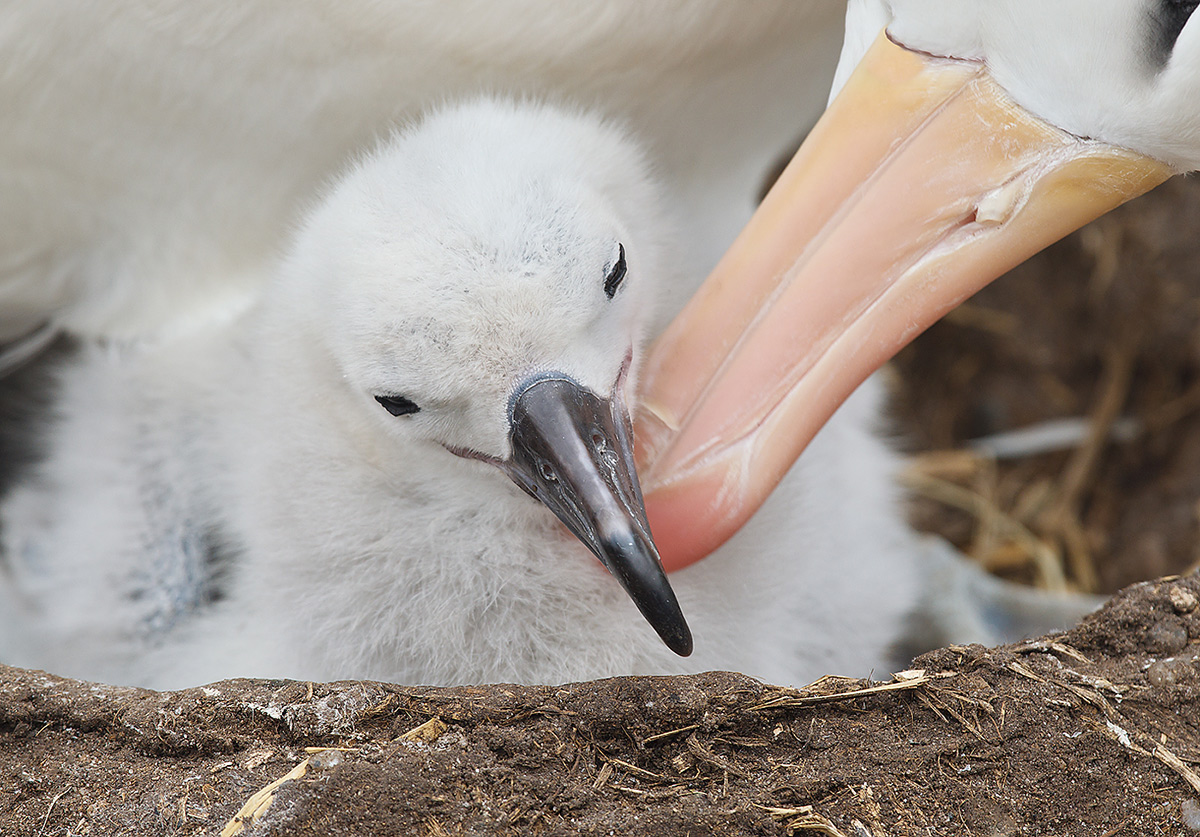 Image #3: Black-browed Albatross adult preening chick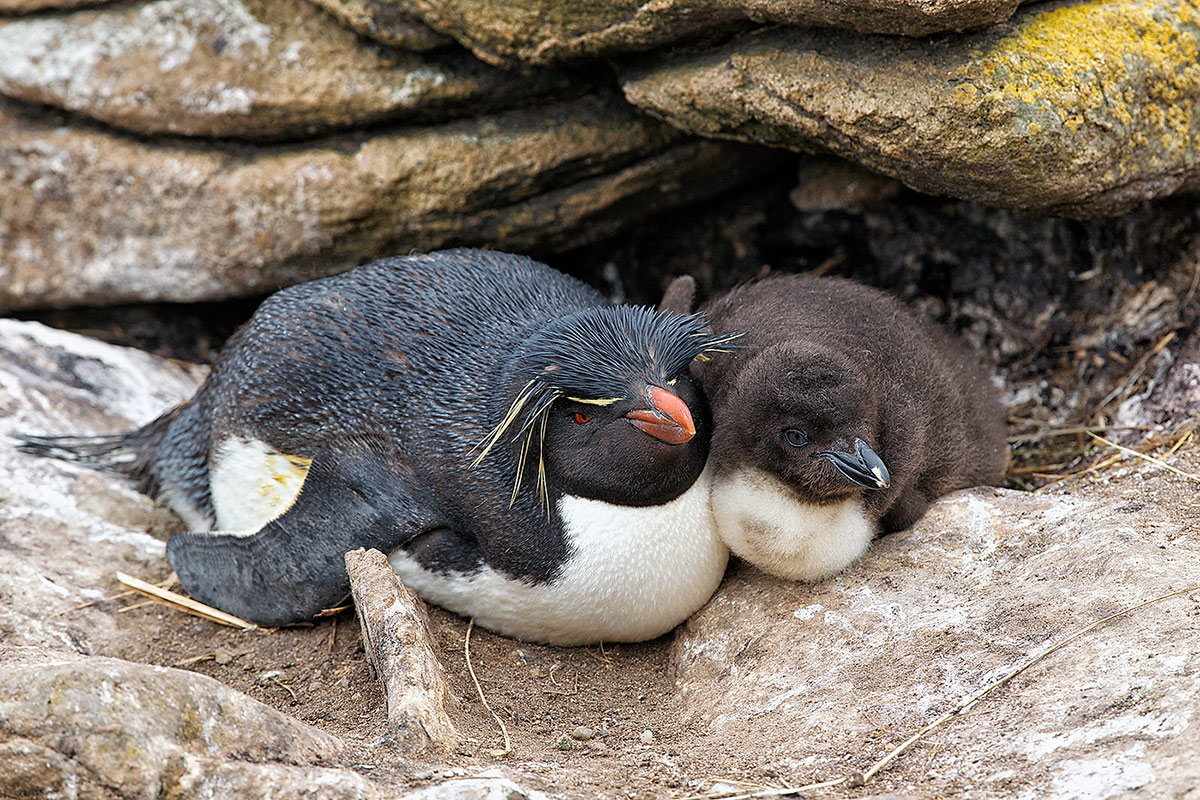 Image #4: Rockhopper Penguin and chick side by side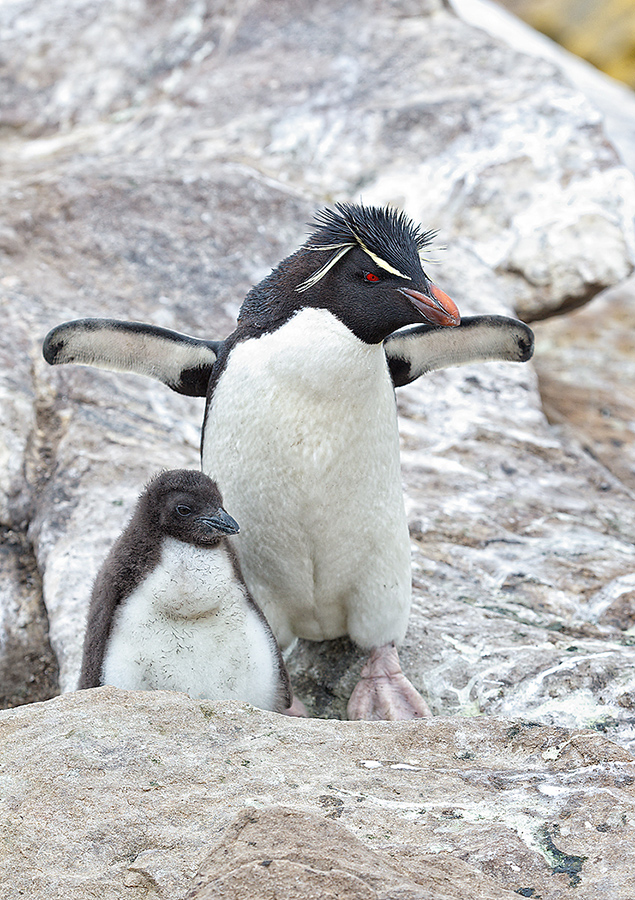 Image #5: Rockhopper Penguin standing protectively over chick
Your Favorite?
Which of the five images above is your favorite? Please let us know why.