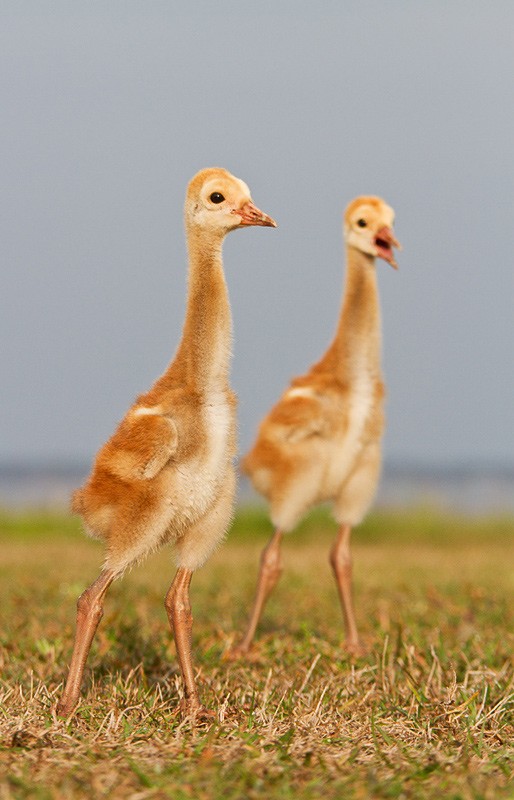 These Sandhill Crane chicks were photographed with the Canon 70-200mm f/4 IS L lens and the EOS-7D. ISO 400. Evaluative metering +2/3 stop:1/1000 sec. at f/6.3. I was down on my belly in the wet grass! The 7D/70-200 f/4 combo is lightweight and very effective with tame birds.
Canon 7D User's Guide Info
The finished 7D User's Guide PDF was e-mailed today to all purchasers.   Thanks to all from the blog who called to save $5 last weekend.  It was fun chatting with you.  We have heard only great things about the guide; we will share of few of them with you in the next Bulletin.   (I am still working hard at finishing the pre-publication version of the Mark IV Guide.)  If you missed the boat last weekend, you can still save $2 by ordering your copy of the 7D User's Guide through the BAA On-Line Store here: https://store.birdsasart.com/shop/item.aspx?itemid=285. Remember: updates are free.  There will be at least one.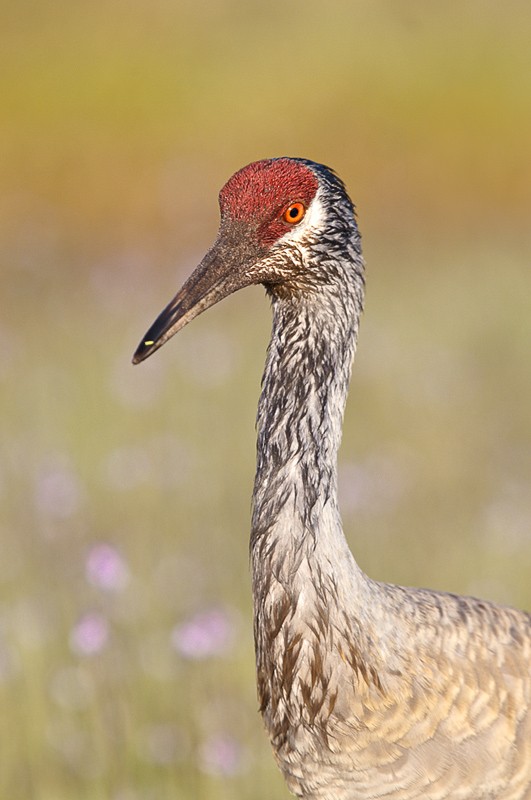 When the cranes come out of the marsh in the morning they are wet and muddy. This image was created with the handheld 400mm f/4 IS DO lens EOS-1D MIV. ISO 400. Evaluative metering +2/3 stop: 1/1000 sec. at f/5.6. 45-Point AAFPS. You can learn all about your autofocus options in the MIV User's Guide. As always, you can click on each image to see a larger, sharper version.
Canon Mark IV User's Guide Info
The long-awaited should be finished by this coming Friday :).   I am have been working very hard on it.  Rudy Winston of Canon has been a great help just as he was with the 7D Guide.   We will be e-mailing the completed PDF file by next Friday, April 17th at the latest.  As the MIV is in many ways similar to the Canon EOS-1D MIII camera body preparing the MIV guide has not been quite as difficult as  much work as preparing the 7D Guide was <another :)>  It will be fairly comprehensive, covering all menu items and Custom Functions that I use.  It will not deal with anything having to do with creating video.  And as always, the Mark IV UG will be written in my easy to read, easy to understand style. Updates are free; there will be at least one.
 
The Mark IV User's Guide will sell for $25, $23 for orders placed through the BAA On-line store.  As we have kept you waiting for too long we are offering a $5.00 discount on pre-orders placed through the BAA On-Line store.   To pre-order your copy and save $5.00 off of the $23 price, click here:  https://store.birdsasart.com/shop/item.aspx?itemid=286.  Only 18 bucks via the store after the smoke clears!
Charlotte Harbor, FL  Wildlife and Kayak Festival This Weekend/Proram Schedule
I will be doing two programs at this event on Saturday April 10, 2010.  The morning program, "A Bird Photographer's Story," will begin at 10:30.  It is being sponsored by Canon USA/Explorers of Light.  The afternoon session (1:30 till 3-pm) will cover the BIRDS AS ART Digital Workflow and include lots of great Photoshop tips.  You can learn more by clicking here: http://www.charlotteharbortravel.com/events/moreinfo.php?Event_ID=24471&pMonth=April.  I look forward to seeing many of you there. I will be bringing along a small selection of books, CDs, and photographic accessories.  If you would like me to bring something specific for you, please e-mail me at birdsasart@att.net
BIRDS AS ART Bulletin #322
BIRDS AS ART Bulletin #322 is on line now at: http://www.birdsasart.com/2010/04/06/birds-as-art-bulletin-322.