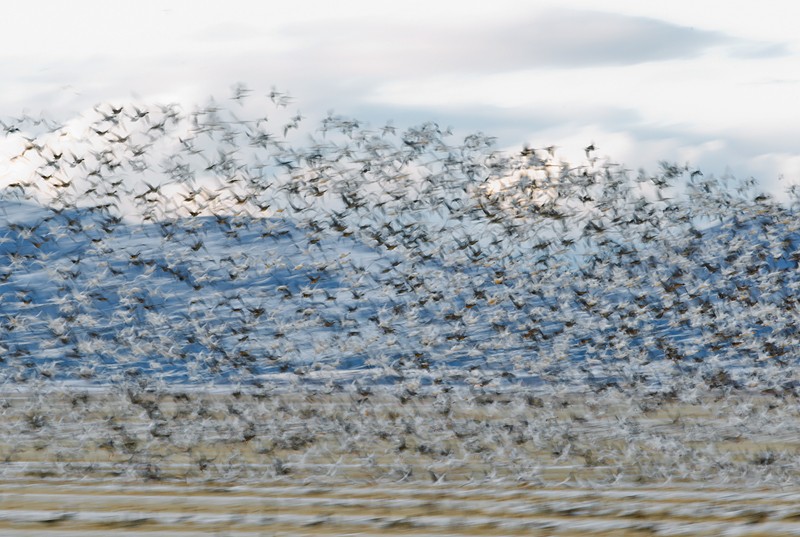 This dark and light geese blast-off image was created with the Canon 70-200mm f/2.8L IS II lens, the 2X III TC, and the EOS-1D Mark IV (hand held at 320mm). ISO 50. Evaluative metering +1 2/3 stops: 1/8 sec. at f/16 in Tv Mode. (You can learn to create a great variety of pleasingly blurred images in "A Guide to Pleasing Blurs" by Denise Ippolito and yours truly.)
Blessed Again…
My visit to Klamath, OR for the Winter Wings Festival has been wonderful. About 175 folks attended my keynote presentation on Saturday evening past and were thrilled hearing "A Bird Photographer's Story." They loved both the images and my schtick.
When I signed up for the gig, which was generously sponsored by Canon USA's Explorer's of Light program, Leo's Photo of Klamath, and Pro Photo, I was told that–depending on the weather–there might or might not be any birds around to photograph. Visiting Lower Klamath NWR for the first time on Friday, I was greeted by about 125,000 light and dark geese: Snow and Ross's, and Canada and White-fronted. The latter, known as speckle-bellies, really added spice to the stew and the massive blast-offs looked quite a bit like salt and pepper.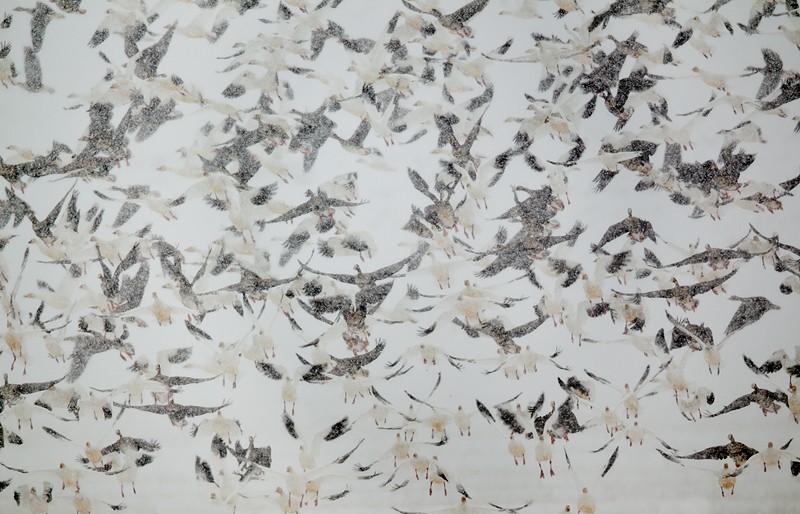 This image was created with the Canon 800mm f/5.6L IS and the EOS-1D Mark IV. ISO 400. Evaluative metering +2 1/3 stops: 1/640 sec. at f/6.3 in Tv Mode.
The was snow on the ground on Friday, and on Saturday morning, snow in the air–heavy snow at times. (BTW, the refuge is actually in California as it is located just south of the OR/CA border.) By working in Tv Mode I am quickly and easily able to switch from blurs to sharp simply by rolling the index finger wheel to change the shutter speed. Setting ISO Safety Shift or Auto ISO (as described in our Camera User's Guides–Mark III, Mark IV, and 7D–makes working in Tv mode a breeze when light and backgrounds are fairly consistent.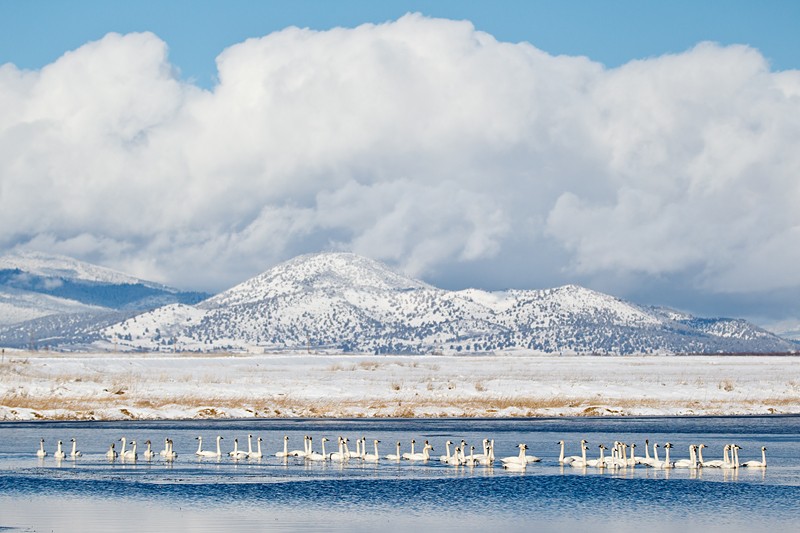 This bird-scape was created with the Canon 70-200mm f/2.8L IS II lens, the 2X III TC, and the EOS-1D Mark IV (hand held at 140mm). ISO 400. Evaluative metering +1 stop: 1/4000 sec. at f/5.6 in Av Mode.
Klamath is indeed a beautiful place, especially with snow on the ground and on the mountains. Tundra Swans winter at the refuge, their numbers increasing as the weather begins to warm a bit in late winter and early spring.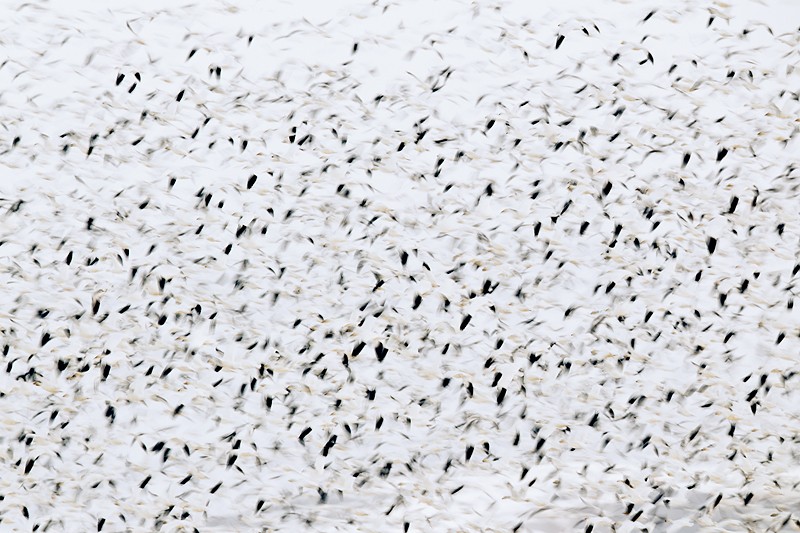 This image was created with the Canon 800mm f/5.6L IS and the EOS-1D Mark IV. ISO 100. Evaluative metering +2 stops: 1/30 sec. at f/11 in Tv Mode.
By Sunday morning the number of birds had grown to about 1/4 million. I took ten folks out in a small school bus and we had a front row seat for the most spectacular blast-offs anyone had ever seen.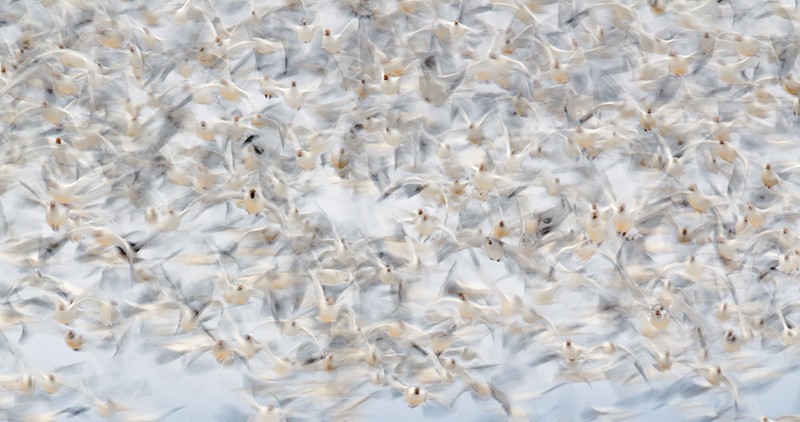 This image was created with the Canon 800mm f/5.6L IS and the EOS-1D Mark IV. ISO 200. Evaluative metering +2 stops: 1/20 sec. at f/29 in Tv Mode.
A nice wind shift found the birds taking off right at us. By any measure, my life had been blessed again in many ways on my visit to Klamath for the Winter Wings Festival. Winter wings indeed!
Which is Your Favorite Image?
Let us know which of the five images here is your favorite, and why.
Shopper's Guide
Below is a list of the gear that I used to create the image above. Thanks a stack to all who have used the Shopper's Guide links to purchase their gear as a thank you for all the free information that we bring you on the Blog and in the Bulletins.
Canon 70-200mm f/2.8L IS II lens. Man, I am loving this lens on my shoulder with the 2XIII teleconverter.
Canon EF 2X III TC. It seems that the new 2X (the EF 2X III) is noticeably sharper than the old one (the EF 2X II).
Canon 800mm f/5.L IS lens Right now this is my all time favorite super-telephoto lens.
Canon EOS-1D Mark IV professional digital camera bod.y And this is the very best professional digital camera body that I have even used..
And from the BAA On-line Store:
Gitzo 3530 LS Tripod This one will last you a lifetime.
Mongoose M3.6 Tripod Head Right now this is the best tripod head around for use with lenses that weigh less than 9 pounds. For heavier lenses, check out the Wimberley V2 head.
Double Bubble Level You will find one in my camera's hot shoe whenever I am not using flash.
Delkin 32gb e-Film Pro Compact Flash Card. Fast and dependable.