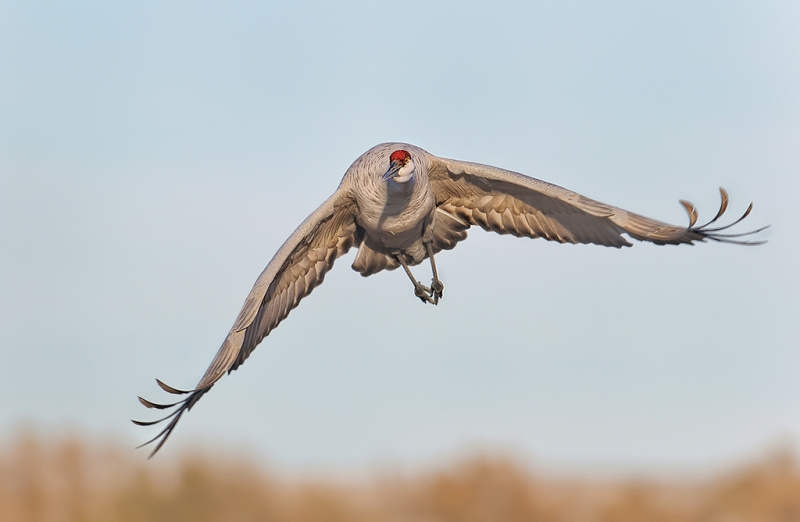 Sandhill Crane in flight, Bosque del Apache NWR, San Antonio, NM Image copyright 2010: Robert O'Toole Photography. This image was created with the Nikon AF-S Nikkor 500mm f/4G ED VR lens, the Nikon TC-14E 1.4x II and the Nikon D300S. ISO 400. Manual metering at zero: 1/1250 sec. at f/5.6 in Manual mode.
In Robert O'Toole's Nikon DSLR User's Guide for the D300s/D700/D3S/d3x he shares with you the AF and metering settings that he uses to create sharp, perfectly exposed images like the one above! In addition he details his entire camera set-up from soup to nuts. Learn to use your Nikon camera like a top professional.
Nikon DSLR User's Guide for the D300s/D700/D3S/d3x
(Note: Most of what is in the Guide applies also to the D80, the D90, and the D300.)
Well, it took long enough–at least two years from concept to the final PDF–but Robert O'Toole has out-done himself by creating a masterpiece user's guide for Nikon dSLR cameras. When I took my first look at the finished document all that I could say was "Wow! Many Nikon folks show up on IPTs knowing little about properly setting up their cameras. "How do you see the histogram?' "Don't know…." "Can you set your camera so that we see the RGB histogram and blinkies in the same frame? "I once saw it done but don't know how…." For me, it has long seemed that operating a Nikon camera required degrees in Physics, Language, and Logic. With Robert's new guide those days are over.
You will learn when, how, and why to work in Manual mode and when, why, and how to work in one of the auto-modes (by setting exposure compensation). You will learn the various camera control options and custom settings so that you can fine-tune your camera to suit your shooting style. You will learn how and why many top pros works at higher ISOs than the regular Joes. And you will learn how Robert uses both Auto-ISO Control and Exposure Compensation while working in Manual Mode to routinely create perfectly exposed action photographs. He explains exactly how he sets the important camera controls. And why. Those include Release Mode, Focus Mode, and Rear Button Focus. You will learn how to set your camera and your flash to create flash blurs. You will learn which AF Mode Robert uses 90% of the time and how he sets it up using Menu/Custom Settings Menu.
He will teach you how and why to set a variety of buttons and dials. How and why to use Live View. About the only metering mode he uses. How, why, and when to switch AF points with the Multi-Selector. How and why to use the often-overlooked Info Button and the often over-looked My Menu feature. Then he takes you through the Camera Menus while dealing with the hows and whys of how he sets up the important items.
If you use Nikon gear then you simply cannot live without Robert's great new guide. You owe it to yourself to make your life easier, to learn to make better images, and to learn exactly how a top professional does things. The Nikon DSLR User's Guide is a comprehensive 45-page PDF that is sent by e-mail. There are dozens and dozens of diagrams and screen captures and even a few photos to illustrate key points. Your best bet is to save $2 by ordering your Nikon dSLR User's Guide through the BAA On-line Store here for only $30. Or you can purchase your copy for $32 by calling BIRDS AS ART at 863-692-0906 with your credit card in hand, by sending a PayPal for $32 to us at birdsasart@att.net, or by sending a check for $32 made out to "Arthur Morris" to us at Arthur Morris/BIRDS AS ART, PO Box 7245, Indian Lake Estates, FL. If by check be sure to include your e-mail address. (Please remember: no sharing digital files please :))
COMMENTS ON THE NIKON dSLR USER'S GUIDE
By e-mail from Andy Hays, Chicago, IL: Robert, Your Nikon treatise was a revelation to me. I am a life-long and fanatic birder, but a notoriously inept, point and shoot photographer; you have moved me to new plateau. Nikon should buy your work product. Not only that the company should make you a board member and a Japanese citizen! I could not have learned from their instruction manual what I learned from your Nikon dSLR Guide. Well done. Andy Hays
By e-mail from Edward Delaney, Ireland: Dear Robert, I can honestly say that I have learned more from your Nikon guide than from all of my other books on the Nikon system put together. Thanks for a wonderful guide. Edward
By e-mail from Yannick Bulicaut: Robert, Your Nikon dSLR Guide is truly useful; even though I've been using using SLR's for almost 40 years–and probably because of that–I never took the time to check all the cool controls that Robert highlights with precision, the view finder focus for instance. The guide is well worth the 30 dollars since I know I could never have sat through the entire Nikon D3S camera body manual! Thanks, Yannick
By e-mail from Dennis Kirland: Hi Robert, I just finished going through your Nikon dSLR User's Guide and wanted to thank you. It is very well written, clear and concise. I learned more than I thought I would. Excellent job! I mostly photograph static scenes, but I will try your suggestions on 51 point 3D Dynamic AF and see how I like it. I also changed the settings to activate the AF-ON button for AF instead of the shutter button. That's going to take some getting used to!
Anyway, the guide has lots of great tips! Thanks, Dennis
By e-mail from Raleigh & Beret Harmon: Robert, Thank you for writing the "Nikon DSLR User's Guide," It is well written, clear and in a word… great! It has made me rethink my entire approach to my camera. I have long been an admirer of your colleagues Art Morris and recently Dennise Ippolito and have often thought, how great it would be to have someone like them who was a Nikon person and who would have a web site with great information focused on Nikon. Please send me the link to your site. Thank you again and keep up the great work. Raleigh & Beret Harmon
You can learn more about Robert here.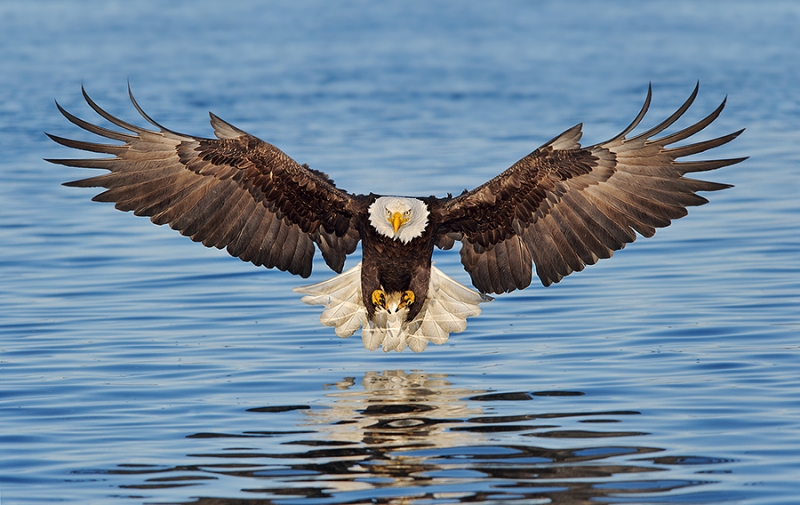 Bald Eagle Striking, near Homer, AK. Image courtesy of and copyright 2010: Robert O'Toole Photography. Sigma 150-500mm f/5-6.3 DG OS HSM APO Autofocus Lens for Nikon handheld at 350mm with the Nikon D700. ISO 400. Evaluative metering at zero: 1/1600 sec. at f/8 in Manual mode.
Image copyright Robert O'Toole Photography. Purchasing Robert's new Nikon DSLR User's Guide will not guarantee that you will make images as good as the one above but you will learn how to get the most out of your gear for nature and action photography. (Sports photographers take note.) Or, purchase the guide and join us on most IPTs to get personal lessons from Robert!
Earn Free Contest Entries and Support both the Bulletins and the Blog by making all your B & H purchases here.
More and more folks are earning multiple contest entries with their B & H purchases. See here for details on that. Eleven great categories, 34 winning and honored images, and prize pools valued in excess of $20,000. Click here to visit the competition home page.
Shopper's Guide
Below is a list of the gear mentioned in this blog post. Thanks a stack to all who have used the Shopper's Guide links to purchase their gear as a thank you for all the free information that we bring you on the Blog and in the Bulletins. Before you purchase anything be sure to check out the advice in our Shopper's Guide.
Nikon AF-S Nikkor 500mm f/4G ED VR lensThis is Robert's workhorse telephoto lens. It is rare that they are in stock anywhere….
Sigma 150-500mm f/5-6.3 DG OS HSM APO Autofocus Lens for Canon. This is the Canon version of one of Robert's favorite Sigma lenses.
Nikon TC-14E 1.4x II A very sharp 1.4X teleconverter and again, an item that can be very hard to find in stock.
Nikon D700. Robert travels with both a D700 body and a D300S body. The D700 is Robert's full frame format (FX) Nikon digital camera body.
Nikon D300S. Robert travels with both a D700 body and a D300S body. The D300S is Robert's 1.5x crop factor (DX) Nikon digital camera body.