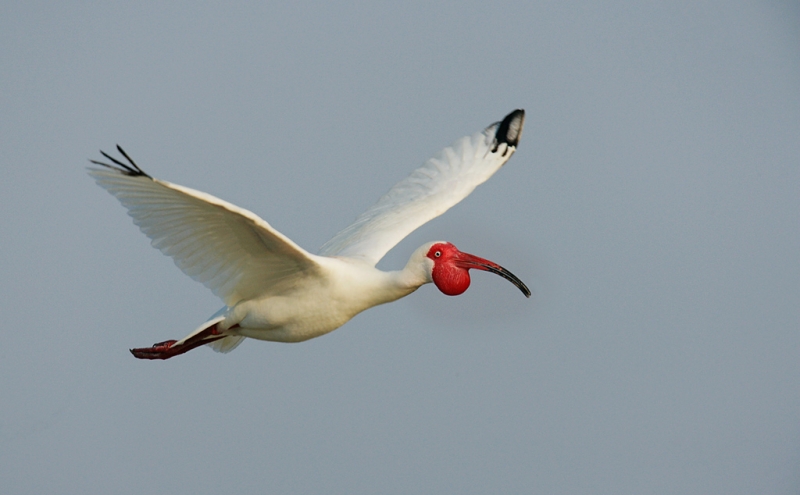 White Ibis in flight. Alafia Banks, on the Hooptie Deux. It is a composite made from 3 consecutive flight images. I took the best features of each 🙂 Probably with the Canon 600mm f/4L IS lens and the EOS-1Ds Mark II. On the tripod with a Mongoose.
I was headed west on State Road 60 headed for Gibsonton for an early morning with the spoonbills and White Ibises on the Hooptie Deux with my good friend and BPN founding partner James Shadle aka Froggie when my cell phone rang at about 5:45am of course. I had finally slept to the alarm which rang at 3:30 am. On Tuesday evening I had stayed up until 1am, wide awake after napping from 8:30 am till 1:30 pm; can you say Japanese jet lag? I was surprised to hear from James.
Anyway, back to the main story. "I took the boat for a test run and the fuel line sprang a leak. Go to Lowes just off I75 at Gibsonton Road and pick my up a 3/8" inch splice barb from plumbing. They open at 6am. Once you get to the dock have someone bring it out to me. I am stuck at the first marker bouy, #15. After that it will take me 5 minutes to make the repairs. I got to Lowes at 6:04 am. Perfect. Only they did not look open. They were not. They open at 7am. New hours. So not much to do but hook up the laptop to my car plane charger, get on line with my Droid, and share my exciting morning.
If all goes well we should be out to Alafia Banks just after sunrise. As I say often, you gotta love it. Well, it is 6:53 am and I am headed into Lowe's; wish us luck!
White Ibis pre-dawn jiggle blur. Alafia Banks, on the Hooptie Deux. Probably with the Canon 70-200mm f/4L IS, the 1.4X III TC, and the EOS-1D Mark III. Hand held.
Which Image Do You Like Best?
Take a moment to let us know which of the two images you like best, and why.
BAA Bulletin #403
BAA Bulletin #403 is On-liine now and can be accessed here. See the exciting contest news!