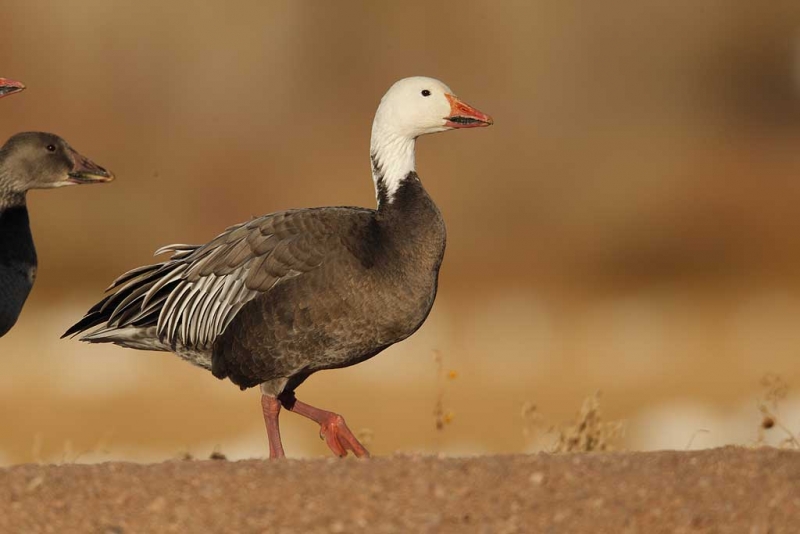 This image of an adult dark morph (Blue) Snow Goose (with the head of a juvie just sticking into the frame) was created on last year's Bosque del Apache BAA Instructional Photo-tour with the Canon EF 800mm f/5.6L IS USM Autofocus lens, the Canon 1.4x EF Extender III (Teleconverter), and the unfortunately discontinued EOS-1D Mark IV. ISO 400. Evaluative metering -1/3 stop: 1/1250 sec. at f/9 in Manual mode.
Central Sensor (by necessity)/AI Servo Rear Focus active at the moment of exposure. Click here if you missed the Rear Focus Tutorial. Click on the image to enjoy a larger version.
Your browser does not support iFrame.
How'd He Do Dat?
Though I did my very best while creating the image above, there are lots of problems with the original capture….
1-the image is not level; in my excitement, I forgot to check my double bubble level.
2-the extra heads on the left frame-edge are distracting.
3-the pretty plant pointing to the bird's breast is compositionally distracting.
4-the out-of-focus white blotches in the background (actually Snow Geese in the field beyond the road) are distracting, especially those that merge with the bird's breast and tail and with the plant in the lower right corner.
5-the bird is a bit too high in the frame; there is not enough room above, and too much o-o-f road in the foreground. If I have placed the active sensor higher up on the bird this problem would have been eliminated….
6-the dark blotches in the upper right are distracting.
7-the black rocks (?) on the road just behind the bird are distracting.
8-there are several dust spots in the background.
9-the entire right foot and the toes on the left foot are not visible.
Well, to paraphrase Meat Loaf, "7 out of 8 ain't bad." I was able to work on all the problems above in Photoshop except for #9.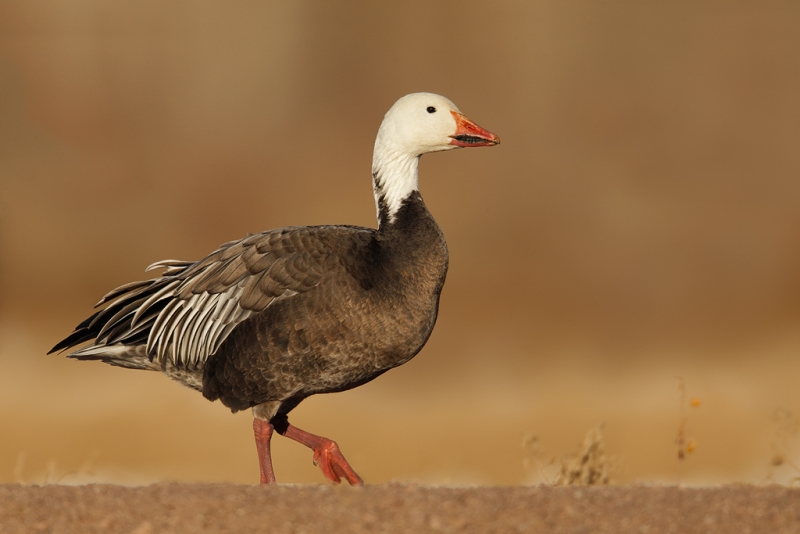 This is the image that I created from the original image above. Artistically, it is far superior to the original. Notice how much better the image looks with a cleaner more uniform background and a bit more room above the bird….
Your browser does not support iFrame.
What He Did
1-I leveled the image quickly using two of my favorite time-saving keyboard shortcuts.
2-I covered the distracting stuff on the left frame-edge with one large, warped and layer-masked Quick Mask. I cleaned up the edges and eliminated the last trace of one of the goose heads with the Patch Tool.
3-I painted a Quick Mask of the pretty plant and moved it to the right where it balanced the composition nicely.
4-I used Denise Ippolito's Protect and Defend cloning on a layer technique along with Refine Edge. (Denise does it all with layer masks.) For the lower right corner I just used here 40% Clone Stamp Tool trick and cloned over the whole plant; it worked superbly.
5-I used one of the APTATS II tutorials to move the bird down in the frame seamlessly.
6-I used another Denise Ippolito trick–she is one smart lady–to eliminate the dark areas and some of the o-o-f white areas as well. What was the trick: use the Clone Stamp Tool at 40%.
7-The black rocks (if that's what they were…) were quickly eliminated with the Patch Tool.
8-I used the Spot Healing Brush to eliminate the dust spots.
9-Sorry, no can do. 🙂
You can learn to do pretty much everything above by getting a copy of Digital Basics and studying it. Digital Basics is a PDF that is sent via e-mail. It contains my complete Digital Workflow, all of my time-saving keyboard shortcuts, and dozens of great Photoshop tips.
Bosque/Albuquerque Thanksgiving Buffet Invite
For the past ten years or so I have hosted a midday Thanksgiving Day meal, in part to honor the memory of my late-wife, Elaine Belsky Morris, and in part because I love meeting others who love Bosque as I do. At first it was held at the wonderful and relatively elegant Val Verde Steak House in Socorro, now defunct. Then it was held at the lovely and historic Luna Mansion. Luna Mansion closed a few years ago and recently re-opened but will no longer serves Thanksgiving Day. In 2009 we had fun and a fine meal at the Stage Door Grill but that wonderful little joint recently bit the dust also. Socorro is a tough place for businesses to survive. In 2010 we went a bit upscale and dined in the New Mexico Ballroom at the Hilton Albuquerque hotel. There was tons of food and it was all delicious.
The Hilton is now a Crowne Plaza and the good news is that they are having the buffet again this year as they did in 2011. I will be picking up the tab for the IPT group, but as always, all visiting birders and photographers are invited to join us. If you would like to take part in the fun and camaraderie this year please send a check for $45.00 per person made out to ""Arthur Morris"" to cover the cost of the buffet that will include all the traditional items plus lots more as well as tax and tip. Drinks are on you. Please mark ""Thanksgiving Buffet" on your check and mail it to; BIRDS AS ART, PO Box 4041, Indian Lake Estates, FL 33855. Be sure to include your e-mail address on your check and in a short note. Sorry, no PayPals or credit cards for this. I do hope that you can join us.
I have group reservations for Thanksgiving Day (of course). Those joining us will need to be at the hotel at 11:30 am sharp. It is located at 1901 University Blvd NE, Albuquerque, NM 87102, about an hour up I-25 from the Super 8 Motel in Socorro where I have stayed happily with my groups for well more than a decade. I do hope that you can join us.
Ooops.
I almost forgot. I applied a bit of Detail Extractor and Tonal Contrast from NIK Color Efex Pro to the goose only.
NIK 15% Discount
As regular readers here know, NIK Color Efex Pro has drastically changed my digital workflow. You can save 15% on all NIK products by clicking here and entering BAA in the Promo Code box at check-out. Then hit Apply to see your savings. You can download a trial copy that will work for 15 days and allow you to create full sized images.
Wanna Chat?
Call me, today only, Sunday 10/14, if you'd like to sign up for the NYC Seminar: 863-692-0906. All info here. I will be in the pool from 11-noon eastern and in the ice-bath 5-6pm. All eastern time.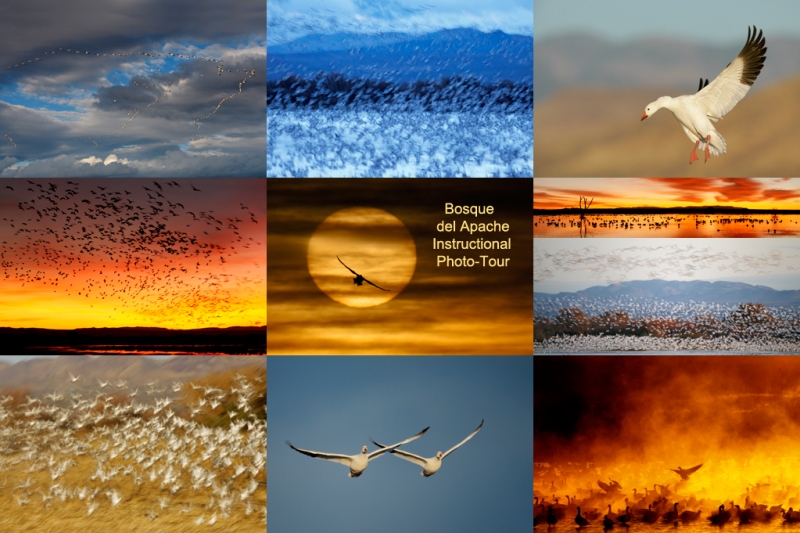 Are IPTs expensive? Of course they are. For good reason. The most experienced, knowledgeable, and hardest working leaders. Great Photoshop instruction. Great folks. And great food. For a greater appreciation of the composite image, click on the photo. Click on the enlarged version to close it.
Bosque del Apache IPT Late Registration Discount Announcement
With four openings on this IPT and me headed out of town till 11/11 we are glad to announce a healthy late registration discount for this great IPT. Please call Jim weekdays from 9-5 eastern time at 863-692-0906 for details and leave a message if he is at the post office. Or call me today, at the same number.
BOSQUE del APACHE 2012 IPT: "The Complete Bosque Experience." NOV 21-27, 2012. 7-FULL DAYS: $3399.
Co-leaders: Denise Ippolito, landscape photography expert Jim Heupel, and Photoshop expert Mike Hannisian. Introductory Slide program: 6:30 pm on 11/20. Limit: 12/Openings 4.
Tens of thousand of Snow Geese, 10,000 Sandhill Cranes, ducks including point-blank American Wigeon and Wood Duck, amazing sunrises, sunsets, and blast-offs. Live, eat, and breathe photography with one of (if not the) world's premier photographic educators at one of his very favorite locations on the planet. Top-notch Photoshop instruction. This will make 18 consecutive Novembers at Bosque for me. Nobody knows the place better than I do. Join us to learn to think like a pro, to recognize situations and to anticipate them based on the weather, especially the light and the wind direction. Every time we make a move we will let you know why. When you head home applying what you learned will prove to be invaluable.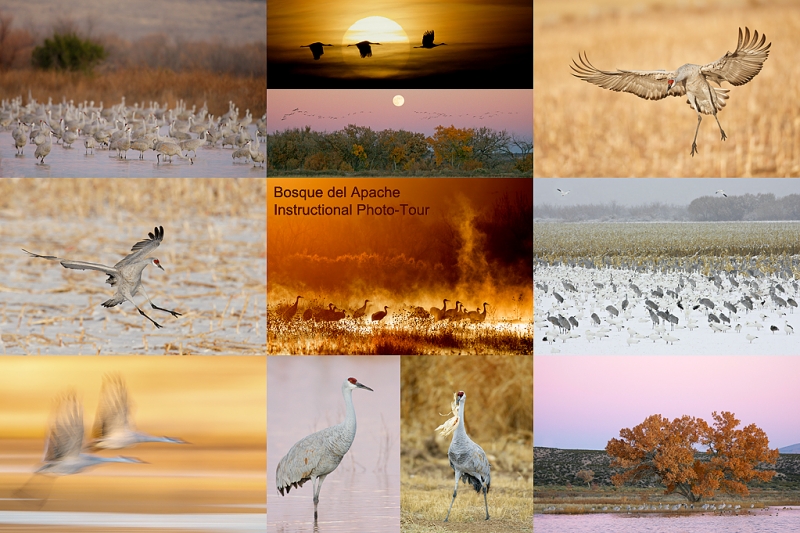 Nobody alive or dead knows Bosque better than I do. Do consider joining us for the educational experience of a lifetime. For a greater appreciation of the composite image, click on the photo. Click on the enlarged version to close it.
Shopper's Guide
Thanks a stack to all who have used our B&H affiliate links to purchase their gear as a thank you for all the free information that we bring you on the Blog and in the Bulletins. Before you purchase anything be sure to check out the advice in our Shopper's Guide.
Shop B&H
Support the BAA Blog. Support the BAA Bulletins. We want and need to keep providing you with the latest free information, photography and Photoshop lessons, and all manner of related information. Show your appreciation by making your purchases immediately after clicking on any of the links above. Remember, B&H ain't just photography!