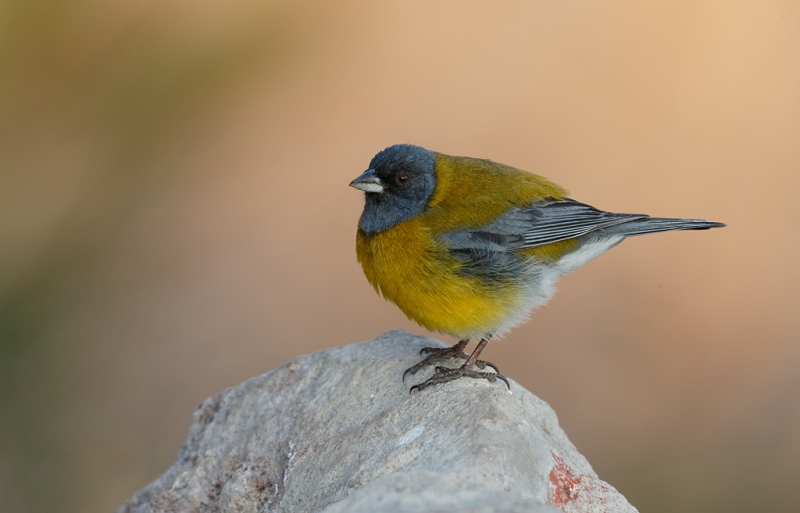 This Comedocino was photographed at Farellones, Los Andes with the Canon 500mm f/4L EF IS II USM lens, the Canon 2x EF Extender III (Teleconverter), and the Canon EOS-1D X Digital SLR camera body.
ISO 800. Evaluative metering +2/3 stop: 1/200 sec. at f/10.
Central sensor Expand AI Servo/Rear Focus AF and re-compose. Click on the image for a larger version.
Thanks to my new friend, Osvaldo Larrain (Fotografo Profesional) and his pal Walter, for guiding Denise and I to two great spots near Santiago, Chile over three days, 10/17-19. You can see lots of Osvaldo's killer images here. Not only is Osvlado Chile's best bird photographer, but both he and Walter are two of the nicest, sweetest folks you could ever hope to meet. More on these two great guys later, and still more when I get back to civilization.
Your browser does not support iFrame.
I saw what seemed to be an accurate rumor of the new firmware on Wednesday but could not corroborate it. That came on Thursday morning. I downloaded the new firmware here and loaded it onto my 1D X on the way up the Andes in search of Condors. I did not get to try out f/8 AF until late in the day when we got to photograph some nice songbirds including the male Comedocino above. Lots of folks have been announcing AF at f/8; here you get to see what you can do.
Being very brief here, AF at f/8 changes everything as far a lens choice: the new 600 becomes far more attractive for folks with a 1D X and the 800 loses some of its luster…. There are many ramifications. More on that when I get back home on 11/11.
If you run out and purchase a 1D X, please use this B&H affiliate logo-link:
You can see the entire glitzy announcement here and download the firmware here.
It's a Whole New World: Canon EOS-1D X AF at f/8
AF at f/8
LAKE SUCCESS, N.Y., October 17, 2012 – Canon U.S.A., Inc., a leader in digital imaging solutions, today announced a new firmware update in response to user requests which further enhances the capabilities of Canon's flagship EOS-1D X Digital SLR camera. The EOS-1D X will now be capable of AF point illumination during AI Servo AF and cross-type AF for maximum apertures as small as f/8. The new firmware update is available now at no charge from the Canon U.S.A. website and can be downloaded by end users or through Canon Factory Service Centers.
AF Point Illumination During AI Servo AF
To support the needs of wedding, portrait, sports, wildlife, and theatrical performance photographers working in low light, the new firmware allows AF points in the EOS-1D X's viewfinder to be illuminated in red when the shutter button is pressed halfway during AI Servo AF, for easy viewing of the selected point. This valuable feature will enhance the photographers' ability to aim the camera accurately in low-light conditions, and when photographing dark subjects. To preserve exposure-metering accuracy, illumination is intermittent, not continuous. Three choices will be selectable from the menu system – Non-illuminated, Illuminated (Normal) and Illuminated (Brighter).
Cross-Type AF Support at f/8
The EOS-1D X is equipped with an innovative 61-point High Density Reticular AF System featuring up to 41 cross-type AF points, depending on the lens in use. The cross-type AF points recognize a wide variety of subject matter, making them highly desirable for maximum autofocus performance. Until now, cross-type AF on the EOS-1D X has been limited to EF lenses and lens/extender combinations with a maximum aperture of f/5.6 or larger. The new firmware allows cross-type autofocusing with the center AF point even when the maximum aperture of a Canon EF lens/extender combination becomes as small as f/8. Ideal for wildlife photographers and others who often use EF super-telephoto lenses with extenders, this new feature greatly expands the range of EF lens/extender combinations that support autofocus when used with the EOS-1D X.
If AF point expansion is selected with an f/8 maximum aperture lens/extender combination, the four AF points surrounding the center point will act as AF Assist points. This option effectively expands the size of the AF detection area to enhance autofocus performance with subjects that are small in the frame and difficult to track, such as small animals and birds in flight. AF points above and below the center will be sensitive to vertical contrast, while points to the left and right will be sensitive to horizontal contrast.
More…
I will have more to say on the fine points above when I return. Please remember: I will be off line from the very early morning of Saturday, 10/20 until 11/11.
Shopper's Guide
Thanks a stack to all who have used our B&H affiliate links to purchase their gear as a thank you for all the free information that we bring you on the Blog and in the Bulletins. Before you purchase anything be sure to check out the advice in our Shopper's Guide.
Shop B&H
Support the BAA Blog. Support the BAA Bulletins. We want and need to keep providing you with the latest free information, photography and Photoshop lessons, and all manner of related information. Show your appreciation by making your purchases immediately after clicking on any of the links above. Remember, B&H ain't just photography!