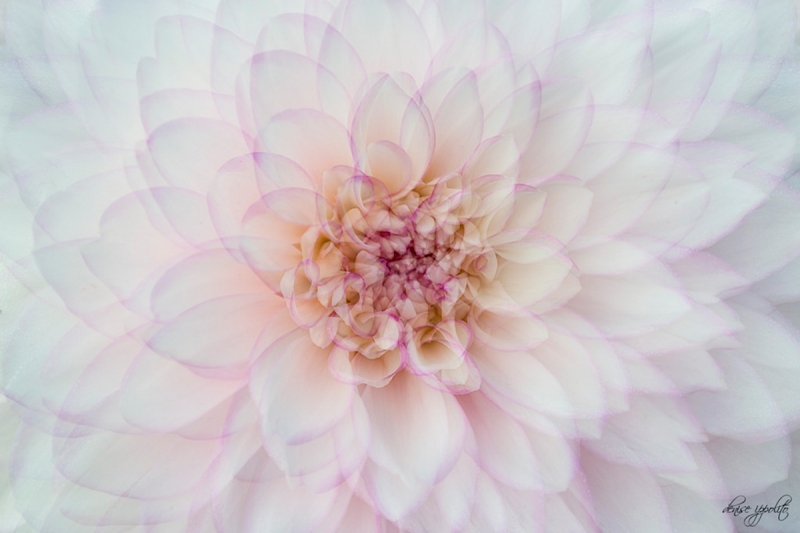 Dahlia Multiple Exposure © Denise Ippolito. Learn how in denise's great "Creative Multiple Exposures MP4 Tutorial Video." Only $4.00 here.
Urgent Notice: Denise Ippolito Program Tonight: New York City Sierra Club Photography Committee
Denise Ippolito will be presenting "Bloomin' Ideas and Pleasing Blurs" at the New York City Sierra Club Photography Committee meeting tonight in Manhattan. She will cover techniques, both in-camera and Photoshop, for capturing beautiful flower images and creating pleasingly blurred flower and bird images.
The program is free and open to the public; click here for directions and complete details. The suggested donation is $6.00. If you are able to attend the program after seeing this notice be sure to go up to denise after the program and give her a BIRDS AS ART hug.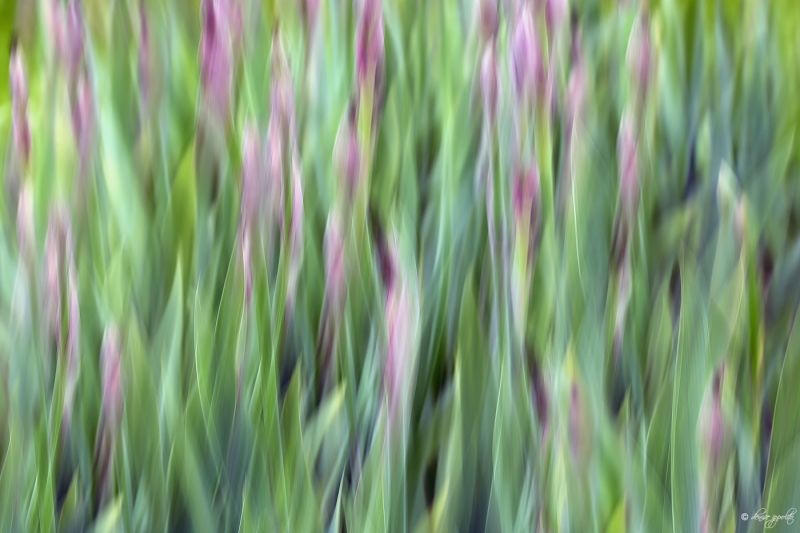 Iris vertical pan blur © Denise Ippolito. Denise used her flame technique to create this image on a recent workshop. Learn how in A Guide to Pleasing Blurs.
A Guide to Pleasing Blurs
Learn everything that there is to know about creating pleasingly blurred images in A Guide to Pleasing Blurs, the e-Book that I co-wrote and co-illustrated with Denise Ippolito. You can learn more about this great guide by clicking here. And you can click here to see Denise's killer Blur Galleries; be sure to click on several of the galleries as her creativity is pretty much unlimited.
The great e-Guide covers the basics of creating pleasingly blurred images, the factors that influence the degree of blurring, the use of filters in creating pleasing blurs, and a great variety of both in-the-field and Photoshop techniques that can be used to create pleasingly blurred images. Denise and artie teach you many different ways to move your lens during the exposure to create a variety of pleasingly blurred images of flowers and trees and water and landscapes. They teach you to recognize situations where subject movement can be used to your advantage to create pan blurs, wind blurs, and moving water blurs. They teach you to create zoom-blurs both in the field and during post-processing. Artie shares the techniques that he has used and developed for making blurred images of flocks of geese in flight at his beloved Bosque del Apache and Denise shares her flower blur magic as well as a variety of creative Photoshop techniques that she has developed.
With the advent of digital capture, creating blurred images has become a great and inexpensive way to go out with your camera and have fun, and virtually every major photographic competition includes more than a few pleasing blurs as winning or honored images. And while many folks think that making successful blurred images is the result of being a sloppy photographer nothing could be further from the truth. In "A Guide to Pleasing Blurs" Artie and Denise will help you to unleash your creative self.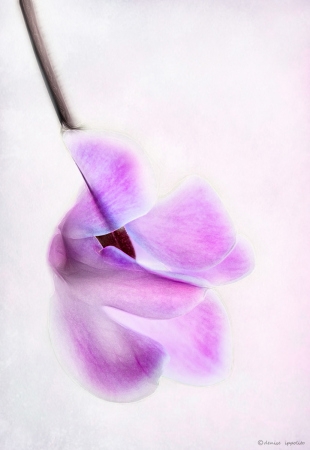 High Key Cyclamen © Denise Ippolito
Don't Miss It!
If you enjoy nature photography and are within an hour of midtown New York, you do not want to miss Denise's program tonight.