On the Kill
Mid-morning on our third day at Ngorongoro Crater we came upon two big male lions devouring a full grown Wildebeest. It was a tough situation with lots of grasses between us on the subject. We got lucky for an instant as seen above when this big guy stood up to pull apart its breakfast.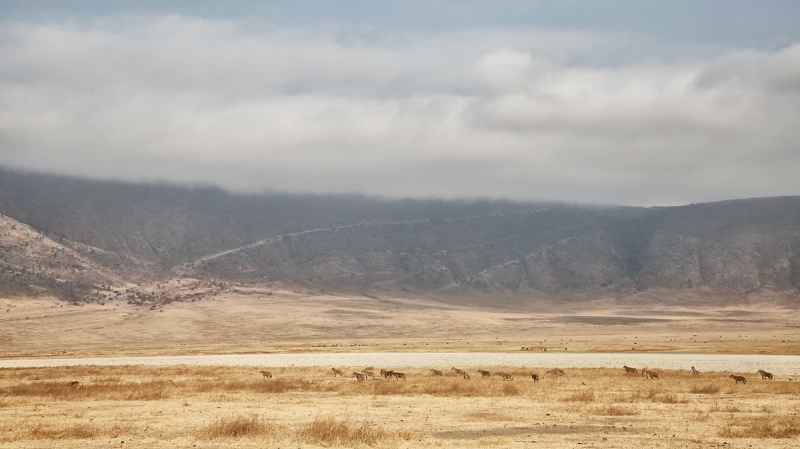 This image was created with the Canon 24-105mm f/4L IS EF USM AF lens hand held at 24mm) and the Canon EOS 5D Mark III ISO 400. Evaluative metering +1 stop: 1/125 sec. at f/20.
Central sensor/AI Servo Rear Focus AF on the closest hyena and re-compose. Click here if you missed the Rear Focus Tutorial. Be sure to click on the image to enjoy a larger version.
Your browser does not support iFrame.
The Patient Hyenas
For this image I reached for the 24-105 in order to create the scene-setting image. Twenty-two Spotted Hyenas waited patiently for the lions to finish their meals. First one lion left. The moment that the second lion left the hyenas charged in to fight over the left-overs. One of the big lions can be see on the kill on the left side of the frame.
The Aftermath
Once the hyenas moved in we were treated to 10 minutes of great action photography as the scavengers ripped and tore and fought and ran off with their prizes. Using the bump the focus techniques that I had learned while editing Jim Neiger's great new e-Guide, "Flight Plan" helped me make lots of sharp images of the running Spotted Hyenas. Click here to learn more about "Flight Plan."
2014 Tanzania Summer Safari
If you are interested in joining us in Tanzania next summer please shoot me an e-mail and I will be glad to forward you the PDF with dates, itinerary, and price.
Holland Heating Up
Pending the arrival of promised checks, we now have six folks for the Touch of Holland Tulip IPT. Click here and scroll down for details.
Bosque IPTs
For information on both the 7-Day and the recently announced short version of the 2013 Bosque IPTs please click here and scroll down.
Support the BAA Blog. Support the BAA Bulletins: Shop B&H here!
We want and need to keep providing you with the latest free information, photography and Photoshop lessons, and all manner of related information. Show your appreciation by making your purchases immediately after clicking on any of our B&H or Amazon Affiliate links in this blog post. Remember, B&H ain't just photography!
Amazon
Everyone buys something from Amazon, be it a big lens or deodorant. Support the blog by starting your search by starting your search by clicking on the logo-link below. No purchase is too small to be appreciated; they all add up. Why make it a habit? Because I make it a habit of bringing you new images and information on an almost daily basis.
Typos
On all blog posts, feel free to e-mail or leave a comment regarding any typos, wrong words, misspellings, omissions, or grammatical errors. Just be right. 🙂