Connecticut Help Needed Now
Denise Ippolito and I are seeking information on locations within an hour or two of Salem, Connecticut where we might photograph fall color this coming Saturday. Any help would be greatly appreciated. Locals should see the info on the Salem, CT Shooter's Gallery Seminar this coming Sunday. If you would like to learn to create better images and are within a two hour drive you do not want to miss this event.
BIRDS AS ART Bulletin #450
BIRDS AS ART Bulletin #450 is online now and can be accessed here. Of special interest are the two vulture images that illustrate "A Matter of Style."
Salem Connecticut Shooter's Gallery Seminar
BIRDS AS ART 2nd International Bird Photography Competition
The Blog is the Bomb
A Matter of Style
2014 Tanzania Summer Safari
Flight Plan
Canon EF 24-70mm f/2.8L II USM Lens
Affiliate Links
IPT INFO
Understanding the Color of Light
The image above was made in cloudy conditions near our Mobile Tented Camp near the Mara River, Serengeti, Tanzania at 5:07pm on August 12, 2013. The image below was made in the same location after the sun broke through at 5:59pm.
The main difference in the two images is the color of the light. The opening image was made in relatively cold light. The clouds filter out the RED and YELLOW components of the sunlight leaving the BLUE light to predominate. In the image below, the unfiltered REDs and YELLOWs give the image a much warmer look.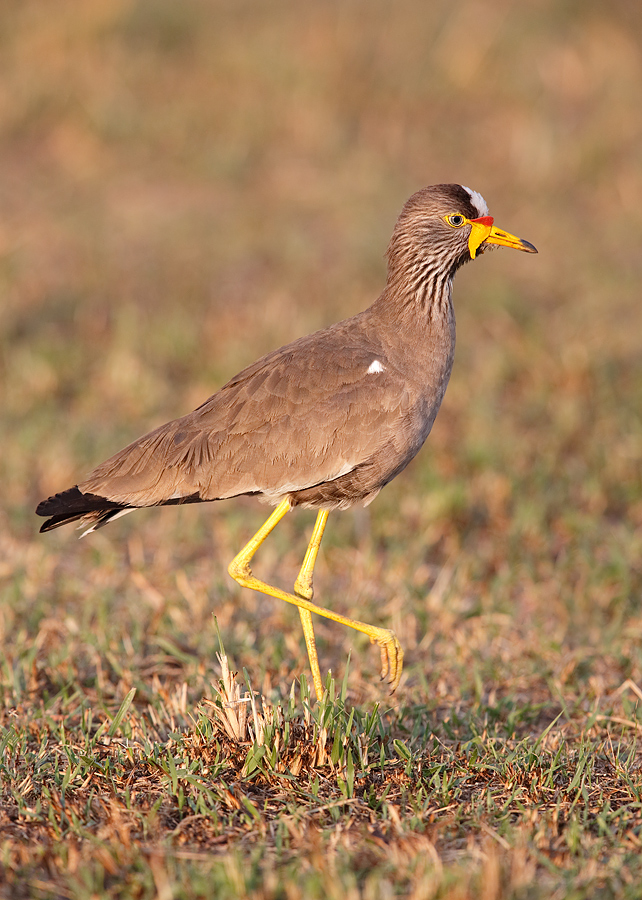 This image of a Wattled Plover was also created on the Tanzania Summer Safari from the opened side window of the van with the hand held Canon EF 600mm f/4L IS II USM lens, the Canon 1.4x EF Extender III (Teleconverter), and the Canon EOS-1D X Digital SLR camera. ISO 800. Evaluative metering +1/3 stop: 1/640 sec. at f/7.1 in Av Mode.
Three sensors above and one to the right of the central sensor/AI Servo/Surround Rear Focus AF on the bird's upper back active at the moment of exposure. Click here if you missed the Rear Focus Tutorial. Click on the image to see a larger version.
Questions
Which image do you prefer? Why?
Which light do you prefer? Why?
Which image has a better head angle?
The two exposures, 1/400 sec. at f/9 and 1/640 sec. at f/7.1 are the same. Why didn't I need more light for the image made when the sun was out???
Why did I add 2/3 stop of light to the image made when it was cloudy but only 1/3 stop when the sun came out?
Canon EF 24-70mm f/2.8L II USM Lens
While I love my 24-105mm as a B-roll lens, I often wish that I owned and traveled with the Canon EF 24-70mm f/2.8L II USM Lens. It is miles sharper than the 24-105 and meshes perfectly with no overlap with the great 70-200mm f/2.8L IS II.
Right now B&H has an amazing deal on this great landscape lens–yikes, I need to borrow one for my upcoming Torres del Paine trip–$1,999.00 at check out. The regular price is $2,299.00. What are you waiting for. Please, please pretty please, web orders only by using our product-specific link above or by clicking on the logo-link below.
Shooters Gallery Photography Program
October 20, 2013. Salem, CT
Click here to register.
Artie Morris & Denise Ippolito
Date: Sunday – October 20, 2013: Time: 9:00am – 4:00pm
Location: Salem Gardner Lake Firehouse Hall, 429 Old Colchester Road, Salem, CT 06420
Admission Fee: The Artie Morris presentation from 9:00am until 10:45am is free and open to the public courtesy of Canon U.S.A. The presentation by Artie and Denise from 11:00am until 4:00pm is $40.00 (Lunch & morning coffee included)
Host Organization: Shooters Gallery Photography Group
9:00 to 10:45 – "Choosing and Using Lenses for Nature Photography… BIRDS AS ART Style" – Artie Morris (Sponsored by Canon U.S.A.)
10:45 TO 11:00: Break
11:00 to 12:00 – "Blooming Ideas" – Denise Ippolito
12:00 to 1:00 – Lunch
1:00 to 2:00 – "Refining Your Photographic Vision" – Artie Morris and Denise Ippolito
2:00 to 2:30 – "Pro Gear Handling Tips" – Artie Morris and Denise Ippolito
2:30 to 2:45 – Break
2:45 to 4:00 – "Creating Pleasing Blurs" – Artie Morris and Denise Ippolito
Click here to register.
BIRDS AS ART 2nd International Bird Photography Competition
Learn more and enter the BIRDS AS ART 2nd International Bird Photography Competition here. Twenty-five great prizes including the $1000 Grand Prize and intense competition. Bring your best.
2014 Tanzania Summer Safari
If you are interested in joining us in Tanzania next summer please shoot me an e-mail and I will be glad to forward you the PDF with dates, itinerary, and price.
Support the BAA Blog. Support the BAA Bulletins: Shop B&H here!
We want and need to keep providing you with the latest free information, photography and Photoshop lessons, and all manner of related information. Show your appreciation by making your purchases immediately after clicking on any of our B&H or Amazon Affiliate links in this blog post. Remember, B&H ain't just photography!
Amazon
Everyone buys something from Amazon, be it a big lens or deodorant. Support the blog by starting your search by starting your search by clicking on the logo-link below. No purchase is too small to be appreciated; they all add up. Why make it a habit? Because I make it a habit of bringing you new images and information on an almost daily basis.
Typos
In all Bulletins, feel free to e-mail or leave a comment regarding any typos, wrong words, misspellings, omissions, or grammatical errors. Just be right.

IPT Info
Many of our great trips are filling up. Two great leaders ensure that you will not learn more anywhere about how to make great images. Click here for the schedule and additional info.