Bosque IPTs/Late Registration Discounts Increased!
For information on both the 7-Day and the recently announced short version of the 2013 Bosque IPTs please scroll down here. If you would like to join us for the first 3 or 4 days of this IPT please shoot me an e-mail. Please call Jim at 863-692-0906 or e-mail for late registration discount info.
If This Doesn't Get the Point Across, Nothing Will 🙂
The image above was made 20 seconds before the image below. How–when you are limited to the central sensor only–is it possible to create the two images above–one with the bird on the extreme left side of the frame, the other with the bird on the extreme right side of the frame, all while you are in AI Servo mode so that you are ready to track the bird if it begins to walk or if it takes flight?
The answer is simple and using autofocus there is only one way to do it: set your camera up for rear focus.
Rear Focus Tutorial Re-visited
With the 600mm f/4L IS II lens, the 2X III TC, and either a pro body or the 5D Mark, only the central sensor is active. (With both the 5D III and the 1D X you can choose Expand so that you activate the four sensors surrounding the central sensor.) Unless you know what you are doing having only the central AF sensor available can lead to problems. As I have written before, many folks become compositional slaves to the central sensor, especially when working in AI Servo AF (as opposed to using One-Shot AF and re-composing). Nikon folks, not to worry. Nikon also offers rear button focus. Please consult your camera body manual. Or better yet, get yourself a copy of our Nikon dSLR User's Guide here. Note: Canon's "AI Servo AF" is the same as Nikon's "Continuous" (C) and likewise, Canon's "One Shot" is Nikon's "Single Servo" (S).
Rear focus involves focusing by pushing a button on the top right back of the camera (rather than by pushing the shutter button). You need to change a custom function or two to set up rear focus. And with some systems you set up rear focus via the camera's menu. You can consult your camera body to learn to set up rear focus. Canon folks are urged to consult our camera User's Guides for detailed information on exactly how I set up my cameras for rear focus. Set-up is similar with the Mark III and the Mark IV and with these bodies I recommend swapping the functions of the Star and the AF-On buttons. Set-up with the 7D is totally different. In each case the User's Guide contains detailed instructions for setting up rear button AF. (Many folks are simply unable to decipher their camera body manuals.)
For many years I used both the shutter button and rear focus, depending on the situation. Often I got confused. I'd forget which was set on which camera. I'd press the shutter button and the camera did not focus. Or I'd press the rear button and the camera did not focus. About seven years ago I gave up and went shutter button AF all the way spending half my time switching from AI Servo to One-Shot and back again…. About three years ago I decided to go rear button focus all the time with all of my camera bodies. Some folks believe that when the shutter is released that AF tracking may be momentarily interrupted but that when you use rear focus the camera continues to track well even when the shutter is released. Canon's top tech reps are noncommittal but concede that it could be possible.
Which is best, shutter button focus or rear focus? That's an easy one: whichever works best for you.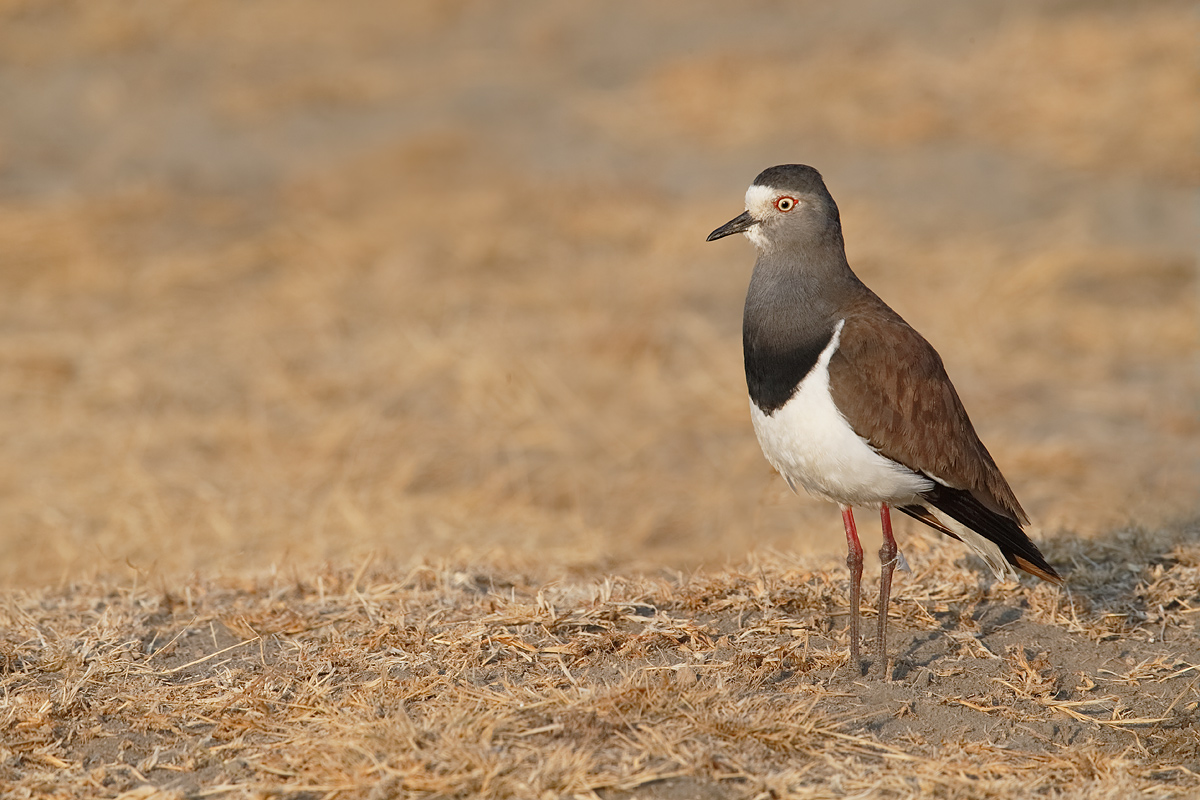 This, the very same Black-winged Lapwing (formerly Black-winged Plover) image was created with the Todd-Pod mounted Canon EF 600mm f/4L IS II USM lens, the Canon 2x EF Extender III (Teleconverter), and the Canon EOS-1D X. ISO 800. Evaluative metering +2/3 stop as framed: 1/1000 sec. at f/8 in Av mode.
Central sensor (by necessity) Expand/AI Servo Rear Focus AF on the bird's eye and re-compose. Click on the image to see a larger version.
Your Favorite?
Which of the two images above is the stronger? Please let us know why? BTW, did I move to a new spot or was the bird in the same spot for both images. Please let us know what you think and how you can prove it.
Support the BAA Blog. Support the BAA Bulletins: Shop B&H here!
We want and need to keep providing you with the latest free information, photography and Photoshop lessons, and all manner of related information. Show your appreciation by making your purchases immediately after clicking on any of our B&H or Amazon Affiliate links in this blog post. Remember, B&H ain't just photography!
Amazon
Everyone buys something from Amazon, be it a big lens or deodorant. Support the blog by starting your search by starting your search by clicking on the logo-link below. No purchase is too small to be appreciated; they all add up. Why make it a habit? Because I make it a habit of bringing you new images and information on an almost daily basis.
Typos
In all Bulletins, feel free to e-mail or leave a comment regarding any typos, wrong words, misspellings, omissions, or grammatical errors. Just be right. 🙂
IPT Info
Many of our great trips are filling up. Two great leaders ensure that you will not learn more anywhere about how to make great images. Click here for the schedule and additional info.