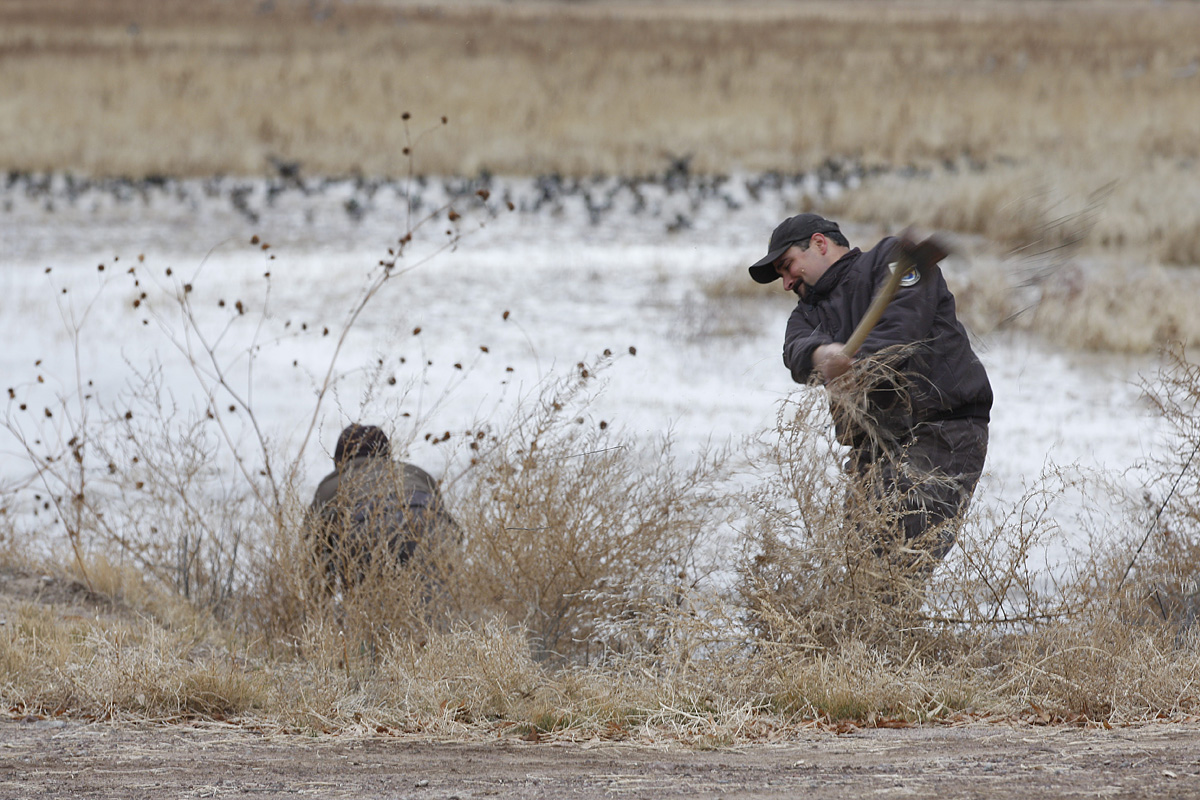 This image was created yesterday, November 23, 2013 at Bosque del Apache NWR in San Antonio, New Mexico with the hand held Canon EF 70-200mm f/2.8L IS II USM lens, the Canon 1.4x EF Extender III (Teleconverter) (at 210mm), and the Canon EOS 5D Mark III Digital camera body ISO 400. Evaluative metering +1 stop: 1/80 sec. at f/8 in Av mode.
One below and three sensors to the right of the central sensor/AI Servo Rear Focus/Suround AF active at the moment of exposure. Click here if you missed the latest version of the Rear Focus Tutorial. Be sure to click on the image to enjoy a larger version.
Your browser does not support iFrame.
Attempted Murder or a Great Bosque Happening?
In the image above, it looks as if Assistant Refuge Manager Aaron Mize just might be attempting to end the life of his boss, new Refuge Manager Kevin Kobble.
Not to worry….
Actually, Aaron and Kevin were removing some mostly old-sunflower brush to improve sightlines to a channel that has been filled with many thousands of Mallards with a sprinkling of pintails, coots, and a very few wigeons. And the ducks have conveniently been blasting off every 30 minutes or so.
While co-leading Denise Ippolito's A Creative Adventure Bosque Workshop we have been enjoying some very good photography while battling constant strong north winds with gusts exceeding 40mph.
Here is how it all came about
After a nice fly-out of Snow Geese just past the Two Tree Window we headed up to the crane pools. At Ed Crane-pool we found a good sized flock of white geese, mostly snows with quite a few Ross's. They left in the always-disappointing dribs and drabs. When all were gone I was approached by Bosque's Assistant Refuge Manager, Aaron Mize. He asked how I thought conditions at the refuge were this season.
For details on the locations mentioned above and tons more on learning to photograph at Bosque, please see the info on my Bosque Site Guide here. For some creative inspiration, see Denise's "Impressions of Bosque here.
As expected, I answered candidly:
Overall things are very good to excellent. There are zillions of geese blasting off regularly and flying around in huge groups. Strangely, crane numbers seem low and the numbers of cranes at the two crane pools each morning is astoundingly low. Despite the lengthy federal closure the staff and volunteers did a great job of getting the refuge ready for the birds, for the general public, for the Festival of the Cranes, and for the thousands of serious photographers who will be visiting the refuge this winter.
There are, however, a few things that could be improved and one or two things that shocked me. I mentioned one or two locations where ten minutes work clearing a bit of brush could drastically improve both photographic and viewing conditions. As for the shocked I mentioned an area of the refuge where many new of the familiar blue and white flying goose "Area Closed/Do Not Enter" signs had been placed well back from the water's edge thus making photography from previous hot spots either difficult or impossible. The signs drive people to compete for spots on the Flight Deck where over-crowding has been an ever-increasing problem. In addition, most photographers, desperate to get a lens on the 20,000 geese flying over the distant plateau, will disregard the signs in the pre-dawn blackness thus giving the general public the impression that nature photographers are criminals. As the purpose of the signs is to keep folks from walking out among the cranes,it would be great if new signs could be moved back to the water's edge.
Aaron agreed. We were then joined by Refuge Manager Kevin Kobble. We spoke about the upcoming re-building of the Flight Deck and potential plans for the North Railroad Pool. Aaron asked me if I would be willing to put in my two cents on the plans for the new Flight Deck and of course, I told him that I would be thrilled.
Then Aaron asked if we would be willing to do a short video on current conditions at Bosque. Same answer. Aaron was taping us on his cell phone but an incoming call ruined the first take. Harold Klein agreed to shoot the video with his tripod-mounted Nikor 70-200. Lastly we agreed to meet on Monday–yikes, that's tomorrow, to do a ride-around and point out some things that could be done to make a fabulous place even better for photography.
We said our good-byes, made a pit-stop for the group, and were shocked to find Aaron and Kevin ahead of us clearing the brush at the new duck spot…. After the clean-up, Aaron interviewed participant Harold Klein for the Bosque Facebook page. Harold was amazing. I asked to see his SAG membership card. You can see the video on the here.
I sent them the following e-mail that night:
Dear Aaron and Kevin,
Hope that all is well, that we get six inches of snow tonight, and that the refuge is open tomorrow Smile emoticon.
Thanks a stack for your openness and help this morning. Paraphrasing a very dear friend, "It has been tough to deal with ten years of uninspired, uncaring management. I am thrilled to the core that so many of us will be able to work together with both of you and to return the refuge to its former place of prominence as one of if not the (with the demise of Ding Darling) crown jewel(s) of the national wildlife refuge system….
What happened this morning–you two men taking 15 minutes out of your busy day to help a bunch of photographers–is a prime example of what is possible. As you saw, a few small changes can turn a situation from a so-so opportunity to a spectacular opportunity. I cannot tell you how many letters I have written over the past decade that were basically ignored…. In short, I am thrilled for the future.
Kudos on flopping the entrance and exit of the temporary tour loop; it is another small change that will make life easier and better for the thousand of folks with long lenses who visit the refuge annually, and for the countless visitors who come simply to enjoy the geese and the cranes.
We will come looking for either Aaron or hopefully both of you between 10:30 and 11:00am on this coming Monday for a ride-around. Please rsvp on that. And think about lunch on us at the Buckhorn Grill.
later and love, artie & denise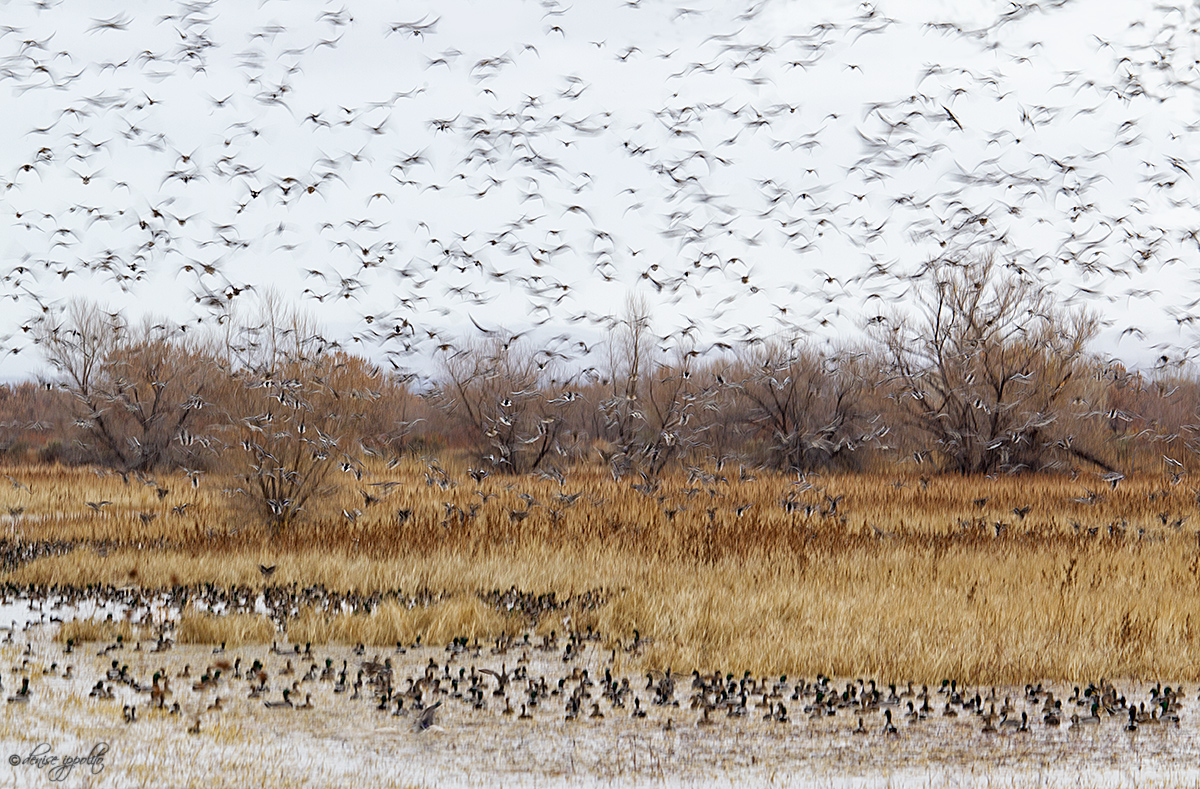 Mallard blast-off. Canon 100-400 hand held with the EOS-1D Mark IV. Image courtesy of and copyright 2103: Denise Ippolito/A Creative Adventure
By the Way….
The weather forecast was wrong. We had only 4 inches of snow. Sunday was by far my best ever day at Bosque. It was so good that we never went back for lunch. It seemed that all 77,000 geese on the refuge were in front of us in the cornfield blasting off every ten minutes. The blast-offs were so spectacular that I think that there is a good chance that at lease one of the 2028 images that I made today turns out to be BBC-worthy image…. Stay tuned for lots of great images from our day in the snow.
Bosque IPTs/Late Registration Discounts Increased
It's Getting Late!
Register now; apply a $1000 discount to the 7-DAY IPT!
For information on both the 7-Day and the recently announced short version of the 2013 Bosque IPTs please scroll down here. If you would like to join us for the first 3 or 4 days of this IPT please shoot me an e-mail. Please call Jim at 863-692-0906 or e-mail for late registration discount info.
BIRDS AS ART 2nd International Bird Photography Competition
Learn more and enter the BIRDS AS ART 2nd International Bird Photography Competition here. Twenty-five great prizes including the $1000 Grand Prize and intense competition. Bring your best.
Support the BAA Blog. Support the BAA Bulletins: Shop B&H here!
We want and need to keep providing you with the latest free information, photography and Photoshop lessons, and all manner of related information. Show your appreciation by making your purchases immediately after clicking on any of our B&H or Amazon Affiliate links in this blog post. Remember, B&H ain't just photography!
Amazon
Everyone buys something from Amazon, be it a big lens or deodorant. Support the blog by starting your search by starting your search by clicking on the logo-link below. No purchase is too small to be appreciated; they all add up. Why make it a habit? Because I make it a habit of bringing you new images and information on an almost daily basis.
Typos
In all blog posts and Bulletins feel free to e-mail or leave a comment regarding any typos, wrong words, misspellings, omissions, or grammatical errors. Just be right. 🙂
IPT Info
Many of our great trips are filling up. You will learn more about how to make great images on a BAA IPT than anywhere else on the planet. Click here for the schedule and additional info.