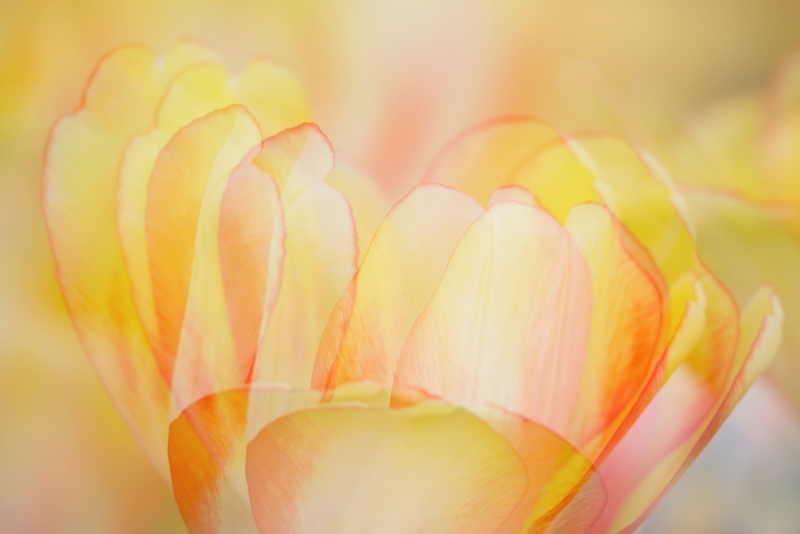 This tulip image was created at the Willem-Alexander Pavilion at Keukenhof, Lisse, Holland with the tripod-mounted Canon EF 600mm f/4L IS II USM lens and the Canon EOS 5D Mark III Digital camera body. ISO 400. Evaluative metering +2/3 stop: 1/5 sec. at f/16 in Manual mode.
Again, manual focus on the distal end of the pistil. Click on the image to enjoy a larger size.
Image #4: Tulip Multiple Exposure: "Beauty of Spryng"
Your browser does not support iFrame.
How I Use Live View
I have found myself using Live View more recently than in previous years, especially for my flower photography.
Here is how and why I use Live View:
For flower or macro work, I often use Live View along with the 2-second timer to ensure sharp images in wind-free situations. Live View raises the mirror with the simple push of a button.
Again, mostly with flowers I have used Live View to ensure getting the right exposure by viewing the RGB histogram that you can bring up in Live View.
I use Live View when creating images with stacked teleconverters using Live Mode AF which focuses off contrast on the sensor. The funny thing is that once I have achieved focus I turn Live View off, look through the viewfinder, and push the shutter button to make the image.
I rarely use Live View at 10X magnification to focus manually with stacked teleconverters when there is not enough contrast for Live Mode AF to work.
And of course I use Live View to create the few videos that I make.
That's about it. Note: I do not use Live View to check composition or image design. For that I make an image and then check the LCD on the back of the camera.
I never once thought that using Live View might in any way be potentially harmful to the sensor. Is there a danger? Keep reading.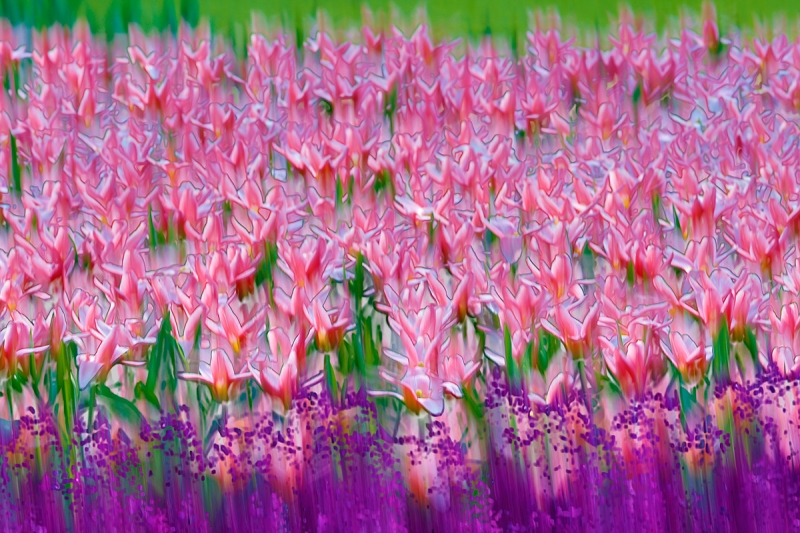 This image was created in-camera at Keukehof Gardens in Lisse Holland on the first Tulip IPT with the tripod-mounted Canon EF 300mm f/2.8L IS II USM lens and the Canon EOS 5D Mark III.
ISO 100. Evaluative metering +1 stop at f/22 in Tv mode. What do you think was the shutter speed?
Central sensor Surround/AI Servo Rear Focus on the first row of pink tulips. Click here if you missed the Rear Focus Tutorial. Click on the image to see a larger version.
Your browser does not support iFrame.
How'd He Do Dat?
First off, do you like it? Do you hate it? Why? Be forewarned: I love it in part because of the outline effect on the pink tulips. Do let us know how you think this image was created in-camera? What technique or techniques were used? Please be as specific as you can. What was the shutter speed? Here is a clue: the original was rendered as a JPEG. Sometimes you can come up with something new and creative just by screwing around and having some fun.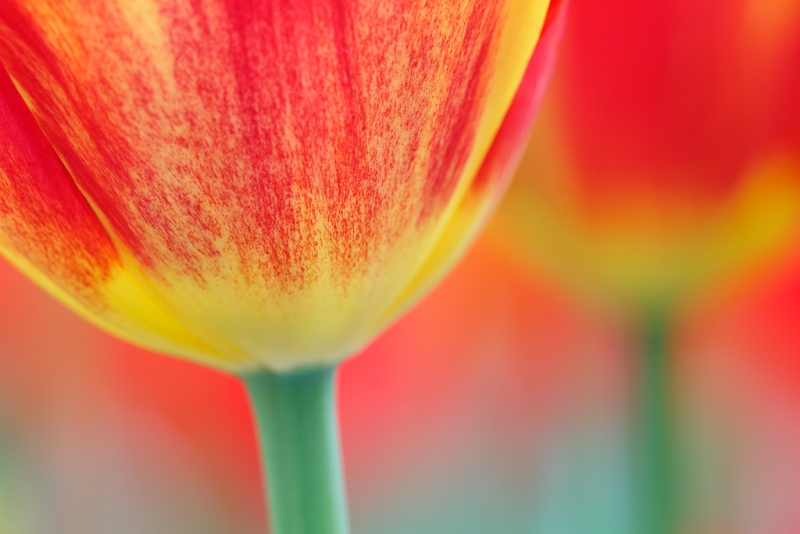 This image was created at the Willem-Alexander Pavilion at Keukenhof, Lisse, Holland with the tripod-mounted Canon Telephoto EF 180mm f/3.5L Macro USM Autofocus lens and the and the Canon EOS-5D Mark III. ISO 800. Evaluative metering +2/3 stop: 1/25 sec. at f/8 in Av mode.
Central sensor AI Servo/Rear Focus on the closest large tulip petal on the left and re-compose. Click here if you missed the Rear Focus Tutorial. Click on the image to see a larger version.
Live View (for Mirror Lock) and 2-second timer were used to create a sharp image of this Tulipa "Washington Orange" at a very slow shutter speed.
Your browser does not support iFrame.
Live View Caution/A Guest Blog Post by Tim Grey
From the December 11, 2013 edition of the "Ask Tim Grey eNewsletter."
Today's Question: In a recent podcast episode Tim and Renee spoke highly of shooting with live view, especially for close focus shallow DOF [depth of field] circumstances. I have tried it for this purpose too and it works well. The Canon 6D manual, however, cautions against continuous live view use for a long period as it can cause internal temperature rise that would cause image quality to deteriorate, and I have read elsewhere it could possibly even cause camera damage. So my question is, how long is a "long period"?
Tim's Answer: This is a great question, which of course doesn't have a clear and specific answer.
To begin with, there is no question that using the Live View feature of your digital SLR will cause some problems. On any camera, such continuous use of the image sensor will lead to a rather significant (and relatively quick) increase in heat, which leads to greater noise in any images you capture. Of course, the same is true for capturing a large number of images in a relatively short period of time, especially under hot conditions. By contrast, if you use the Live View (and thus the image sensor) sparingly, and the temperature is relatively cold, there will be less heat buildup and thus less noise in the images.
For cameras (such as digital SLRs) that feature a shutter mechanism, the Live View option can also be harmful to the shutter, leading to earlier-than-expected failure of the shutter. That is because the shutter must remain open the entire time you are using Live View, which among other things can stretch the springs used in the shutter assembly.
Of course, you could also argue that simply taking a picture damages your shutter, since a shutter has a limited life expectancy measured in a number of actuations. That, of course, would generally relate to the number of images captured, and most shutter mechanisms in today's digital SLR cameras have a life expectancy measured in the hundreds of thousands of actuations, perhaps up to a maximum of around one million actuations.
In any event, I do recommend being somewhat judicious in the use of Live View. I certainly couldn't cite a number in terms of how long you can use Live View before too much heat builds up or until you've actually done harm to the shutter mechanism. But the point is that while I love using Live View, I do try to minimize the use.
In other words, if I feel it will improve a given photo, I will absolutely use Live View. But I will also try to limit the amount of time I'm using Live View by working somewhat quickly, and also by being conscious of these issues and not turning on Live View until I'm ready to use it, and turning it off as soon as I'm done using it.
I wouldn't go to extreme measures here, as in most cases the harm done will be relatively modest. But it is something worth keeping in mind, and it is worth developing good habits when it comes to the use of Live View.
My Question
Does anyone know if the same potential risks occur while doing video? Heck, at least it was cold at Bosque 🙂
Follow-up from Time Grey via E-mail
Yes, the same issues relate to the capture of video clips. I am addressing that question in an "Ask Tim Grey eNewsletter" next week, as a reader posed the same basic question earlier today.
Pixology Magazine
Get in-depth articles every month that will help you optimize every aspect of your photography, with my digital magazine, Pixology. Subscribe today by clicking here.
It seems that I get a copy of Tim's eNewsletter in my personal Inbox most every day. The amazing thing is that I read almost every one of them and always learn something new. You can subscribe to the Ask Tim Grey eNewsletter by clicking here.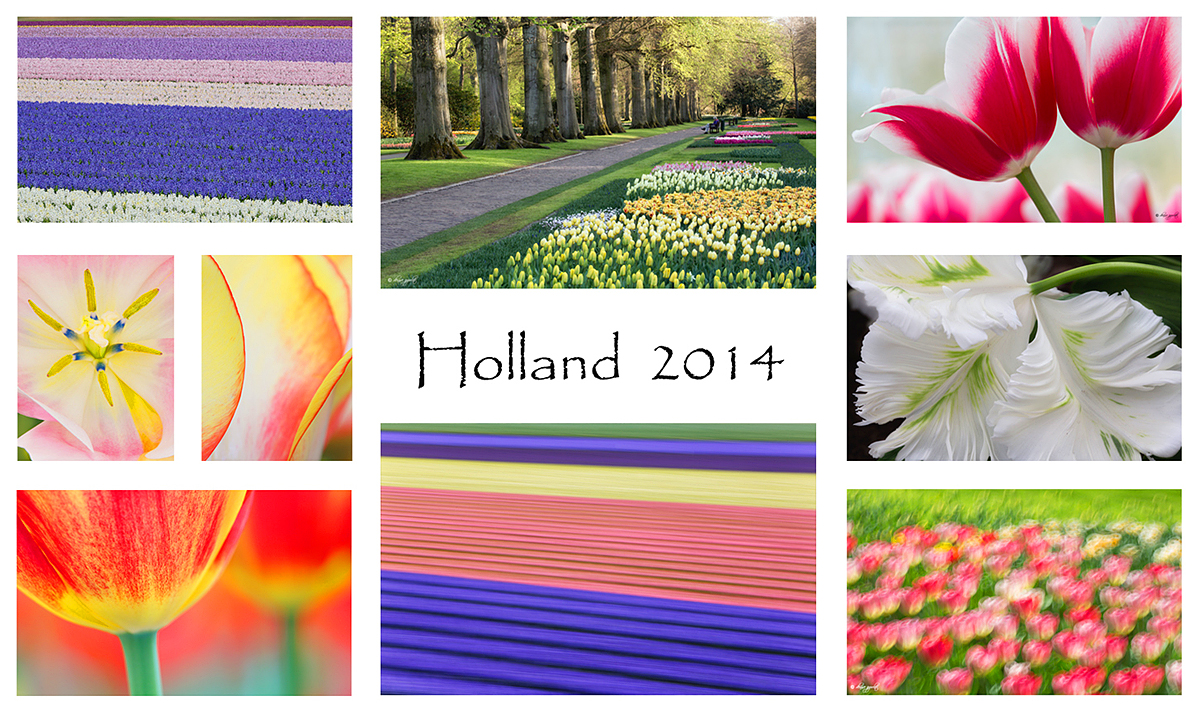 If you would like to learn to be a better, more creative tulip photographer consider joining us on the 2014 Tulip IPT.
Holland 2014 7 1/2-Day/8-Night: A Creative Adventure/BIRDS AS ART/Tulips & A Touch of Holland IPT. April 17-April 24, 2014: $4995 Limit: 12/Openings: 5
Act soon: this trip is now a go and is filling quickly.
Join Denise Ippolito, Flower Queen and the author of "Bloomin' Ideas," and Arthur Morris, Canon Explorer of Light Emeritus and one of the planet's premier photographic educators for a great trip to Holland in mid-April 2014. Day 1 of the IPT will be April 17, 2014. We will have a short afternoon get-together and then our first photographic session at the justly-famed Keukenhof. Most days we will return to the hotel for lunch, image sharing and a break. On Day 8, April 24, we will enjoy both morning and afternoon photography sessions.
The primary subjects will be tulips and orchids at Keukenhof and the spectacularly amazing tulip, hyacinth, and daffodil bulb fields around Lisse. In addition we will spend one full day in Amsterdam. There will be optional visits the Van Gogh Museum in the morning and the Anne Frank House in the afternoon; there will be plenty of time for street photography as well. And some great food. On another day we will have a wonderful early dinner at Kinderdijk and then head out with our gear to photograph the windmills and possibly some birds for those who bring their longs lenses. We will spend an afternoon in the lovely Dutch town of Edam where we will do some street photography and enjoy a superb dinner. All lodging, ground transportation, entry fees, and meals (from dinner on Day 1 through dinner on Day 8) are included.
For those who will be bringing a big lens we will likely have an optional bird photography afternoon or two. If we get lucky, the big attraction should be gorgeous Purple Herons in flight at a breeding marsh. We would be photographing them from the roadside. And we might be able to find a few Great-crested Grebes at a location near Keukenhof.
You will learn to create tight abstracts, how to best use depth-of-field (or the lack thereof) to improve your flower photography, how to get the right exposure and make sharp images every time, how to see the shot, and how to choose the best perspective for a given situation. And you will of course learn to create a variety of pleasingly blurred flower images. If you bring a long lens, you will learn to use it effectively for flower photography. Denise's two favorite flower lenses are the Canon 100mm macro and the Canon 24-105mm zoom. Mine are the Canon 180mm macro lens and the Canon 600mm f/4L IS II, both always on a tripod and both often used with extension tubes and/or the 1.4X teleconverters. Denise hand holds a great deal of the time. For flower field blurs denise uses the same lenses mentioned above. My favorite is the 70-200 often with a 1.4X TC but I use both the 24-105 and the 600 II as well. Both of us use and love the Canon EOS-5D Mark III for all of our flower photography. The in-camera HDR and Multiple Exposure features are a blast.
One of the great advantages of our trip is that we will be staying in a single, strategically located hotel that is quite excellent. Do note that all ground transfers to and from Schipol will be via hotel shuttle bus.
What's included: Eight hotel nights. All ground transportation except for airport transfers as noted above. In-the-field instruction and small group image review and Photoshop sessions. All meals from dinner on Day 1 through dinner on Day 8. The hotel we are staying in often offers both lunch and dinner buffets. The food is excellent. Whenever you order off the menu be it at the hotel or at one of the several fine-dining spots that we will be enjoying at various locations, only the cost of your main course is included. On these occasions the cost of soups, appetizers, salads, sodas and other beverages, alcoholic drinks and wine, bottled water, and desserts are not included. This is done in part in hopes that folks will be less inclined to enjoy an eight course dinner so that we can get to bed early. As with all A Creative Adventure/BIRDS AS ART Instructional Photo-Tours both the photo sessions and the days are long. Nothing that we do however will be demanding. Being able to sit down on the ground with your gear is, however, a huge plus. Anyone in halfway decent shape should be fine.
Snacks, personal items, phone calls, etc. are not included.
Beware of seemingly longer, slightly less expensive tours that include travel days and days sitting in the hotel doing nothing as part of the tour. In addition, other similar trips have you changing hotels needlessly. The cost of this years trip is a bit higher than last years to reflect our increased experience and the extra hotel night that is included. One final note on other similar trips: the instructors on this trip actually instruct. On other similar trips the instructors, though usually imminently qualified, serve for the most part as van drivers….
Happy Campers only please. A non-refundable deposit of $1,000 per person is required to hold your spot. The second payment of $2,000 due by October 30, 2013. The balance is due on January 15, 2014. Payments in full are of course welcome at any time. All payments including the deposit must be made by check made out to "Arthur Morris." As life has a way of throwing an occasional curve ball our way, you are urged to purchase travel insurance within 15 days of our cashing your check. I use and recommend Travel Insurance Services. All payments are non-refundable unless the trip fills to capacity. In that case, all payments but your deposit will be refunded.
All checks should be made out to "Arthur Morris" and sent to: Arthur Morris, PO Box 7245, Indian Lake Estates, FL 33855. Please fill out the paperwork here and include a signed copy with your deposit check.
For couples or friends signing up at the same time for the tulip trip, a $200/person discount will be applied to the final payment.
Click here for complete details and lots of wonderful images with our legendary educational captions. Click here and see item one for lots more tulip images.