Very Important Note
My sam and mayas att e-mail account was suspended on 18 DEC. Those who tried to reach me by e-mail between then and yesterday had their mails bounced back. If you tried to reach me during that period please re-send any important e-mails.
What's Up?
I spent pretty much all day yesterday catching up on the NFL playoffs via TIVO. As I was rooting for the Ravens to beat the hated Patriots, for the Panthers to upset the Seahawks, for Peyton Manning's Broncos to beat the Colts, and for Tony Romo's Cowboys to beat the also-hated Packers, it was a very long day…. The overturned call on Dez Bryant's incredible 31-yard catch was the final insult. This blog post was eventually published at 5:55am from my home in Indian Lake Estates, FL.
I have many more exciting new images, tales, and lessons to share with you here over the course of the next few weeks and am looking forward to doing so.
To show your appreciation for my continuing efforts here, we ask, as always, that you use our the B&H and Amazon affiliate links on the right side of the blog for all of your purchases. B&H Is recommended for you major photography gear purchases, Amazon for your household, entertainment, and general purpose stuff. Please check the availability of all photographic accessories in the BIRDS AS ART Online Store, especially Gitzo tripods, Wimberley tripod heads, and the like. We sell only what I have used, have tested, and can depend on. We will not sell you junk. We know what you need to make creating great images easy and fun. And we are always glad to answer your gear questions via e-mail. I just learned that my account was suspended during my absence; it should be up and running by Monday at the latest.
I would of course appreciate your using our B&H affiliate links for all of your major gear, video, and electronic purchases. For the photographic stuff mentioned in the paragraph above we, meaning BAA, would of course greatly appreciate your business. Here is a huge thank you to the many who have been using our links on a regular basis and visiting the BAA Online store as well.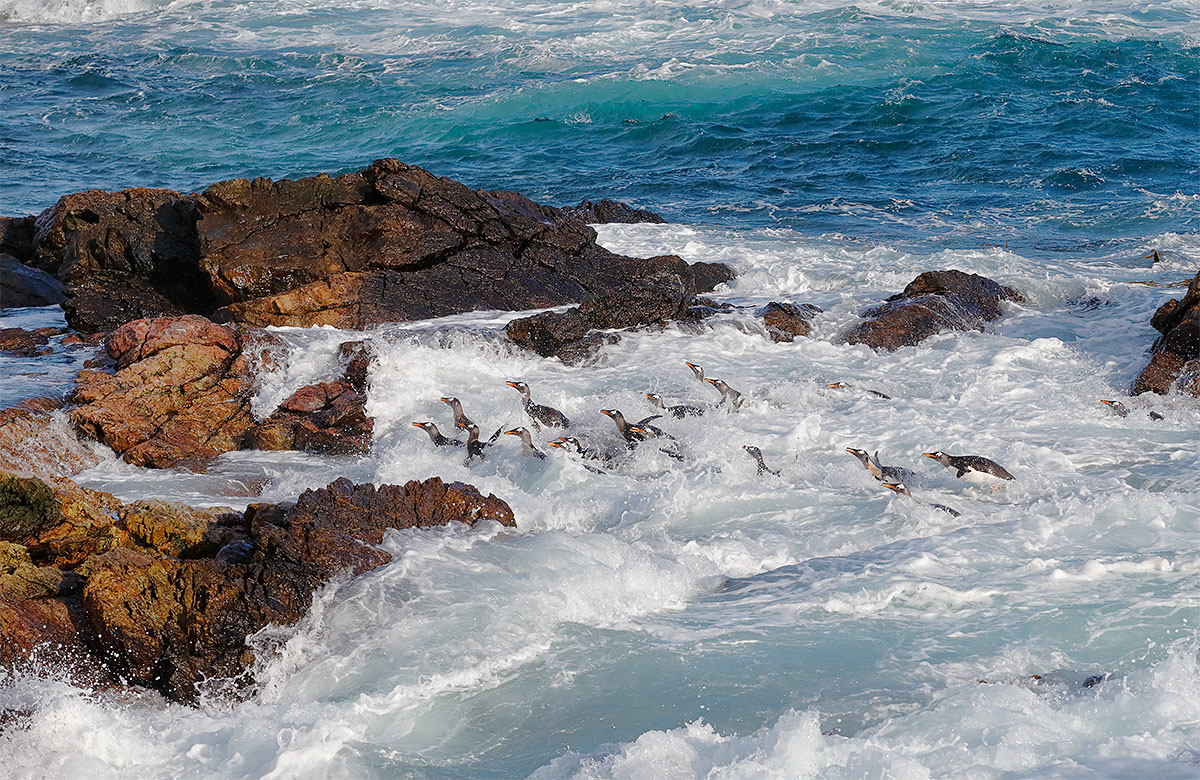 This image was created on 18 DEC, 2014, on day 4 of the great Cheesemans'Southern Ocean expedition. As is fairly typical, we pretty much encountered all four seasons worth of weather in a single day. By the time this image was created, 7:05pm, it was clear and sunny and very windy. See more on that below. I used the hand held Canon EF 70-200mm f/2.8L IS II USM lens (at 123mm) and the Canon EOS-1D. ISO 400. I exposed for the breaking surf with the equivalent of the very bright sunny very white exposure (1/3200 sec. at f/8) at 1/5000 sec. at f/6.3.
Zone/AI Servo/Rear Focus AF as framed was active at the moment of exposure and performed perfectly by selecting one AF point two below and one to the right of the central sensor. Click here to see the latest version of the Rear Focus Tutorial. Click on the image to see the spectacular larger version.
Your browser does not support iFrame.
Always Look Back
We landed early at the Steeple Jason Island in the Falklands. The incredible Black-browed Albatross colony there, with well more than 1/4 million pairs of this spectacular seabird, is the world's largest breeding colony of black-broweds. We encountered cloudy dark, cloudy bright, light drizzle, partly sunny, mostly sunny, and sunny and clear. Did I mention wind?
The last zodiac back was supposed to be in the mid-afternoon and once everyone was back on the ship we were to head to another spectacular location, Sea Lion Island. I headed to the landing a bit early in part to get back on the Ortelius and dry out a bit. But as I began the trek the wind came up. Seemingly it increased in strength with each step. The good news was that it was at my back. When I reached our morning landing site a Force 9 gale had developed. I was told that the ship would be sailing around the island so that we could be picked up at the alternate landing site. I did not realize that that would take about two hours. I got my gear and my drybag together and made the short walk to the new landing site. Then I napped.
when I woke, I got out my 70-200 and both TCs and began photographing near the alternate landing site: Gentoo Penguins, Steamer Ducks, and Striated Caracaras and a single Austral Thrush kept me busy for a while. By now the wind was howling. Though the ship was in sight the sheets of spume and spray that covered the ocean made it clear that no matter how skilled, competent, and daring the Cheesemans' staff that it would not be safe to lower any zodiacs until the wind dropped considerably. Folks began considering the possibility of our spending the night on Steeple Jason….
Micheal Viljeon and I decided to head back towards the original landing site to photograph the gentoos coming out of the water after a day of gathering krill. We climbed out as far as we dared on the huge boulders in an effort to get closer to the birds and to get closer to a good sun angle. After about an hour of pretty good action prestigious Cheesemans' staff member Tim Carr came by to fetch us: "You need to head back. The wind is dropping and the ship is getting closer. They should be lowering the zodiacs soon."
I removed my 2X TC and climbed carefully back towards safety. I am not sure why but I stopped every few steps to keep an eye on the penguins. Just once I saw a big group swimming towards their landing site, called to Michael, and paused to create a few frames. The image above, much wider than anything that I had done previously, was my favorite by a mile. I will share the image optimization for today's image in tomorrow's blog post.
Tim Carr, along with wife Pauline, has been on the Cheesemans' Expedition Staff for each of my three Southern Ocean trips with CES. They spent fourteen years on South Georgia working for the South Georgia Museum, first as Custodians and then as Curators. Before they became the complete resident human population of South Georgia, they spent 25 years circumnavigating the globe aboard Curlew, a 28-foot, engineless wooden sailboat that was built in 1898. Arriving at South Georgia in 1992, the Carrs were inspired by this incredible island and , in 1998, wrote the book Antarctic Oasis: Under the Spell of South Georgia
In addition to their sailing exploits around the South Georgia, the Carrs explored inland extensively while camping in tents, bivouacs and snow holes. Tim and Pauline are delightful personalities, and as leaders and frequent presenters, they bring an unparalleled and intimate knowledge not only of South Georgia but of all the Southern Ocean sites and creatures along with a passion for the early history of South Georgia, a very special and remote island.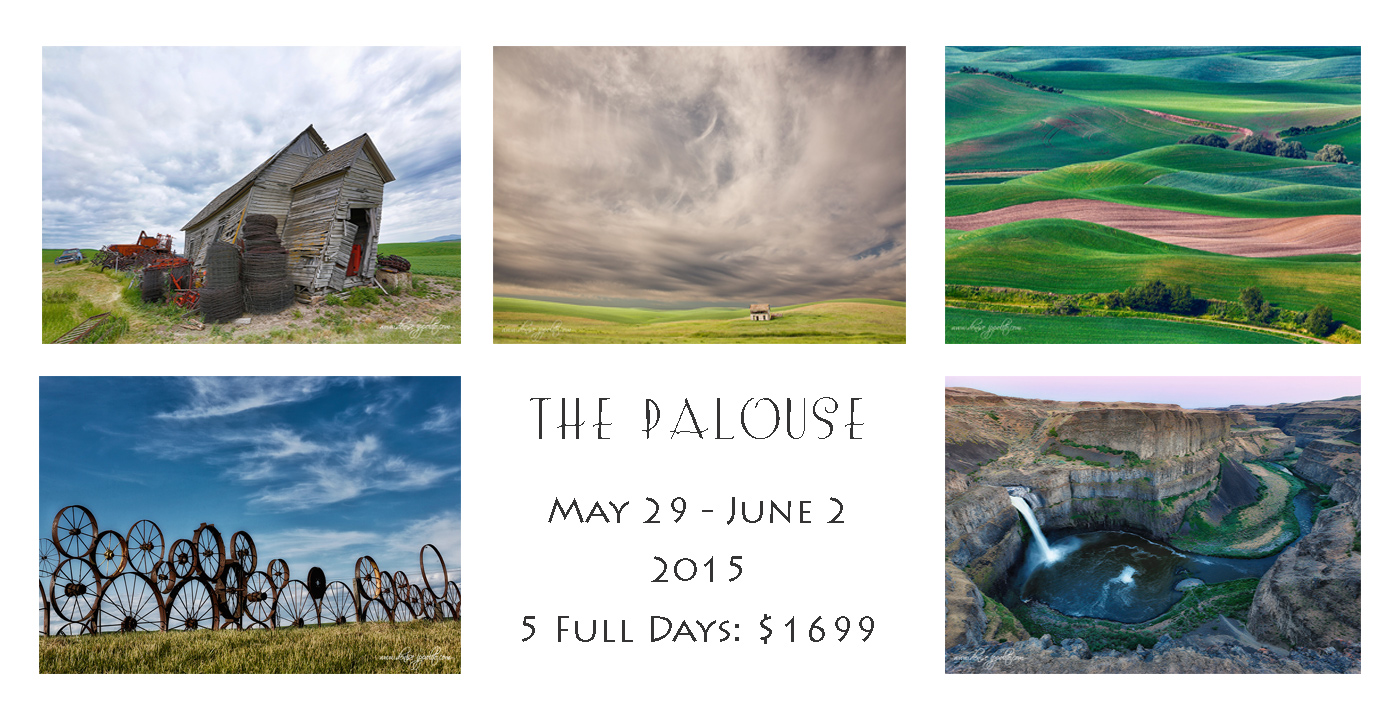 Card and design by Denise Ippolito. Scroll down here to see lots more of Denise's Palouse images.
Palouse #1. The Palouse A Creative Adventure/BIRDS AS ART Instructional Photo-Tour (IPT)/Eastern Washington State. May 29-June 2, 2015/5 Full Days: $1699/Limit 12 photographers/Sold Out with wait list.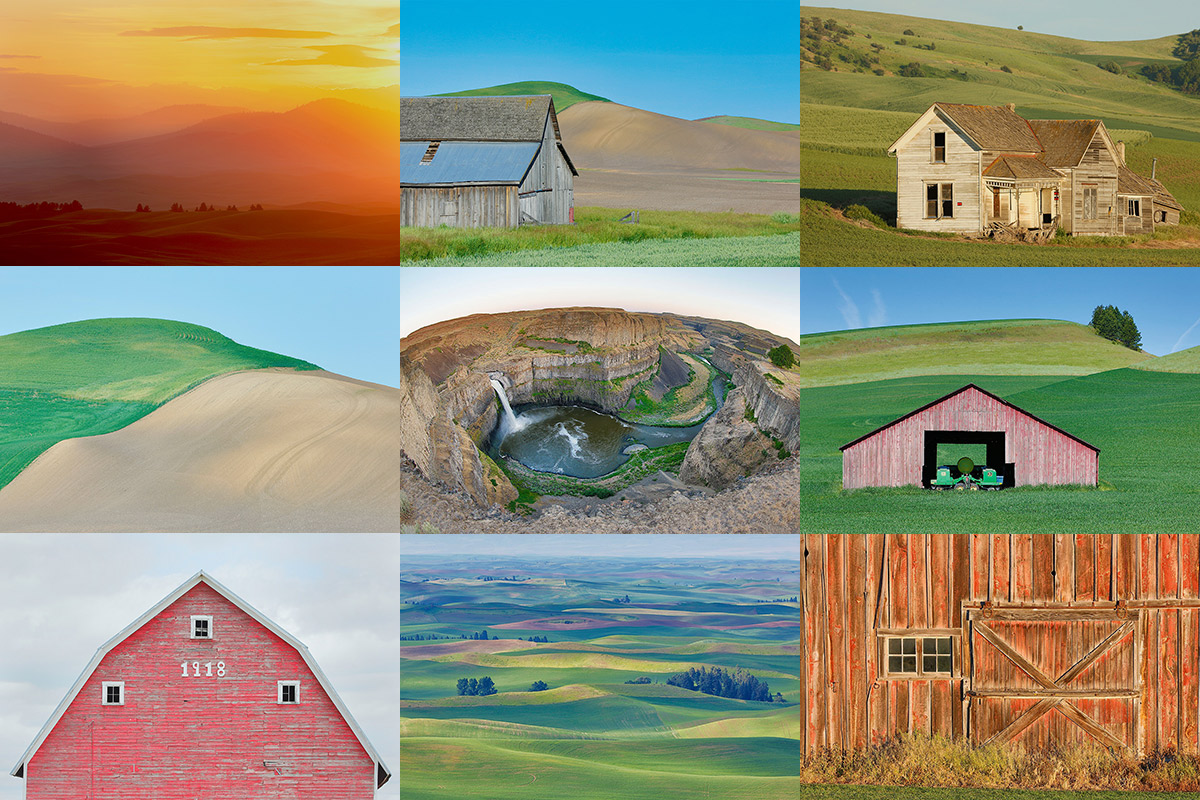 Card and design by Arthur Morris/BIRDS AS ART.
The Palouse A Creative Adventure/BIRDS AS ART Instructional Photo-Tour (IPT)/Eastern Washington State. June 5-9, 2015/5 Full Days: $1699/Limit 12 photographers/Openings 3.
Rolling farmlands provide a magical patchwork of textures and colors, especially when viewed from the top of Steptoe Butte where we will likely enjoy spectacular sunrises and possibly a nice sunset or two. We will photograph grand landscapes and mini-scenics of the rolling hills and farm fields. We will take you to some really neat old abandoned barns and farmhouses in idyllic settings. There is no better way to improve your compositional and image design skills and to develop your creativity than to join us for this trip. Two great leaders: Denise Ippolito and Arthur Morris. Photoshop and image sharing sessions when we have the time and energy…. We get up early and stay out late and the days are long.
After 6 days of back-breaking scouting work in early June 2014 we found all of the iconic locations and, in addition, lots of spectacular new old barns and breath-taking landforms and views. We will teach you what makes one situation prime and another seemingly similar one a waste of your time.
What's included: In-the-field instruction, guidance, lessons, and inspiration, our newfound but very extensive knowledge of the area, all lunches, motel lobby breakfasts, and Photoshop and image sharing sessions when possible.
You will learn and hone both basic and advanced compositional and image design skills. You will learn to get the right exposure every time. You will learn to develop your creative eye. You will learn the basics of HDR (high dynamic range) photography. You will learn a variety of in-camera creative techniques; Canon 5D Mark III bodies are a plus. And most importantly you will learn to see the situation and to create a variety of top-notch images. Do see both of our blogs for lots more on that in the coming weeks. You will learn how the quality and direction of light combine to determine the success of your images. And–please don't gasp–we will be working quite a bit with sidelight when creating landscapes. Lastly, we will be touching on infrared photography.
A non-refundable $699 deposit is due now. The balance will be due on January 29, 2015. If you cancel and the trip fills, we will be glad to apply a credit applicable to a future IPT for the full amount less a $100 processing fee. If we do not receive your check for the balance on or before the due date we will try to fill your spot from the waiting list. Whether or not your spot is filled, you will lose your deposit. If not, you can secure your spot by paying your balance.
With the unpredictable nature of the photography business, I have not said this often lately, but it seems quite likely that this one will fill up very quickly. Please let me know via e-mail that you will be joining us. Then you can either call Jim or Jennifer at 863-692-0906 during business hours or send us a check; the latter is preferred.
Please send your deposit check made out to "Arthur Morris" to us at Arthur Morris/BIRDS AS ART, PO Box 7245, Indian Lake Estates, FL, 33855. If you have any questions, please feel free to contact me via e-mail.
Facebook
Be sure to like and follow BAA on Facebook by clicking on the logo link upper right. Tanks a stack!
Support the BAA Blog. Support the BAA Bulletins: Shop B&H here!
We want and need to keep providing you with the latest free information, photography and Photoshop lessons, and all manner of related information. Show your appreciation by making your purchases immediately after clicking on any of our B&H or Amazon Affiliate links in this blog post. Remember, B&H ain't just photography!
…..
Amazon.com
Those who prefer to support BAA by shopping with Amazon may use this link:
Amazon Canada
Many kind folks from north of the border, eh, have e-mailed stating that they would love to help us out by using one of our affiliate links but that living in Canada and doing so presents numerous problems. Now, they can help us out by using our Amazon Canada affiliate link by starting their searches by clicking here. Many thanks to those who have written.
Typos
In all blog posts and Bulletins, feel free to e-mail or to leave a comment regarding any typos or errors. Just be right :).