What's Up?
I had begged John Dupps and Peter Peter Hawrylyshyn who had signed up for the full day on Saturday to stay on for the next morning of the Hooptie Mini IPT. I explained that extending for another session would greatly improve their chances of having one of those very special days. As it turned out, we did pretty good on Saturday but Sunday did in fact turn out to to be one of those very special days…
We were back at the dock before noon and I drove directly home. I enjoyed a swim, had lunch, and got to work editing the 1251 images that I had created on Sunday morning. It seemed that half of those images were of bathing spoonbills…. Continue reading for the rest of the story.
This blog post took about 3 hours to prepare and was published from my home at ILE, FL at 8:26am.
YouTube NHL Feel Good Stuff
Tired of gun toting, wife and child beating, crack smoking NFL and NBA stars? Thanks to older daughter Jennifer for sending me links to some Chicago Blackhawks promotional YouTube videos. The series is entitled "My Goal."
If the video here does not leave you in tears, you need a new heart. Or a new soul. The one here is pretty special too. As often happens with YouTube stuff, you may become addicted to the related videos. Big kudos to the CME group for developing both the "What's Your Goal" and the "I am" series.
Please Remember to use our Affiliate Links 🙂
To show your appreciation for my continuing efforts here, we ask, as always, that you use our the B&H and Amazon affiliate links on the right side of the blog for all of your purchases. B&H is recommended for you major photography gear purchases, Amazon for your household, entertainment, and general purpose stuff. Please check the availability of all photographic accessories in the BIRDS AS ART Online Store, especially the Mongoose M3.6 tripod heads, Gitzo tripods, Wimberley heads and plates, LensCoats and accessories, and the like. We sell only what I have used, have tested, and can depend on. We will not sell you junk. We know what you need to make creating great images easy and fun. And we are always glad to answer your gear questions via e-mail.
I would of course appreciate your using our B&H affiliate links for all of your major gear, video, and electronic purchases. For the photographic stuff mentioned in the paragraph above we, meaning BAA, would of course greatly appreciate your business. Here is a huge thank you to the many who have been using our links on a regular basis and visiting the BAA Online store as well.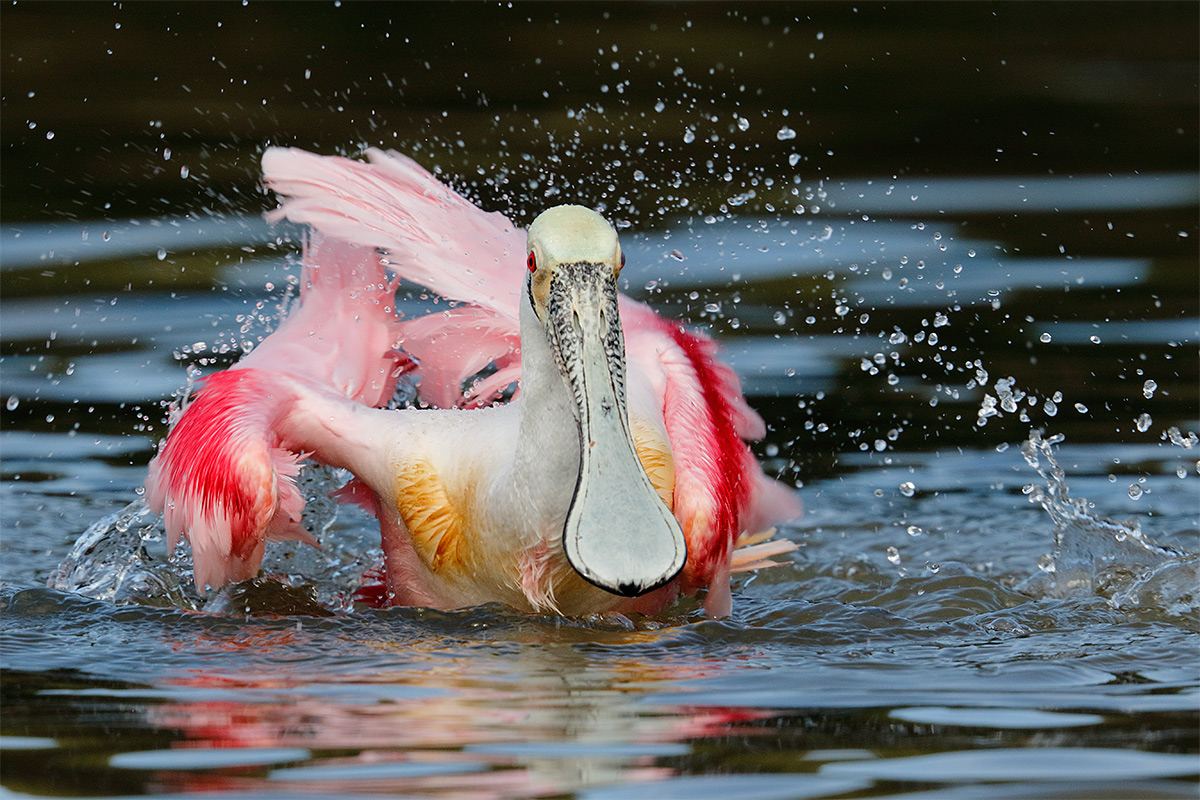 This image was created at 9:45am at Alafia Banks on the partly cloudy morning of March 8, 2015 with the Canon EF 600mm f/4L IS II USM lens, the Canon Extender EF 2X III, and the amazing Canon EOS 7D Mark II. ISO 800. Evaluative metering at zero: 1/800 sec. at f/10. I thought that I was at f/9. AWB.
Center AF point (by necessity)/AI Servo/Rear Focus/Expand AF as framed was active at the moment of exposure. The active AF point was on the middle of the bird's bill. Click here to see the latest version of the Rear Focus Tutorial. Click on the image to see a larger version.
Roseate Spoonbill bathing
Your browser does not support iFrame.
Oh What a Great 7D II Only Day!
Top student multiple-award winning Clemens van der Werf drove up from West Palm and Donna Bourdon, both who had signed up for the full 1 1/2 days, were aboard. Donna, whose skills are increasing with leaps and bounds on every IPT, had wisely flown down from Chattanooga, TN just for the spoonbills. I hope to share some of her images with you in a blog post here soon. James Shadle and I were joined also by David Snyder from Jupiter, Florida.
We arrived in the dark but the hoped for huge blast-offs of Fish Crows and/or White Ibises never materialized. None-the-less we reviewed the pre-dawn blur techniques and made some nice pan blurs of single birds and small groups. James was able to help David with his Nikon AF settings. Clouds in the east had materialized so we did not get to enjoy any early morning light. But those turned out to be a big blessing later on in the morning. On the way out I had discussed 7D II AF with Clemens. He stated that he felt that the AF was as consistently as good as with the 1D X. Were there times that he did everything right and would wind up with a not-so-sharp-on-the-eye image/ Yes. But he felt that the same thing often happened with one of his two 1D X bodies. In both of those instances he would look in the mirror rather than complain about the camera. I had been having some doubts about consistent AF accuracy with my 7D II bodies but inspired by Clemen's comments I decided to go 7D II all the way.
Once we got in the water I began trying to create some sharp flight images at f/4, first at ISO 1600 and then at ISO 800. I concentrated hard on keeping the active AF point on the bird's eye, face, or neck and on panning smoothly while matching the speed of the bird in flight. In other words, back to the basics. We had lots of incoming flight chances. I checked sharpness every few frames and was happy with my decision to go with the 7D II only. I will be posting an image or two from that situation here soon. After a while the action slowed a bit; I went back to the boat and began doing in-camera 7d II HDR images with the 72mm 16-35mm and the Singh-Ray warming circular polarizer. What was I photographing? The amazing cloud formations.
In a bit we decided to make a wiggle and move the boat a bit to west.
Right after we re-anchored the Hooptie and got set up in the water, I spotted a Brown Pelican swooping down to pick up a large piece of brush for its nest. I called it out as it turned into the east wind and flew just to our right. You will see the best one from that series here soon. Everyone decided to stay put but I opted to head back east to check out the Great Blue Heron nest. But several spoonbills flew in just to my left so I decided to give them my attention. I was soon joined by everyone and we enjoyed a solid hour of spoonbills flying in, feeding, bathing, and flapping. I have a wonderful problem: with 91 bathing spoonie keeper images it is nearly impossible to select a few favorites.
I had gone to the 600 II/2X III so as to work as tightly as possible as the backgrounds were less than ideal: black rocks and algae interspersed with patches of sand…. At cloudy bright the light was perfect. While looking for good situations I noticed that a beautiful spoonbill had appeared from nowhere and started to bathe right in front of me, facing of course, right into the east wind. On more than one occasion I buried the 7D II's most impressive buffer at about 26 frames. In a second or two at most, however, I was back in business. Holding the hammer down, or the pedal to the metal if you would, is something that I do only rarely. As far as yesterday's "petal to the metal" brain typo, I was really, really tired when I wrote that 🙂 Either that or I was dreaming of flower photography.
Picking Your Keepers
Here are my suggestions for picking your keepers. On the first round of editing, if you are not sure, keep it. On the second round of editing, if you are not sure, delete it. On the third round, if you do not love it, delete it. Yes, that is ruthless.
It Goes Without Saying
If what you read here on the blog inspires you to purchase some new gear, perhaps a 600 II and a 7D II, please remember to use our B&H affiliate links. And please remember, web orders only. Please feel free to send us your gear-related questions via e-mail.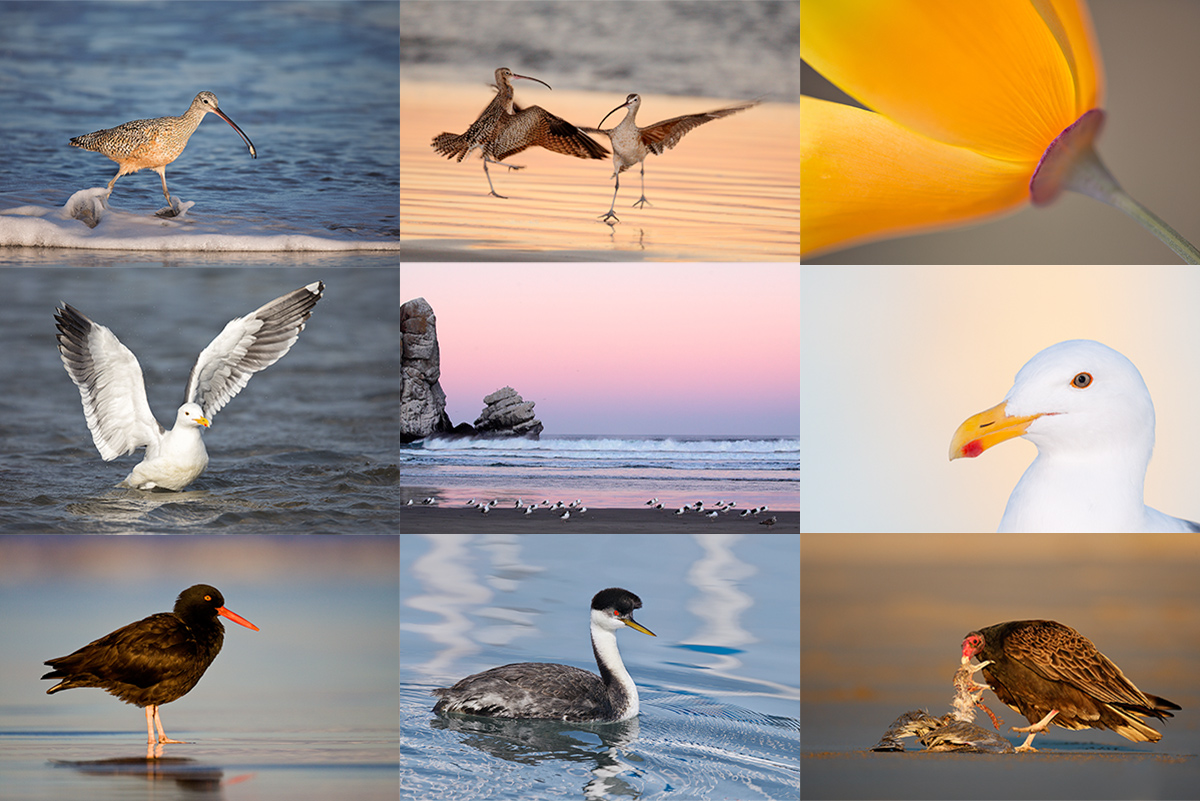 Morro Bay offers a wealth of very attractive natural history subjects in a variety of attractive settings. Do consider joining me there on the March 20-22, 2015 Canon Destination Workshop. Complete info and register here
Morro Bay Pre-Canon Destination Workshop In-the-field Day
The Morro Bay Canon Destination Workshop March 20-22, 2015 has five slots open. To encourage folks to sign up I have planned the following:
Morro Bay Pre-Canon Destination Workshop In-the-field Day. Friday March 20: $399.
This in-the-field workshop includes a 4-hour morning photo-session that begins in the pre-dawn, a 2 hour afternoon photo session (3-5pm or so), and a working lunch with image review and some Photoshop. We will finish up in time to attend the Friday evening program that opens the Destination Workshop.
Though you not need to be registered for the Canon event, that would make a lot of sense to me. The Friday evening program is of course open only to those who are signed up for the Destination Workshop. See immediately below for details on that.
BIRDS AS ART Morro Bay, CA Canon Live Learning EOS Destination Workshop
March 20-22, 2015: $1050

Borrow great Canon gear. Head home with a print or two. Learn from the best.
Click here for complete info or to register.
Click here to see the course agenda.
Join me in one of the most beautiful and scenic places on the planet to photograph a large variety of birds of the sea and shore. The star of the show will be the spectacular Long-billed Curlew. There will be lots of Marbled Godwits and Willets as well as lots of the smaller shorebird species. Black Oystercatcher is likely and we should get to photograph large flocks of Western Sandpipers in flight over the bay; with any luck we should enjoy some great sunrise and sunset photography. There are lots of gulls including Western, California, and Mew. There is one good location where we should get to photograph Western, Clarke's, Eared, and Pied-billed Grebe, Lesser Scaup, and Common Loon–you will be able to borrow a long lens from Canon along with various camera bodies. We may get to photograph some passerines including Anna's Hummingbird, Brewer's Blackbird, and White-crowned Sparrow. And we have a chance for several species of raptors. Yikes, I almost forgot California Poppy. And California Ground Squirrel. Sea Otters are also possible.
Folks who register after seeing this notice are asked to shoot me a copy of their BIRDS AS ART Morro Bay Registration Confirmation via e-mail.
See lots more Morro Bay images here.
Facebook
Be sure to like and follow BAA on Facebook by clicking on the logo link upper right. Tanks a stack!
Support the BAA Blog. Support the BAA Bulletins: Shop B&H here!
We want and need to keep providing you with the latest free information, photography and Photoshop lessons, and all manner of related information. Show your appreciation by making your purchases immediately after clicking on any of our B&H or Amazon Affiliate links in this blog post. Remember, B&H ain't just photography!
…..
Amazon.com
Those who prefer to support BAA by shopping with Amazon may use this link:
Amazon Canada
Many kind folks from north of the border, eh, have e-mailed stating that they would love to help us out by using one of our affiliate links but that living in Canada and doing so presents numerous problems. Now, they can help us out by using our Amazon Canada affiliate link by starting their searches by clicking here. Many thanks to those who have written.
Typos
In all blog posts and Bulletins, feel free to e-mail or to leave a comment regarding any typos or errors. Just be right :).