Stuff
I sent 73 e-mails yesterday, just the beginning of catching up. Got flights and vehicles for the now sold-out UK Puffin IPT. Enjoyed another long swim and an ice bath. Y'all just squeaked by yesterday with 3082 views to keep the 3000+ views streak alive…
This blog post took 3+ hours to prepare and was published from my home at ILE, FL just after 7:00am. Today's blog post is the 64th straight with a new educational blog post.
I fly to Morro Bay on Friday for a week-long busman's holiday followed by the Canon Destination Workshop. On Monday,Bosque In-the-Field workshop participant Dwayne Marrot called and signed up for my Friday Morro Bay In-the-field sessions and then registered for the Canon Morro Bay Live Learning Destination Workshop. Together they make for a neat and relatively inexpensive package. It is not too late for you to sign up for one or both and I would love to see you there. Scroll down for complete details.
E-mail Apologies
At no time in my career have I been so far behind in answering e-mails. If you sent one to me that has gone unanswered, please re-send it here and I will do my best to get to it as quickly as possible.
Please Remember to use our Affiliate Links 🙂
To show your appreciation for my continuing efforts here, we ask, as always, that you use our the B&H and Amazon affiliate links on the right side of the blog for all of your purchases. B&H is recommended for you major photography gear purchases, Amazon for your household, entertainment, and general purpose stuff. Please remember: no phone orders; web orders only!
Please check the availability of all photographic accessories in the BIRDS AS ART Online Store, especially the Mongoose M3.6 tripod heads, Gitzo tripods, Wimberley heads and plates, LensCoats and accessories, and the like. We sell only what I have used, have tested, and can depend on. We will not sell you junk. We know what you need to make creating great images easy and fun. And we are always glad to answer your gear questions via e-mail.
I would of course appreciate your using our B&H affiliate links for all of your major gear, video, and electronic purchases. For the photographic stuff mentioned in the paragraph above we, meaning BAA, would of course greatly appreciate your business. Here is a huge thank you to the many who have been using our links on a regular basis and visiting the BAA Online store as well.
Great Think Tank Rolling Bag Offer
Without a Think Tank Rolling Bag, I'm Going Nowhere!
Whether I am heading off to the Southern Ocean or down to the lake by my home, one or both of my Think Tank Rolling Bags is going along. Air travel is done with either the slightly smaller Airport International™ V2.0 Rolling Camera Bag (I actually own the limited edition fancier version, the Airport International™ LE Classic–there are still a few of those in stock on the Think Tank website), or the larger Airport International™ V2.0 Rolling Camera Bag. I always use the larger bag when the 600 II is going on a plane. When I am driving to a location, I travel with my gear safely stowed in both of these great rolling bags. I leave them un-zipped to allow for easy access. Discerning professionals use and depend on their rugged and practical Think Tank Rollers to protect their gear while they get where they are going without breaking their backs in the process.
Though I am not a backpack person, I do know that Think Tank makes a great line of them for those who are. And I use and love their Glass Limo long lens backpack. It proved invaluable on my Cheeseman's Southern Ocean Expedition and it is going to Morro Bay with me. I will use it there to get the 500 II that I am borrowing from Canon Professional Services up and down the beaches. Since I am flying to the west coast without a big super-telephoto lens I'll be flying with the the slightly smaller Airport International™ LE Classic Rolling Camera Bag. This saves me weight and bulk. I used this same bag for the Southern Ocean Expedition.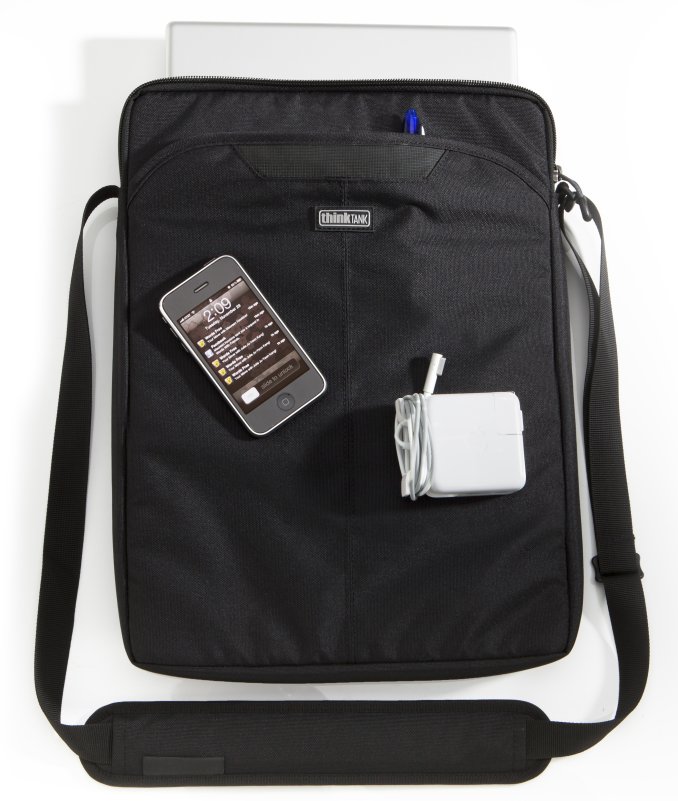 Free Think Tank Laptop Bag Offer
Free Think Tank Laptop Bag Offer
Click here to order your Think Tank Rolling Bag and then fill out and mail the rebate form here to receive a free 15″ Think Tank Laptop Bag. This offer valid from now through March 31, 2015. All rebate form submissions must be received by April 15, 2015. Here is a list of the eligible bags: Airport AirStream, Airport International V2.0, Airport Security V2.0, Airport TakeOff, Airport Roller Derby, Airport Navigator, Production Manager 40, Logistics Manager 30, and Airport International LE Limited Edition.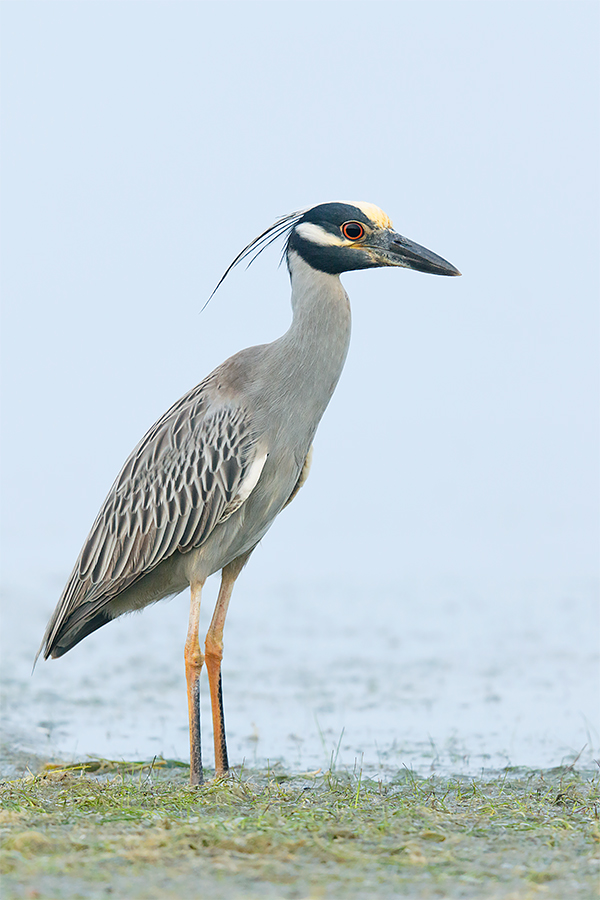 This image was created at 7:12am just south of St. Petersburg, FL on the foggy morning of March 6, 2015 with the Canon EF 600mm f/4L IS II USM lens, the Canon Extender EF 1.4X III, and the Canon EOS 7D Mark II. ISO 1600. Evaluative metering +2 1/3 stops as framed. 1/250 sec. at f/5.6. Cloudy WB.
65-point Automatic Selection/AI Servo/Rear Focus and, when a series of AF points caught the face, I recomposed. There is more than one way to skin a cat…. Click here to see the latest version of the Rear Focus Tutorial. Click on the image to see a larger version.
Your browser does not support iFrame.
7D II ISO 1600
While I could have worked here at ISO 800 with a shutter speed of 1/125 sec., I chose to set ISO 1600 both to gain a stop of shutter speed and to have a 7D II ISO 1600 image to share with you here. To me, color, contrast, and image quality in today's featured image look great. What do you think? I do have a low light ISO 1600 Osprey image to share with you here in a future blog post.
ISO 1600 Noise Before and After Animated GIF
This is a crop of the 100% view compares the converted TIFF with the optimized version. What do you think of the noise? Remember that the price of controlling high ISO noise is somewhat of a loss of fine detail. Before you go shouting, "Garbage," please be sure to take a look at some of your ISO 1600 images at 300%.
The Image Optimization
During the RAW conversion in DPP 4 I used Arash Hazeghi's luminance and chrominance Noise Reduction values. In Photoshop the image optimization was straightforward. I corrected the CYAN/GREEN color cast, did some bill clean-up, ran a 15% Linear Burn on the crown that was refined with a Regular Layer Mask, ran my NIK 50-50 recipe on the bird only at 50% opacity and refined that also with a Regular Layer Mask, and then applied a soft touch Layer of Filter/Blur/Surface Blur to the whole image. I finished the image off both Selective Color and Curves adjustments to give the image some additional pop.
Digital Basics
Everything that I did to optimize today's image is covered in detail in my Digital Basics File–written in my easy-to-follow, easy-to-understand style. Are you tired of making your images look worse in Photoshop? Digital Basics File is an instructional PDF that is sent via e-mail. It includes my complete digital workflow, dozens of great Photoshop tips, details on using all of my image clean-up tools, the use of Contrast Masks, several different ways of expanding and filling in canvas, all of my time-saving Keyboard Shortcuts, Quick Masking, Layer Masking, and NIK Color Efex Pro basics, Contrast Masks, Digital Eye Doctor techniques, using Gaussian Blurs, Tim Grey Dodge and Burn, a variety of ways to make selections, how to create time-saving actions, the Surface Blur (background noise reduction) settings, and tons more.
APTATS I & II
Learn the details of advanced Quick Masking techniques in APTATS I. Learn Advanced Layer Masking Techniques in APTATS II. Mention this blog post and apply a $5 discount to either with phone orders only. Buy both APTATS I and APTATS II and we will be glad to apply at $15 discount either with phone orders or here in the BAA Online Store. For phone orders, call Jim or Jennifer at 863-692-0906 weekdays.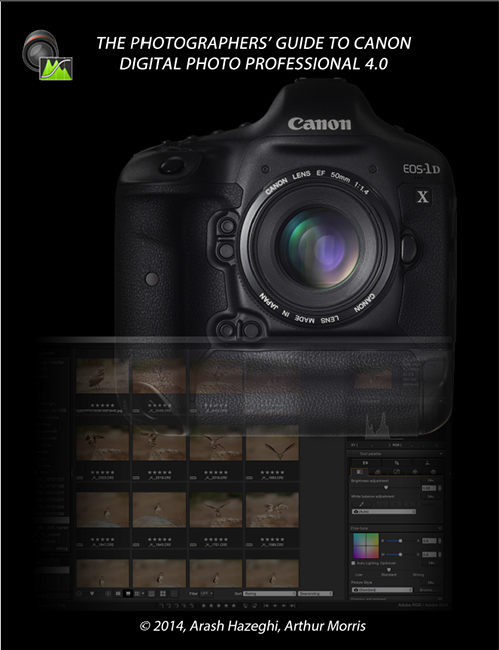 You can order your copy of "The Photographers' Guide to Canon Digital Photo Professional 4.0" (aka the DPP 4 Raw Conversion eGuide) by Arash Hazeghi and Arthur Morris by clicking here.
The DPP 4 eGuide (PDF)
The Ideal Companion to the 7D Mark II User's Guide
Learn how and why I and many other discerning photographers choose and use only DPP 4 to convert their Canon RAW files in the DPP 4 RAW Conversion Guide by Arash Hazeghi and yours truly. The latest version supports all of the newer Canon camera bodies and several older models including the EOS-7D and the EOS-1D Mark IV. A free update that will cover most of the newly added cameras will be sent some time next week. See upcoming blog posts for exact details.
New Used Gear Listings
New 'old" Canon 500 mm f/4L IS Lens
Gregory Asnis is offering a never used Canon 500 mm f/4L IS lens in brand new condition for $4999. The sale includes the the front leather hood, the rear dust cap, the lens trunk, an AquaTech SoftHood Collapsing Hood for the 500mm f/4 (a $150 value), and insured shipping by UPS Ground to US addresses only. Your item will not ship until your check clears unless other arrangements are made.
Please contact Gregory via e-mail or by phone at 917-597-9408, Eastern Time.
The old five was at one time the world's most popular telephoto lens. It still makes great images with both TCs. Greg's new, never used lens is priced lower than many used ones on the web. artie
Used Canon 300 mm f/2.8L IS Lens
IPT veteran Doug West is offering a Canon 300 mm f/2.8L IS lens in excellent condition for an incredibly low $2999.. The sale includes the Lens Trunk with a nice dent in on one corner (the empty case was damaged during a move), the Canon drop-in polarizer, the Really Right Stuff lens foot and insured FEDEX ground shipping to lower 48 US addresses. Payment by Paypal with the fee prepaid is acceptable as is payment by U.S. postal money order or by certified check drawn on a U.S bank. The lens will ship only after the funds have cleared. Please e-mail for a link to pictures of the lens.
Please contact Doug via e-mail only.
The older version of the 300 f/2.8 is just as versatile as the version II. With the tripod collar removed, they weigh just about the same. And any folks swear that the older version is every bit as sharp as the new lens. This is a great walk-around lens for hand holders. With a 7D II and a 1.4X TC you'll enjoy 672mm of reach. With this lens and a 2X TC, the use of a Mongoose head and a sturdy tripod is always recommended.
Used Photography Gear for Sale
You can see all of the currently listed items by clicking here or at any time by clicking on the Used Photography Gear for Sale tab, the last item on the lower row of yellow-gold tab bars near the top of each blog page.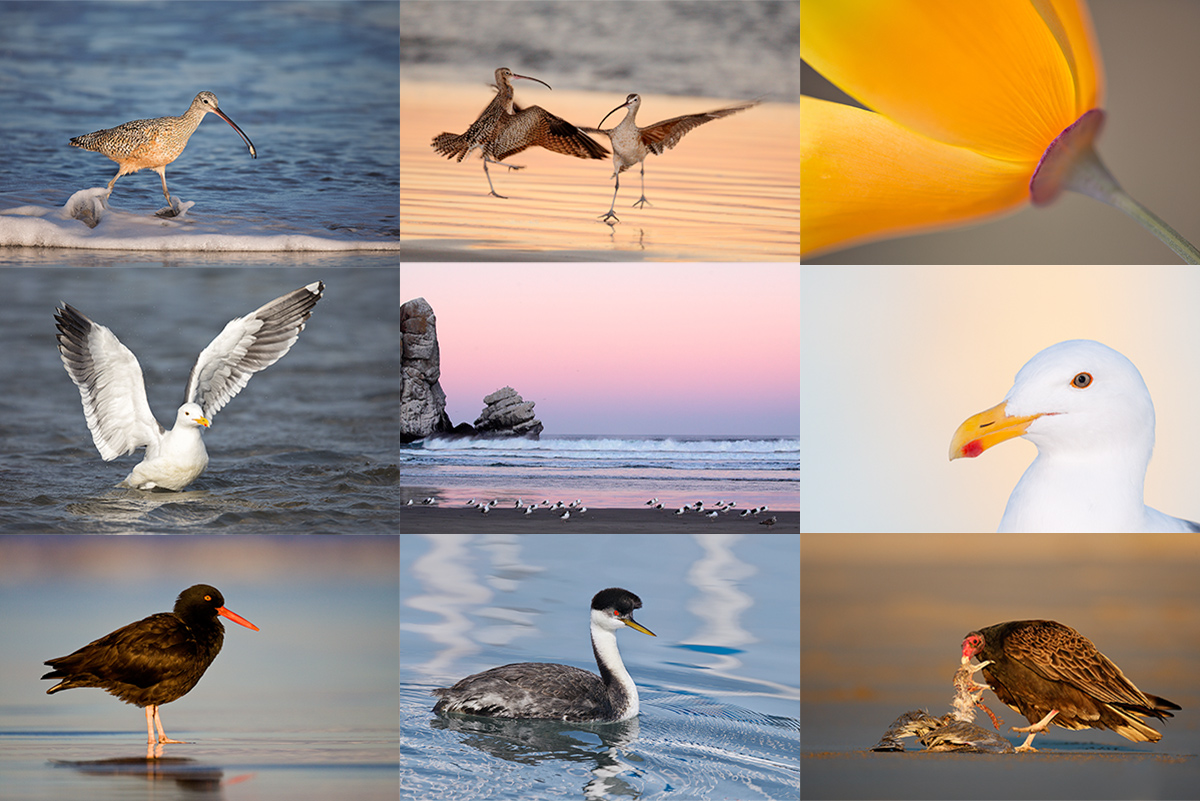 Morro Bay offers a wealth of very attractive natural history subjects in a variety of attractive settings. Do consider joining me there on the March 20-22, 2015 Canon Destination Workshop. Complete info and register here
Morro Bay Pre-Canon Destination Workshop In-the-field Day
The Morro Bay Canon Destination Workshop March 20-22, 2015 now has only four slots open. To encourage folks to sign up I have planned the following:
Morro Bay Pre-Canon Destination Workshop In-the-field Day. Friday March 20: $399.
This in-the-field workshop includes a 4-hour morning photo-session that begins in the pre-dawn, a 2 hour afternoon photo session (3-5pm or so), and a working lunch with image review and some Photoshop. We will finish up in time to attend the Friday evening program that opens the Destination Workshop. At present only two folks are signed up for the day so you will surely receive all of the one on one guidance that you can handle.
Though you not need to be registered for the Canon event to join me on Friday, doing so would make a lot of sense to me. The Friday evening program is of course open only to those who are signed up for the Destination Workshop. See immediately below for details on that.
BIRDS AS ART Morro Bay, CA Canon Live Learning EOS Destination Workshop
March 20-22, 2015: $1050
Borrow great Canon gear. Head home with a print or two. Learn from the best.
Click here for complete info or to register.
Click here to see the course agenda.
Join me in one of the most beautiful and scenic places on the planet to photograph a large variety of birds of the sea and shore. The star of the show will be the spectacular Long-billed Curlew. There will be lots of Marbled Godwits and Willets as well as lots of the smaller shorebird species. Black Oystercatcher is likely and we should get to photograph large flocks of Western Sandpipers in flight over the bay; with any luck we should enjoy some great sunrise and sunset photography. There are lots of gulls including Western, California, and Mew. There is one good location where we should get to photograph Western, Clarke's, Eared, and Pied-billed Grebe, Lesser Scaup, and Common Loon–you will be able to borrow a long lens from Canon along with various camera bodies. We may get to photograph some passerines including Anna's Hummingbird, Brewer's Blackbird, and White-crowned Sparrow. And we have a chance for several species of raptors. Yikes, I almost forgot California Poppy. And California Ground Squirrel. Sea Otters are also possible.
Folks who register after seeing this notice are asked to shoot me a copy of their BIRDS AS ART Morro Bay Registration Confirmation via e-mail.
See lots more Morro Bay images here.
Facebook
Be sure to like and follow BAA on Facebook by clicking on the logo link upper right. Tanks a stack!
Support the BAA Blog. Support the BAA Bulletins: Shop B&H here!
We want and need to keep providing you with the latest free information, photography and Photoshop lessons, and all manner of related information. Show your appreciation by making your purchases immediately after clicking on any of our B&H or Amazon Affiliate links in this blog post. Remember, B&H ain't just photography!
…..
Amazon.com
Those who prefer to support BAA by shopping with Amazon may use this link:
Amazon Canada
Many kind folks from north of the border, eh, have e-mailed stating that they would love to help us out by using one of our affiliate links but that living in Canada and doing so presents numerous problems. Now, they can help us out by using our Amazon Canada affiliate link by starting their searches by clicking here. Many thanks to those who have written.
Typos
In all blog posts and Bulletins, feel free to e-mail or to leave a comment regarding any typos or errors. Just be right :).