What's Up?
Kudos to the Wisconsin Badgers. I am rooting for them to upset undefeated Kentucky in the Men's NCAA Final Four. It would seem that the winner of that game would be the likely national champion, Coach K and Duke notwithstanding…. Can Notre Dame stop the Lady Huskies juggernaut? All in all, great stuff. The jubilation of the winners and the tears of the losers are quite point/counterpoint. I get a tremendous amount of pleasure watching the handshake lines….
This blog post took about 1 1/2 hours to prepare and was published from my home at ILE at 12:01am on Monday. While I slept.

Azizen Pesach to all of our good friends at B&H
Order Soon to Avoid Lengthy Passover Delays/Please Use Our B&H Affiliate Link(s)
If you are in a hurry to get some new photo gear, please note that you must place your order before noon on Thursday, April 2. Orders received before then will shipped before the holiday closing. Be sure of course to use our generic B&H link here in the right hand column of the blog or to click on one of our product-specific links. Many thanks for that.
Orders placed after the deadline will not ship until Monday, April 13.
Puzzling Mystery #1
I was getting ready for my Sunday swim. I was putting on the snorkeling cap that I wear to keep body heat in; it is black with ear flaps. The pool is about 75 degrees right now. Suddenly I remembered, "I need to put in my ear plugs." Those help me avoid getting water in my ears. I walked into my office (aka man cave) which is adjacent to the pool deck. The plastic box with the earplugs was right where it was supposed to be. I took the two wax plugs out, shaped them, and inserted one into each ear.
I walked back out to the pool expecting to see the cap either on the table or atop my fins and snorkel that lay on the deck next to the pool. Not there. I went back into my office thinking that I might have placed the cap on my desk. Not there. I walked back into the bathroom to see if the cap was on the counter. I had gone there to apply anti-fog spray to my goggles. Not there. I checked my bed. Not there. I went out to the laundry room as that is where the cap was when I first grabbed it. Not there.
As my #1 rule for good living is "If you can't find something, go back to the first place you looked and you will generally find it within two feet of that spot." Not there. Then I looked again in all of the locations mentioned above. Still no cap. I was beginning to think that I was nuts. I knew that I had had the cap out on the deck as when I started to put the cap on it made me realize that I needed to put my ear plugs in. I searched the whole house again. No luck.
Finally I found my snorkeling cap. Where was it?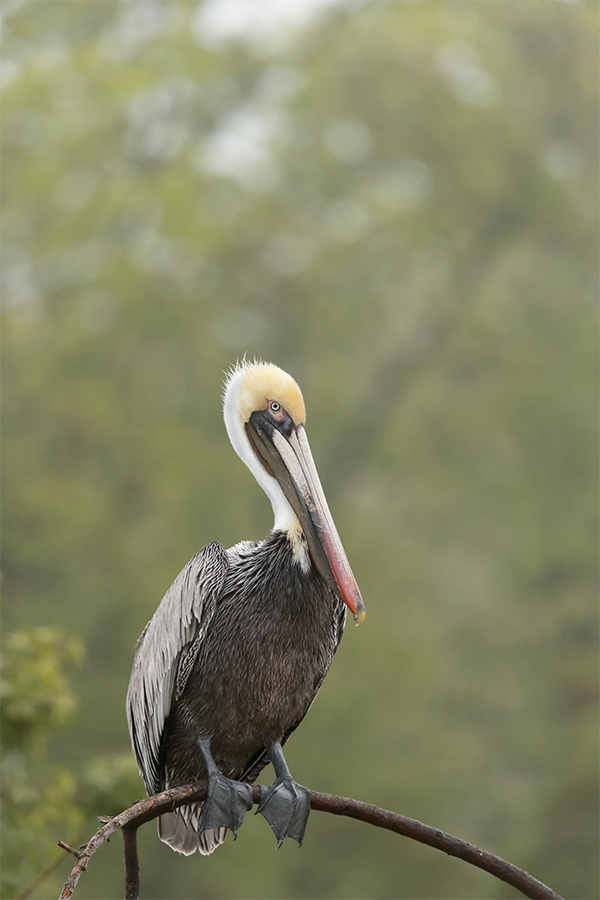 This image was created at Alafia Banks with the Canon EF 600mm f/4L IS II USM lens, the Canon Extender EF 1.4X III, and the Canon EOS-1D X . ISO 800. Evaluative metering +2/3 stop: 1/1250 sec. at f/5.6 in Av mode.
One AF point to the left of the center AF point/AI Servo Expand/Rear Focus AF as framed was active at the moment of exposure (as is always best when hand holding). Click here to see the latest version of the Rear Focus Tutorial. Click on the image to see a larger version.
Your browser does not support iFrame.
Puzzling Mystery #2
Why in the world would someone intentionally frame an image with the pelican so low in the frame? Can you come up with the number one reason? Or was this possibly simply a bad framing error?
Before and After
The animated GIF above compares the converted TIFF with the optimized image file. How many differences can you list? There are at least five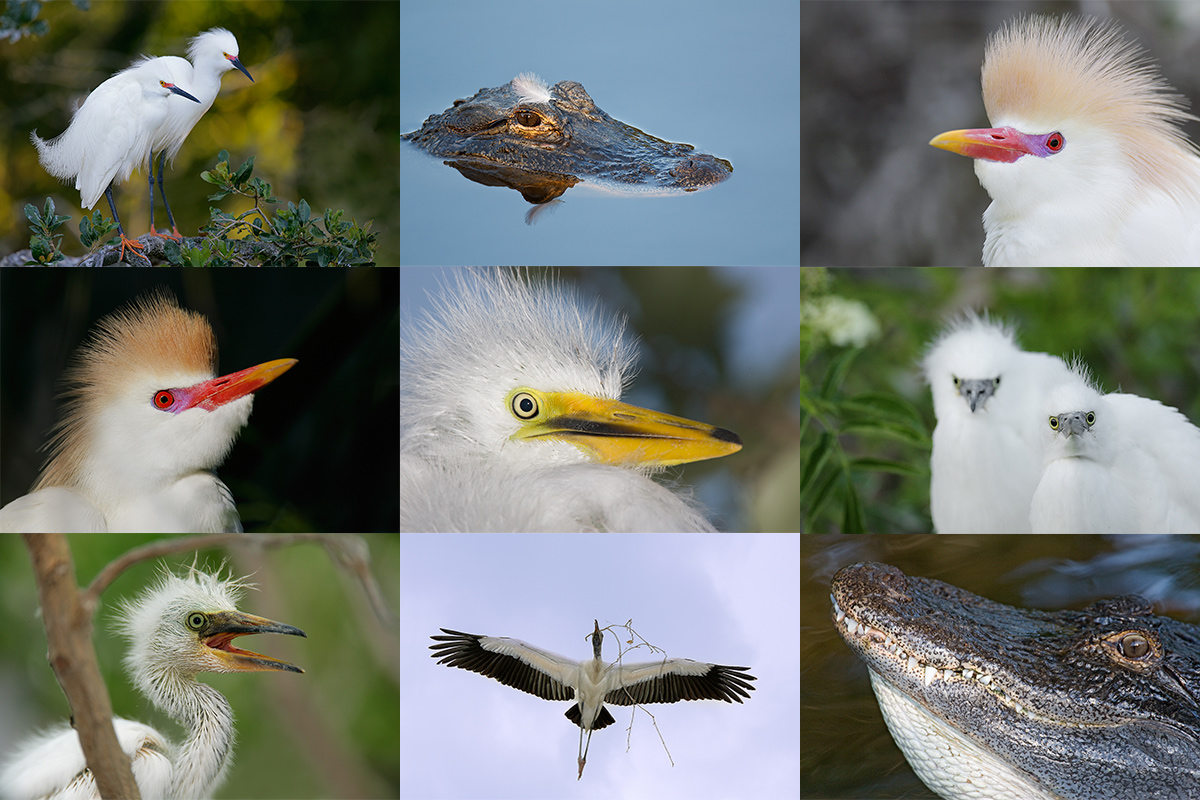 Clockwise from upper left to center: Snowy Egrets/breeding plumage pair, American Alligator with egret feather on head, Cattle Egret in breeding plumage (with fill flash), large Snowy Egret chicks, displaying gator, Wood Stork in flight carrying nesting material (fill flash), begging Snowy Egret chick, another Cattle Egret in breeding plumage (with fill flash), and Great Egret chick.
St. Augustine Alligator Farm Short-Notice Spoonbill and Wading Bird Chicks IPT: May 4-6, 2015. TWO FULL and TWO 1/2 DAYS: $1099. Limit 8/Openings 5.
St. Augustine in early May is a bird photographer's paradise. With any luck we should have chicks of all sizes in the nests ranging from newly hatched Snowy Egrets and Tricolored Herons to nearly fledged Great Egrets. More than a few pairs of Roseate Spoonbills have nested at the Alligator Farm for the past several years. Photographing the spoonbill chicks in the nest is a huge challenge…. With any luck we will encounter a few Snowy and Cattle Egrets in stunning breeding plumage. We should have lots of flight photography ops especially late in the day. We will enjoy extra early entry on our three mornigs. Folks who will need a photographer's pass ($89.95 includes full season early entry and late stay and submission fees for up to 5 photos in their annual contest; this works out to cheaper than four separate entry tickets). We will have those ready for pick-up on the first afternoon.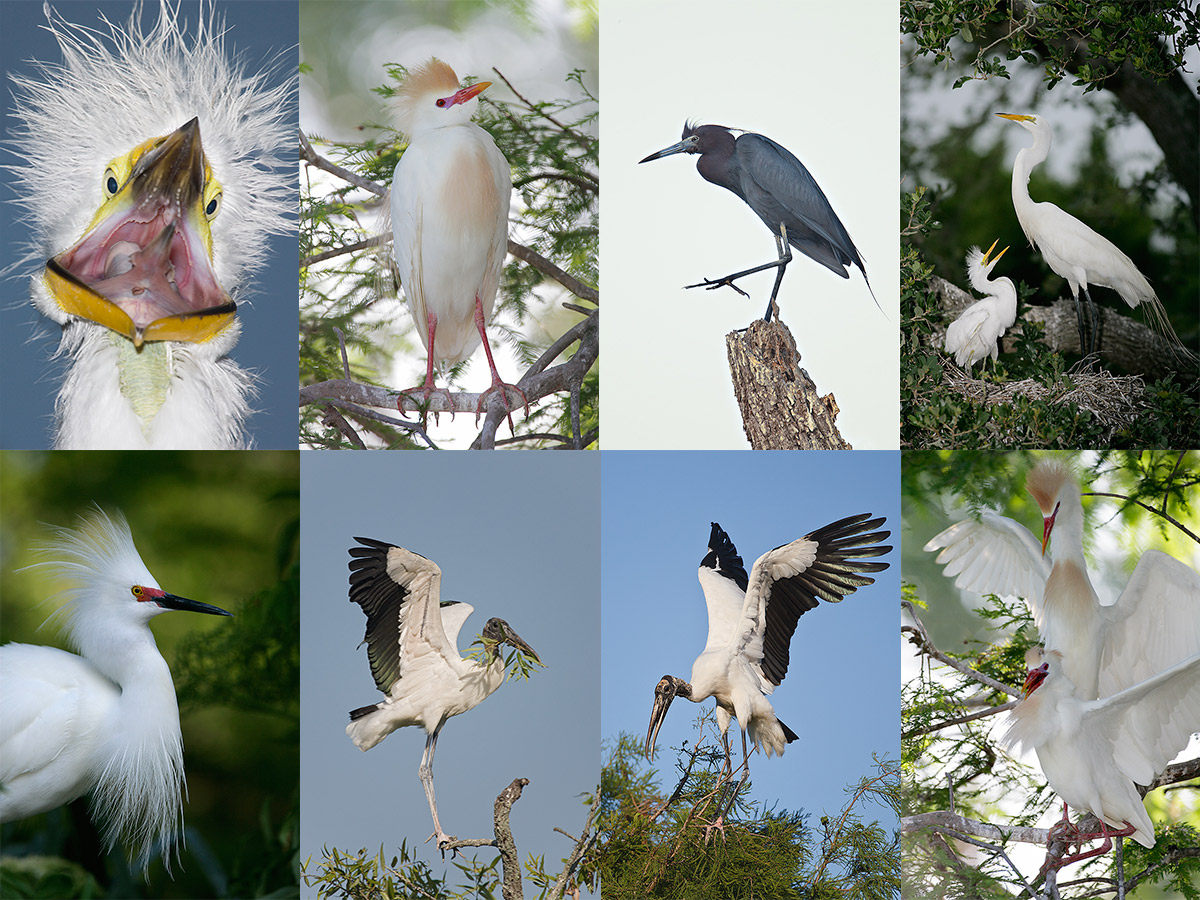 Clockwise from upper left: flash-as-main light Great Egret chick begging, breeding plumage Cattle Egret w/fill flash, Little Blue Heron, Great Egret chick in nest begging, Cattle Egrets copulating, Wood Stork with nesting material, another Wood Stork with nesting material, and breeding plumage Snowy Egret displaying.
What You Will Learn
On this IPT you will the learn the basics and fine points of digital exposure and how to get the right exposure every time after making a single test exposure. You will learn to understand and predict bird behavior and to see and understand the light. You will learn to design pleasing images by mastering your camera's AF system and how and why to work in Manual mode (even if you're scared of it). Most importantly, you will learn to spot the good situations, to choose the best perspective. Rookeries are crowded, cluttered, white-washed places. Most folks who visit have no clue as to the difference of an image with tons of distractions and one with a clean line of sight and the best possible distant background. Join me and I will teach you to see like a pro.
I will be bringing my flash to the Alligator Farm (gasp!) I have not used flash for at least a year. I will be teaching you how to use flash as fill and how to use flash as main light. In addition, I will be reviewing the flash flight techniques that I developed at St. Augustine more than a few years ago.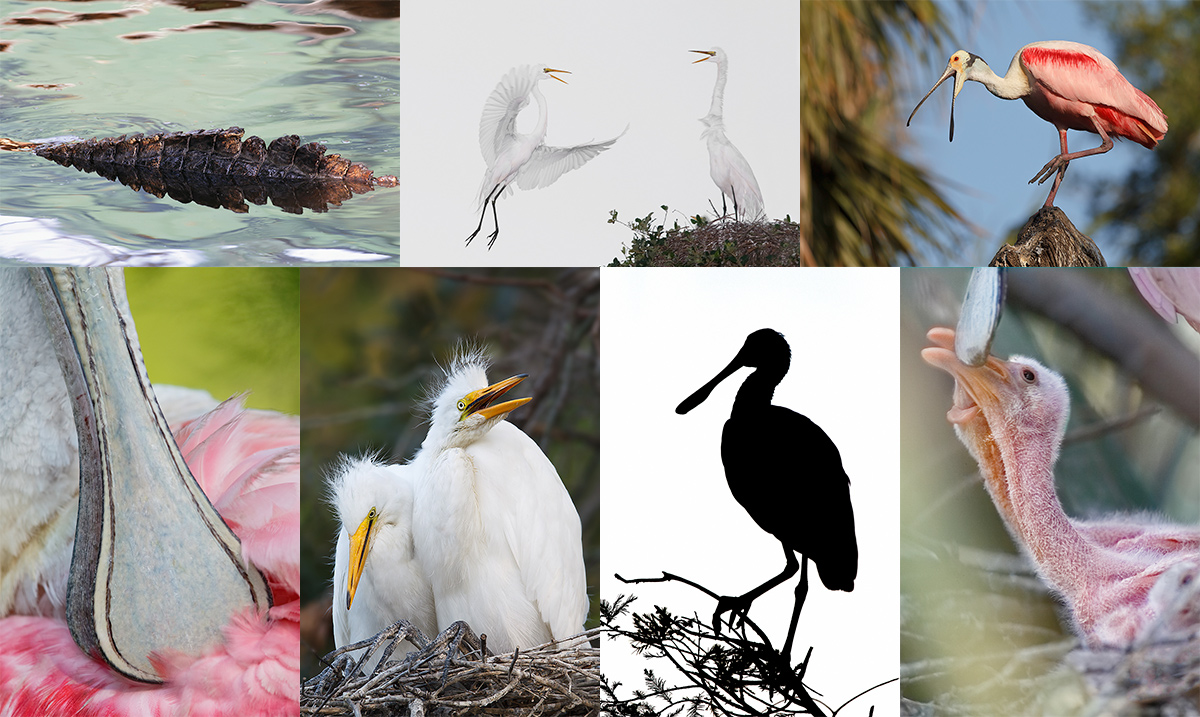 Clockwise from upper left: gator back, Great Egret returning to mate (with fill flash), Roseate Spoonbill with bill open, Roseate Spoonbill chick begging, Roseate Spoonbill 11am silhouette, large Great Egret chicks in nest, and bill of Roseate Spoonbill.
Whats the Rest of the Deal?
Afternoon session on Monday, May 4. Then two full days with a morning and afternoon session each day, May 5 & 6. Then our last morning on May 7. At lunch on Tuesday and Wednesday (included) we will review my images; folks learn a ton watching me edit–why keep this one and delete that one? If you opt to bring your laptop, we can take a look at five of your best images from the morning or another session. We will process a few of my images in Photoshop after converting them in DPP. That followed by Instructor Nap Time.
A $499 non-refundable deposit is required to hold your spot. Your balance–$600, payable only by check, is due immediately. Please include a separate check for $89.95 so that we can purchase your pass in advance. Please click here to read our cancellation policy before committing. Then please print, read, and sign the necessary paperwork linked to here and get it to us. You can register by calling Jim or Jen at the office at 863-692-0906 and arranging for your deposit of $499. Balances are payable only by check. I hope to see you there.
Facebook
Be sure to like and follow BAA on Facebook by clicking on the logo link upper right. Tanks a stack!
Support the BAA Blog. Support the BAA Bulletins: Shop B&H here!
We want and need to keep providing you with the latest free information, photography and Photoshop lessons, and all manner of related information. Show your appreciation by making your purchases immediately after clicking on any of our B&H or Amazon Affiliate links in this blog post. Remember, B&H ain't just photography!
…..
Amazon.com
Those who prefer to support BAA by shopping with Amazon may use this link:
Amazon Canada
Many kind folks from north of the border, eh, have e-mailed stating that they would love to help us out by using one of our affiliate links but that living in Canada and doing so presents numerous problems. Now, they can help us out by using our Amazon Canada affiliate link by starting their searches by clicking here. Many thanks to those who have written.
Typos
In all blog posts and Bulletins, feel free to e-mail or to leave a comment regarding any typos or errors. Just be right :).