What's Up?
Got down to the lake this morning and had fun. Enjoyed a nice swim, my core exercises, and an ice bath. And an acupuncture session. Getting ready to watch the Masters tomorrow. Still catching up on lots of loose IPT ends. This blog post, the 91st in a row, took 1 1/2 hours to prepare and was published at one minute after midnight on Thursday.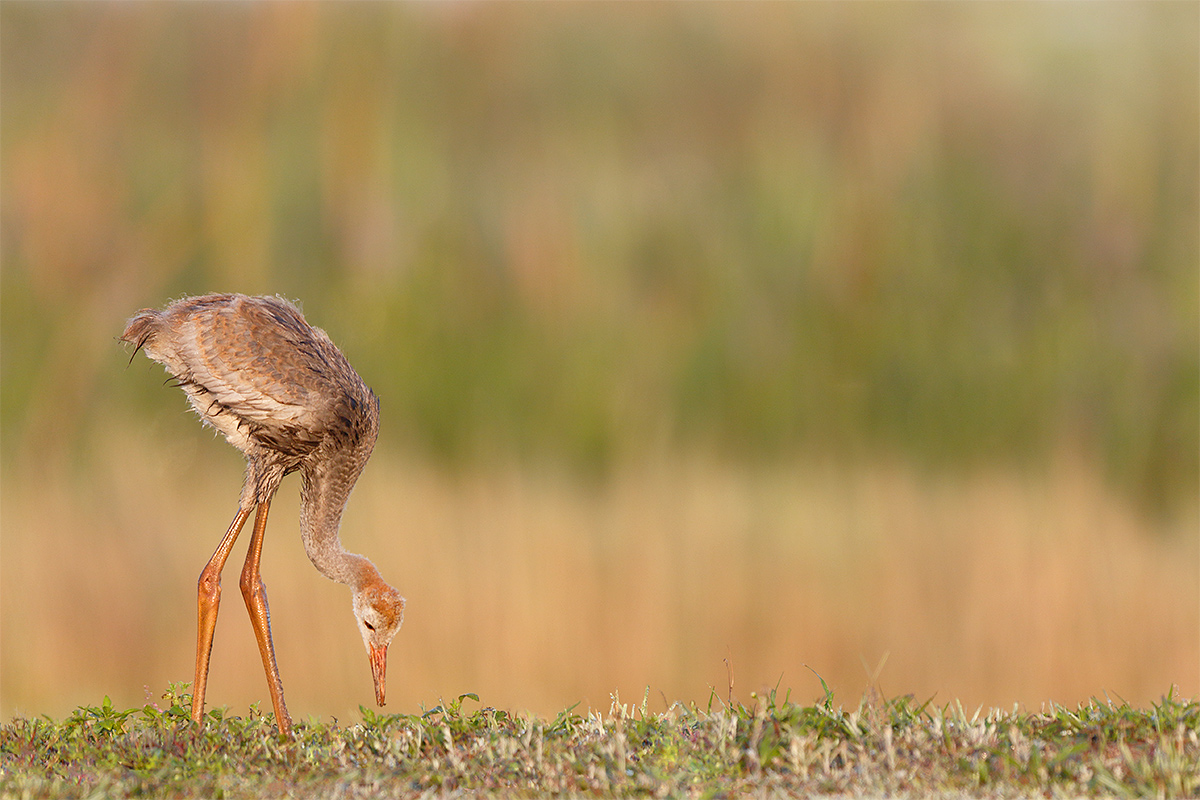 This image was created from my SUV at Indian Lake Estates, FL with the BLUBB-supported Canon EF 600mm f/4L IS II USM lens and the Canon EOS 7D Mark II. ISO 400. Evaluative metering +1/3 stop: 1/1000 sec. at f/4 in Av mode. AWB.
Four AF points to the left and one row down from the center AF point/AI Servo/Surround/Shutter Button AF as framed was active at the moment of exposure. Be sure to see the screen capture below to learn more. Click on the image to see a larger version.
Sandhill Crane colt foraging/early morning light, Indian Lake Estates, FL
Your browser does not support iFrame.
When working in horizontal format, keep the bird out of the middle of the frame!
Nobody gives a rat's ass what's going on behind the bird. Many beginners and more than a few intermediate photographers rely on using the center AF point and as a result their birds are often too centered. Learn to move the active aF point around the array by consulting your camera body manual or by studying the info in one of our many User's Guides. Study our User's Guides to learn which AF Area Selection Mode is best for different purposes. Learn more about our User's Guides here. Choose an AF point that will place the bird well back in a horizontal frame, that will give the bird room in front of it, room to see and someplace to go. To do that with today's young crane I opted to use Surround. See more on that in the screen capture below.
Note: with larger-in-the-frame birds Zone or 65-point may do the job just as well. The trick is to learn to use which one. Be sure to study each image that is presented on the blog and to study your User's Guides.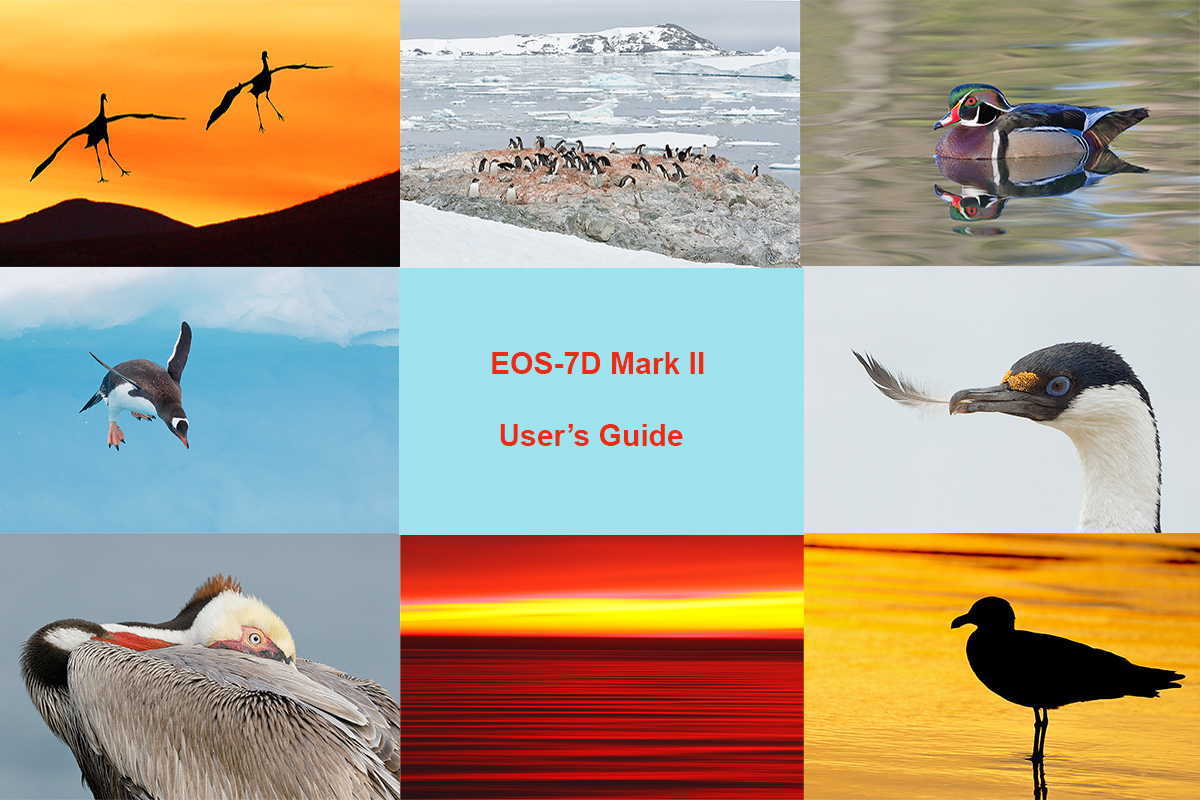 You can purchase your copy of the The 7D Mark II User's Guide right now in the BAA Online Store here for $59.
7D Mark II User's Guide Now Available
Learn everything that you need to know to get the most out of your new 7D Mark II. Why spend weeks trying to figure things out on your own or trying to figure out the camera body manual? I did all of that for you. It took me months. I not only tell you how to change the various settings but I explain when and why to use each one….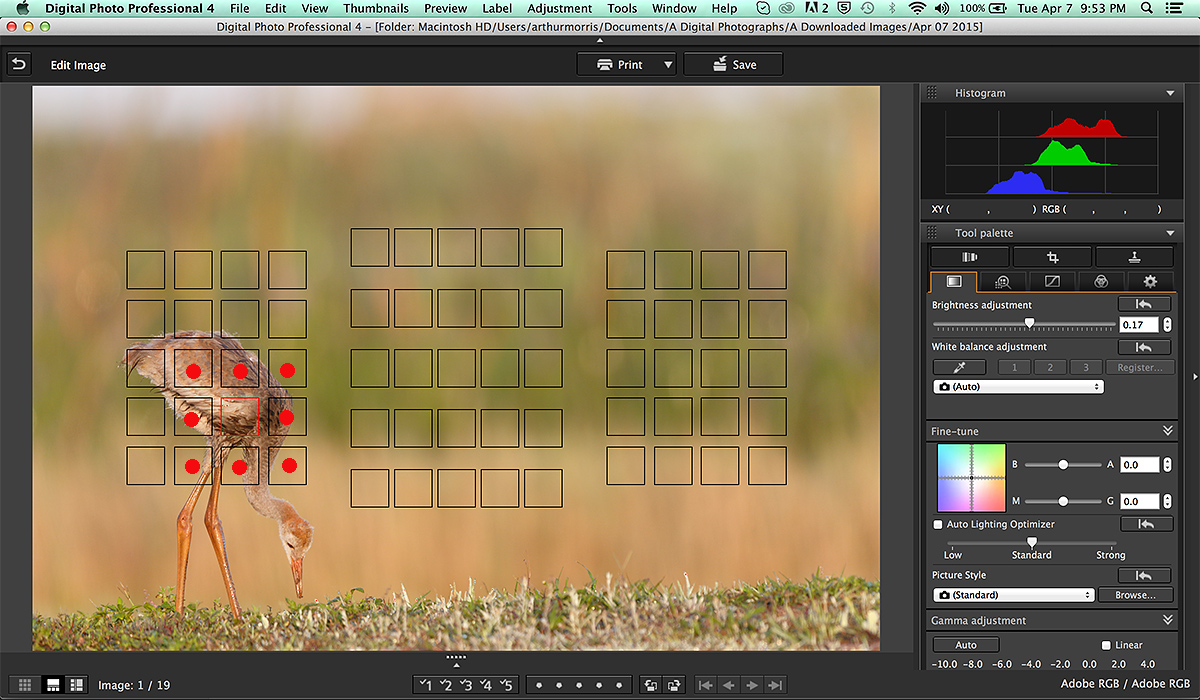 DPP 4 screen capture
DPP 4 Screen Capture
The illuminated red square shows the AF point that I selected manually. I added the eight red circles using the rarely-used Pencil Tool to show which additional points are activated when you opt to use the Surround AF Area Selection Mode. I love to use Surround or Expand to keep a subject back in the frame. If they reverse direction I simply hit the Grid button and more the selected point to the opposite side of the frame. With either Surround or Expand only the selected point ever shows as active (even if it was actually one of the additional points that did the trick).
The Image Optimization
The RAW files for today's images was of course converted in DPP 4 and optimized in Adobe Photoshop Creative Cloud.
Digital Basics
Everything that I did to optimize today's image is covered in detail in our Digital Basics File–written in my easy-to-follow, easy-to-understand style. Are you tired of making your images look worse in Photoshop? Digital Basics File is an instructional PDF that is sent via e-mail. It includes my complete digital workflow, dozens of great Photoshop tips, details on using all of my image clean-up tools, the use of Contrast Masks, several different ways of expanding and filling in canvas, all of my time-saving Keyboard Shortcuts, Quick Masking, Layer Masking, and NIK Color Efex Pro basics, Contrast Masks, Digital Eye Doctor techniques, using Gaussian Blurs, Tim Grey Dodge and Burn, a variety of ways to make selections, how to create time-saving actions, the Surface Blur (background noise reduction) settings, and tons more.
APTATS I & II
Learn the details of advanced Quick Masking techniques in APTATS I. Learn Advanced Layer Masking Techniques in APTATS II. Mention this blog post and apply a $5 discount to either with phone orders only. Buy both APTATS I and APTATS II and we will be glad to apply at $15 discount either with phone orders or here in the BAA Online Store. For phone orders, call Jim or Jennifer at 863-692-0906 weekdays.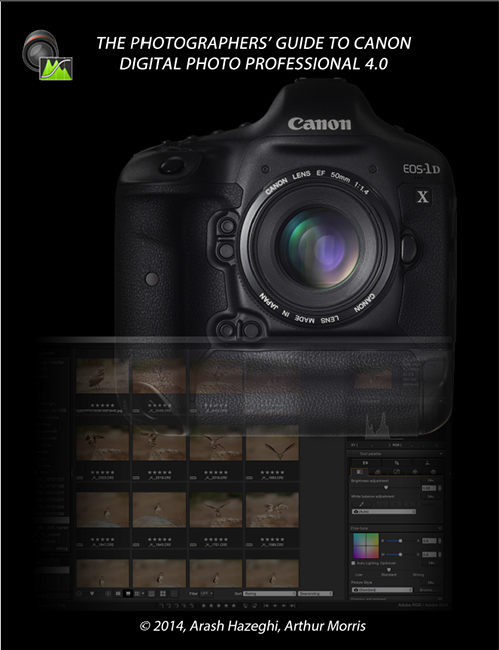 You can order your copy of "The Photographers' Guide to Canon Digital Photo Professional 4.0" (aka the DPP 4 Raw Conversion eGuide) by Arash Hazeghi and Arthur Morris by clicking here.
The DPP 4 eGuide (PDF)
Learn how and why I and many other discerning photographers choose and use only DPP 4 to convert their Canon RAW files in the DPP 4 RAW Conversion Guide by Arash Hazeghi and yours truly. The latest version supports all of the newer Canon camera bodies and several older models including the EOS-7D and the EOS-1D Mark IV. A free update that will cover most of the newly added cameras will be sent in a week or two. See upcoming blog posts for exact details.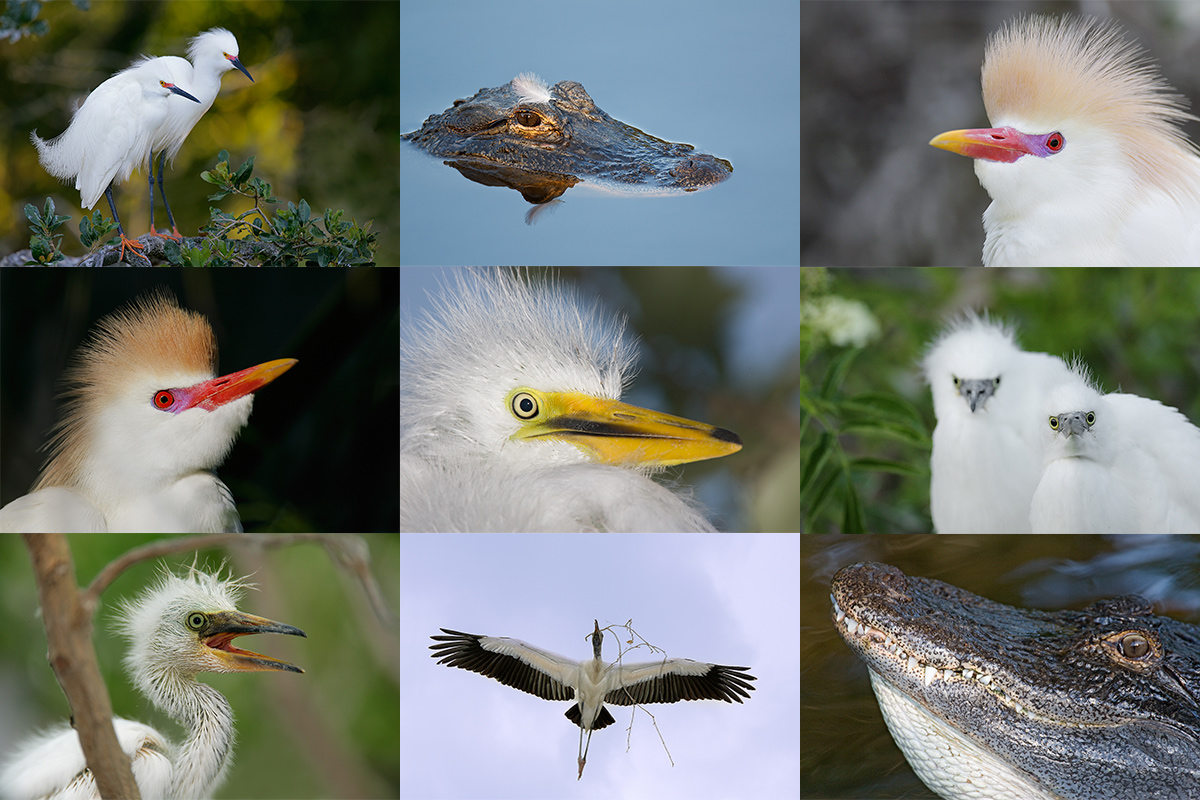 Clockwise from upper left to center: Snowy Egrets/breeding plumage pair, American Alligator with egret feather on head, Cattle Egret in breeding plumage (with fill flash), large Snowy Egret chicks, displaying gator, Wood Stork in flight carrying nesting material (fill flash), begging Snowy Egret chick, another Cattle Egret in breeding plumage (with fill flash), and Great Egret chick.
Date Change: St. Augustine Alligator Farm Short-Notice Spoonbill and Wading Bird Chicks IPT: May 4-6, 2015.
St. Augustine Alligator Farm Short-Notice Spoonbill and Wading Bird Chicks IPT: May 4-6, 2015. TWO FULL and TWO 1/2 DAYS: $1099. Limit 8/Openings 5.
St. Augustine in early May is a bird photographer's paradise. With any luck we should have chicks of all sizes in the nests ranging from newly hatched Snowy Egrets and Tricolored Herons to nearly fledged Great Egrets. More than a few pairs of Roseate Spoonbills have nested at the Alligator Farm for the past several years. Photographing the spoonbill chicks in the nest is a huge challenge…. With any luck we will encounter a few Snowy and Cattle Egrets in stunning breeding plumage. We should have lots of flight photography ops especially late in the day. We will enjoy extra early entry on our three mornigs. Folks who will need a photographer's pass ($89.95 includes full season early entry and late stay and submission fees for up to 5 photos in their annual contest; this works out to cheaper than four separate entry tickets). We will have those ready for pick-up on the first afternoon.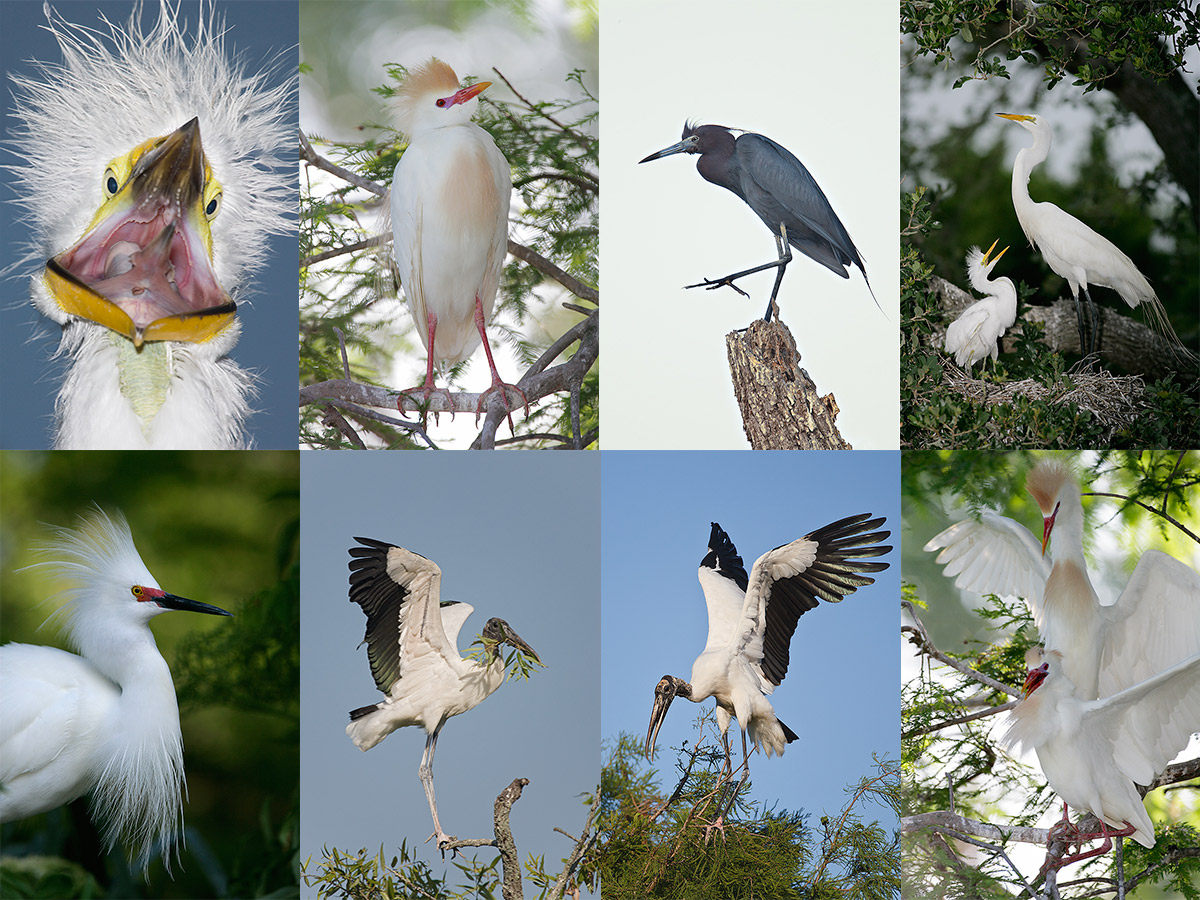 Clockwise from upper left: flash-as-main light Great Egret chick begging, breeding plumage Cattle Egret w/fill flash, Little Blue Heron, Great Egret chick in nest begging, Cattle Egrets copulating, Wood Stork with nesting material, another Wood Stork with nesting material, and breeding plumage Snowy Egret displaying.
What You Will Learn
On this IPT you will the learn the basics and fine points of digital exposure and how to get the right exposure every time after making a single test exposure. You will learn to understand and predict bird behavior and to see and understand the light. You will learn to design pleasing images by mastering your camera's AF system and how and why to work in Manual mode (even if you're scared of it). Most importantly, you will learn to spot the good situations, to choose the best perspective. Rookeries are crowded, cluttered, white-washed places. Most folks who visit have no clue as to the difference of an image with tons of distractions and one with a clean line of sight and the best possible distant background. Join me and I will teach you to see like a pro.
I will be bringing my flash to the Alligator Farm (gasp!) I have not used flash for at least a year. I will be teaching you how to use flash as fill and how to use flash as main light. In addition, I will be reviewing the flash flight techniques that I developed at St. Augustine more than a few years ago.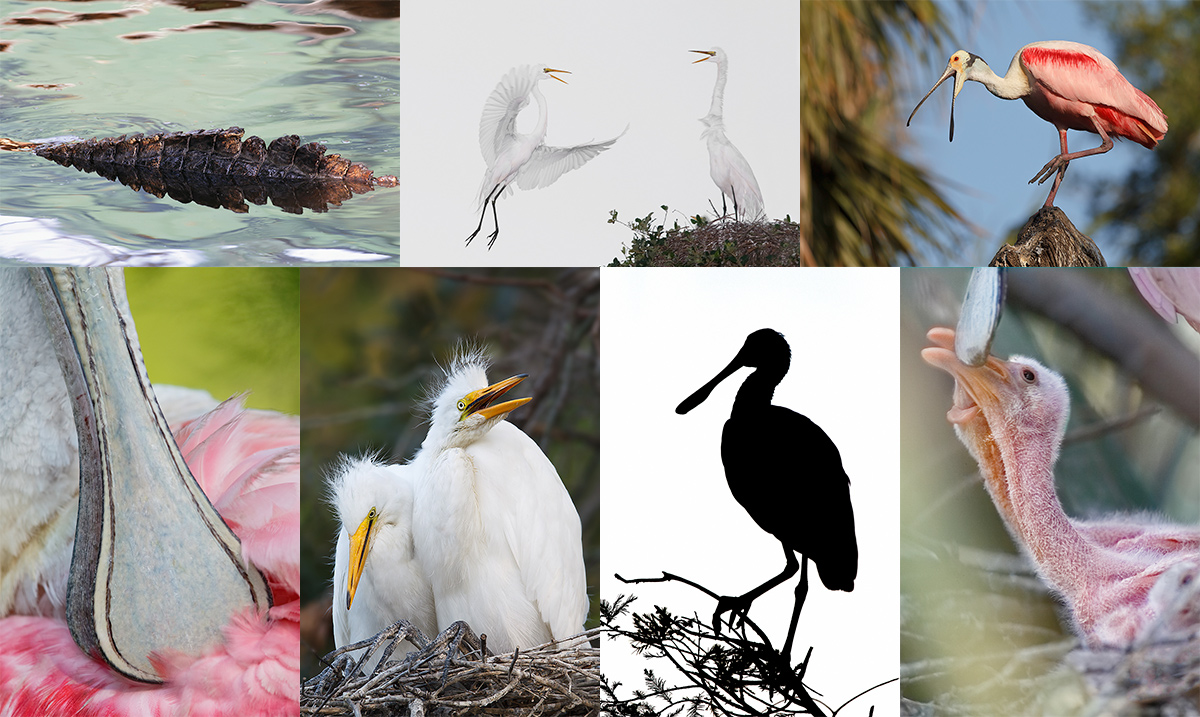 Clockwise from upper left: gator back, Great Egret returning to mate (with fill flash), Roseate Spoonbill with bill open, Roseate Spoonbill chick begging, Roseate Spoonbill 11am silhouette, large Great Egret chicks in nest, and bill of Roseate Spoonbill.
Whats the Rest of the Deal?
Afternoon session on Monday, May 4. Then two full days with a morning and afternoon session each day, May 5 & 6. Then our last morning on May 7. At lunch on Tuesday and Wednesday (included) we will review my images; folks learn a ton watching me edit–why keep this one and delete that one? If you opt to bring your laptop, we can take a look at five of your best images from the morning or another session. We will process a few of my images in Photoshop after converting them in DPP. That followed by Instructor Nap Time.
A $499 non-refundable deposit is required to hold your spot. Your balance–$600, payable only by check, is due immediately. Please include a separate check for $89.95 so that we can purchase your pass in advance. Please click here to read our cancellation policy before committing. Then please print, read, and sign the necessary paperwork linked to here and get it to us. You can register by calling Jim or Jen at the office at 863-692-0906 and arranging for your deposit of $499. Balances are payable only by check. I hope to see you there.
Facebook
Be sure to like and follow BAA on Facebook by clicking on the logo link upper right. Tanks a stack!
Support the BAA Blog. Support the BAA Bulletins: Shop B&H here!
We want and need to keep providing you with the latest free information, photography and Photoshop lessons, and all manner of related information. Show your appreciation by making your purchases immediately after clicking on any of our B&H or Amazon Affiliate links in this blog post. Remember, B&H ain't just photography!
…..
Amazon.com
Those who prefer to support BAA by shopping with Amazon may use this link:
Amazon Canada
Many kind folks from north of the border, eh, have e-mailed stating that they would love to help us out by using one of our affiliate links but that living in Canada and doing so presents numerous problems. Now, they can help us out by using our Amazon Canada affiliate link by starting their searches by clicking here. Many thanks to those who have written.
Typos
In all blog posts and Bulletins, feel free to e-mail or to leave a comment regarding any typos or errors. Just be right :).