Stuff
Saturday was yet another typically busy day of work doing what I love. I had a great swim, my longest in some time, and enjoyed a 58 degree ice bath. Again I watched lots the NHL and NBA playoff games. The Rangers evened their series with the Capitols despite one of the sickest goals ever by Ovechkin. And mazel tov to the LA Clippers who advanced by sending the defending NBA champion San Antonio Spurs home. Talk about grit. Chis Paul played through a pulled hamstring for 29 incredible points and the game-winning basket.
I started work on my Nature Photographer magazine San Diego article. And, I will started getting my photo gear together for the upcoming St. Augustine trip.
This blog post, the 115th in a row, took about 1 1/4 hours to prepare. It is scheduled to be published automatically at 1am on Sunday morning.
LAST CHANCE: St. Augustine Alligator Farm Short-Notice Spoonbill and Wading Bird Chicks IPT: May 4-6, 2015. TWO FULL and TWO 1/2 DAYS: $1099. Limit 8/Openings 5.
Enjoy practically private instruction. Please call me Sunday at 863-692-0906 for St. Augustine IPT Late Registration Discount info. For complete details see the blog post here and scroll down.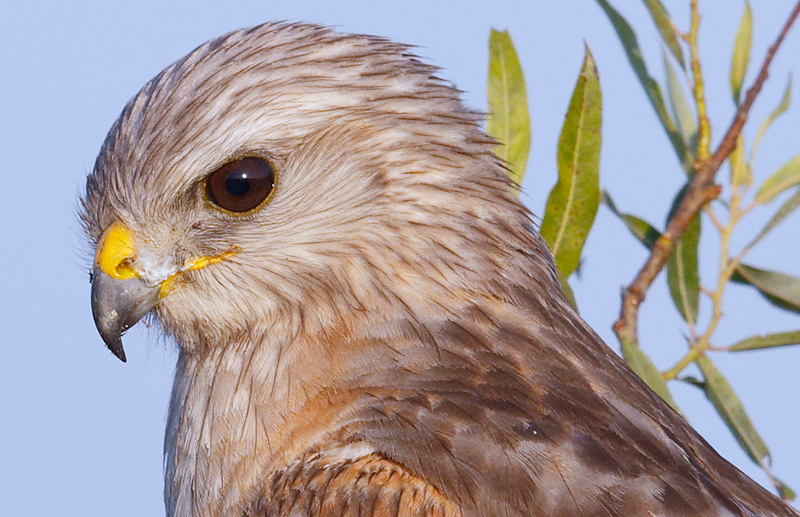 Image #1: Unsharpened tight crop of Red-shouldered Hawk's head
Image Quality/Which Camera Quiz
In the blog post here, both John Giatropoulos and Steve Soderling left comments to the effect that they were able to distinguish 1D X and 7D II images based on image quality. I doubted that they could….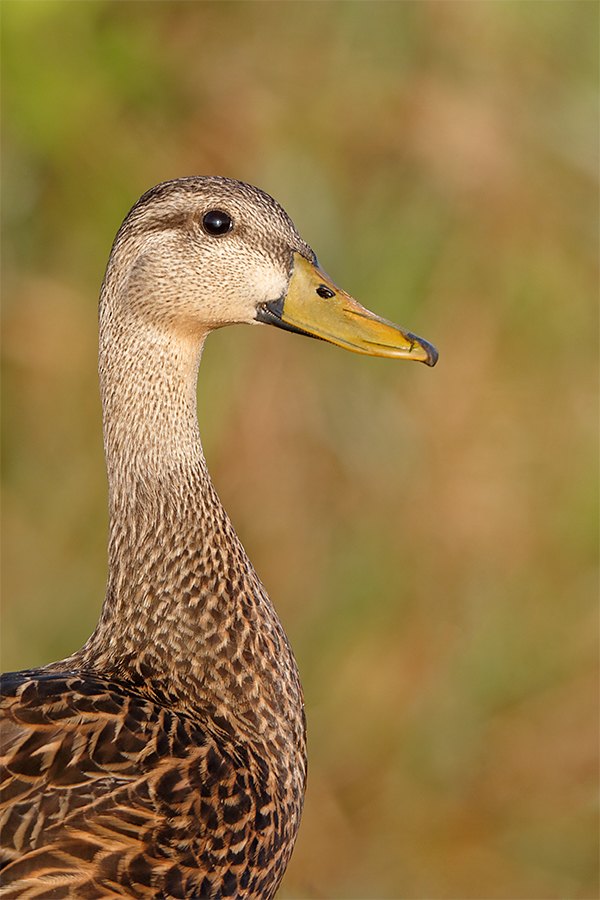 Image #2: Mottled Duck head and shoulders vertical portrait
Now You Are On the Spot: Image Quality/Which Camera? Quiz
In the "Now You Are On the Spot: Image Quality/Which Camera Quiz: the first of many…" blog post here I wrote: All are invited to leave a comment and let us know which of today's images (the two images above here) were created with a 1D X and which were created by a 7D II. And they are of course welcome to let us know why they made their choices.
The consensus was that the first image was created by the 1D X, the second with the 7D II. Steve S and John G agreed, but then John decided that both images were made with the 7D II. Some folks flopped that. Doug Doornink, who said he was counting on a trick question, thought that both were created with the 7D II.
And the answer is…
Both the Red-Shouldered Hawk and the Mottled Duck images were created with the 7D Mark II, so yes, a sneaky Pierre question….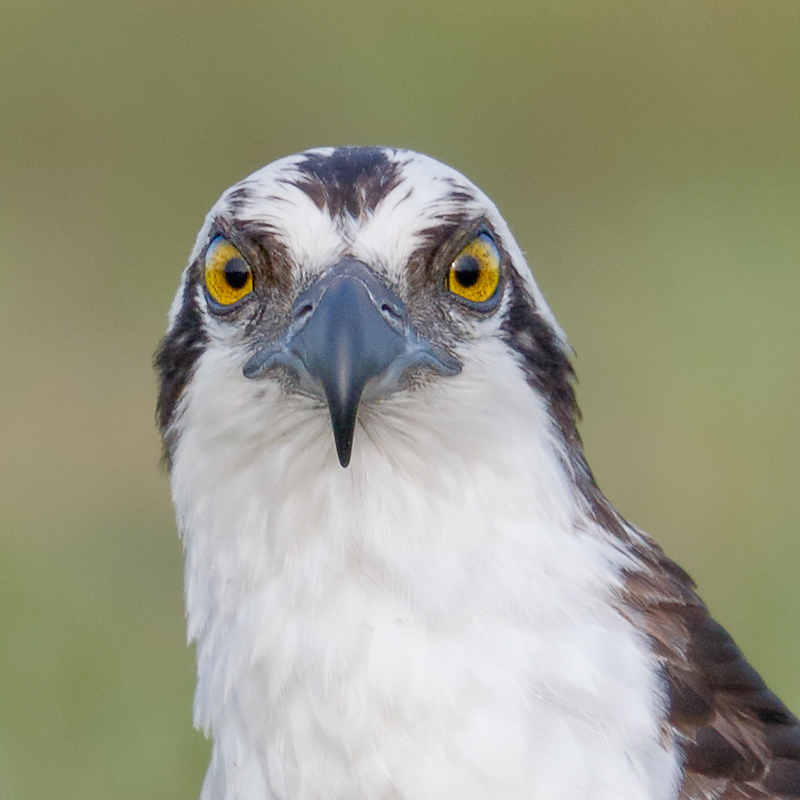 Image #3: This is a 1:1 or 100% crop of the optimized Osprey in the grass image.
On the Spot #2
In the "On the Spot" blog post here, the question was the same: Can you tell if this image was made with the 1D X or the 7D II?
Everyone who commented got this one right: 7D Mark II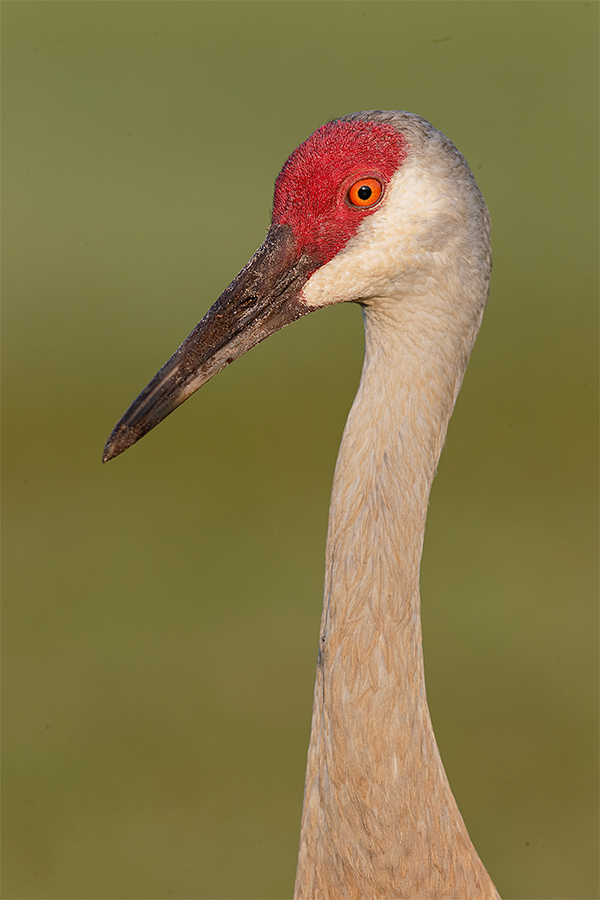 Image #4: Sandhill Crane head and neck portrait.
On the Spot Again: Image Quality/Camera Body Quiz #3
In the blog post here, I asked again, Based on image quality, can you tell if today's image was created with a 1D X or a 7D Mark II? If yes, what led you to your choice?
Steve Soderling said "1D X." Then he said "definitely 7 DII." Then he said, "I really can't tell!" Nobody else played.
Steve's last comment summed things up quite well for ISO 400 or below images. I don't think that many folks were or are able to differentiate between 1D X and 7D II images based on image quality seen either in 1200 pixel wide JPEGs or 1:1 crops for the ISO 400 images. It would be interesting to show Arash Hazeghi 20 very sharp RAW files, half made with the 7D II and half made with the 1D X. My gut feeling is that he might do quite well.
One factor that really throws a monkey wrench into the works is the sharpness of a given image. I will admit that the Red-shouldered Hawk image was an exceptionally sharp image. That led many folks to think 1D X…. At some point in the future I might do an 8 or ten image which camera? quiz….
Facebook
Be sure to like and follow BAA on Facebook by clicking on the logo link upper right. Tanks a stack!
Support the BAA Blog. Support the BAA Bulletins: Shop B&H here!
We want and need to keep providing you with the latest free information, photography and Photoshop lessons, and all manner of related information. Show your appreciation by making your purchases immediately after clicking on any of our B&H or Amazon Affiliate links in this blog post. Remember, B&H ain't just photography!
…..
Amazon.com
Those who prefer to support BAA by shopping with Amazon may use this link:
Amazon Canada
Many kind folks from north of the border, eh, have e-mailed stating that they would love to help us out by using one of our affiliate links but that living in Canada and doing so presents numerous problems. Now, they can help us out by using our Amazon Canada affiliate link by starting their searches by clicking here. Many thanks to those who have written.
Typos
In all blog posts and Bulletins, feel free to e-mail or to leave a comment regarding any typos or errors. Just be right :).