Stuff
I made some serious progress on my 2014 taxes today. After my long unplanned nap on Tuesday night I wound up staying up until after 2:00am watching the Chicago Blackhawks amazing triple overtime victory over the Anaheim Ducks. I e-mail older daughter Jennifer at 2:15am just before heading to bed. I was stunned to receive an immediate reply. She had stayed up to watch the whole thing. Like father, like daughter.
I finished Wednesday off with another cold ice bath–60 degree water when I got out after my 44 minutes. This blog post, the 133rd in a row, took about 2 hours to prepare. It should be published automatically just after midnight on Thursday.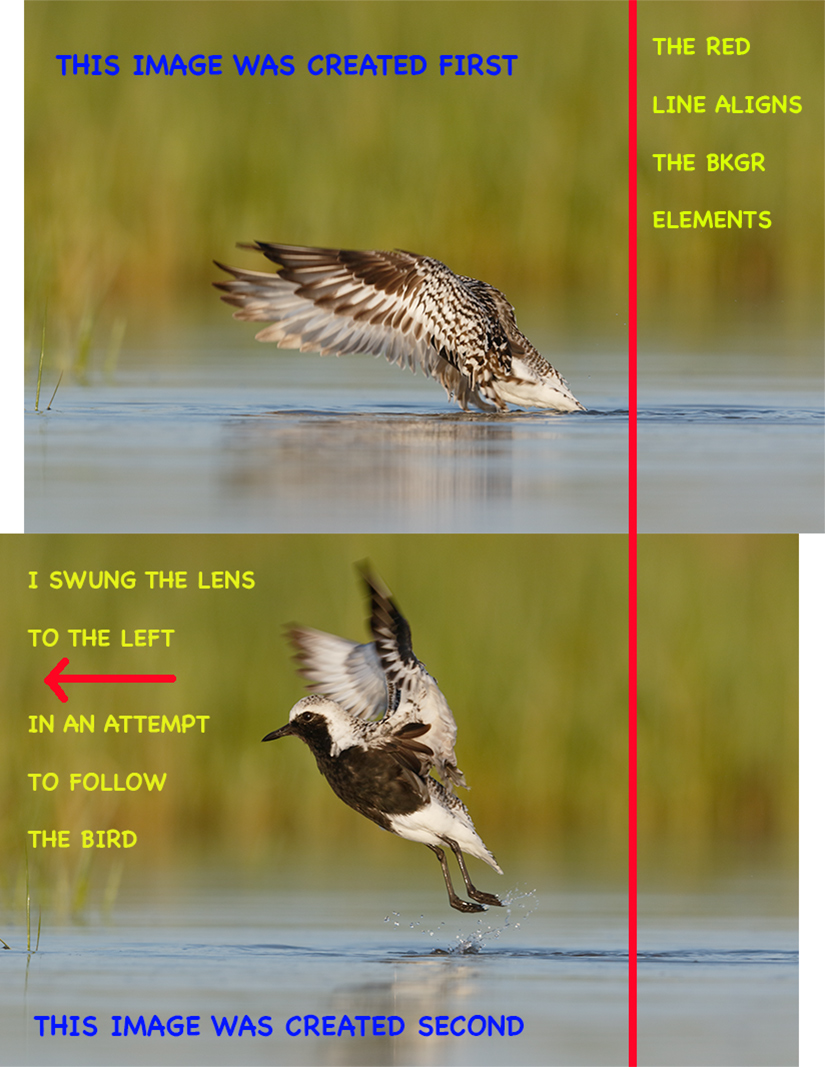 Both images were created with the tripod-mounted Canon EF 600mm f/4L IS II USM lens, Canon Extender EF 1.4X III, and the Canon EOS 7D Mark II. ISO 400. Evaluative metering +1/3 stop: 1/1600 sec. at f/6.3 in Manual mode.
One AF point below the center AF point/AI Servo Surround/Rear Focus AF as originally framed was active at the moment of exposure. Click here to see the latest version of the Rear Focus Tutorial. Click on the image to see a larger version.
The which came first answer
Your browser does not support iFrame.
Which Came First?
In the "Happiness Is. Bathing Beauty Tips & Which Came First?" blog post here, I asked,
Which image was created first in this two-frame sequence?
Image #1, the upper image in the composite above, was created first, the lower image, Image #2, was the second in this two-frame sequence. I matched the background elements and drew the red line to show the match. Since the bird in Image #1 was farther right against the background and Image #2 was farther left, Image #1 had to be created first.
Did I move the lens when creating this two-frame sequence?
Some folks hinted at the fact that Image #2 had been cropped and indeed it had been, from thr right and from below. Studying the composite above indicates that as the bird flapped, jumped and flew to our left I swung the lens to my left in an effort to better frame the image and keep an active AF point on the subject. So yes, I did move the lens between the two exposures. Not a lot, but definitely swung to my left.
Exposure Fine Point Question
For the most part I was photographing Marbled Godwits and Short-billed Dowitchers in the sweet early morning light. With those two species I went with Evaluative metering +2/3 stop; that worked out to be 1/1250 sec. at 6.3. Why did I go 1/3 stop darker with the breeding plumage black-bellieds?
The Exposure Fine Point Answer
The WHITEs on Black-bellied Plover are brighter than the highlights on the more muted species mentioned above, thus I went with a shutter speed that was 1/3 stop faster.
Ignorant Artie's Lightroom Comments
In the "Lightroom. My Take. Denise's Take. Your Take? More on Photo Mechanic and My Digital Workflow" blog post here, my main gripe was that Lightroom as I had seen and heard, was extremely slow to render images when folks are editing their work, that is,when they are picking their keepers.
Several Lightroom users commented that I was right. Others disagreed. At one point I spoke to digital photography expert Ellen Anon who said, "Jeez oh man! Lightroom is as slow as molasses." On the Fort DeSoto Spring IPT one of the participants stated that for him Lightroom was lightning fast. I grabbed his Macbook Pro, hit the right arrow key, and learned that he was indeed correct. I had been ignorant of the fact that on a good laptop with Lightroom set up correctly, Lightroom did indeed provide fast viewing.
Please note: ignorant does not always have to mean "stupid." It can mean "unaware."
I opted not to join the fray as 83 folks left comments. So what's the good news? Lots of folks got to voice their opinions and lots of folks shared their Lightroom tips and techniques. All in all the comments section there turned into a valuable resource for Lightroom users. I do not think that anyone provided and answer to one question that I posed: "As far as image processing is concerned, what can Lightroom do that Photoshop cannot?" Do understand that I never doubted for one second that Lightroom offers great cataloguing and keywording features.
Several of the folks who saw me using Photo Mechanic on recent IPTs were quite impressed and several switched, ordering through BAA to enjoy our discount. I continue to enjoy the speed and simplicity of my Photo Mechanic/DPP 4/Photoshop CC workflow. I will be sharing a helpful Photo Mechanic Ingest tip with you here soon.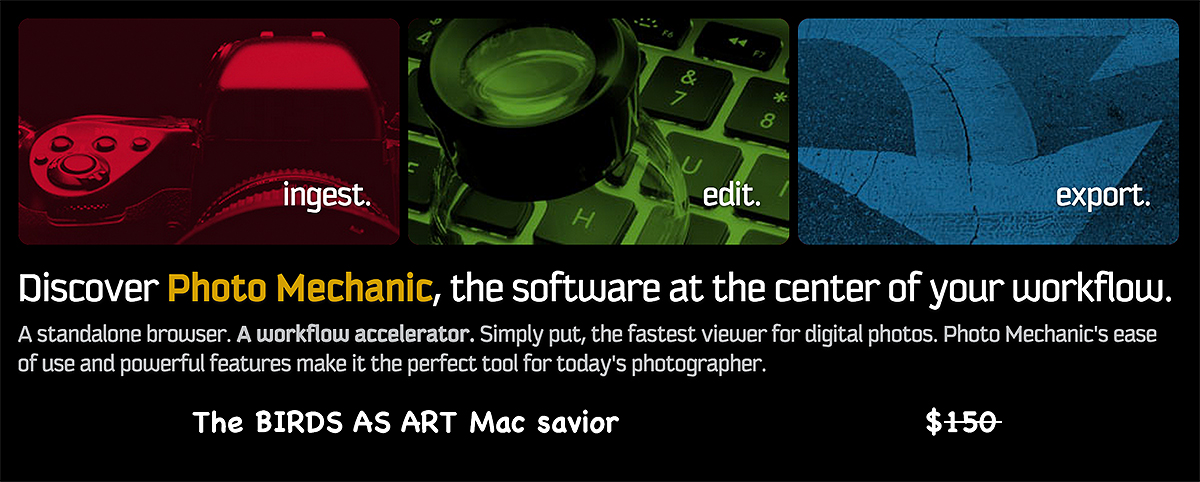 You can purchase a copy of Photo Mechanic in the BIRDS AS ART Online Store here. Be sure to e-mail Jim or to call as below for discount info.
Photo Mechanic
Learn lots more about how I use PM here. Purchase Photo Mechanic from BIRDS AS ART and your license code will be sent to you via e-mail within 1-7 business days (usually within 1-3 business days). Your copy of Photo Mechanic will be delivered to you via electronic download from the manufacturer's website.
Best News
Folks who subscribe to the blog can call Jim or Jennifer at 863-692-0906 weekdays before 2pm to receive a small PM discount. Or, if they wish to purchase Photo Mechanic in the BIRDS AS ART Online Store here, they can e-mail Jim for a discount code.
Integrating Photo Mechanic and Digital Photo Professional 4 (PM & DPP 4)
An e-Mail Conversation with Bill Hill
BH: One more thing if you have time. In your workflow, you "ingest" the files in Mechanic and then do you open the file in DPP4 for edit and transfer to Photoshop?
AM: Bill, you gotta read what I wrote here. Actually, I will save you some time; here is the important stuff:
Photo Mechanic Editing (Picking Your Keepers) Tips
I set the default so that the images are arranged by Capture Time when I open a folder. Before you sit down to your first PM editing session be sure to go to Preferences > Preview and then–under "Automatically advance to the next photo when:"– uncheck the "tag is changed" box. That way when you tag a keeper it does not automatically advance to the next frame. You need to do that only once. (Some folks prefer to leave that box checked but that messes up my increasingly feeble brain."
I view my images in Photo Mechanic by simply selecting the first image in the folder and then hitting the spacebar to enlarge the image. After that, I hit the right arrow key to advance to the next slide. I hit letter "T" to tag my keepers. You can hit "T" again if you change your mind; this untags the image. When I am done editing the folder I set Filter view by to Untagged. Then I hit Command A (select all) and Command delete to delete all the rejected images. Done deal.
Here's the best part: the folder in DPP will update automatically when you delete the rejects in PM. Then I go to DPP—both programs are open all the time–and do my RAW conversions for selected files.
To summarize, I Ingest and pick my keepers using Photo Mechanic, convert my RAW files in DPP 4 (hit Command + Right Arrow to open the image edit screen), and then bring the converted TIFF into Photoshop (Shift + Command + P). Fast and smooth. Again, the folder structures and the contents of each folder will be identical without your having to lift a finger. No libraries. No importing. No exporting. In other words, a piece of cake. With the icing.
For more than a decade I have been saying "If you are on a PC and are not using BreezeBrowser and Downloader Pro to download and edit your images you are nuts." To that I can now add, "If you are on a Mac and not using Photo Mechanic to Ingest and edit your images (pick your keepers) you are nuts. Note: PM works on both PC and Mac platforms.
Learn why I switched to DPP 4 and how I use it to convert all of my Canon RAW files in the DPP 4 RAW Conversion Guide (by Arash Hazeghi and Arthur Morris) here.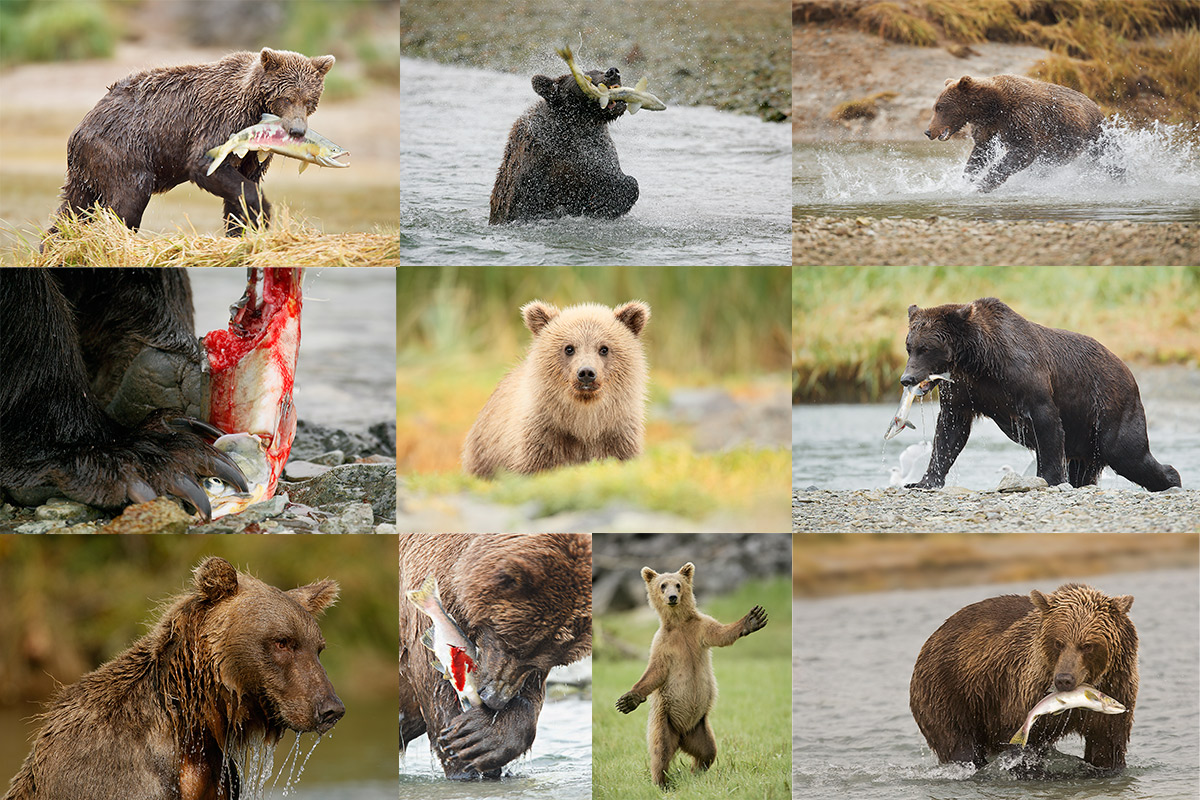 All of the images in the bear boat card above were created in Katmai National Park during the month of September.
Due to a recent cancellation there are once again three slots open.
Bear Boat/Bears Catching Salmon IPT: September 1-8, 2015 from Kodiak, AK/6 FULL & 2 1/2 DAYS: $6699. Happy campers only! Maximum 8/Openings: 3, with two good friends threatening to sign up. Plus the leader: Arthur Morris.
Join me in Katmai National Park, AK for seven days of photographing Coastal Brown Bears (grizzlies) catching salmon, fattening up for the long winter. Other subjects will include Mew and Glaucous-winged Gulls in flight and dip-feeding on salmon roe. Did I mention that we live on a boat and that the food is great? Most of our photography will be done in a variety of famed locations: Geographic Harbor, Kinak Bay, and Kukak Bay. We once had 39 bears fishing the creek at Kukak….
It is mandatory that you be in Kodiak no later than the late afternoon of August 31, 2015 September to avoid missing the float planes to the boat on the morning of September 1. With air travel in AK being what it is, with the chance of fog or other bad weather–being on Kodiak on August 30 is an even better plan). I will be on Kodiak on August 30 to avoid any potential disaster. That said in my nearly a dozen bear boat trips I was delayed only once but since I was day early as noted above there was no harm, no foul.
We will take one or more float planes to the boat mid-morning on September 1. We will photograph bears fishing that afternoon and every day for the next six days (weather permitting of course). We should have bears catching salmon every day. In addition, we will get some nice stuff on Mew Gull and Glaucous-winged Gulls dining on roe and the remains of predated salmon. We may–depending on where the concentrations of bears are–get to photograph Harbor seals and some hauled out Steller's Sea Lions (an endangered species). Halibut fishing (license required) is optional. On September 8, our last morning on the boat, those who would like to enjoy one last photo session will do so. The group returns to Kodiak via float plane midday. Most folks will fly to Anchorage and then continue on red-eye flights to their home cities.
The eight days will consist of six full days (Sept 2, 3, 4, 5, 6, & 7) of photography featuring lots of Coastal Brown Bears catching salmon as above plus a variety of other natural history subjects plus some nice scenic photography that I forgot to mention above. Plus the first afternoon and the last morning.
What's included? 8 DAYS/7 NIGHTS on the boat as above. All meals on the boat. (The food is quite excellent.) National Park fees. One night's double occupancy lodging on Kodiak; arrive: Sept 1/depart: Sept 2. The thank-you-in-advance dinner on Sept 1. In-the-field photo tips, instruction, and guidance. An insight into the mind of a top professional; I will constantly let you know what I am thinking, what I am doing, and why I am doing it. Small group image review, image sharing, and Photoshop instruction on the boat.
What's not included: Your round trip airfare to and from Kodiak, AK (almost surely through Anchorage). All necessary lodging other than the cost of your double occupancy room on the night of August 31 should you opt to arrive early–we can arrange that in advance for you. We will let you know the cost of a single supplement for the one night if so desired. The cost of the round-trip float plane to the boat on September 2 and back to Kodiak on September 9. The cost of a round trip this year was $500. The suggested crew tip of $210.
Is this an expensive trip? Yes, of course. But with 6 full and two half days, a wealth of great subjects, and the fact that you will be walking with the bears just yards away (or less….) it will be one of the great natural history experiences of your life. Most folks who take part in a Bear Boat IPT wind up coming back for more.
A $2,000 per person non-refundable deposit by check only made out to "Arthur Morris" is required to hold your spot. Please click here to read our cancellation policy. Then please print, read, and sign the necessary paperwork here and send it to us.
Your deposit is due immediately. That will leave a balance of $4699. The next payment of $2699 will be due on February 15, 2015. The final payment of $2000 is due on May 1, 2015.
I hope that you can join us for this wondrously exciting trip.
Facebook
Be sure to like and follow BAA on Facebook by clicking on the logo link upper right. Tanks a stack!
Support the BAA Blog. Support the BAA Bulletins: Shop B&H here!
We want and need to keep providing you with the latest free information, photography and Photoshop lessons, and all manner of related information. Show your appreciation by making your purchases immediately after clicking on any of our B&H or Amazon Affiliate links in this blog post. Remember, B&H ain't just photography!
…..
Amazon.com
Those who prefer to support BAA by shopping with Amazon may use this link:
Amazon Canada
Many kind folks from north of the border, eh, have e-mailed stating that they would love to help us out by using one of our affiliate links but that living in Canada and doing so presents numerous problems. Now, they can help us out by using our Amazon Canada affiliate link by starting their searches by clicking here. Many thanks to those who have written.
Typos
In all blog posts and Bulletins, feel free to e-mail or to leave a comment regarding any typos or errors. Just be right :).