What's Up?
Monday was a relaxing day. In the afternoon I was surprised by a visit by Jennifer and her family, husband Erik and their two kids, Sam and Maya. All but Jennifer went for a swim while in a downpour. I made some crispy cauliflower pizza crust with the new food processor that my two daughters got me as an early birthday present. It was good, but I learned that the trick was to prepare and cook the pizza dough thoroughly and then let is sit in the fridge for an hour or two before adding the sauce and the toppings. You can find the recipe here. Now that I have the basics down I will prepare a full sized recipe and make a bunch of pizza crusts to be stored before use.
I did pack my camera gear for the Palouse trip….
If you missed "A Comparison: The Canon EF 70-200mm f/2.8L IS II with TCs vs the EF 100-400mm f/4.5-5.6L IS II," be sure to see item one here.
This blog post, the 138th in a row, took about 1 1/2 hours to prepare. It was published automatically just after midnight on Monday.
Used Photography Gear for Sale
There has been lots of action on the Used Photography Gear page here. Stuff has been flying off the virtual shelves here almost every day; the following items have sold within the past week:
Canon EF 300mm f/2.8L IS II USM lens sold for $4999 by Jacques Bouvier on May 20, 2015.
Canon EF 70-200mm f/2.8L IS II sold by Carl Zanoni for $1649 on May 19, 2015.
Canon EF 100-400mm f/4.5-5.6L IS USM sold by Owen Peller for $799 on 5/19/15.
Canon EOS-1D Mark IV sold by Gerald Barrack for $1599 in May, 2015.
Canon EOS 7D DSLR Digital Camera Body (with battery grip) sold for $579 by Barbara Garmon on May 23, 2015.
In addition, a sale is pending on Barbara Garmon's old 100-400.
Selling Your Used Photo Gear Through BIRDS AS ART
Selling your used (or like-new) photo gear through the BAA Blog or via a BAA Online Bulletin is a great idea. We charge only a 5% commission. One of the more popular used gear for sale sites charges a minimum of 20%. Plus assorted fees! Yikes. The minimum item price here is $500 (or less for a $25 fee). If you are interested please e-mail with the words Items for Sale Info Request cut and pasted into the Subject line :). Stuff that is priced fairly–I offer free pricing advice, usually sells in no time flat. In the past few months, we have sold just about everything in sight. Do know that prices on some items like the EOS-1D Mark IV, the old Canon 500mm, the EOS-7D, and the original 400mm IS DO lens have been dropping steadily.
Brand New Listings: these four should sell almost instantly!
Canon 600mm f/4L IS II USM Lens
Pat Lillich is offering a used Canon 600mm f/4L IS II USM lens in near-mint condition (with only some minor wear on the hood knob) for a ridiculously low $9500: serial number 9000000194, new in July 2012. The lens sells new right now for $11,499 at B&H. The sale includes all original packaging and accessories, a RealTree LensCoat,the front cap, a black LensCoat TravelCoat, and a 4th Generation Design low foot. Recently sent to CPS for a Clean and Check and unused since. Has the letter "P" in silver paint on the base of the lens foot. Will hand deliver within 150 miles of San Jose, CA for an in person cash sale. Otherwise buyer pays insured FedEx shipping. The lens of course will not ship until your check clears.
Please contact Alan Lillich via e-mail or by phone at 408-348-7479 (Pacific time).
I own and use this amazing lens often. It is, simply put, the premier super-telephoto lens for bird, wildlife, and nature photography currently in production. It blows the Nikon 600 f/4 away with regards to both weight and sharpness. Many of the young guns hand hold it routinely often with the 1.4X III. Patrick Sparkman hand holds it often with the 2X III TC. Did I mention that the 4-stop IS system is so good as to be hard to believe.? You can own this great lens and save just a shade under $2,000 right now! BTW, both Pat and Alan take very good care of their gear.
Canon 400mm f/4 IS DO USM Lens
Stephan R. Leimberg is offering a used Canon 400mm f/4 IS DO USM Lens in excellent condition for $3699–another BAA lowest-price-ever for this item. The sale includes the rear lens cap, the leather front hood, the original case, and insured shipping via UPS Ground. Please contact Steve via e-mail or phone at 904-491-0474 (eastern time). Please e-mail for photos. Your item will not ship until your check clears unless other arrangements are made.
I used this lens for several years with great success, especially for birds in flight and when working from various type of water craft. Gannets in Love was created with the 400 DO. You can that one and 13 other killer images that I made with my 400 DO here. The title of that blog post is "The Canon 400mm f/4 IS DO Lens: Fourteen Images that Prove that the Internet Experts are Idiots."
Canon 500mm f/4L IS II USM Lens
Clemens Vanderwerf is offering a Canon 500mm/f4L IS II USM lens in near-mint excellent plus condition for $7,999.The lens was only used once during a trip to South Georgia in October 2012. The sale includes the LensCoat that has been on it since day one, an off-brand replacement foot, the fabric front cover, the rear lens cap, the lens strap, the warranty certificate, the lens booklet, the original box with everything that came in it, and insured UPS ground shipping to the lower 48 states. Your item will not ship until your check clears unless other arrangements are made.
This lens is super sharp and light. There is not a single scratch, ding, or chip anywhere on the paint.
Please contact Clemens via e-mail or phone at 954 608 8704 (eastern time).
I owned this lens and loved it and with the reach advantage of the 7D Mark II I am thinking hard about selling my 600 II and getting the new five….
Canon 300mm f/2.8L IS II USM Lens
Kevin Hice is offering a used Canon 300mm f/2.8L IS II USM lens in excellent plus condition for a lowest-price-ever $4750. The sale includes the LensCoat that has been on it since day one, the lens trunk 300B (with a few insignificant scuffs), the fabric front cover, the rear lens cap, the lens strap, the CD, the original box with everything that came in it, and insured shipping via UPS Ground. Your item will not ship until your check clears unless other arrangements are made.
This lens is super sharp and great in low light. No scratches or chips on the paint even on the tripod foot.
Please contact Kevin via e-mail or phone at 701 460 6112 (central time).
I own and use the amazing lens often. It is great for hand holding and for flight, with or without either the 1.4X III or the 2X III TC. In all cases it is amazingly sharp in competent hands. Outdoor Photographer editor Rob Sheppard was stunned by the sharpness of my allo-preening Macaroni Penguins image that was created with the 300 II and the 2X III TC.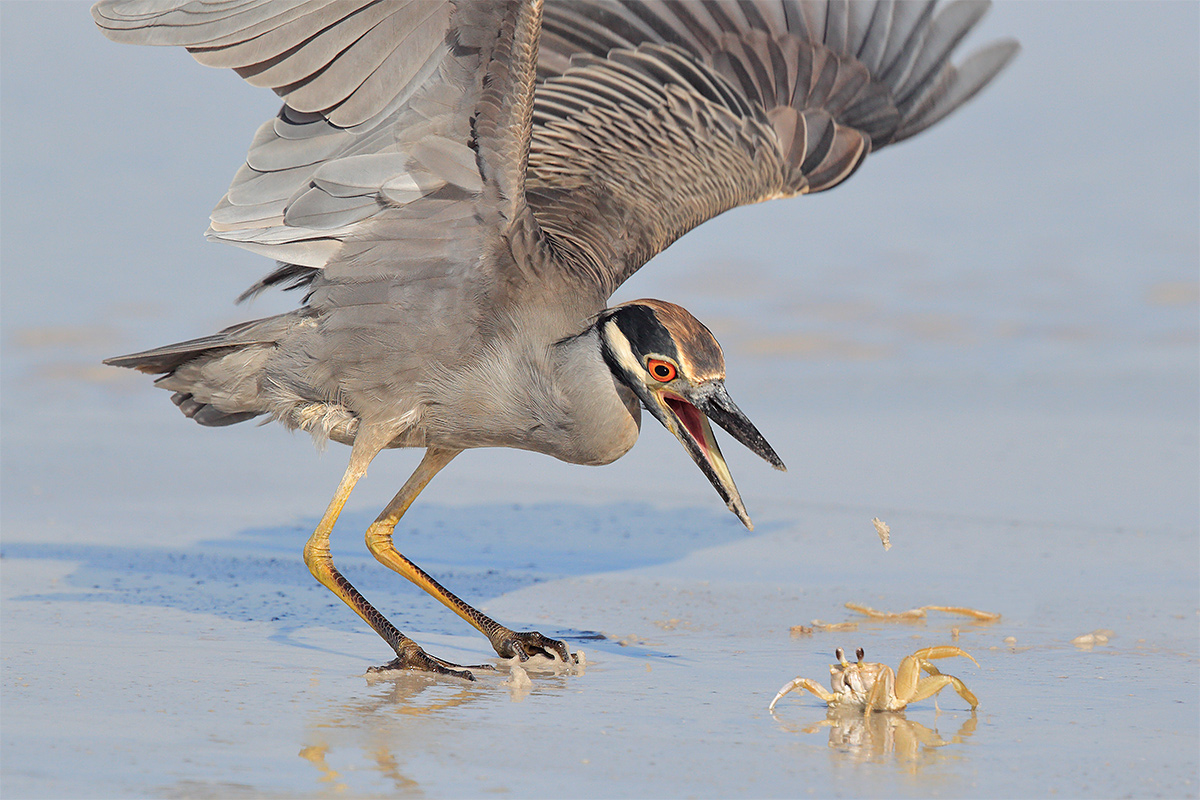 This image was created on last fall's Fort DeSoto IPT by multiple IPT veteran Deirdre Sheerr-Gross with the tripod-mounted Canon EF 500mm f/4L IS II USM lens, the Canon Extender EF 1.4X III, and the EOS-1D Mark IV (now replaced by the Canon EOS-1D X. ISO 400: 1/1600 sec. at f/8. AWB.
Two rows above and one AF point to the left of the center AF point/AI Servo Expand/Shutter-button AF as framed was active at the moment of exposure; see the DPP 4 screen capture below. Click on the image to see a larger version.
Yellow-crowned Night-Heron battling with ghost crab. Image courtesy of and copyright 2014: Deirdre Sheerr-Gross
Image optimization by Arthur Morris
Your browser does not support iFrame.
A Potentially Catastrophic Error: Failing to Return to Center…
A while back I wrote a piece about knowing exactly how your camera is setup at every given moment so that when the excitement starts you know your starting point. At least that is the theory. Heck, I fail to follow my own recommendations more times than I would care to admit. I am pretty good when it comes to reflexively hitting the Grid Button and then pressing the Joystick (multi-controller) to make sure that whatever AF Area Selection Mode is selected is dead center in the AF grid array. I call that "return to center." It is a good habit to develop.
I think that I have told this story here before. I was with the small group looking for a Yellow-crowned Night Heron. Right after we arrived, bingo! The bird was tame so we moved with it slowly down the beach striving to stay on sun angle. Suddenly, with no apparent reason, the bird took off, flew about 50 yards, and dove into a bush. It was bizarre. I grabbed my 200-400 and started running down the beach just as the night-heron emerged from the bush with a pretty large ghost crab in its bill. Wow; what vision! The bird flew halfway towards the Gulf and stopped to dismantle and consume its meal.
Just as I was moving to sun angle the crab nipped the bird with one of it claws and got away. The crab raised its pincers to defend itself and the night-heron raised its wings to attack. No contest. I did not get a single frame of the beginning of the altercation. Dierdre did, but for some reason she had selected a sensor at the very top of the array. She made up for that by following one of my basic rules: when unexpected action occurs, push the shutter button.
Deirdre kindly sent me the RAW and I spent about 30 minutes on the clean-up. See the DPP-4 screen capture below for a peek at the original and to see the selected AF point in action.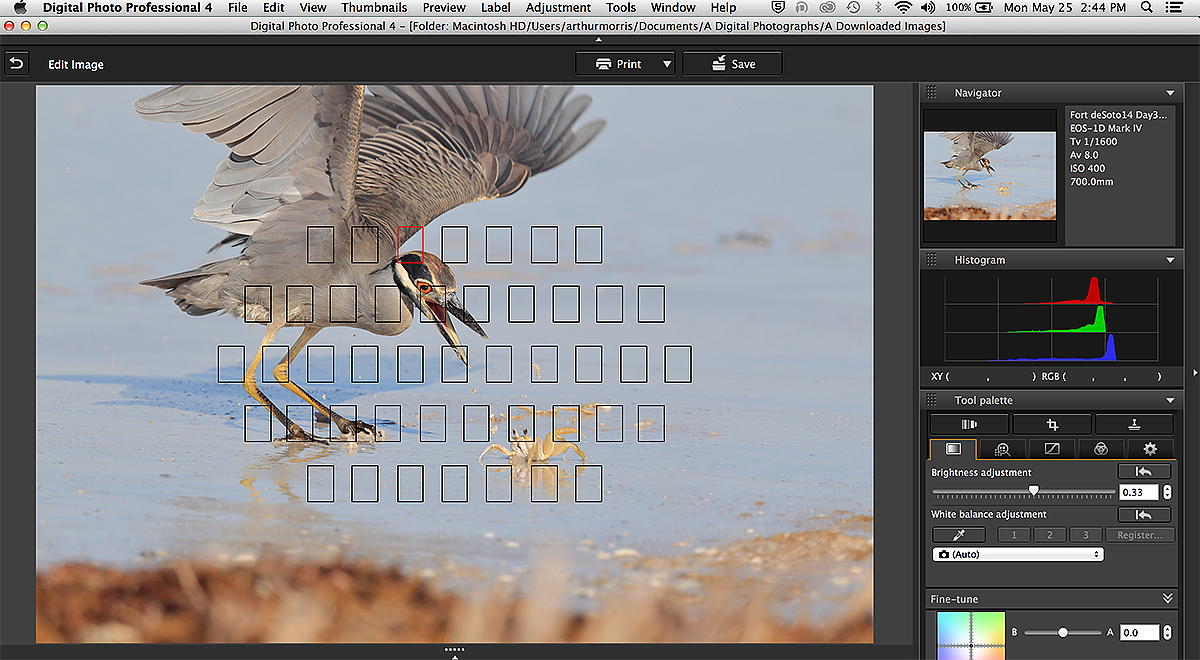 DPP 4 Screen Capture
The Image Optimization
With a superbly sharp RAW file I knew that the image could stand up to a fairly large crop. It did. If Deirdre had had the center AF point activated she would have captured a perfectly framed image. But in any case, she did a lot better during the heat of the action than I did…. I did wind up with some pretty good tight images; I will try to remember to share one or two with y'all here.
After the RAW conversion in DPP 4–the image was a bit under–I brought the image into Photoshop. The clean-up was rather extensive; compare the original image in the screen capture immediately above with today's feature image, the one that opens this blog post. I used my usual clean-up tools: the Patch Tool, the Clone Stamp Tool, and a series of small Quick Masks refined with Regular Layer Masks. Note the effectiveness of the final artistic crop, especially the small one from the top.
Digital Basics
Everything that I did to optimize today's image is covered in detail in my Digital Basics File–written in my easy-to-follow, easy-to-understand style. Are you tired of making your images look worse in Photoshop? Digital Basics File is an instructional PDF that is sent via e-mail. It includes my complete digital workflow, dozens of great Photoshop tips (including the Surface Blur settings as taught to me by Denise Ippolito), details on using all of my image clean-up tools, the use of Contrast Masks, several different ways of expanding and filling in canvas, all of my time-saving Keyboard Shortcuts, Quick Masking, Layer Masking, and NIK Color Efex Pro basics, Contrast Masks, Digital Eye Doctor techniques, using Gaussian Blurs, Tim Grey Dodge and Burn, a variety of ways to make selections, how to create time-saving actions, and tons more.
APTATS I & II
Learn the details of advanced Quick Masking techniques in APTATS I. Learn Advanced Layer Masking Techniques in APTATS II. Mention this blog post and apply a $5 discount to either with phone orders only. Buy both APTATS I and APTATS II and we will be glad to apply at $15 discount with phone orders only. Please call Jim or Jennifer at 863-692-0906 weekdays to order.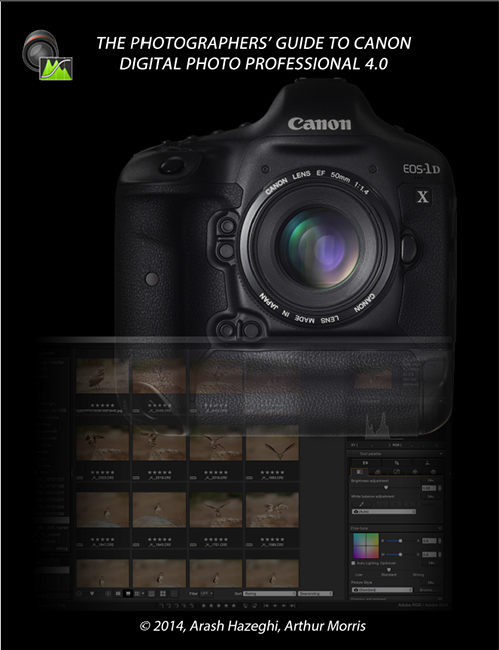 The Photographers' Guide to Canon Digital Photo Professional 4.0 by Arash Hazeghi and Arthur Morris is now available. Click here to order.
The DPP 4 eGuide (PDF)
The Photographers' Guide to Canon Digital Photo Professional 4.0 by Arash Hazeghi and Arthur Morris: $40.
Artie first went to DPP because he was not happy with the colors he was getting with 1D X and 5D III images from ACR (Adobe Camera Raw). Though less than intuitive, he found it fast and easy to use once he mastered the basics. He collaborated with Arash Hazeghi on the first DPP RAW Conversion Guide. Do understand that the DPP RAW Conversion Guide details the use of various iterations of DPP 3. He calls those the DPP 3.whatever versions. The latest version is DPP 3.14.41.0.
Some time ago Canon released DPP 4.0, completely and utterly new and different from DPP 3. When it was introduced DPP 4 worked only EOS-1D X, EOS-5D Mark III, and EOS-6D images and that is still the case today. It will not work with RAW files from older Canon digital camera bodies. Both authors are hoping that a new version of DPP 4 that will convert EOS-7D Mark II images will be released soon.
In the meantime, DPP 4 performs superbly with his 1D X and 5D III images. When he first opened DPP 4 he felt as if he were in the cockpit of a Boeing 747 and was being asked to fly it. There were so many tabs and buttons and controls that he simply closed the program. He immediately called Arash and asked him if he wanted to work together on a DPP 4 guide. After 100s of hours of work the guide is now ready to teach you to conveniently and easily use DPP 4 to create the finest possible image files from your 1D X, 5D III, and 6D image files. Basically, Arash sent artie a sophisticated outline that he re-crafted into a clear, concise, easily understood, and easy to follow how-to guide written in the BAA style. Arash created all of the charts, diagrams, and graphics.
His charts with recommendations for both Chrominance and Luminance Noise Reduction values for each of the 3 covered cameras at various ISO settings are alone worth the price of the book. He spent many dozens of hours experimenting with high ISO RAW files and shares his findings with you in the DPP 4 Guide. Folks will surely want to create some sort of easily accessible quick reference on their laptops and home computers.
DPP offers a host of great features some but not all of which are reminiscent of ACR. These include the following: Multi-image display, the extremely valuable Before/after Comparison layout, Highlight/shadow warnings, White Balance, and the eight RAW Conversion tabs that include sliders for Brightness, Highlights, Shadows, Contrast, Hue-Saturation, Color Tone, Sharpness, Noise Reduction, HSL (Hue/Saturation/Luminance), Lens Corrections, and Digital Lens Optimizer among others. We teach you how to best utilize each of those and many more. We share our slightly different DPP workflows and dozens of tips that will simply make your life easier. Arash uses DPP4′s rating system for choosing his keepers while artie continues to rely on BreezeBrowser Pro for that. DPP offers a variety of sorting filters. We explain all of the options. In addition, we teach you how to set your preferences and how to arrange your workspace for the greatest efficiency.
Both authors firmly believe that the manufacturer's conversion algorithms will always out-perform 2nd party software when it comes to preserving image quality, fine detail, and accurate color rendition.
The authors wish to thank Chuck Westfall and Rudy Winston of Canon USA for their help; they are always available to answer our nit-picking questions. Sincere thanks also to Ken Kovak, Bob Schwartz, Dane Johnson, and John Stuhlmuller for their thoughtful and substantive reviews of late drafts of the DPP 4 manuscript.
You can order your copy of the DPP 4 Guide for $40 through the BAA Online Store by clicking here, by calling Jim or Jen in the office at 863-692-0906 with credit card in hand, by sending us a check made out to "Arthur Morris" or a money order for $40 to BIRDS AS ART, PO Box 7245, Indian Lake Estates, FL 33855, or by by sending a Paypal for $40 to e-mail. IN the latter two instances be sure to note DPP 4 Guide so we know what you are ordering :).
Note: the Sharpness and Noise Reduction Charts have been updated to include the recommended values for the 7D Mark II. Those using some of the older Canon camera bodies like the 1D Mark IV, the 7D, and the 5D Mark II may now enjoy the convenience and superb conversions provided by DPP 4. Folks using the 50D and the 40D are directed to the original DPP RAW Conversion Guide click here. DPP 3 (the latest version is DPP v3.14.41.0) does a fine job of converting images from the older camera bodies. I used it for several years.
DPP 4 eGuide Kudos via e-mail from Melvin Grey
Artie, Thank you very much for creating and sending the superb new guide and for the excellent service.THANK YOU and ARASH, once again, for an invaluable guide and THANK YOU for your continuing educational blogs. Melvin
Facebook
Be sure to like and follow BAA on Facebook by clicking on the logo link upper right. Tanks a stack!
Support the BAA Blog. Support the BAA Bulletins: Shop B&H here!
We want and need to keep providing you with the latest free information, photography and Photoshop lessons, and all manner of related information. Show your appreciation by making your purchases immediately after clicking on any of our B&H or Amazon Affiliate links in this blog post. Remember, B&H ain't just photography!
…..
Amazon.com
Those who prefer to support BAA by shopping with Amazon may use this link:
Amazon Canada
Many kind folks from north of the border, eh, have e-mailed stating that they would love to help us out by using one of our affiliate links but that living in Canada and doing so presents numerous problems. Now, they can help us out by using our Amazon Canada affiliate link by starting their searches by clicking here. Many thanks to those who have written.
Typos
In all blog posts and Bulletins, feel free to e-mail or to leave a comment regarding any typos or errors. Just be right :).