What's Up?
On Thursday we met BAA friend Dan Logen for a morning of scouting and photography. We met on Steptoe Butte and photographed for just a bit. After that Dan led the way….
This blog post, the 141st in a row, took about 1 hour to prepare. It was published just after midnight on Friday.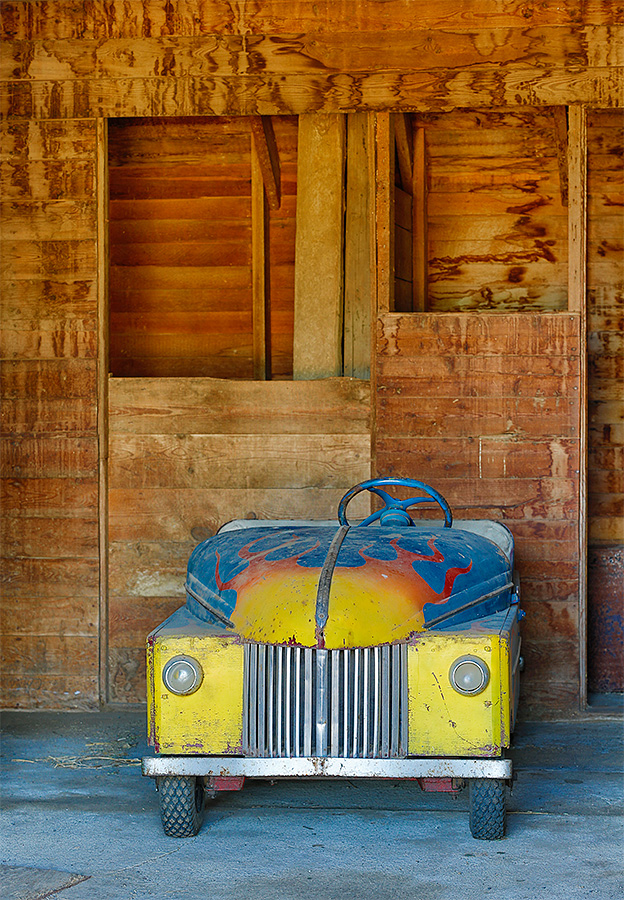 This 3-frame in-camera HDR Art Vivid image was created with the tripod-mounted Canon EF 70-200mm f/2.8L IS II USM lens and the Canon EOS 5D Mark III. ISO 400. Evaluative metering – 1/3 stops (+/- 3 stops) around a base exposure of 1/10 sec. at f/8. AWB. Live View with 2-second timer.
Center AF (Manual selection)/AI Servo/Rear Focus AF on the grille and re-compose. as framed was active at the moment of exposure (as is always best when hand holding). Click here to see the latest version of the Rear Focus Tutorial. Click on the image to see a larger version.
50 Year old 5hp Kiddie Car
Your browser does not support iFrame.
Struck It Rich!
Dan brought us to several old barns. As denise and I approached an open barn door at one of them, we both gasped. Parked right in front of us was the cutest kiddy car you have ever seen with a vibrant paint job that almost glowed. We ran back to the car for our tripods and rigs. Neesie went for her 24-105, I for my 70-200, both with our 5D Mark IIIs.
As I was working at 1/10 second on a tripod, I suggested to Dan the he might consider working on a tripod> He said, "I'm OK; I use Nikon gear."
We learned later that the car had been built more than 50 years ago and on a good day, could make 15mph. Dann kindly shared several more miracles with us. We headed over to Moscow, ID in the afternoon to visit another old friend and do a bit more scouting. Our meet and greet with the first Palouse group was at 7:30 Thursday evening.
Bosque IPTs Heating Up
Interest and registrations and for both Bosque IPTs have been picking up greatly over the past two weeks. Click on the IPT tab on the too bar and scroll down for details.
Used Photography Gear for Sale
There has been lots of action on the Used Photography Gear page here. Stuff has been flying off the virtual shelves here almost every day; the following items have sold within the past week:
Canon EF 300mm f/2.8L IS II USM lens sold for $4999 by Jacques Bouvier on May 20, 2015.
Canon EF 70-200mm f/2.8L IS II sold by Carl Zanoni for $1649 on May 19, 2015.
Canon EF 100-400mm f/4.5-5.6L IS USM sold by Owen Peller for $799 on 5/19/15.
Canon EOS-1D Mark IV sold by Gerald Barrack for $1599 in May, 2015.
Canon EOS 7D DSLR Digital Camera Body (with battery grip) sold for $579 by Barbara Garmon on May 23, 2015.
In addition, a sale is pending on Barbara Garmon's old 100-400.
Selling Your Used Photo Gear Through BIRDS AS ART
Selling your used (or like-new) photo gear through the BAA Blog or via a BAA Online Bulletin is a great idea. We charge only a 5% commission. One of the more popular used gear for sale sites charges a minimum of 20%. Plus assorted fees! Yikes. The minimum item price here is $500 (or less for a $25 fee). If you are interested please e-mail with the words Items for Sale Info Request cut and pasted into the Subject line :). Stuff that is priced fairly–I offer free pricing advice, usually sells in no time flat. In the past few months, we have sold just about everything in sight. Do know that prices on some items like the EOS-1D Mark IV, the old Canon 500mm, the EOS-7D, and the original 400mm IS DO lens have been dropping steadily.
Brand New Listings: these four should sell almost instantly!
Canon 600mm f/4L IS II USM Lens
Pat Lillich is offering a used Canon 600mm f/4L IS II USM lens in near-mint condition (with only some minor wear on the hood knob) for a ridiculously low $9500: serial number 9000000194, new in July 2012. The lens sells new right now for $11,499 at B&H. The sale includes all original packaging and accessories, a RealTree LensCoat,the front cap, a black LensCoat TravelCoat, and a 4th Generation Design low foot. Recently sent to CPS for a Clean and Check and unused since. Has the letter "P" in silver paint on the base of the lens foot. Will hand deliver within 150 miles of San Jose, CA for an in person cash sale. Otherwise buyer pays insured FedEx shipping. The lens of course will not ship until your check clears.
Please contact Alan Lillich via e-mail or by phone at 408-348-7479 (Pacific time).
I own and use this amazing lens often. It is, simply put, the premier super-telephoto lens for bird, wildlife, and nature photography currently in production. It blows the Nikon 600 f/4 away with regards to both weight and sharpness. Many of the young guns hand hold it routinely often with the 1.4X III. Patrick Sparkman hand holds it often with the 2X III TC. Did I mention that the 4-stop IS system is so good as to be hard to believe.? You can own this great lens and save just a shade under $2,000 right now! BTW, both Pat and Alan take very good care of their gear.
Canon 400mm f/4 IS DO USM Lens
Stephan R. Leimberg is offering a used Canon 400mm f/4 IS DO USM Lens in excellent condition for $3699–another BAA lowest-price-ever for this item. The sale includes the rear lens cap, the leather front hood, the original case, and insured shipping via UPS Ground. Please contact Steve via e-mail or phone at 904-491-0474 (eastern time). Please e-mail for photos. Your item will not ship until your check clears unless other arrangements are made.
I used this lens for several years with great success, especially for birds in flight and when working from various type of water craft. Gannets in Love was created with the 400 DO. You can that one and 13 other killer images that I made with my 400 DO here. The title of that blog post is "The Canon 400mm f/4 IS DO Lens: Fourteen Images that Prove that the Internet Experts are Idiots."
Canon 500mm f/4L IS II USM Lens
Clemens Vanderwerf is offering a Canon 500mm/f4L IS II USM lens in near-mint excellent plus condition for $7,999.The lens was only used once during a trip to South Georgia in October 2012. The sale includes the LensCoat that has been on it since day one, an off-brand replacement foot, the fabric front cover, the rear lens cap, the lens strap, the warranty certificate, the lens booklet, the original box with everything that came in it, and insured UPS ground shipping to the lower 48 states. Your item will not ship until your check clears unless other arrangements are made.
This lens is super sharp and light. There is not a single scratch, ding, or chip anywhere on the paint.
Please contact Clemens via e-mail or phone at 954 608 8704 (eastern time).
I owned this lens and loved it and with the reach advantage of the 7D Mark II I am thinking hard about selling my 600 II and getting the new five….
Facebook
Be sure to like and follow BAA on Facebook by clicking on the logo link upper right. Tanks a stack!
Support the BAA Blog. Support the BAA Bulletins: Shop B&H here!
We want and need to keep providing you with the latest free information, photography and Photoshop lessons, and all manner of related information. Show your appreciation by making your purchases immediately after clicking on any of our B&H or Amazon Affiliate links in this blog post. Remember, B&H ain't just photography!
…..
Amazon.com
Those who prefer to support BAA by shopping with Amazon may use this link:
Amazon Canada
Many kind folks from north of the border, eh, have e-mailed stating that they would love to help us out by using one of our affiliate links but that living in Canada and doing so presents numerous problems. Now, they can help us out by using our Amazon Canada affiliate link by starting their searches by clicking here. Many thanks to those who have written.
Typos
In all blog posts and Bulletins, feel free to e-mail or to leave a comment regarding any typos or errors. Just be right :).