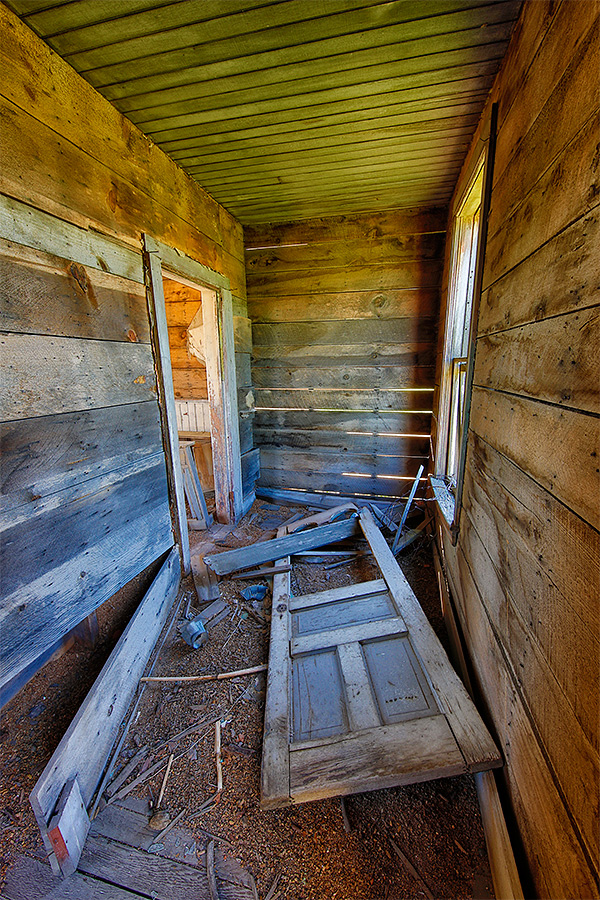 This HDR Art Vivid (+/- 3 stops)image was created on day 4 of the Palouse IPT with the tripod-mounted Canon EF 11-24mm f/4L USM lens (at 14mm) and the Canon EOS 5D Mark III . ISO 300. Evaluative metering at zero yielded a base exposure of 1/2 second at f/20 in Av Mode. AWB. Live View and 2-second timer.
Center AF point (Manual selection)/One Shot rear focus 1/3 of the way into the frame and re-compose. Click here to see the latest version of the Rear Focus Tutorial. Click on the image to see a larger version.
Interior of the foyer of a 100+ year-old prairie farm house.
Your browser does not support iFrame.
Image Question
What do you think was the most difficult part of creating this image?
a-determining the correct exposure.
b-setting up the tripod and adjusting the ballhead.
c-creating a sharp image.
Be sure to explain why.
Thanks Colleen!
This image was made at one of our very favorite old prairie homes, one that we discovered on our extensive 2014 scouting trip, one that is rarely if ever visited by other photo tour groups. Though I had photographed this home three times before, I had never peeked through this particular doorway… Thanks to participant Colleen Malley for alerting me to the possibility of this image so that I could create my own and share it with others in the group.
Image Design
Do you have any suggestions on how to improve the design of this image?
The Canon EF 11-24mm f/4L USM Lens Rocks the Palouse
For photographing the interiors of home old or new the super wide angle Canon EF 11-24mm f/4L USM lens is unsurpassed for sharpness and versatility.
Review: Dealing With Bright Sun and Blue Skies, Part 1A
Rule #1: Find a subject in the shade
One of the easiest ways to find a subject in the shade in the Palouse is to–when it is safe to do so and you are not trespassing, go around sticking your head in the open or broken windows of dilapidated barns and houses. The results can at times be wondrous.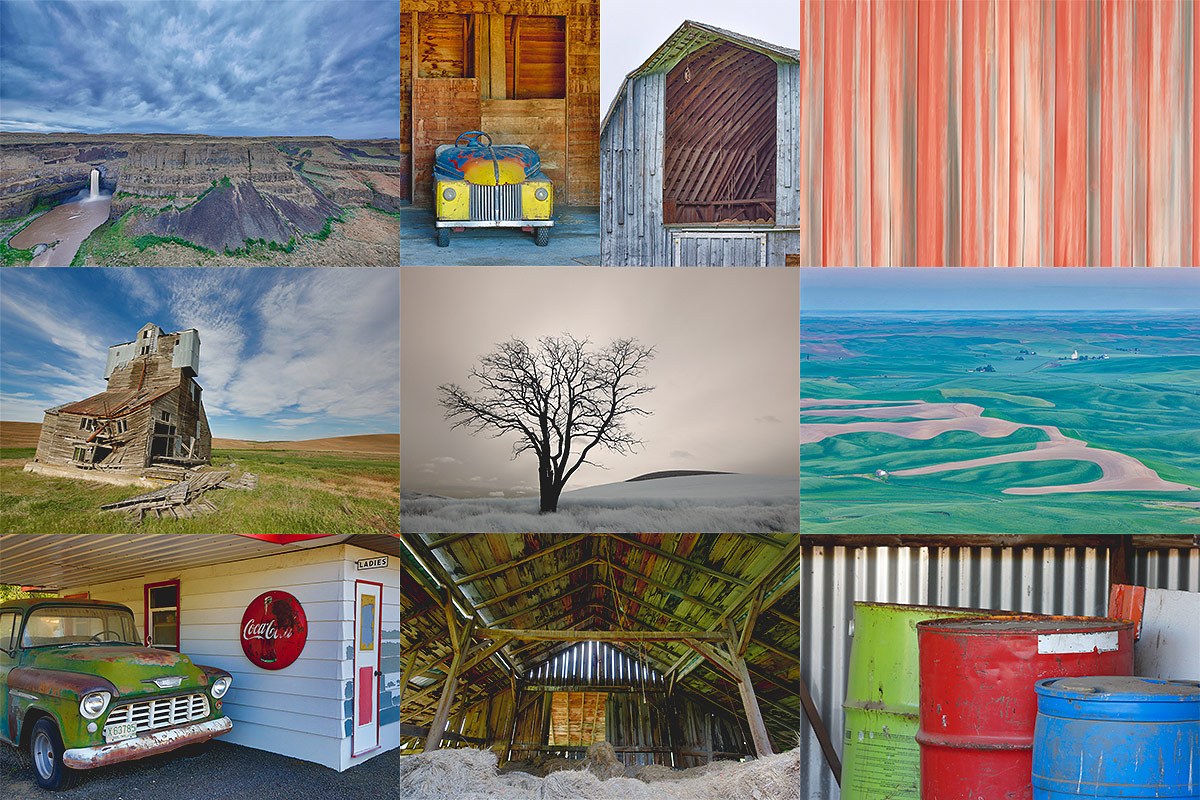 Subject and focal lengths from upper left to right and then around to center.
Palouse Falls: 11mm; homemade kiddie race car: 105mm; barn siding pan blur: 798mm; Rolling fields diorama: 110mm; Crayola drums: 343 mm; Hay barn interior: 19mm; vintage gas station: 40mm; Dilapidated farm building: 13mm; Denise's tree Infrared: 20mm.
Images and card design by Arthur Morris/BIRDS AS ART.
The Palouse ~ A Creative Adventure/BIRDS AS ART Instructional Photo-Tour (IPT)/Eastern Washington State. June 3-7, 2016/5 Full Days: $1699/Limit 12
The Palouse ~ A Creative Adventure/BIRDS AS ART Instructional Photo-Tour (IPT)/Eastern Washington State. June 10-14, 2016/5 Full Days: $1699/Limit 12
Double Header!
Maximize both your travel dollars and your learning experience by signing up for both IPTs.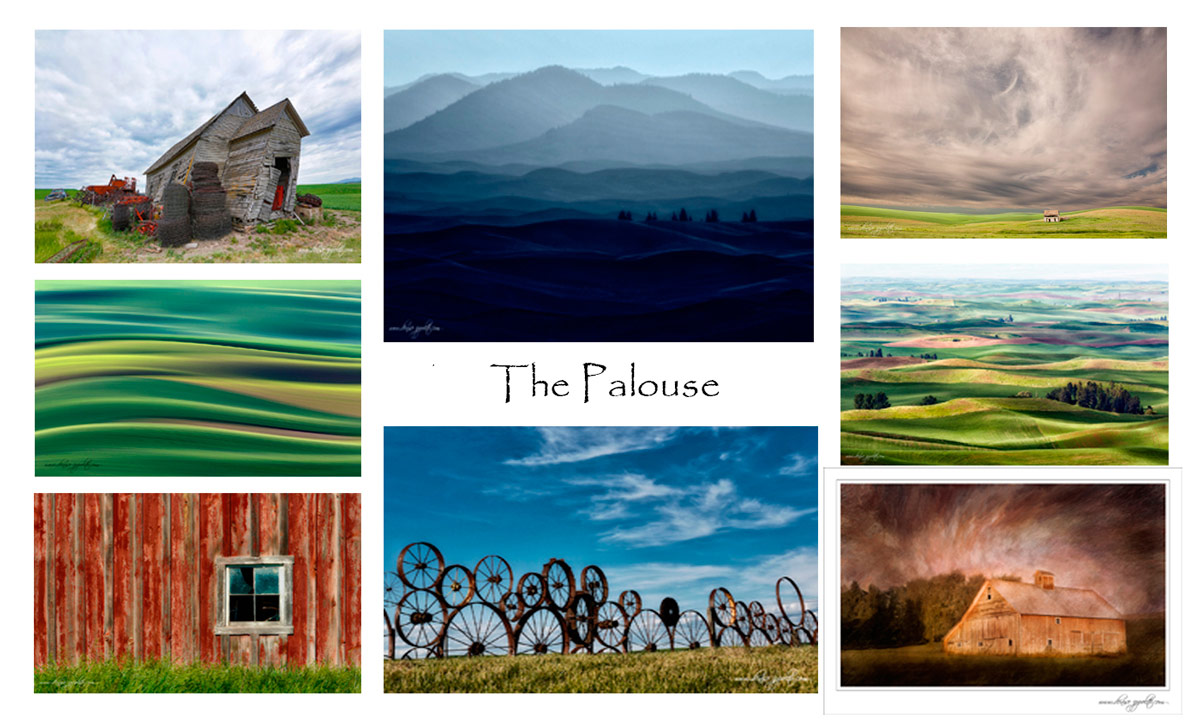 Images and card design by Denise Ippolito/A Creative Adventure.
The Palouse IPTs
Rolling farmlands provide a magical patchwork of textures and colors, especially when viewed from the top of Steptoe Butte where we will likely enjoy spectacular sunrises and possibly a nice sunset. We will photograph grand landscapes and mini-scenics of the rolling hills and farm fields. We will take you to some really neat old abandoned barns and farmhouses in idyllic settings. There is no better way to improve your compositional and image design skills and to develop your creativity than to join us for this trip. Two great leaders: Denise Ippolito and Arthur Morris. Photoshop and image sharing sessions when we have the time and energy…. We get up early and stay out late and the days are long.
After 6 days of back-breaking scouting work in early June 2014 we found all of the iconic locations and, in addition, lots of spectacular new old barns and breath-taking landforms and views. On three additional scouting days in 2015 we discovered several more truly amazing locations. We will teach you what makes one situation prime and another seemingly similar one a waste of your time.
What's included: In-the-field instruction, guidance, lessons, and inspiration, our newfound but very extensive knowledge of the area, all lunches, motel lobby grab and go breakfasts, and Photoshop and image sharing sessions when possible. There will be a meet and greet at 7:30pm on the evening before each workshop begins.
You will learn and hone both basic and advanced compositional and image design skills. You will learn to get the right exposure every time. You will learn to develop your creative eye. You will learn the basics of HDR (high dynamic range) photography. You will learn a variety of in-camera creative techniques. Most importantly you will learn to see the situation and to create a variety of top-notch images. Do see both of our blogs for lots more on that in the coming weeks. You will learn how the quality and direction of light combine to determine the success of your images. And–please don't gasp–we will be working quite a bit with sidelight when creating landscapes. Lastly, we will be doing some infrared photography.
To Sign Up
A non-refundable $699 deposit is due now. The balance will be due on February 15, 2016. If we do not receive your check for the balance on or before the due date we will try to fill your spot from the waiting list. Whether or not your spot is filled, you will lose your deposit. If not, you can secure your spot by paying your balance.
With the spectacular success that we enjoyed in 2015 it seems quite likely that this one will fill up very quickly. Please let me know via e-mail that you will be joining us. Then you can either call Jim or Jennifer at 863-692-0906 during business hours or send us a check to leave a deposit; the latter is preferred. If by check, please make out to "Arthur Morris" and mail it to: Arthur Morris/BIRDS AS ART, PO Box 7245, Indian Lake Estates, FL, 33855. If you have any questions, please feel free to contact us via e-mail: artie or denise.
Facebook
Be sure to like and follow BAA on Facebook by clicking on the logo link upper right. Tanks a stack!
Support the BAA Blog. Support the BAA Bulletins: Shop B&H here!
We want and need to keep providing you with the latest free information, photography and Photoshop lessons, and all manner of related information. Show your appreciation by making your purchases immediately after clicking on any of our B&H or Amazon Affiliate links in this blog post. Remember, B&H ain't just photography!
…..
Amazon.com
Those who prefer to support BAA by shopping with Amazon may use this link:
Amazon Canada
Many kind folks from north of the border, eh, have e-mailed stating that they would love to help us out by using one of our affiliate links but that living in Canada and doing so presents numerous problems. Now, they can help us out by using our Amazon Canada affiliate link by starting their searches by clicking here. Many thanks to those who have written.
Typos
In all blog posts and Bulletins, feel free to e-mail or to leave a comment regarding any typos or errors. Just be right :).