Stuff
Both denise and I are getting more and more excited about our up-coming trip. Again I spent a good part of the day re-arranging and doing third edits on trip image folders with lots more of the same in store for today. I enjoyed both a swim and an ice bath. This blog post, which took me about 2 hours to assemble, is the 168th in a row. It was published just after 6:30am on Friday, June 26, 2015. I fly to Newark on Sunday to meet up with denise for our red-eye flight to Edinburgh, Scotland. I will start packing seriously on Saturday.
Please Help Support My Work on the BAA Blog
Thanks a Stack! June has been a Great Month.
The last two weeks have been quite rewarding. Thanks a stack to the many who used our B&H links for purchases large and small. Right now I am working closely with my B&H rep to have four 400 DO and two 100-400 II BAA Affiliate orders expedited. It has been nearly impossible to come by a 400 DO II. I am hoping that my efforts pay dividends fairly soon…. The supply of 100-400IIs has been much more steady with availability every week to ten days.
To show your appreciation for my efforts here, we ask, as always, that you use our the B&H and Amazon affiliate links on the right side of the blog for all of your purchases. B&H Is recommended for you major photography gear purchases, Amazon for your household, entertainment, and general purpose stuff. Please check the availability of all photographic accessories in the BIRDS AS ART Online Store, especially Gitzo tripods, Wimberley tripod heads, and the like. We sell only what I have used, have tested, and can depend on. We will not sell you junk. We know what you need to make creating great images easy and fun. And we are always glad to answer your gear questions via e-mail.
I would of course appreciate your using our B&H affiliate links for all of your major gear, video, and electronic purchases. For the photographic stuff mentioned in the paragraph above we, meaning BAA, would of course greatly appreciate your business. Here is a huge thank you to the many who have been using our links on a regular basis and visiting the BAA Online store as well.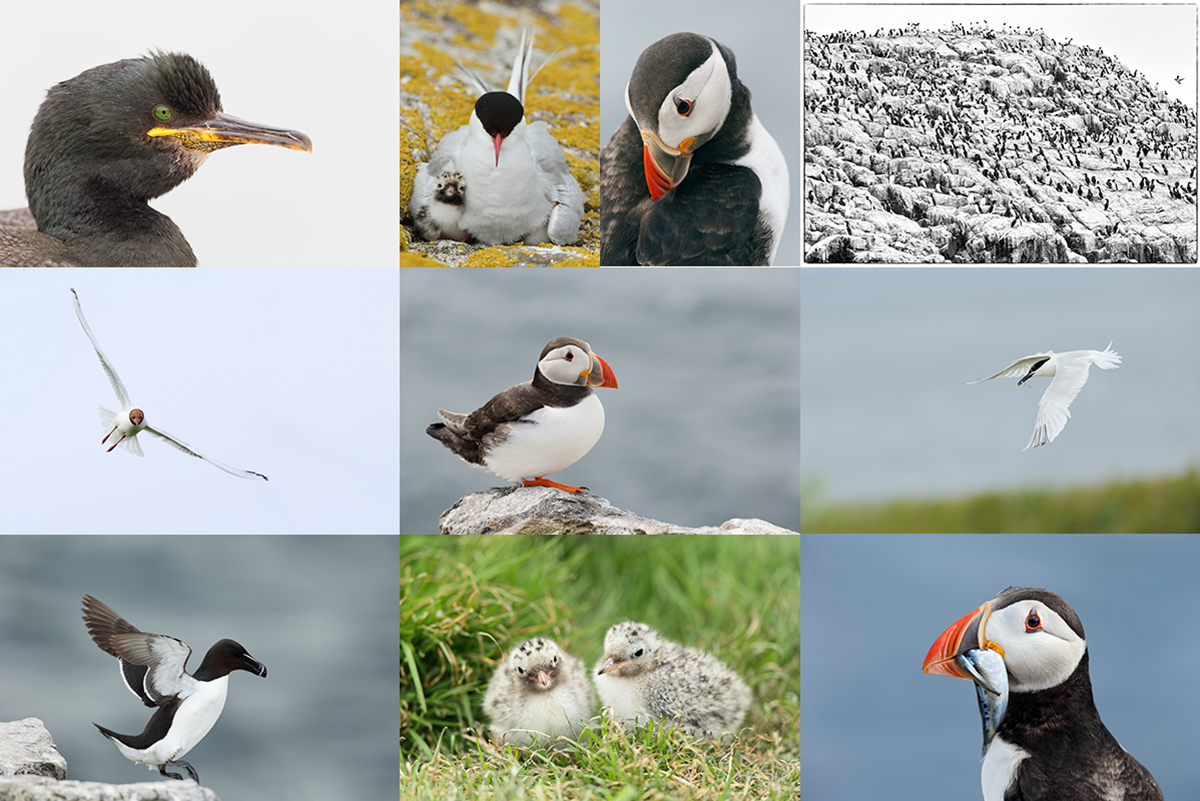 Having access to a great range of focal lengths on a trip is a huge plus…. Images and card design copyright 2014: Arthur Morris/BIRDS AS ART. Click on the card to enjoy a spectacular larger version.
UK Puffins & Gannet IPT Gear Bag
Canon EF 600mm f/4L IS II USM Lens. After traveling on the light side last year, both denise and I are taking our 600 IIs. Many folks who have traveled to the UK for puffins feel that a 600mm lens is overkill. Some state openly, "All you need is a 70-200." That may be true for them but not for us.
We want our 600s so that we can do the incoming puffins in flight at f/4 (thus yielding some really fast shutter speeds), so that we can easily create tight head portraits, and so that we have the extra reach when needed. Most of the time I will have the big lens with a 1D X mounted in a LensCoat 4X Expandable Long Lens Bag (with harness). Call it shoulder love.
Canon EF 100-400mm f/4.5-5.6L IS II USM lens. I will be using this lens as my on-the-shoulder (with a Black Rapid RS-7 strap) intermediate telephoto lens with either the 5D III or the 7D II. The 100-400 focal length fits almost perfectly with the 600. I envision using it whenever I need to go wider such as when creating images of nests with multiple birds or simply group shots of puffins. It will also be great for hand held flight photography with the 7D II.
Canon EF 24-105mm f/4L IS USM Lens. This all-purpose B-roll lens will be in my Vested Interest Xtrahand vest where it can be grabbed when needed.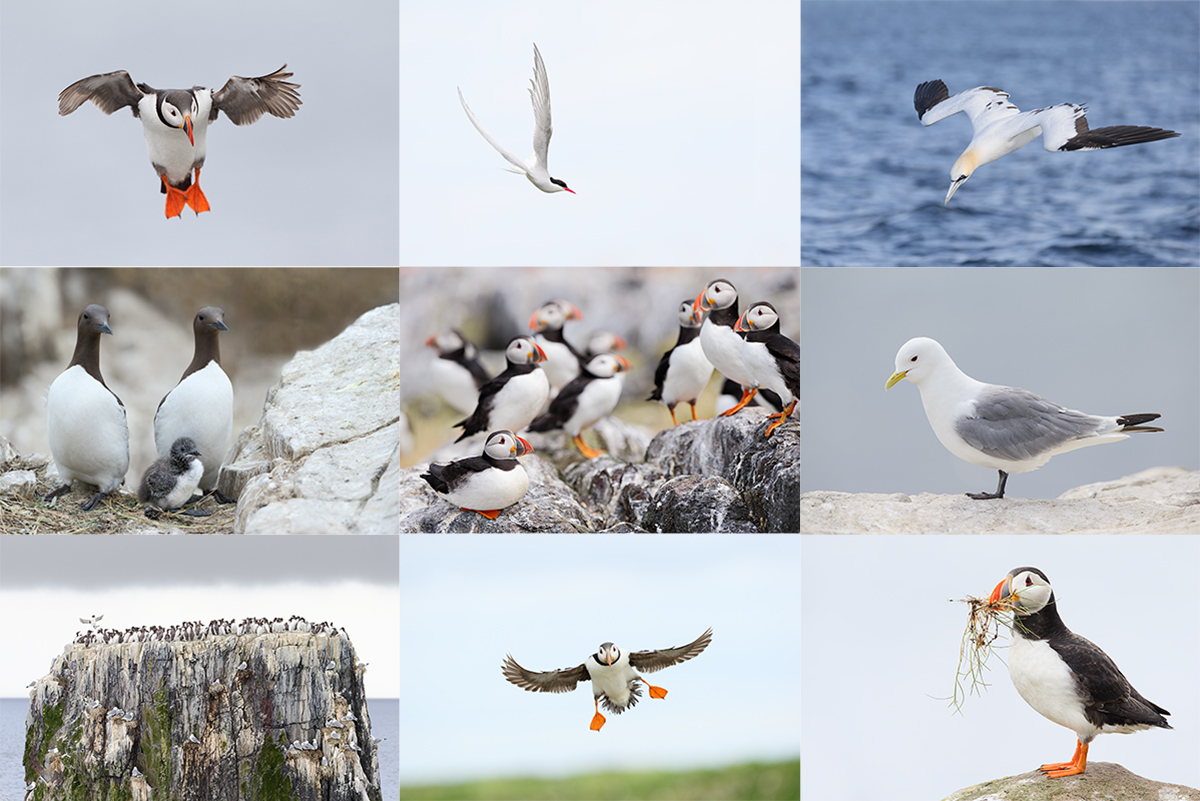 Several of the images on this card were made with the hand held 70-200mm f/2.8L IS II lens, most with the 1D X and a 1.4X III TC in place. Images and card design copyright 2014: Arthur Morris/BIRDS AS ART. Click on the card to enjoy a spectacular larger version.
Focal Length Coverage…
The beauty of the 24-105/100-400 II/600 II combination (as above) is that these three lenses mesh beautifully. The addition of a 1.4X III TC to the 100-400 II and the 2X III TC to the 600 II gives you coverage of focal lengths ranging from 24mm to 1200mm. Substituting her Canon EF 70-200mm f/2.8L IS II USM lens for the 100-400 II will give Denise similar focal length coverage as the 70-200 II works well with either TC.
Canon EF 70-200mm f/4L IS USM Lens. I borrowed this lens from Canon Professional Services just for this trip to use primarily on our gannet boat trips where its light weight weight will be a huge plus. On our previous trip most folks simply could not raise their lenses after the first hour of nonstop flight photography. I will also bring along the optional Canon Tripod Mount Ring A-2 for 70-200mm f/4L (IS & Non-IS versions) so that I can put the lens on a tripod when I need extra depth-of-field or when we are doing castles. The Wimberley P-20 plate is perfect for all intermediate telephoto lenses including this one, the 70-200mm f/2.8L IS, and the 100-400 II.
Canon EF 100mm f/2.8L Macro IS USM Lens with the again optional Canon Tripod Mount Ring D for IS 100mm f/2.8L Macro Lens. And you guessed it, the Wimberley P-20 plate is perfect for this lens also. On our last visit there were some gorgeous purple flowers in bloom on the beaches…. I packed my ThinkTank Airport SecurityTM V2.0 on Thursday afternoon as was glad that I had room for this lens.
Camera Bodies
EOS-1D X. I will use my rugged pro body primarily with the 600 II, going with the 7D II on the big lens only when I need the extra reach. The more powerful 1D X battery makes it better for flight and for driving the AF system when a TC is added.
5D Mark III). Depending on the situation, I will use either the 5D III or the 7D II on the 100-400 II.
EOS-7D Mark II. In addition to part time pairing with the 100-400 II I will go to the 7D II/600II combo (with or without either TC) whenever I need the extra reach.
I will have a 5D II that was converted to infrared by Kolari Vision with me just because infrared is great fun. See here for IR details. I may even do an IR puffin or two even though most folks tell me that IR does not work well with birds….
TCs
Though I almost always travel with three Canon 1.4X III TCs and two 2X III TCs, As this trip is on the short side, I am bringing only two 1.4X TCs and one 2X TC to save weight. I will try to be extra cautious.
Why do I bring extras? For my style of photography I cannot afford to be without both TCs in case of accident or malfunction. Most common in the latter category would be that the locking pin might stick occasionally. When that happens, there is a risk of having your camera body hit the ground….
Singh-Ray Filters: In Case of Rainbows
Singh-Ray filters have been used by the world's top photographers for many decades. As always, I will have my 77mm Singh-Ray Warming Polarizer in my vest in case of rainbows. I will be running a blog post on using both the Singh-Ray 3-stop resin and the Singh-Ray 5-stop glass 52mm drop-in Neutral Density filters with the Canon super-telephoto lenses soon.
No other filter manufacturer comes close to matching the quality of Singh-Ray's optical glass that is comparable to that used by NASA. And they continue to pioneer the most innovative products on the market like their ColorCombo polarizer, Vari-ND variable and Mor-Slo 15-stop neutral density filters. When you use their filters, you'll create better, more dramatic images and, unlike other filters, with absolutely no sacrifice in image quality. All Singh-Ray filters are handcrafted in the USA.

Best News: 10% Discount/Code at checkout: artie10
To shop for a Singh-Ray 5-Stop Mor-Slo Fliter (for example), click on the logo link above, click on "Neutral and color
Solid Neutral Density Filters (glass), then click on "Mor-Slo™ 5, 10, 15 and 20-Stop Solid Neutral Density Filters (glass)," choose the size and model, add to cart, and then checkout. At checkout, type artie10 into the "Have a coupon? Click here to enter your code" box, and a healthy 10% discount will be applied to your total. In addition to enjoying the world's best filter at 10% off you will be supporting my efforts here on the blog.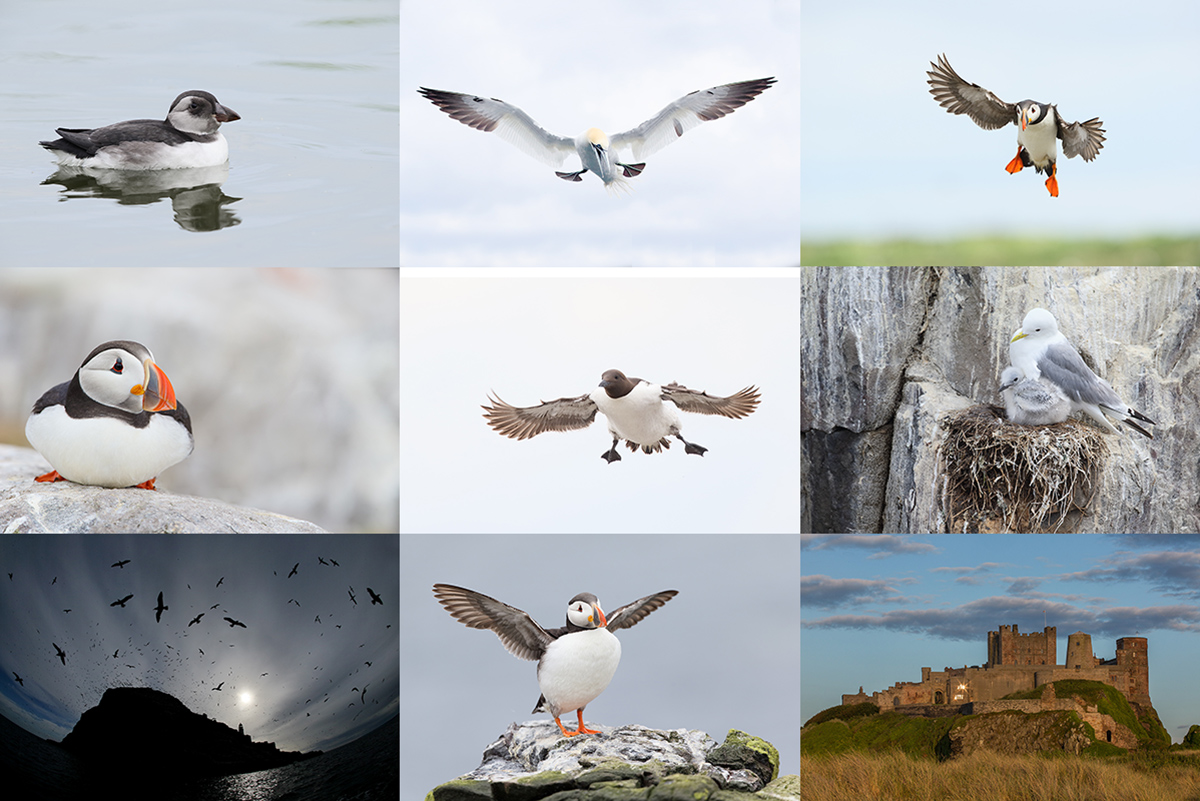 Images and card design copyright 2014: Arthur Morris/BIRDS AS ART. Click on the card to enjoy a spectacular larger version. We already have two folks signed up for our 2016 trip; dates TBA here in about two weeks. E-mail if you are interested.
Think Tank Rolling Bags
I will be using the larger of my two Think Tank rolling bags, the Airport Security™ V 2.0 Rolling Camera Bag. I will use the slightly smaller of the two, the Airport International™ LE Classic for my Southern Ocean trip. Except for the Singh-Ray polarizer, I everything above fit easily into my Airport Security™ V 2.0 Rolling Camera Bag on Thursday afternoon. It tipped the scales at 44 1/4 pounds; the legal limit for US flights is 40 pounds. Nearly all countries in the world give you slack as far as the 40 pounds goes on the way back to the US. As far as the extra 4 1/4 pounds, I have only been hassled for weight once in more than three decades of flying around the world…. I hope that I do not give myself a kine-ahora.
Think Tank Urban Disguise Laptop Shoulder Bag
Both denise and I use and love this amazing bag as it has tons of room and enables us to bring tons of extra stuff.
Please click on my Think Tank affiliate link here to earn a free gift when you purchase a Think Tank Rolling Bag.
Delkin Flash Cards
As always, both denise and I will have a 64gb Delkin e-Film Pro Flash Card in each camera body so that we never have to change cards in the field thus reducing the risk of losing a card…. Please note the new lower prices here. I do have a few extra 32 and 64gb cards in a Delkin CF Memory Card Tote, mostly to protect against operator errors….
Facebook
Be sure to like and follow BAA on Facebook by clicking on the logo link upper right. Tanks a stack!
Support the BAA Blog. Support the BAA Bulletins: Shop B&H here!
We want and need to keep providing you with the latest free information, photography and Photoshop lessons, and all manner of related information. Show your appreciation by making your purchases immediately after clicking on any of our B&H or Amazon Affiliate links in this blog post. Remember, B&H ain't just photography!
…..
Amazon.com
Those who prefer to support BAA by shopping with Amazon may use this link:
Amazon Canada
Many kind folks from north of the border, eh, have e-mailed stating that they would love to help us out by using one of our affiliate links but that living in Canada and doing so presents numerous problems. Now, they can help us out by using our Amazon Canada affiliate link by starting their searches by clicking here. Many thanks to those who have written.
Typos
In all blog posts and Bulletins, feel free to e-mail or to leave a comment regarding any typos or errors. Just be right :).