What's Up?
On Wednesday afternoon a huge thunderstorm hit the puffin island 15 minutes earlier than predicted at 3:45pm. Sideways hail and rain with 40+ mph winds left most folks drenched; the rule in Northumberland is to always have your rain gear along…. Lightning flashed and thunder boomed; our boatman skillfully got us back to port. The storm knocked out internet for about a day and a half. Thus, there was no blog post on Thursday.
Selling Your Used Photo Gear Through BIRDS AS ART
Selling your used (or like-new) photo gear through the BAA Blog or via a BAA Online Bulletin is a great idea. We charge only a 5% commission. One of the more popular used gear for sale sites charges a minimum of 20%. Plus assorted fees! Yikes. The minimum item price here is $500 (or less for a $25 fee). If you are interested please e-mail with the words Items for Sale Info Request cut and pasted into the Subject line :). Stuff that is priced fairly–I offer free pricing advice, usually sells in no time flat. In the past few weeks we have sold nearly everything in sight. Do know that prices on some items like the EOS-1D Mark IV, the old Canon 500mm, the EOS-7D, and the original 400mm IS DO lens have been dropping steadily. You can see the complete listings here.
Recent News
Four more recently-listed lenses sold with the past few days. With the demands of cooking for 12, now 13 folks, and with the internet down for a good bit, I am once again far, far behind in updating the used gear page and answering e-mails. Heck, denise and I have barely had time to breathe…. I may have some time to catch up today. If I missed an important e-mail please re-send it. I will do my best.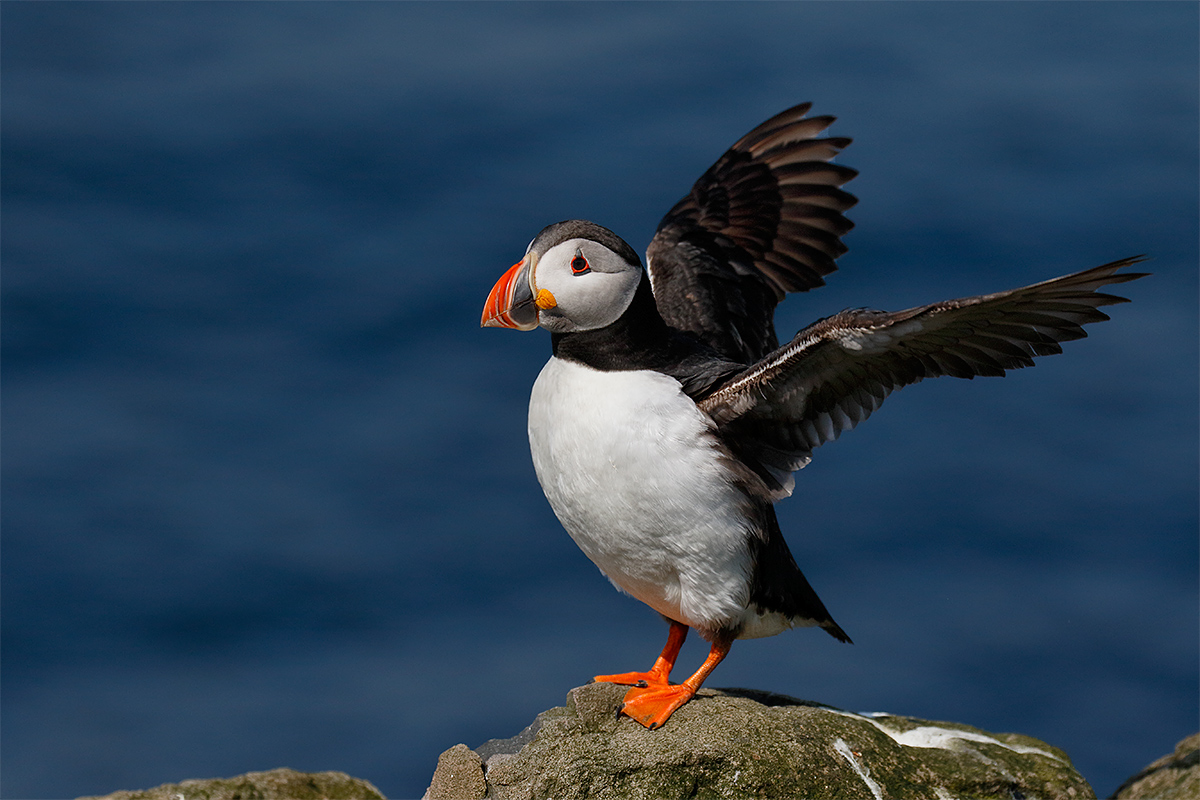 This image was created on the UK Puffins and Gannets IPT with the hand held Canon EF 100-400mm f/4.5-5.6L IS II USM lens and the amazing Canon EOS 7D Mark II. ISO 400. Evaluative metering -2/3 stop: 1/5000 sec. at f/5.6. AWB.
Center AF point/AI Servo Expand/Shutter button AF as framed was active at the moment of exposure (as is always best when hand holding). The selected AF point was on the bird's upper breast just below the black neck band. Click on the image to see a larger version.
Atlantic Puffin flapping
Your browser does not support iFrame.
600 II vs 100-400II
Though I have lugged the 600II on every landing, I used it only briefly until Thursday afternoon, and even then the 100-400II proved very valuable. The 100-400 II is lightweight, easily hand holdable, and super-sharp. With the 7D II it offers lots of reach, especially with the 1.4X III TC in place. As shown in today's image, it is extremely versatile; without being able to zoom out I'd have seriously clipped the puffin's wings. Lastly it's ridiculously short minimum focusing distance of less than a meter, or about 3 feet, two inches, allows the creative photographer to envision and create images that simply were not possible before the release of this lens.
Canon EF 100-400mm f/4.5-5.6L IS II USM Lens In Stock
For the very first time since its release, B&H has the 100-400 II in stock, ready to be shipped to you. Simply click on the logo link immediately above or use the product-specific text links in any blog post to purchase yours while supporting my efforts here on the blog .
The 100-400 II vs the 200-400 with Internal TC
As expected, I have received several e-mails asking for a comparison of these two great lenses, the Canon EF 100-400mm II and the Canon EF 200-400mm f/4L IS USM Lens with Internal 1.4x Extender. You should find find my detailed analysis here within a week.
The Single Negative?
What do you think is the biggest negative in this image?
Facebook
Be sure to like and follow BAA on Facebook by clicking on the logo link upper right. Tanks a stack!
Support the BAA Blog. Support the BAA Bulletins: Shop B&H here!
We want and need to keep providing you with the latest free information, photography and Photoshop lessons, and all manner of related information. Show your appreciation by making your purchases immediately after clicking on any of our B&H or Amazon Affiliate links in this blog post. Remember, B&H ain't just photography!
…..
Amazon.com
Those who prefer to support BAA by shopping with Amazon may use this link:
Amazon Canada
Many kind folks from north of the border, eh, have e-mailed stating that they would love to help us out by using one of our affiliate links but that living in Canada and doing so presents numerous problems. Now, they can help us out by using our Amazon Canada affiliate link by starting their searches by clicking here. Many thanks to those who have written.
Typos
In all blog posts and Bulletins, feel free to e-mail or to leave a comment regarding any typos or errors. Just be right :).