What's Up?
Peter Kes flew in from Switzerland and joined us on Thursday evening. With many folks clamoring for Photoshop and image review, both denise and I skipped the full day puffin boat to meet their needs. We conducted several great sessions broken up by a fish and chips lunch at a local restaurant proclaimed to probably be one of the best fish and chips houses in all of England…. Very tasty but very greasy.
This blog post, the 2nd in a row on the new streak, took about 2 hours to prepare and is scheduled to be published at 7:00am eastern time.
Please Help Support My Work on the BAA Blog
Thanks a Stack! June was a Great Month.
The last few weeks have been quite rewarding. Thanks a stack to the many who used our B&H links for purchases large and small. Right now I am working closely with my B&H rep to have four 400 DO and two 100-400 II BAA Affiliate orders expedited. It has been nearly impossible to come by a 400 DO II. I am hoping that my efforts pay dividends fairly soon…. 100-400IIs are now in stock at B&H. The 400 DO II lenses continue to be in very short supply. The sooner you order, the sooner you will get yours; I am working closely with my contact at B&H to have the current orders expedited when a shipment does actually arrive.
To show your appreciation for my efforts here, we ask, as always, that you use our the B&H and Amazon affiliate links on the right side of the blog for all of your purchases. B&H Is recommended for you major photography gear purchases, Amazon for your household, entertainment, and general purpose stuff. Please check the availability of all photographic accessories in the BIRDS AS ART Online Store, especially Gitzo tripods, Wimberley tripod heads, and the like. We sell only what I have used, have tested, and can depend on. We will not sell you junk. We know what you need to make creating great images easy and fun. And we are always glad to answer your gear questions via e-mail.
I would of course appreciate your using our B&H affiliate links for all of your major gear, video, and electronic purchases. For the photographic stuff mentioned in the paragraph above we, meaning BAA, would of course greatly appreciate your business. Here is a huge thank you to the many who have been using our links on a regular basis and visiting the BAA Online store as well.
Selling Your Used Photo Gear Through BIRDS AS ART
Selling your used (or like-new) photo gear through the BAA Blog or via a BAA Online Bulletin is a great idea. We charge only a 5% commission. One of the more popular used gear for sale sites charges a minimum of 20%. Plus assorted fees! Yikes. The minimum item price here is $500 (or less for a $25 fee). If you are interested please e-mail with the words Items for Sale Info Request cut and pasted into the Subject line :). Stuff that is priced fairly–I offer free pricing advice, usually sells in no time flat. In the past few weeks we have sold nearly everything in sight. Do know that prices on some items like the EOS-1D Mark IV, the old Canon 500mm, the EOS-7D, and the original 400mm IS DO lens have been dropping steadily. You can see the complete listings here. Six recently listed lenses have sold within the past week.
Featured Listings
Canon 300mm EF300mm f/2.8L IS USM Lens
IPT veteran Tom Blackman is offering a used Canon EF300mm f/2.8L IS USM lens (s/n 29811) in mint condition for $3,175. The sale includes all of the original items such as the lens trunk (hard case), the front and rear lens caps, the documentation, and insured shipping via Fed-Ex Ground. Your item will not ship until your check clears unless other arrangements are made.
Please contact Tom via e-mail or by phone at 619.807.5615 PDT.
Though I never owned this lens I borrowed it often and was quite impressed with the sharpness with and without TCs and with the relatively light weight. It was long the favorite lens of the world's top raptor photographers.
Canon EF 500mm f/4L IS USM Lens
IPT veteran Tom Blackman is also offering a used Canon EF 500mm f/4L IS USM lens, the "old five," (s/n 27104) in excellent condition for $4,275. The sale includes all of the original stuff such as the leather front hood, the lens trunk (hard case) with keys, the front leather hood and the rear lens cap, the documentation, a RRS foot as well as the original foot, a LensCoat, and insured shipping via either UPS or Fed-Ex Ground. Your item will not ship until your check clears unless other arrangements are made.
Please contact Tom via e-mail or by phone at 619.807.5615 PDT.
I owned and depended on the "old five" for well more than a decade. At one time it was clearly the world's most popular super-telephoto lens. Purchasing this lens will leave you with a lot more cash for travel as compared to purchasing a 500 II….
Brand New Listing
Used Canon EF 300mm f/2.8 L IS II Lens
Price reduced $401 on 7/4/2015!
Arash Hazeghi is offering a used Canon EF 300mm f/2.8 L IS II lens in like-new condition for $4999. The sale includes the lens hood, the rear cap, the lens strap, the Canon lens trunk (hard case) with keys, A LensCoat Real Snow camo cover, and a LensCoat front lens cover (a $120 value). All packed in original Canon box and sent to you via Fed Ex insured Ground shipping. Your item will not ship until your check clears unless other arrangements are made.
Please contact Arash by e-mail at e-mail or by phone at 650-353-1866 (Pacific time zone). Photos of the lens and sample RAW files can be provided upon request.
The 300 II is amazingly sharp and deadly. It can easily be hand held by most folks including me. It is sick sharp even with the 2X TC. It is versatile. And with or without the 1.4X III TC is is a superb flight lens. Unlike me, Arash takes very good care of his gear. artie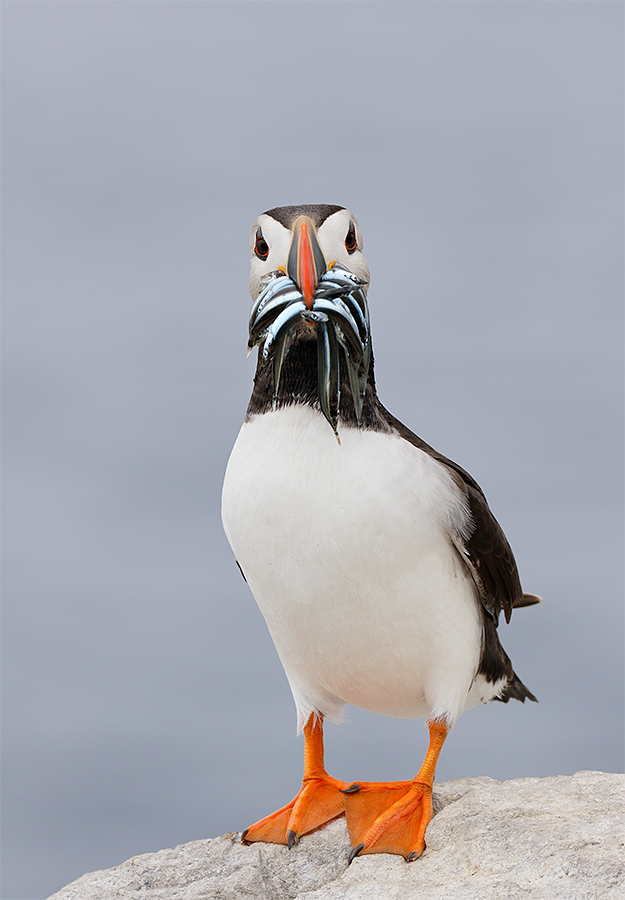 This image was created on the late afternoon of DAY 2 of the UK Puffins and Gannets IPT with the hand held Canon EF 100-400mm f/4.5-5.6L IS II USM lens and the amazing Canon EOS 7D Mark II. ISO 400. Evaluative metering +1 1/3 stops: 1/250 sec. at f/8. AWB.
One AF point up from the center AF point/AI Servo Expand/Shutter button AF as originally framed was active at the moment of exposure (as is always best when hand holding). The selected AF point was on the bird's face. Click on the image to see a larger version.
Atlantic Puffin in soft light with lots of fish
Your browser does not support iFrame.
The Start of Perhaps My Best 20 Minutes Ever: Part I
After a great afternoon of photographing copulating Razorbills, displaying Kittiwakes, incoming Common Murres (guillemots on this side of the pond), and the bridled form of the Common Murre, all in soft light, I decided to head to the cliff to the left of the big white building. I started creating tight head portraits of a Razorbill with the 100-400 II/7D II combo wile employing the 7D II's pop-up flash. (I will share the best one of those with you here at some point.)
At exactly 16:17:55 as all good photographers do and as I advise here often, I looked around to check things out. To my right stood a perfectly clean puffin with its beak full of baitfish. Standing on a pretty neat rock with a distant sea background. And so the adrenal rush began. Striking while the iron was hot, I created 97 images of this handsome bird in the next minute and 37 seconds as the bird posed like a fashion model on a runway turning its head from side to side. After the first few frames I alerted Pascal who had been the only participant to join me on my exploratory walk and he joined in the fun.
Just after the first fish laden puffin flew away, another landed just to its right and posed. Then another landed and trudged right towards both us and its burrow. Then another landed closer still and posed for head portraits, again with a beakful of fish. Finally, when the puffins quit landing with fish, I looked over the edge of the cliff and saw two small grayish white Black-legged Kittiwakes looking up at me from the safety of their nest. Taking advantage of its remarkable minimum focusing distance of less than a single meter (3.2 feet), I went back to work with the 100-400 II. The last image that I made was created at 16:37:55, exactly, to the same one hundredth of a second, twenty minutes after the excitement had started.
And then it was time to head down to the dock to catch the 4:50pm boat. In retrospect, that twenty minutes might have been the very best twenty minute period of my 32 year career…. What a privilege.
The Image Optimization
After converting the image in DPP 4 I rotated it 3 degrees CW in Photoshop.Canvas was added as needed left and below with Content Aware Fill and cleaned up with the Clone Stamp Too. At times it is hard to remember to check in the in-viewfinder level during the heat of the action… I applied a Contrast Mask to the face after selecting it with a Quick Mask and darkened the crown and the bill with Multiply after making the selection with the Quick Selection Tool and then refining that layer with a Regular Layer Mask. The I selected the background with the Magic Wand Tool and applied a layer of White Neutralizer in NIK Color Efex Pro. I added a good amount of BLACK to the WHITEs on the sky layer only using Selective Color. Anything else that you notice?
Image Question
Do you prefer the lead gray color of the sea in the original or the darker, bluer sea in the optimized image?
Digital Basics
Everything that I did to optimize today's image is covered in detail in my Digital Basics File–written in my easy-to-follow, easy-to-understand style. Are you tired of making your images look worse in Photoshop? Digital Basics File is an instructional PDF that is sent via e-mail. It includes my complete digital workflow, dozens of great Photoshop tips, details on using all of my image clean-up tools, the use of Contrast Masks, several different ways of expanding and filling in canvas, all of my time-saving Keyboard Shortcuts, Quick Masking, Layer Masking, and NIK Color Efex Pro basics, Contrast Masks, Digital Eye Doctor techniques, using Gaussian Blurs, Tim Grey Dodge and Burn, a variety of ways to make selections, how to create time-saving actions, the Surface Blur (background noise reduction) settings as taught to me by Denise Ippolito, and tons more.
APTATS I & II
Learn the details of advanced Quick Masking techniques in APTATS I. Learn Advanced Layer Masking Techniques in APTATS I. Mention this blog post and apply a $5 discount to either with phone orders only. Buy both APTATS I and APTATS II and we will be glad to apply at $15 discount with phone orders only. Please call Jim or Jennifer weekdays at 863-221-2372 to take advantage of this special offer. I am pretty sure that we have extended that offer to the BAA Online Store as well… No time to check right now. 🙂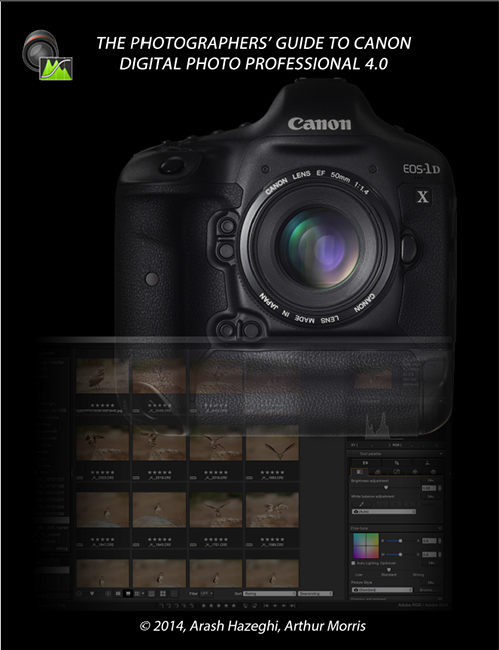 You can order your copy of "The Photographers' Guide to Canon Digital Photo Professional 4.0" (aka the DPP 4 Raw Conversion eGuide) by Arash Hazeghi and Arthur Morris by clicking here.
The DPP 4 eGuide (PDF)
Learn how and why I and many other discerning photographers choose and use only DPP 4 to convert their Canon RAW files in the DPP 4 RAW Conversion Guide by Arash Hazeghi and yours truly. The latest version supports all of the newer Canon camera bodies and several older models including the EOS-7D and the EOS-1D Mark IV. The DPP IV Guide is the ideal companion to the 7D Mark II User's Guide, a runaway best seller.
The DPP 4 eGuide (PDF) Updated for 1D Mark IV and the original 7D
The DPP 4 eGuide was recently updated to include the luminance and chrominance noise reduction values for both the 1D Mark IV and the original 7D. If you purchased your copy from BAA please e-mail Jim and request the DPP 4 1d IV/7D update. Please be sure to cut and paste page 1 into your e-mail as proof of purchase.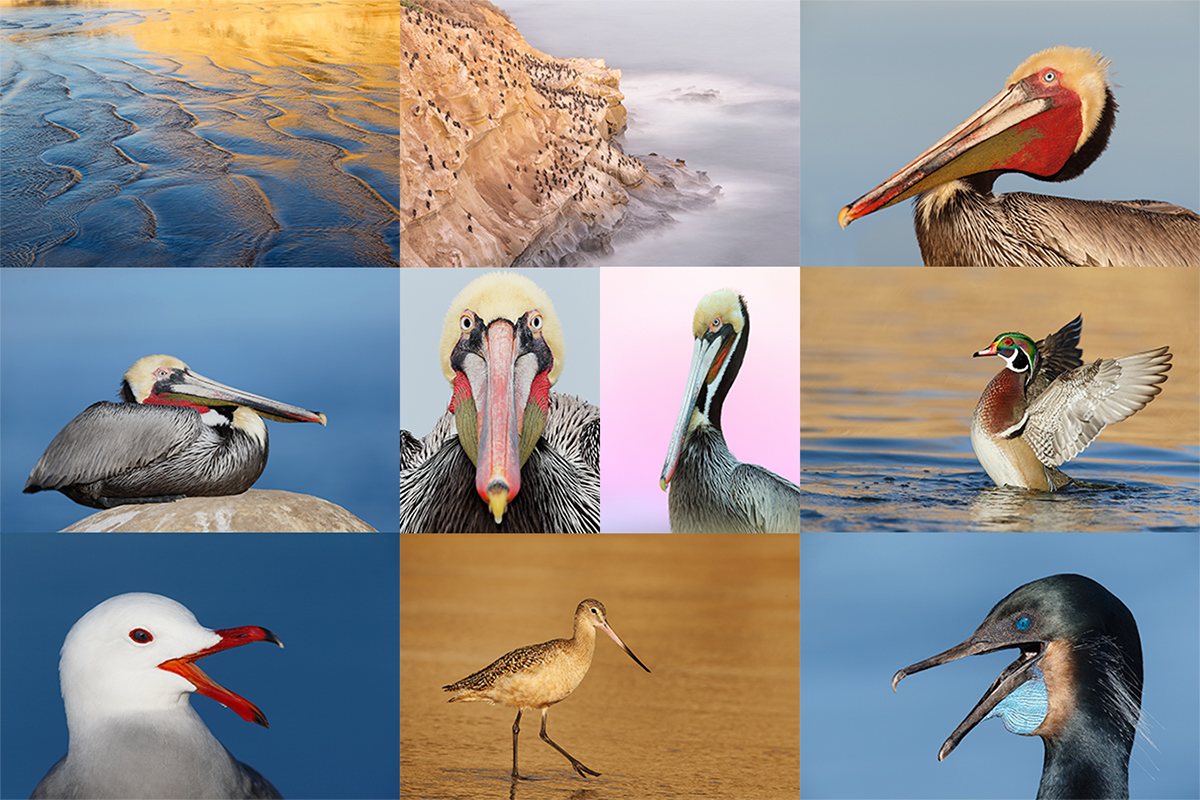 San Diego offers a wealth of very attractive natural history subjects. With annual visits spanning more than three decades I have lot of experience there….
2015 San Diego 4 1/2-DAY BIRDS AS ART Instructional Photo-Tour (IPT) JAN 8 thru the morning of JAN 12, 2016: $1899 (Limit: 10)
Meet and Greet at 7:00pm on the day before the IPT begins
Two great leaders: Arthur Morris and Denise Ippolito
Join us in San Diego to photograph the spectacular breeding plumage Brown Pelicans with their fire-engine red and olive green bill pouches; Brandt's and Double-crested Cormorants in breeding plumage with their amazing crests; breeding plumage Wood and Ring-necked Duck; other species possible including Lesser Scaup, Redhead, and Surf Scoter; a variety of gulls including Western, California, and the gorgeous Heerman's, all in full breeding plumage; shorebirds including Marbled Godwit, Willet, Sanderling and Black-bellied Plover; many others possible including Least, Western, and Spotted Sandpiper, Whimbrel, Black and Ruddy Turnstone, Semipalmated Plover, and Surfbird; Harbor Seals (depending on the current regulations) and California Sea Lions likely; and Bird of Paradise flowers. And as you can see by studying the two IPT cards there are some nice landscape opportunities as well.
Did I mention that there are wealth of great birds and natural history subjects in San Diego in winter?
This IPT will include five 3 1/2 hour morning photo sessions, four 2 1/2 hour afternoon photo sessions, five lunches, after-lunch image review and Photoshop sessions, and a thank you dinner. To ensure early starts, breakfasts will be your responsibility.
A $499 non-refundable deposit is required to hold your slot for this IPT. You can send a check (made out to "Arthur Morris) to us at BIRDS AS ART, PO Box 7245, Indian Lake Estates, FL, 33855. Or call Jim or Jennifer at the office with a credit card at 863-692-0906. Your balance, payable only by check, will be due on 11/1//2015. If we do not receive your check for the balance on or before the due date we will try to fill your spot from the waiting list. Please print, complete, and sign the form that is linked to here and shoot it to us along with your deposit check. If you register by phone, please print, complete and sign the form as noted above and either mail it to us or e-mail the scan. If you have any questions, please feel free to contact me via e-mail.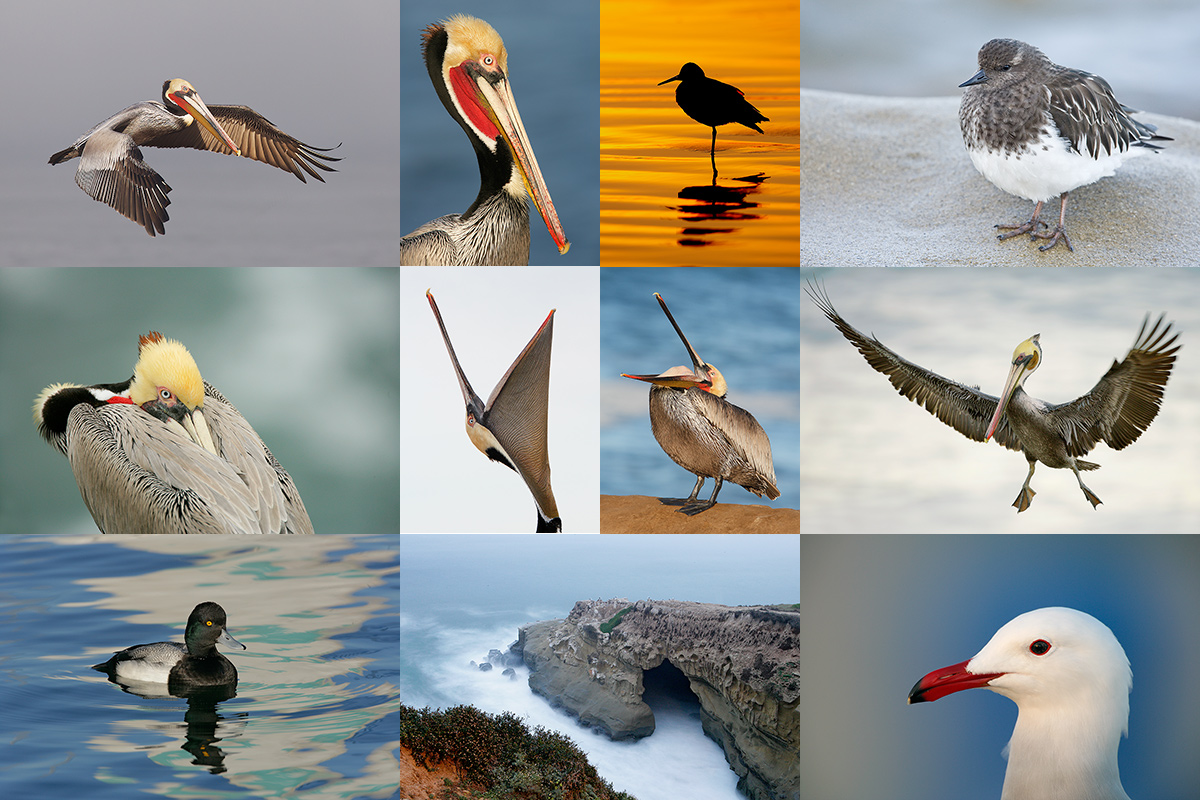 Though the pelicans will be the stars of the show on this IPT there will be many other handsome and captivating subjects in wonderful settings.
Facebook
Be sure to like and follow BAA on Facebook by clicking on the logo link upper right. Tanks a stack!
Support the BAA Blog. Support the BAA Bulletins: Shop B&H here!
We want and need to keep providing you with the latest free information, photography and Photoshop lessons, and all manner of related information. Show your appreciation by making your purchases immediately after clicking on any of our B&H or Amazon Affiliate links in this blog post. Remember, B&H ain't just photography!
…..
Amazon.com
Those who prefer to support BAA by shopping with Amazon may use this link:
Amazon Canada
Many kind folks from north of the border, eh, have e-mailed stating that they would love to help us out by using one of our affiliate links but that living in Canada and doing so presents numerous problems. Now, they can help us out by using our Amazon Canada affiliate link by starting their searches by clicking here. Many thanks to those who have written.
Typos
In all blog posts and Bulletins, feel free to e-mail or to leave a comment regarding any typos or errors. Just be right :).