Be Careful What You Wish For; You Just Might Get It
Though most Brits, especially those on holiday, gloried in the blue skies and unusually warms temperatures along the northeast coast of the UK, a bit more overcast would have been welcomed by this bird photographer. Well, we got our wish on Saturday; there were lots of clouds. Unfortunately a huge storm with lots of wind and rain cancelled all sailings and thus all landings in the morning. Conditions in the afternoon improved but the wardens closed the afternoon landing site to protect the too-wet tern chicks.
This blog post, the 3rd in a row, took about 2 hours to prepare. It should be published automatically at 7:00am on Sunday, July 5, 2015.
Please Help Support My Work on the BAA Blog
Thanks a Stack! June was a Great Month.
The last few weeks have been quite rewarding. Thanks a stack to the many who used our B&H links for purchases large and small. Right now I am working closely with my B&H rep to have four 400 DO and two 100-400 II BAA Affiliate orders expedited. It has been nearly impossible to come by a 400 DO II. I am hoping that my efforts pay dividends fairly soon…. 100-400IIs are now in stock at B&H. The 400 DO II lenses continue to be in very short supply. The sooner you order, the sooner you will get yours; I am working closely with my contact at B&H to have the current orders expedited when a shipment does actually arrive.
To show your appreciation for my efforts here, we ask, as always, that you use our the B&H and Amazon affiliate links on the right side of the blog for all of your purchases. B&H Is recommended for you major photography gear purchases, Amazon for your household, entertainment, and general purpose stuff. Please check the availability of all photographic accessories in the BIRDS AS ART Online Store, especially Gitzo tripods, Wimberley tripod heads, and the like. We sell only what I have used, have tested, and can depend on. We will not sell you junk. We know what you need to make creating great images easy and fun. And we are always glad to answer your gear questions via e-mail.
I would of course appreciate your using our B&H affiliate links for all of your major gear, video, and electronic purchases. For the photographic stuff mentioned in the paragraph above we, meaning BAA, would of course greatly appreciate your business. Here is a huge thank you to the many who have been using our links on a regular basis and visiting the BAA Online store as well.
Selling Your Used Photo Gear Through BIRDS AS ART
Selling your used (or like-new) photo gear through the BAA Blog or via a BAA Online Bulletin is a great idea. We charge only a 5% commission. One of the more popular used gear for sale sites charges a minimum of 20%. Plus assorted fees! Yikes. The minimum item price here is $500 (or less for a $25 fee). If you are interested please e-mail with the words Items for Sale Info Request cut and pasted into the Subject line :). Stuff that is priced fairly–I offer free pricing advice, usually sells in no time flat. In the past few weeks we have sold nearly everything in sight. Do know that prices on some items like the EOS-1D Mark IV, the old Canon 500mm, the EOS-7D, and the original 400mm IS DO lens have been dropping steadily. You can see the complete listings here. Six recently listed lenses have sold within the past week.
Featured Listings
Canon 300mm EF300mm f/2.8L IS USM Lens
IPT veteran Tom Blackman is offering a used Canon EF300mm f/2.8L IS USM lens (s/n 29811) in mint condition for $3,175. The sale includes all of the original items such as the lens trunk (hard case), the front and rear lens caps, the documentation, and insured shipping via Fed-Ex Ground. Your item will not ship until your check clears unless other arrangements are made.
Please contact Tom via e-mail or by phone at 619.807.5615 PDT.
Though I never owned this lens I borrowed it often and was quite impressed with the sharpness with and without TCs and with the relatively light weight. It was long the favorite lens of the world's top raptor photographers.
Canon EF 500mm f/4L IS USM Lens
IPT veteran Tom Blackman is also offering a used Canon EF 500mm f/4L IS USM lens, the "old five," (s/n 27104) in excellent condition for $4,275. The sale includes all of the original stuff such as the leather front hood, the lens trunk (hard case) with keys, the front leather hood and the rear lens cap, the documentation, a RRS foot as well as the original foot, a LensCoat, and insured shipping via either UPS or Fed-Ex Ground. Your item will not ship until your check clears unless other arrangements are made.
Please contact Tom via e-mail or by phone at 619.807.5615 PDT.
I owned and depended on the "old five" for well more than a decade. At one time it was clearly the world's most popular super-telephoto lens. Purchasing this lens will leave you with a lot more cash for travel as compared to purchasing a 500 II….
Brand New Price Drop
Used Canon EF 300mm f/2.8 L IS II Lens
Price reduced $401 on 7/4/2015!
Arash Hazeghi is offering a used Canon EF 300mm f/2.8 L IS II lens in like-new condition for $4999. The sale includes the lens hood, the rear cap, the lens strap, the Canon lens trunk (hard case) with keys, A LensCoat Real Snow camo cover, and a LensCoat front lens cover (a $120 value). All packed in original Canon box and sent to you via Fed Ex insured Ground shipping. Your item will not ship until your check clears unless other arrangements are made.
Please contact Arash by e-mail at e-mail or by phone at 650-353-1866 (Pacific time zone). Photos of the lens and sample RAW files can be provided upon request.
The 300 II is amazingly sharp and deadly. It can easily be hand held by most folks including me. It is sick sharp even with the 2X TC. It is versatile. And with or without the 1.4X III TC is is a superb flight lens. Unlike me, Arash takes very good care of his gear. artie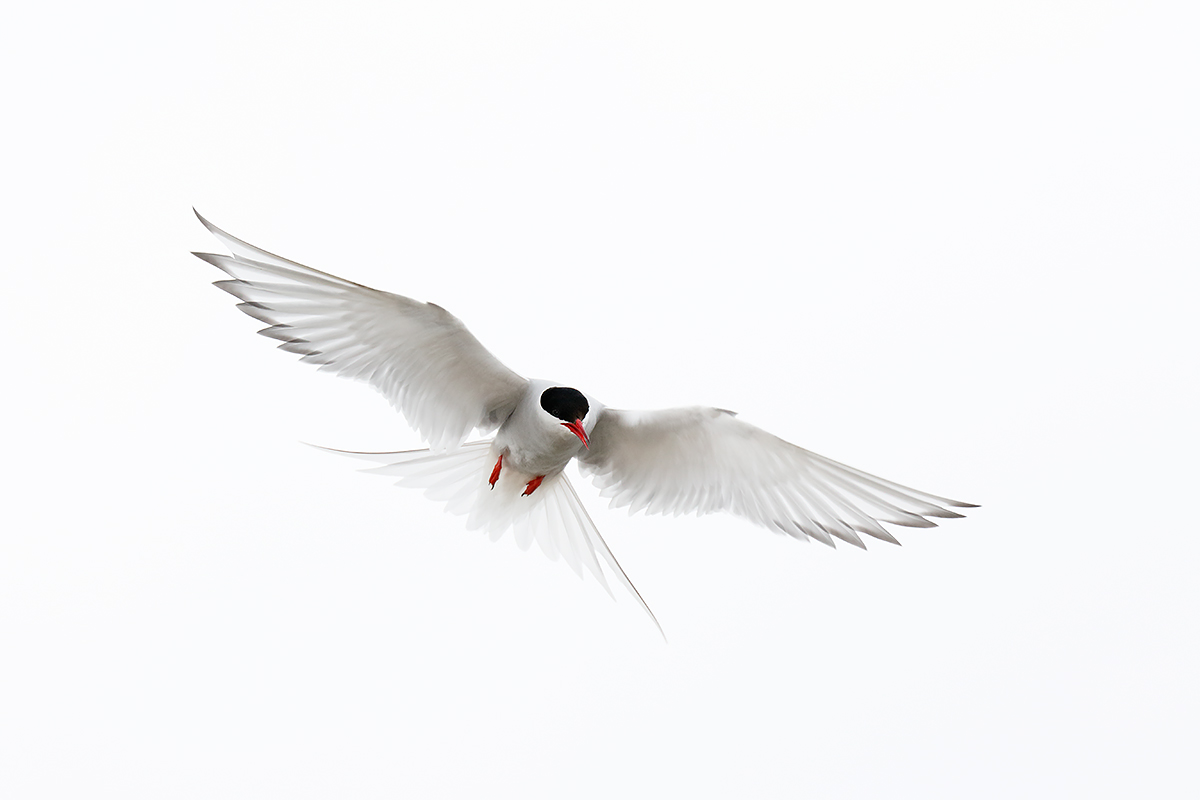 This image was created on the afternoon of DAY 3 of the UK Puffins and Gannets IPT with the hand held Canon EF 100-400mm f/4.5-5.6L IS II USM lens and the amazing Canon EOS 7D Mark II. ISO 800. Evaluative metering +2 2/3 stops off the gray sky: 1/1600 sec. at f/5.6. AWB.
Center AF point/AI Servo Expand/Shutter button AF as originally framed was active at the moment of exposure (as is always best when hand holding). The selected AF point was on the bird's black cap. Click on the image to see a larger version.
Image #1: Adult Arctic Tern kiting
Your browser does not support iFrame.
Image Question
For me there is a single negative in the otherwise angelic image above. What do you think bugs me?
Hanging Back as a Strategy I
On our morning landings we want to exit the boat quickly as there are two prime locations and lots of photographers; we want and need to get our boys and girls and ourselves into the best situations. Over two years of visits we have learned that there are–depending in part on the wind–several benefits to not rushing off the boat. With white sky conditions and the wind behind us I was one of the last to exit the boat. On purpose. There were about 70 folks in the queue waiting to show their landing passes to the rangers. I stayed well back on the dock, grabbed my 100-400II/7D II, set the exposure as above, and photographed the terns kiting above the visitors in protest. With the fairly brisk wind they birds would often stay in place for a half minute or more. 7D II AF performed beautifully even in the low light/low contrast situation; nearly all of the 36 images in the series were sharp on the eye (though many were mis-framed as the terns shifted position in the wind).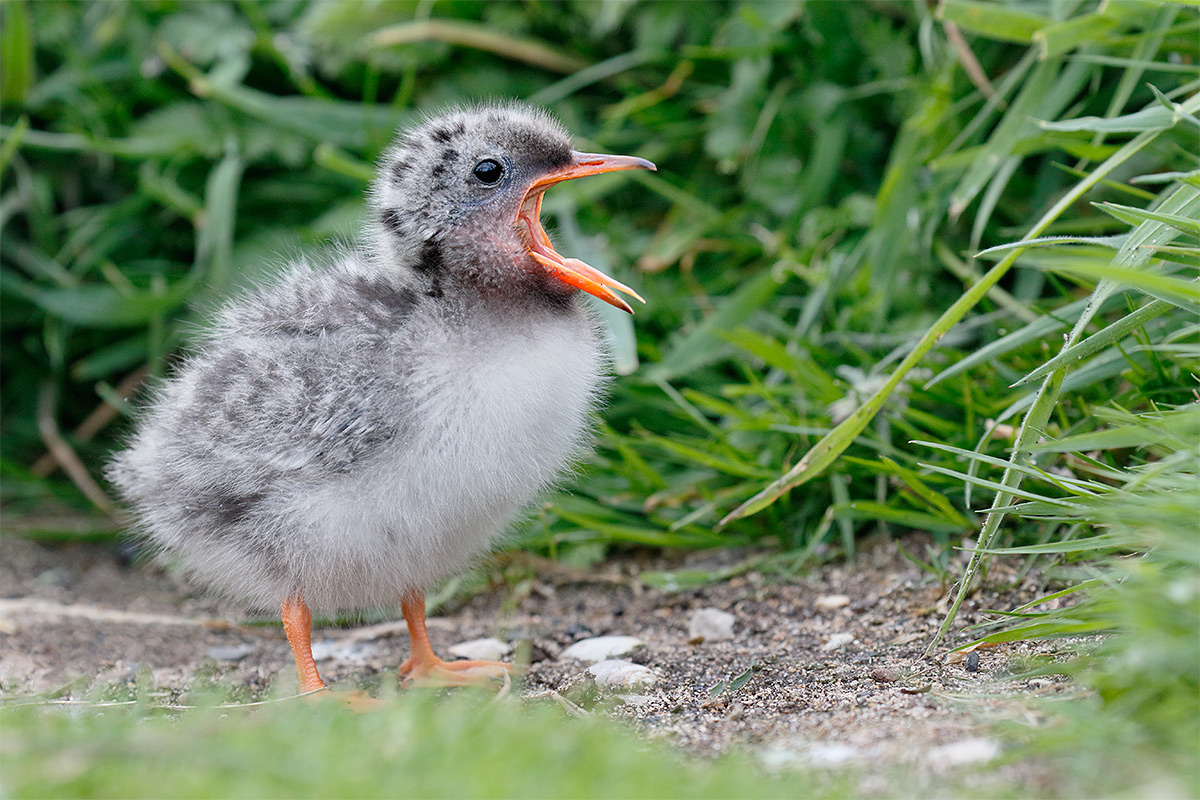 This image was also created on the afternoon of DAY 3 of the UK Puffins and Gannets IPT with the hand held Canon EF 100-400mm f/4.5-5.6L IS II USM lens (at 278mm) and the amazing Canon EOS 7D Mark II. ISO 800. Evaluative metering at zero: 1/250 sec. at f/7.1. AWB.
Center AF point/AI Servo Expand/Shutter button AF as framed was active at the moment of exposure (as is always best when hand holding). The selected AF point was on the bird's neck just below the base of the bill. Click on the image to see a larger version.
Image #2: Arctic Tern chick begging
Your browser does not support iFrame.
Hanging Back as a Strategy II
Once the throng of visitors had made their way up the hill old friend and IPT veteran Bill Lloyd and I followed. By luck, we spotted a very young Arctic Tern chick on a small patch of grass on the left side of the path in a spot where the fence had given way. We both grabbed our versatile 100-400 IIs and sat on the far right side of the path. The chick was only about six feet from us, no problem at all with the great close focusing ability of the 100-400 II. We had some great chances that were interrupted for a bit as more than a few cell phone toting visitors–completely oblivious to our presence–stopped right in front of us to grab a few snaps. None-the-less we had some great chances. Participant Pascal Favre, a first time IPTer from Switzerland, came back down the hill and joined us for a bit.
100-400 II Versatility Continued…
As you have seen here often the 100-400 II is a superb flight lens. It is easily hand held by most folks. It's close focusing ability makes it deadly for both small subjects and close subjects. Its fabulous 4-stop Image Stabilization system allows folks to create sharp images at relatively slow shutter speeds. And the 4:1 zoom range makes it ideal for a great variety of subjects.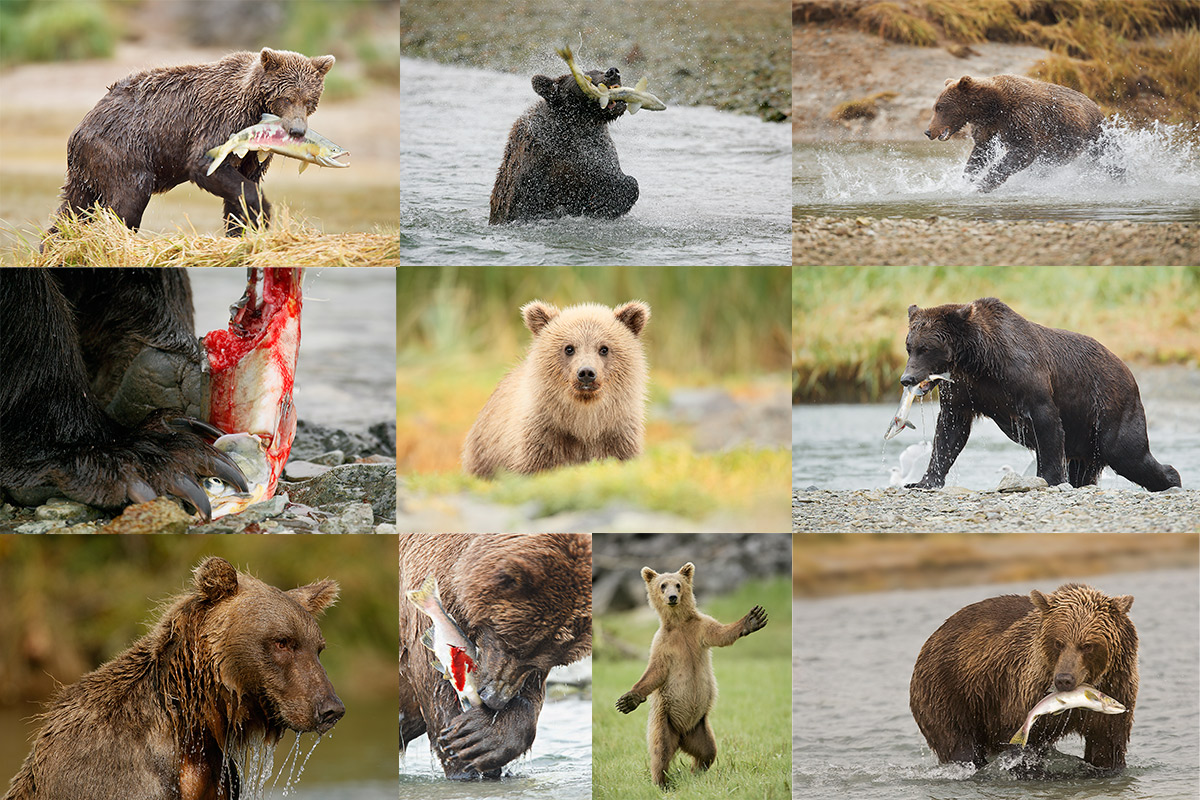 All of the images in the bear boat card above were created in Katmai National Park during the month of September.
Bear Boat/Bears Catching Salmon IPT: September 1-8, 2015 from Kodiak, AK/6 FULL & 2 1/2 DAYS: $6699. Happy campers only! Maximum 8/Openings: 3. Plus the leader: Arthur Morris.
This trip is a go.
Join me in Katmai National Park, AK for seven days of photographing Coastal Brown Bears (grizzlies) catching salmon, fattening up for the long winter. Other subjects will include Mew and Glaucous-winged Gulls in flight and dip-feeding on salmon roe. Did I mention that we live on a boat and that the food is great? Most of our photography will be done in a variety of famed locations: Geographic Harbor, Kinak Bay, and Kukak Bay. We once had 39 bears fishing the creek at Kukak….
It is mandatory that you be in Kodiak no later than the late afternoon of August 31, 2015 September to avoid missing the float planes to the boat on the morning of September 1. With air travel in AK being what it is, with the chance of fog or other bad weather–being on Kodiak on August 30 is an even better plan). I will be on Kodiak on August 30 to avoid any potential disaster. That said in my nearly a dozen bear boat trips I was delayed only once but since I was day early as noted above there was no harm, no foul.
We will take one or more float planes to the boat mid-morning on September 1. We will photograph bears fishing that afternoon and every day for the next six days (weather permitting of course). We should have bears catching salmon every day. In addition, we will get some nice stuff on Mew Gull and Glaucous-winged Gulls dining on roe and the remains of predated salmon. We may–depending on where the concentrations of bears are–get to photograph Harbor seals and some hauled out Steller's Sea Lions (an endangered species). Halibut fishing (license required) is optional. On September 8, our last morning on the boat, those who would like to enjoy one last photo session will do so. The group returns to Kodiak via float plane midday. Most folks will fly to Anchorage and then continue on red-eye flights to their home cities.
The eight days will consist of six full days (Sept 2, 3, 4, 5, 6, & 7) of photography featuring lots of Coastal Brown Bears catching salmon as above plus a variety of other natural history subjects plus some nice scenic photography that I forgot to mention above. Plus the first afternoon and the last morning.
What's included? 8 DAYS/7 NIGHTS on the boat as above. All meals on the boat. (The food is quite excellent.) National Park fees. One night's double occupancy lodging on Kodiak; arrive: Sept 1/depart: Sept 2. The thank-you-in-advance dinner on Sept 1. In-the-field photo tips, instruction, and guidance. An insight into the mind of a top professional; I will constantly let you know what I am thinking, what I am doing, and why I am doing it. Small group image review, image sharing, and Photoshop instruction on the boat.
What's not included: Your round trip airfare to and from Kodiak, AK (almost surely through Anchorage). All necessary lodging other than the cost of your double occupancy room on the night of August 31 should you opt to arrive early–we can arrange that in advance for you. We will let you know the cost of a single supplement for the one night if so desired. The cost of the round-trip float plane to the boat on September 2 and back to Kodiak on September 9. The cost of a round trip this year was $500. The suggested crew tip of $210.
Is this an expensive trip? Yes, of course. But with 6 full and two half days, a wealth of great subjects, and the fact that you will be walking with the bears just yards away (or less….) it will be one of the great natural history experiences of your life. Most folks who take part in a Bear Boat IPT wind up coming back for more.
A $2,000 per person non-refundable deposit by check only made out to "Arthur Morris" is required to hold your spot. Please click here to read our cancellation policy. Then please print, read, and sign the necessary paperwork here and send it to us.
Your deposit is due immediately. That will leave a balance of $4699. The next payment of $2699 will be due on February 15, 2015. The final payment of $2000 is due on May 1, 2015.
I hope that you can join us for this wondrously exciting trip.
By e-mail from Bill Keown, veteran of three bear boat trips!
Hi Artie, What a great trip! With the exception of the one bright sunny day it was just great. Very different from my first trip in June where we only had the bears clamming; the fishing bears were amazing! As always I learned a lot and enjoyed the group immensely. All the Best, Bill
Facebook
Be sure to like and follow BAA on Facebook by clicking on the logo link upper right. Tanks a stack!
Support the BAA Blog. Support the BAA Bulletins: Shop B&H here!
We want and need to keep providing you with the latest free information, photography and Photoshop lessons, and all manner of related information. Show your appreciation by making your purchases immediately after clicking on any of our B&H or Amazon Affiliate links in this blog post. Remember, B&H ain't just photography!
…..
Amazon.com
Those who prefer to support BAA by shopping with Amazon may use this link:
Amazon Canada
Many kind folks from north of the border, eh, have e-mailed stating that they would love to help us out by using one of our affiliate links but that living in Canada and doing so presents numerous problems. Now, they can help us out by using our Amazon Canada affiliate link by starting their searches by clicking here. Many thanks to those who have written.
Typos
In all blog posts and Bulletins, feel free to e-mail or to leave a comment regarding any typos or errors. Just be right :).