Stuff
We left the cottages at 4:45am sharp as planned and arrived at Edinburgh Airport just before 7:00am, also as planned. After a short delay while returning our rental vans and a long delay at security, denise and I got to the gate for our 9:25 flight to Newark at about 8:55 only to find groups 1 & 2 were boarding. Whew. I slept off and on in a somewhat comatose state for the first five hours. I edited some image files and then worked on the two images for this blog post on the flight to EWR, UA 37. We almost landed 30 minutes early at Newark but with the runway in sight just below the pilot gunned the engines and circled for an additional 30 minutes stating that there had been a disabled plane on our runway. Oops. I had been there and done that.
We arrived on time at just about noon. After a coffee break Denise headed home while I prepared to enjoy the rest of my five hour layover: Jet Blue to MCO leaving at 5:00 pm scheduled to arrive at MCO at 7:43pm where the dependable Mr. Litzenberg should be waiting to grab me. I spent about 2 hours preparing this blog post, most of that during my layover. I plan on publishing this on the early morning of Tuesday, July 7th.
Please Help Support My Work on the BAA Blog
Thanks a Stack! June was a Great Month.
The last few weeks have been quite rewarding. Thanks a stack to the many who used our B&H links for purchases large and small. Right now I am working closely with my B&H rep to have four 400 DO and two 100-400 II BAA Affiliate orders expedited. It has been nearly impossible to come by a 400 DO II. I am hoping that my efforts pay dividends fairly soon…. 100-400IIs are now in stock at B&H. The 400 DO II lenses continue to be in very short supply. The sooner you order, the sooner you will get yours; I am working closely with my contact at B&H to have the current orders expedited when a shipment does actually arrive.
To show your appreciation for my efforts here, we ask, as always, that you use our the B&H and Amazon affiliate links on the right side of the blog for all of your purchases. B&H Is recommended for you major photography gear purchases, Amazon for your household, entertainment, and general purpose stuff. Please check the availability of all photographic accessories in the BIRDS AS ART Online Store, especially Gitzo tripods, Wimberley tripod heads, and the like. We sell only what I have used, have tested, and can depend on. We will not sell you junk. We know what you need to make creating great images easy and fun. And we are always glad to answer your gear questions via e-mail.
I would of course appreciate your using our B&H affiliate links for all of your major gear, video, and electronic purchases. For the photographic stuff mentioned in the paragraph above we, meaning BAA, would of course greatly appreciate your business. Here is a huge thank you to the many who have been using our links on a regular basis and visiting the BAA Online store as well.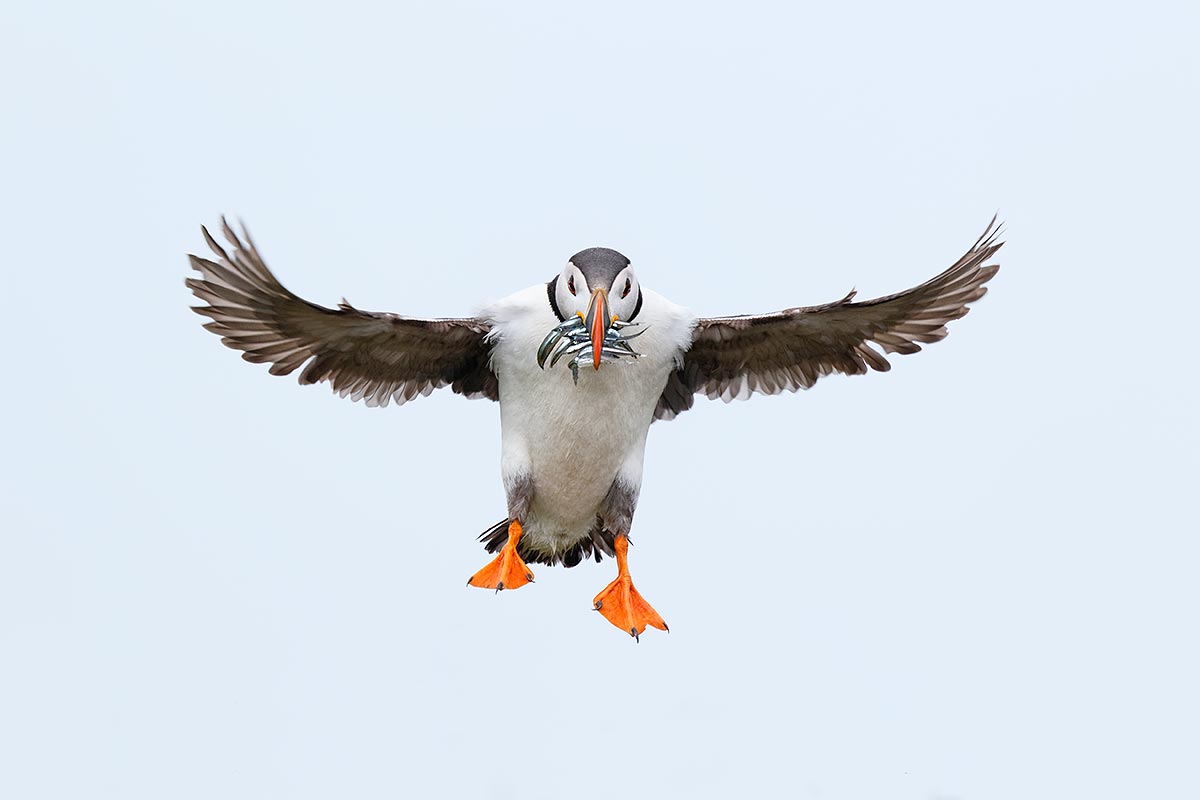 This image was created on the last morning of the 2015 UK Puffins and Gannets IPT with the hand held Canon EF 400mm f/4 DO IS II USM lens and the Canon EOS 7D Mark II. ISO 400. Evaluative metering +1 2/3 stops off the light-toned sky: 1/2000 sec. at f/4.5.
Center AF point/AI Servo Expand/Shutter button AF as framed was active at the moment of exposure (as is always best when hand holding). As originally framed, the selected sensor was squarely on the bird's face. Click on the image to see a larger version.
Image #1: Atlantic Puffin with fish braking to land by nest.
Your browser does not support iFrame.
The 400 DO II/7D II Combo: Saving the Best for Last (in more ways than one…)
Long-ago multiple IPT veteran William T. (Bill) Lloyd–it was great to see him again after so long–had offered to let me try his 400 DO II since day one of the trip. Several other lucky 400 DO II owners kindly offered to do that same. Finally, on the last morning of the trip, I succumbed. Bit time thanks to Bill. Co-leader Denise Ippolito had put most of our folks in a great spot from which to photograph the incoming puffins, many with fish. After putting the rest of the group in a pretty darned good spot myself with landing birds at closer range, I joined denise's clan; she and I had rarely photographed together on the whole trip. There were smiles and high fives all around.
Conditions were dead-solid prefect with sky conditions ranging from cloudy bright to solid overcast. Denise was at 600mm on a tripod with the 600 II and a 1D X. I was at 640mm with the hand held 400 DO II/7D II combination. When I was editing my images on our United flight to Newark on Monday, denise said, "You really rocked 'em. When are you getting the 400 DO II?" I responded, "I will try to get one through Canon Explorers of Light before my Galapagos trip." When I got the sensor on the bird's face and the system was tracking, most every image was razor sharp on the eye. As I say here often, diminishing strength and diminishing hand eye coordination often prevents me from tracking flying birds smoothly…. My persistence often makes up for these short-comings.
With perfect sky and wind conditions the flight photography was so, so good that the folks who were hand holding complained of lower back and shoulder muscle strain. If you lowered your lens to rest for even a few seconds you usually paid a big price in form of a great missed opportunity. I photographed through the pain for nearly two hours before I quit to take a walk. It was then that I found a decent spot to photograph the incoimng murres. More pain. But heck, it was the last day!
In short, it was the very best day of puffin flight photography that I have ever had the privilege to enjoy.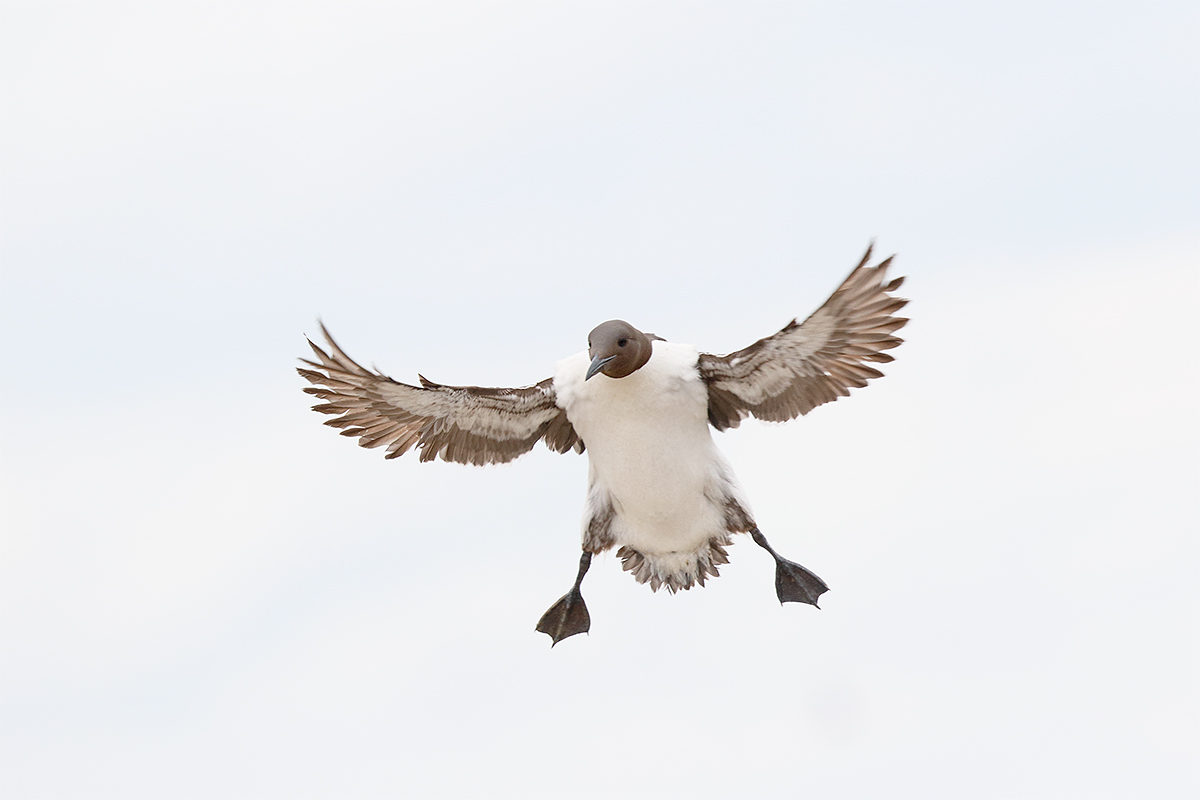 This image was also created on the last morning of the 2015 UK Puffins and Gannets IPT with the hand held Canon EF 400mm f/4 DO IS II USM lens and the Canon EOS 7D Mark II. ISO 640. Evaluative metering +2 1/3 stops off the white sky: 1/2000 sec. at f/4.5.
Center AF point/AI Servo Expand/Rear Focus AF as framed was active at the moment of exposure (as is always best when hand holding). Click here to see the latest version of the Rear Focus Tutorial. Click on the image to see a larger version.
Image #2: Common Murre braking to land at cliff nest.
Your browser does not support iFrame.
Exposure Fine Point Question
Serous students are invited to study the exposure data carefully and try this one on for size:
A: Why only +1 2/3 stops off the sky in image #1 but +2 1/3 stops off the sky in image #2? Please be specific.
Your Favorite?
Which of today's two images do you like best? Be sure to let us know why?
2016 UK Puffins and More IPT
We hope to be announcing the dates details for this great trip soon. If you would like to have us save you a spot please shoot us an e-mail. We have three folks signed up already….
400 DO II
I look forward to getting my hands on this lens and giving it a thorough test with and without TCs. If what you read here motivates you to purchase this lens we would of course appreciate you using my B&H affiliate link and shooting me your receipt via e-mail so that I can attempt to have your order expedited. Please understand that there is a large backlog of orders and that I am hoping that the logjam is eased as happened recently with the Canon EF 100-400mm f/4L IS II.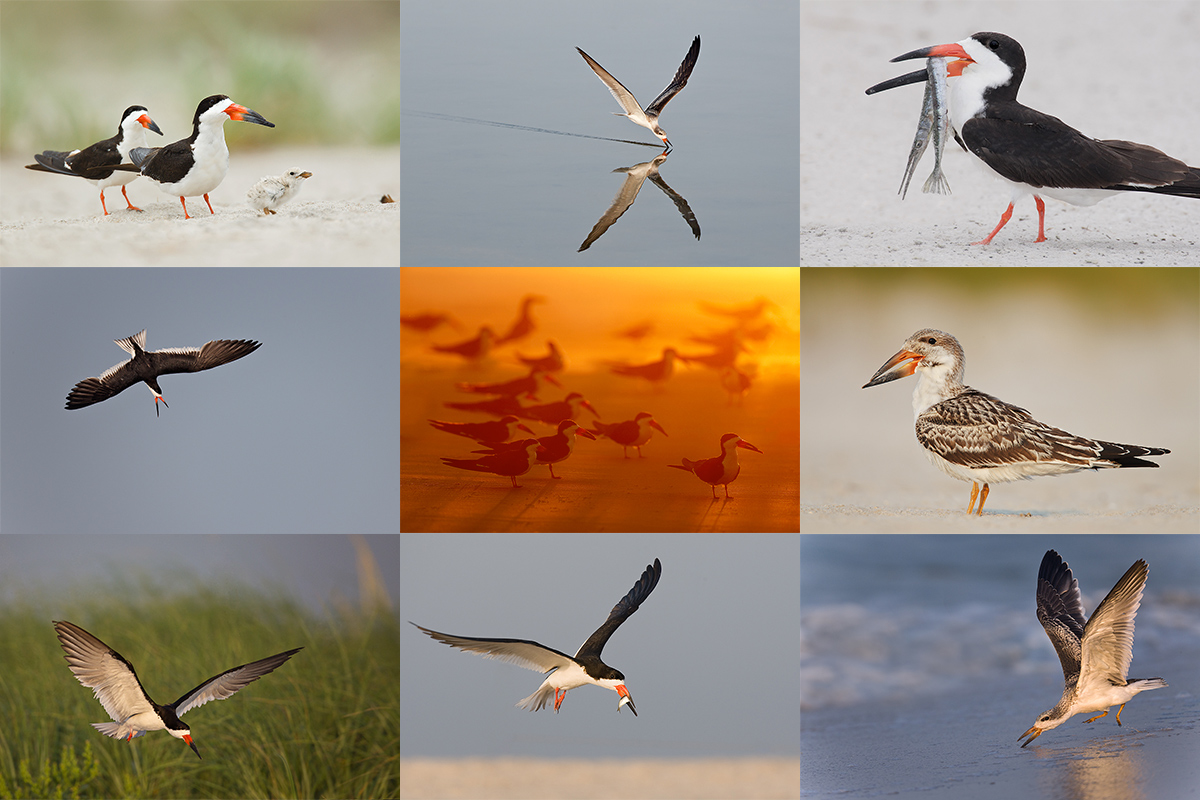 The strange thing is that when I lived in New York, I never knew about this amazing and consistently productive location.
Nickerson Beach/JBWR (possibly…)/Black Skimmer/Oystercatcher/migrant shorebird IPT: August 13-16, 2015. 3 1/2 DAYS: $1399.
Meet and greet on the evening of WED August 12. Limit 10/Openings 3.
Most of our seven photo sessions will be spent at Nickerson beach photographing the nesting Black Skimmers. In flight, sometimes battling. Carrying fish. Chicks of varying sizes from a very few just-hatched to lots of fledglings. It is likely that we will get to see some Great Black-backed Gulls preying on the juvenile skimmers. They swallow them whole. There will be lots of gulls to photograph as well as some Common Terns. Locally breeding shorebird species include American Oystercatcher–pretty much guaranteed, Willet, which is likely, and Piping Plover, which is probable but we need to get lucky with those to get close….
Save a space by calling Jim or Jen at the office and arranging to leave your deposit of $499. I hope to see you there.
JBWR?
If local conditions are ideal we may visit Jamaica Bay Wildlife Refuge to photograph southbound migrant shorebirds on one or possibly two mornings. Even if we do not visit JBWR we should get some good chances with the migrant shorebirds at the beach, especially Sanderling and Semipalmated Plover. Red Knot and others are possible.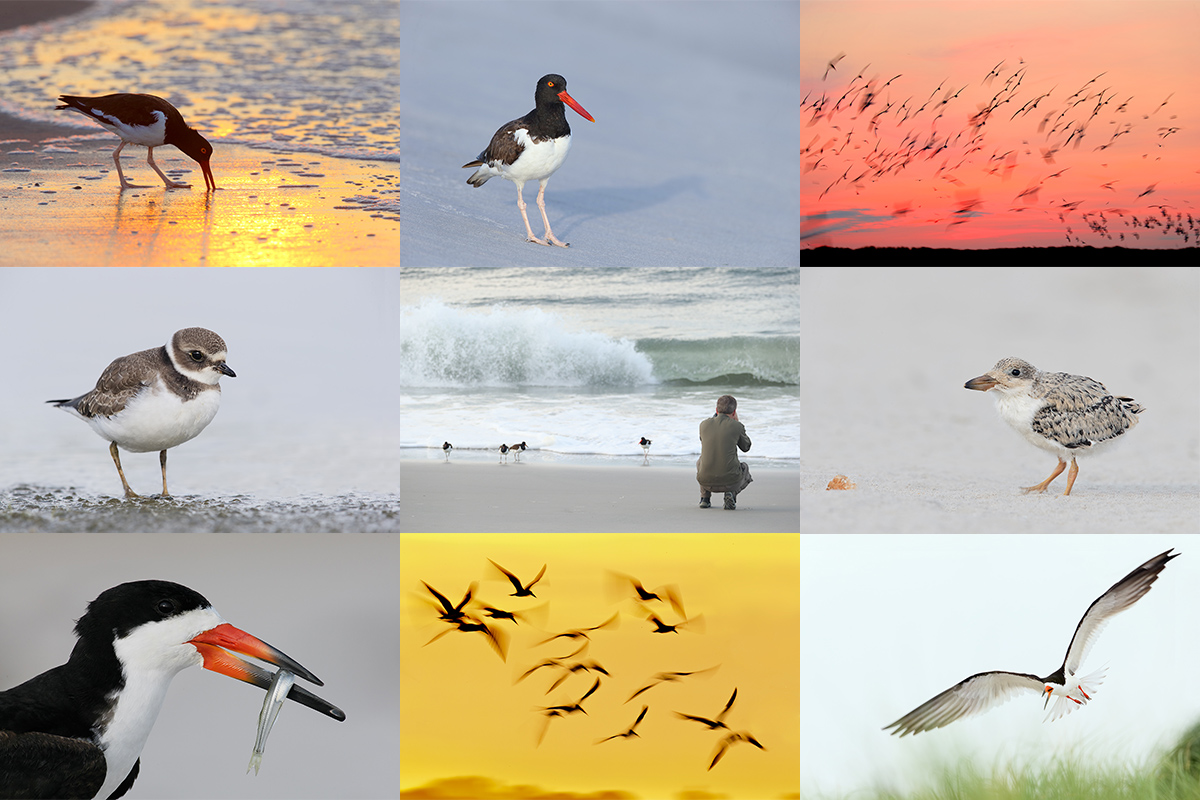 As you can see, the oystercatchers are quite tame at Nickerson. And we will get you up early and we will stay out late.
Jamaica Bay Wildlife Refuge In-the-field Instructional Photo Workshop/Scouting Session. August 12, 2015. Morning only: $250. Cheap!
The tide will be pretty good at the East Pond…. If I learn that conditions there are un-photographable we will do Nickerson Beach as a back-up. This will work either as an add-on for out of town folks coming for the IPT above or as a stand alone session. Either way, you will, as always, learn a ton. And we might even get some good images.
Facebook
Be sure to like and follow BAA on Facebook by clicking on the logo link upper right. Tanks a stack!
Support the BAA Blog. Support the BAA Bulletins: Shop B&H here!
We want and need to keep providing you with the latest free information, photography and Photoshop lessons, and all manner of related information. Show your appreciation by making your purchases immediately after clicking on any of our B&H or Amazon Affiliate links in this blog post. Remember, B&H ain't just photography!
…..
Amazon.com
Those who prefer to support BAA by shopping with Amazon may use this link:
Amazon Canada
Many kind folks from north of the border, eh, have e-mailed stating that they would love to help us out by using one of our affiliate links but that living in Canada and doing so presents numerous problems. Now, they can help us out by using our Amazon Canada affiliate link by starting their searches by clicking here. Many thanks to those who have written.
Typos
In all blog posts and Bulletins, feel free to e-mail or to leave a comment regarding any typos or errors. Just be right :).