What's Up?
I am currently leading a BIRDS AS ART Instructional Photo-Cruise in the Galapagos archipelago. Basically, I will not have internet access until late in the day on July 29 so please refrain from e-mailing me at the traditional samandmayasgrandpa@att.net address until very late July. For mail order or other help please contact Jim by phone M-F at 863-692-0906 or via e-mail at the staffbaa address. To register for an IPT please contact Jennifer by phone during weekday banker's hours at 863-692-0906 or via e-mail to our Verizon address with ATTN: JEN in the subject line. AS a side note, my right hand man Jim Litzenberg can help you with just about anything BIRDSASART.
Please Help Support My Work on the BAA Blog
Thanks a Stack! June was a Great Month.
The last six weeks as a B&H affiliate have been quite rewarding. Thanks a stack to the many who used our B&H links for purchases large and small. Right now I am working closely with my B&H rep to have four 400 DO and two 100-400 II BAA Affiliate orders expedited. It has been nearly impossible to come by a 400 DO II. I am hoping that my efforts pay dividends fairly soon…. 100-400IIs are now in stock at B&H. The 400 DO II lenses continue to be in very short supply. The sooner you order, the sooner you will get yours; I am working closely with my contact at B&H to have the current orders expedited when a shipment does actually arrive.
To show your appreciation for my efforts here, we ask, as always, that you use our the B&H and Amazon affiliate links on the right side of the blog for all of your purchases. B&H Is recommended for you major photography gear purchases, Amazon for your household, entertainment, and general purpose stuff. Please check the availability of all photographic accessories in the BIRDS AS ART Online Store, especially Gitzo tripods, Wimberley tripod heads, and the like. We sell only what I have used, have tested, and can depend on. We will not sell you junk. We know what you need to make creating great images easy and fun. And we are always glad to answer your gear questions via e-mail.
I would of course appreciate your using our B&H affiliate links for all of your major gear, video, and electronic purchases. For the photographic stuff mentioned in the paragraph above we, meaning BAA, would of course greatly appreciate your business. Here is a huge thank you to the many who have been using our links on a regular basis and visiting the BAA Online store as well.
Selling Your Used Photo Gear Through BIRDS AS ART
Selling your used (or like-new) photo gear through the BAA Blog or via a BAA Online Bulletin is a great idea. We charge only a 5% commission. One of the more popular used gear for sale sites charges a minimum of 20%. Plus assorted fees! Yikes. The minimum item price here is $500 (or less for a $25 fee). If you are interested please e-mail with the words Items for Sale Info Request cut and pasted into the Subject line :). Stuff that is priced fairly–I offer free pricing advice, usually sells in no time flat. In the past few weeks we have sold nearly everything in sight. Do know that prices on some items like the EOS-1D Mark IV, the old Canon 500mm, the EOS-7D, and the original 400mm IS DO lens have been dropping steadily. You can see the complete listings here. The Used Gear Listings are quite slim as a slew of mostly intermediate telephoto lenses (mostly old 100-400s) along with a 300 II sold within the past week. There are still two old 100-400s priced to all along with some great super-telephoto lenses listed including a Canon 400mm f/2.8L IS and a Sigmonster.
You can see all of the current listings here.
Canadian Sale Only
Canon 70-200 f2.8L IS II USM Lens
Jonathan Ward is offering a used Canon 70-200 f2.8L IS II USM lens in excellent condition for $2,000 CAD. The sale includes original product box and packaging, the lens hood, the front and rear lens caps, a black LensCoat, an Arca-Swiss compatible lens plate, the case and strap, the warranty card, the software disk and insured shipping via Purolator Ground within Canada. Your item will not ship until your cheque clears unless other arrangements are made.
You can contact Jon by e-mail or by phone at 416-932-2314 or 416-843-4474 EST.
I have owned and used this versatile lens for many years to create a mind-boggling variety of images. It is a favorite of many professional photographers working in various genres. artie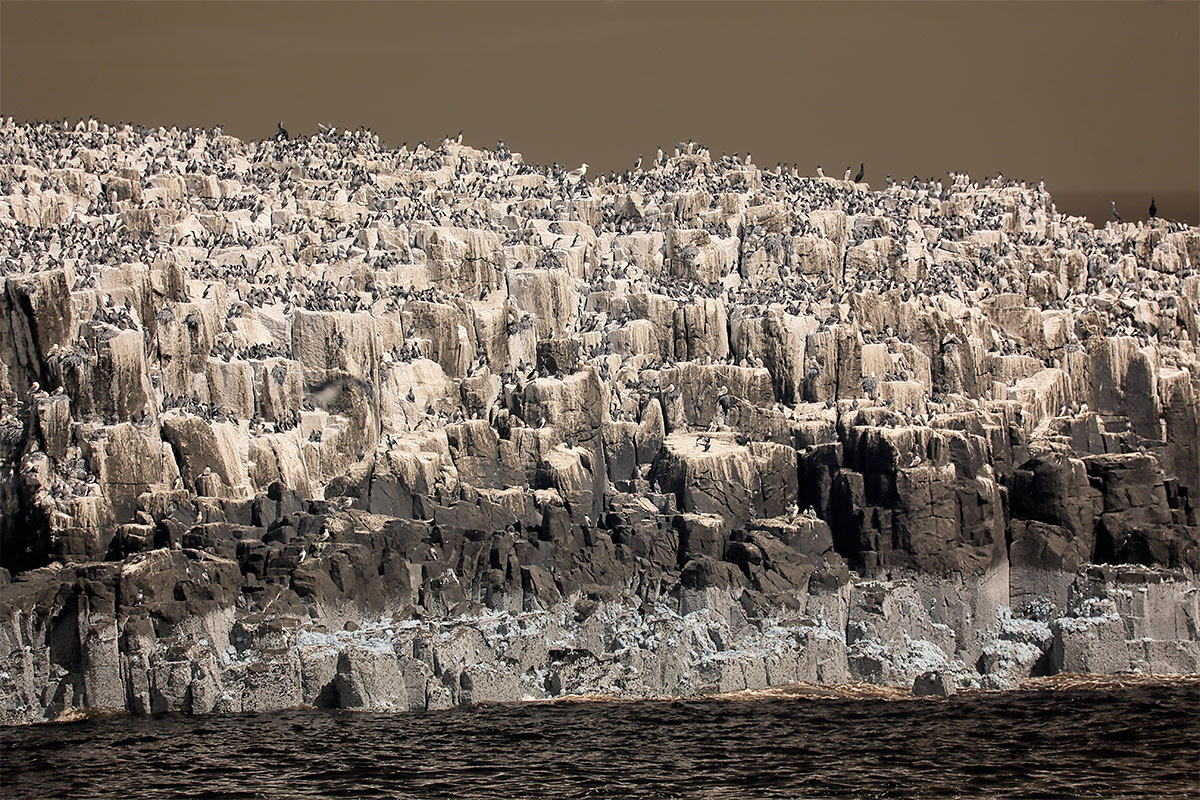 This image was created on the UK Puffins and Gannets IPT with the hand held Canon EF 100-400mm f/4.5-5.6L IS II USM lens at 400mm and a Kolari Vision converted 5D Mark II. ISO 400. Evaluative metering +-1/3 stop: 1/250 sec. at f/9.
Center AF point/One Shot/(press and fire)/Shutter button AF as framed. Click on the image to see a larger version.
Image #1: Common Murre (Guillemot) colony infrared capture
Your browser does not support iFrame.
Infrared Does Not Work With Birds. Or Does It? Thumbs Up or Thumbs Down?
Thumbs up or thumbs down on the infrared version?
More Infrared Images
See more of my early infrared images here.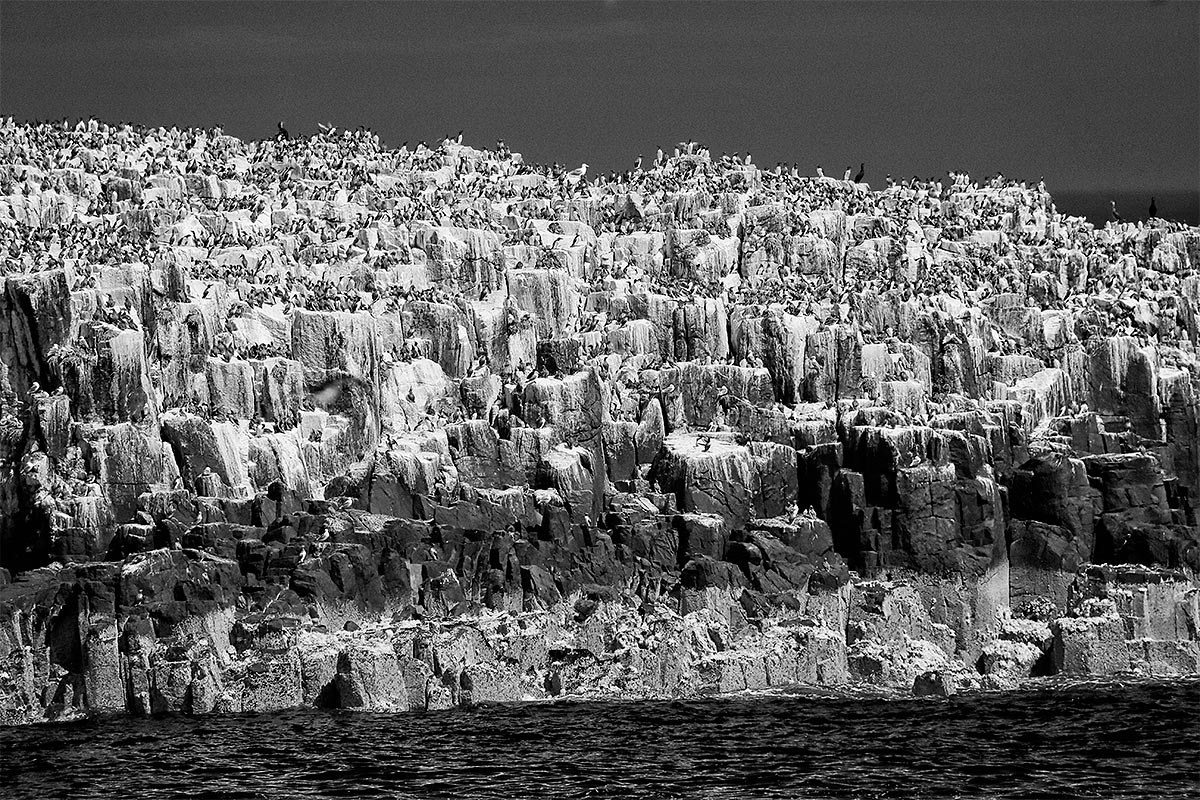 This is the same IR image converted to B&W with the NIK Silver Efex Pro Wet Rocks pre-set.
Image #2: Wet Rocks B&W
100-400 II Versatility…
Early results seem to indicate that the 70-200mm f/2.8L IS yields a large hotspot in the center of the frame when used with my IR 5D II. I was thrilled to note that the 100-400 II does well at all focal lengths. Score another versatility point for this great lens.
Your Preference?
Which do you like better the infrared version of the Black and White version? Be sure to let us know why.
Infrared Info
About a month ago, on the advice of IR expert Mark Hilliard, I had a 5D Mark II in pretty decent shape converted to IR at 720 nm (nanometers) Infrared by Kolari Vision. Both Denise and I used the body extensively on both Palouse IPTs and shared it often with more than a few participants who wanted to dabble. Everyone had a ton of fun. Digital IR is new and different and exciting, at least to denise and to me. Both of use were very happy with the quality of the work done by Kolari Vision and with the resulting image quality as well. There is a pretty steep learning curve with IR photography but we are a very clever team and we figured things out pretty quickly.
Denise's Infrared Galery
If you are developing an interest in Infrared photography be sure to check out denise's Infrared gallery here. See if you can figure out how she created the Milwaukee Road image. We would be glad to try to answer any basic IR questions that you have via e-mail as follows: artie or denise.
Kolari Visions Infrared Camera Conversions
If you are ready to join the fun and have a camera converted to Infrared, use either the Kolari Vision logo-link above or the LifePixel logo-link below to order your conversion we will gladly send you our simple guide to properly setting a Custom White Balance for infrared photography at 720nm. Simply e-mail us your receipt and we will be glad to shoot you the PDF once your order appears in our affiliate account.
Kolari Visions prides themselves on their fast turnaround times and excellent customer service; they are getting better and faster as they employ several full time technicians to service everything as quickly as possible. The filters they use have been specifically designed for each camera and filter combination to be the optimal thickness for best autofocus performance between lenses, and the best corner sharpness. The filters also fit directly into the frame making the conversion non-damaging and reversible if needed. Others uses a few standard-sized thick filters that they calibrate the camera around. Doing this reaches accurate autofocus with their test lens. But when a filter is too thick for what the optics were designed for, the sharpness can suffer, particularly in the corners, and other lenses will not consistently focus accurately. Some other IR converters glue their filters directly to the sensor; that makes it almost impossible to revert back or to change the filter.
Kolari offers a comprehensive shop for infrared bodies; customers can order converted cameras directly from KV. Their focus on optical quality built from the ground up has allowed them to recently offer a service that improves the performance of Sony A7 series cameras to the level of the Leica M240 cameras. Content-wise, Kolari has a very comprehensive article list and an exhaustive lens performance database chock full of technical details. Soon, KV will feature an interactive gallery that will showcase different camera/filter picture combinations to get rid of some of the mystery of picking a camera to convert.
Choosing a Filter
Filter Choices
The text below is cut and pasted from an informative Kolari Visions' article. You can access the complete photo illustrated tutorial by clicking here.
We currently have 6 filters to pick from. We offer the 720nm standard infrared, the 850nm deep infrared, the 665nm extra color infrared, the 590nm infrared, a full spectrum filter, and a two spectrum filter. All filters are the same price.
The Standard IR Filter (720nm) allows for good false color, and good contrast for black and white. This is equivalent to the Hoya R72 and the Wratten 89b.
The Ultra Color filter (590nm) lets more visible light in. It produces the most vibrant colors: leaves are golden yellow, skies are bright blue.
The Enhanced Color filter (665nm) has an effect between the 720nm and 590nm, producing more vibrant colors than the 720nm for pale yellow leaves and soft blue skies.
The Deep Black and White filter (850nm) is good for a dedicated black and white IR. The camera and will produce bright whites and pronounced blacks. It is Equivalent to the Wratten 87c.
After some serious thinking I converted my camera at 720nm. We did get a chance to experiment with Catherine Costolo's super-color IR camera.
LifePixel Infrared Camera Conversions
LifePixel has an extensive IR tutorial section. You can access it by clicking here or on the logo-link above and then clicking on the fourth tab: IR Primer. LifePixel offers excellent Digital Infrared conversions as well.
Costs
Kolari Vision offers more economical IR conversions than LifePixel and did a great job with my camera.
Why?
Why travel many hours by car or plane to visit Machias Seal Island, Maine to photograph puffins and sit in a cramped blind for one whole hour with no possibility of flight photography when you can hop on a red-eye flight to Edinburgh, Scotland, live and breathe puffins up close and personal for five full days with tons of flight photography? Not to mention that we get to photograph a fairly wide variety of other seabirds, spend a long morning photographing Northern Gannets in flight until you cannot lift your lens any longer, stay in a lovely place, and photograph two beautiful and historic castles? All of the above while learning from two knowledgeable and creative leaders who love to share and to teach. With 5 (now 6) of the ten slots already filled, this trip may sell out almost instantly. If you have been dreaming of puffins and are good to go, please call (863-692-0906) or shoot us an e-mail so that we can save your spot.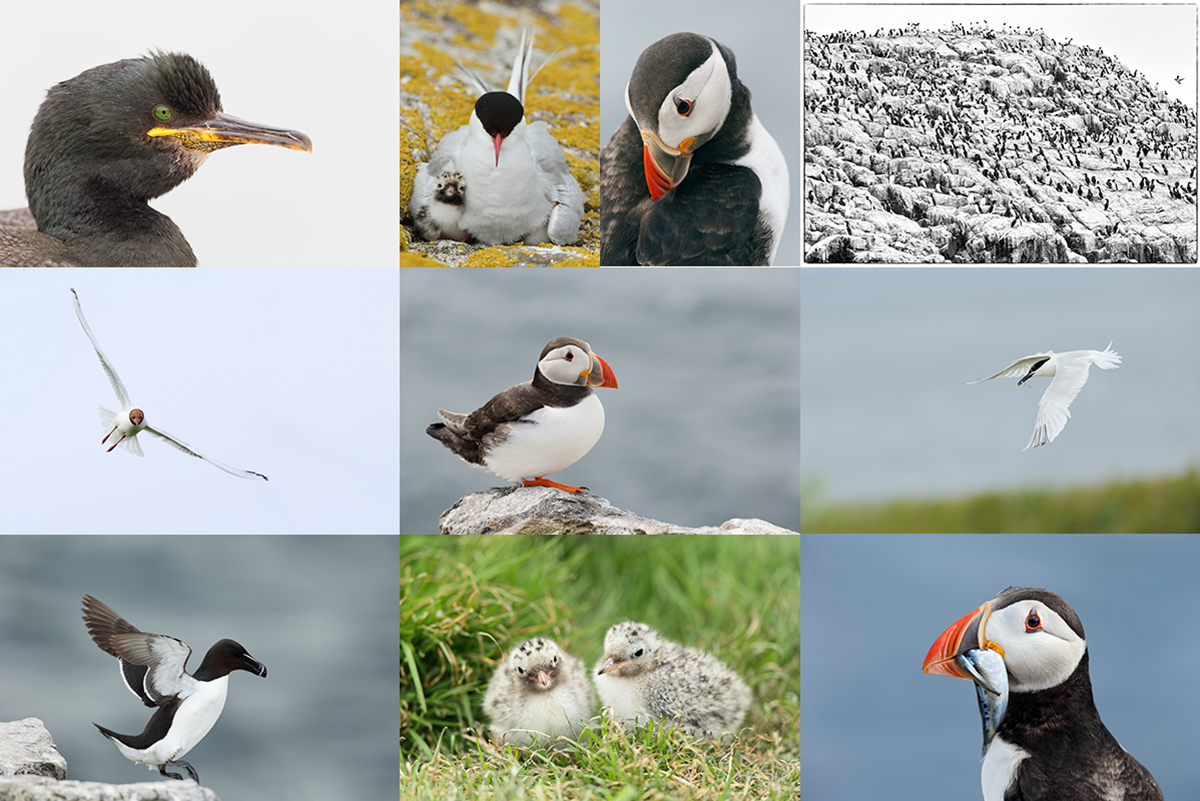 Images and card design copyright: Arthur Morris/BIRDS AS ART. Click on the card to enjoy a spectacular larger version.
2016 UK Puffins and Gannets IPT
June 27 through July 4, 2016: $5699: Limit 10 photographers/only 3 spots left. Two great leaders: Denise Ippolito and Arthur Morris.
Here are the plans: take a red eye from the east coast of the US on June 26 arriving in Edinburgh, Scotland on the morning of Monday 27 June no later than 10am (or simply meet us then at the Edinburgh Airport–EDI, or later in the day at our cottages if you are driving your own vehicle either from the UK or from somewhere in Europe). Stay 7 nights in one of three gorgeous modern country cottages.
There are 5 days of planned puffin/seabird trips and 1 morning of gannet photography, all weather permitting of course.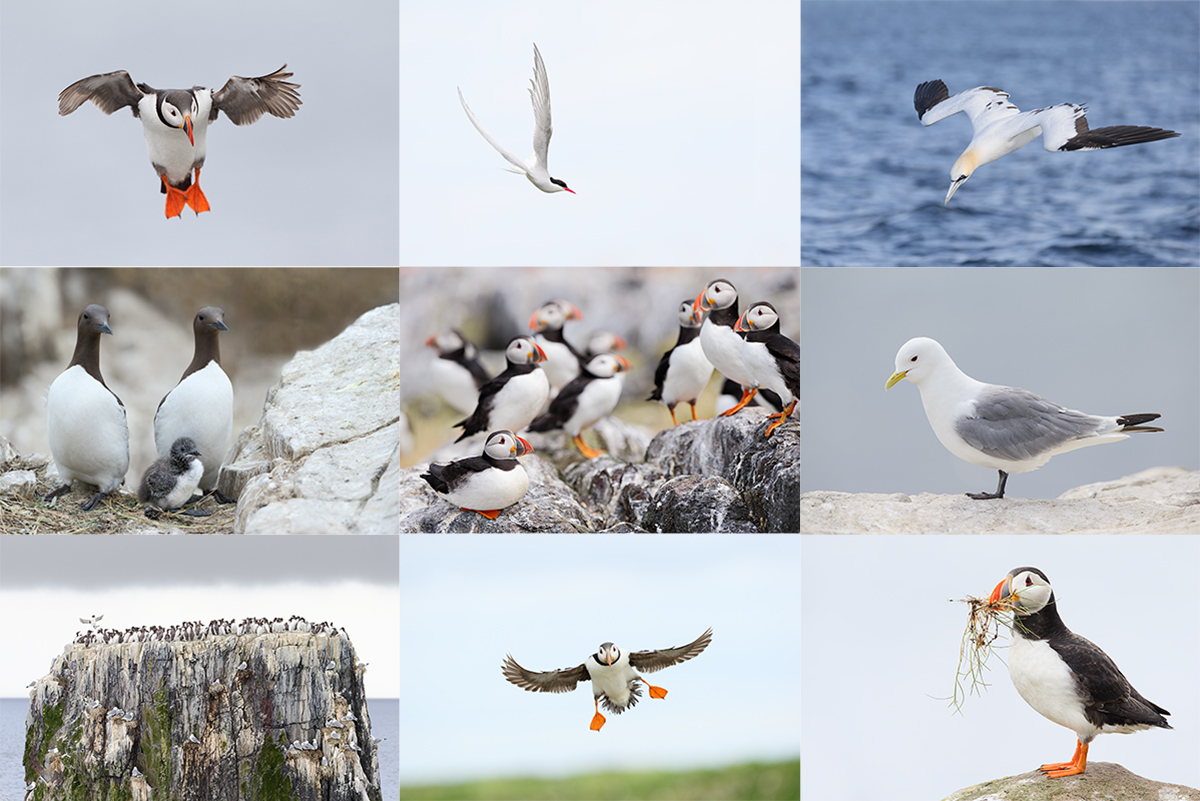 Images and card design copyright: Arthur Morris/BIRDS AS ART. Click on the card to enjoy a spectacular larger version.
The Details
We will get to photograph Atlantic Puffin, Common Murre, Razorbill, Shag, and Northern Gannet; Arctic, Sandwich, and Common Terns, the former with chicks of all sizes; Black-headed, Lesser-Black-backed, and Herring Gulls, many chasing puffins with fish; Black-legged Kittiwake with chicks. And two species of castles 🙂 We will be staying in upscale country-side lodging that are beyond lovely with large living areas and lots of open space for the informal image sharing and Photoshop sessions. The shared rooms are decent-sized, each with a private bathroom. See the limited single supplement info below.
All breakfasts, lunches and dinners are included. All 5 puffins boat lunches will need to be prepared by you in advance, taken with, and consumed at your leisure. I usually eat mine on the short boat trip from one island to the other. Also included is a restaurant lunch on the gannet boat day and a farewell thank you dinner.
Plan to fly home on the early morning of Monday July 4 or to continue your stay or travels.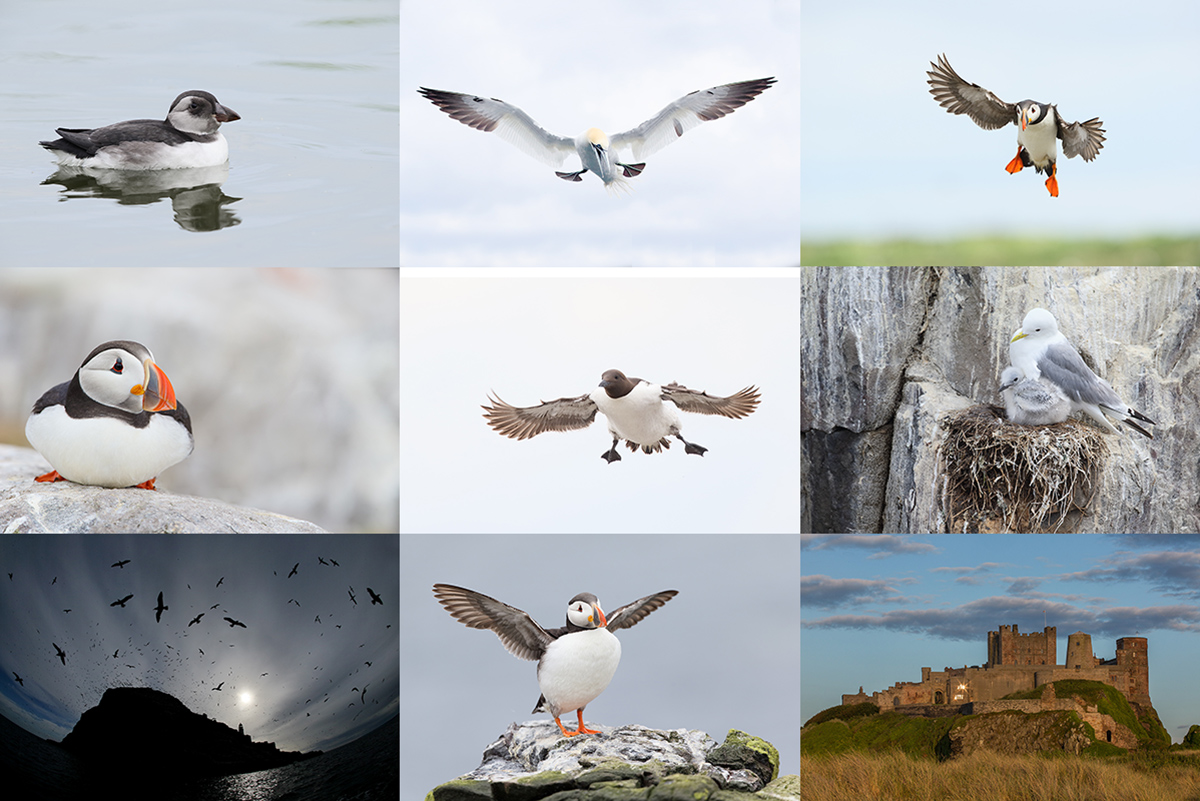 Images and card design copyright: Arthur Morris/BIRDS AS ART. Click on the card to enjoy a spectacular larger version. Scroll down to join us in the UK in 2016.
Deposit Info
If you are good to go sharing a room–couples of course are more than welcome–please send your non-refundable $2,000/person deposit check now to save a spot. Please be sure to check your schedule carefully before committing to the trip and see the travel insurance info below. Your balance will be due on March 29, 2016. Please make your check out to "Arthur Morris" and send it to Arthur Morris/BIRDS AS ART, PO Box 7245, Indian Lake Estates, FL, 33855. If we do not receive your check for the balance on or before the due date we will try to fill your spot from the waiting list. If your spot is filled, you will lose your deposit. If not, you can secure your spot by paying your balance.
Single Supplement Deposit Info
Single supplement rooms are available. To ensure yours, please register early. The single supplement fee is $1575. If you would like your own room, please request it when making your deposit and include payment in full for the single supplement; your single supplement deposit check should be for $3,575. As we will need to commit to renting the extra space, single supplement deposits are non-refundable so please be sure that check your schedule carefully before committing to the trip and see the travel insurance info below.
Travel Insurance
Travel insurance for big international trips is highly recommended as we never know what life has in store for us. I strongly recommend that you purchase quality insurance. Travel Insurance Services offers a variety of plans and options. Included with the Elite Option or available as an upgrade to the Basic & Plus Options you can also purchase Cancel for Any Reason Coverage that expands the list of reasons for your canceling to include things such as sudden work or family obligation and even a simple change of mind. My family and I use and depend on the great policies offered by TIS whenever we travel. You can learn more here: Travel Insurance Services. Do note that many plans require that you purchase your travel insurance within 14 days of our cashing your deposit check of running your credit card. Whenever purchasing travel insurance be sure to read the fine print careful even when dealing with reputable firms like TSI.
We do hope that you can join us. artie and denise
Facebook
Be sure to like and follow BAA on Facebook by clicking on the logo link upper right. Tanks a stack!
Support the BAA Blog. Support the BAA Bulletins: Shop B&H here!
We want and need to keep providing you with the latest free information, photography and Photoshop lessons, and all manner of related information. Show your appreciation by making your purchases immediately after clicking on any of our B&H or Amazon Affiliate links in this blog post. Remember, B&H ain't just photography!
…..
Amazon.com
Those who prefer to support BAA by shopping with Amazon may use this link:
Amazon Canada
Many kind folks from north of the border, eh, have e-mailed stating that they would love to help us out by using one of our affiliate links but that living in Canada and doing so presents numerous problems. Now, they can help us out by using our Amazon Canada affiliate link by starting their searches by clicking here. Many thanks to those who have written.
Typos
In all blog posts and Bulletins, feel free to e-mail or to leave a comment regarding any typos or errors. Just be right :).