What's Up?
I am currently leading a BIRDS AS ART Instructional Photo-Cruise in the Galapagos archipelago. Basically, I will not have internet access until late in the day on July 29 so please refrain from e-mailing me at the traditional samandmayasgrandpa@att.net address until very late July. For mail order or other help please contact Jim by phone M-F at 863-692-0906 or via e-mail at the staffbaa address. To register for an IPT please contact Jennifer by phone during weekday banker's hours at 863-692-0906 or via e-mail to our Verizon address with ATTN: JEN in the subject line. AS a side note, my right hand man Jim Litzenberg can help you with just about anything BIRDSASART.
Please Help Support My Work on the BAA Blog
Thanks a Stack! June was a Great Month.
The last six weeks as a B&H affiliate have been quite rewarding. Thanks a stack to the many who used our B&H links for purchases large and small. Right now I am working closely with my B&H rep to have four 400 DO and two 100-400 II BAA Affiliate orders expedited. It has been nearly impossible to come by a 400 DO II. I am hoping that my efforts pay dividends fairly soon…. 100-400IIs are now in stock at B&H. The 400 DO II lenses continue to be in very short supply. The sooner you order, the sooner you will get yours; I am working closely with my contact at B&H to have the current orders expedited when a shipment does actually arrive.
To show your appreciation for my efforts here, we ask, as always, that you use our the B&H and Amazon affiliate links on the right side of the blog for all of your purchases. B&H Is recommended for you major photography gear purchases, Amazon for your household, entertainment, and general purpose stuff. Please check the availability of all photographic accessories in the BIRDS AS ART Online Store, especially Gitzo tripods, Wimberley tripod heads, and the like. We sell only what I have used, have tested, and can depend on. We will not sell you junk. We know what you need to make creating great images easy and fun. And we are always glad to answer your gear questions via e-mail.
I would of course appreciate your using our B&H affiliate links for all of your major gear, video, and electronic purchases. For the photographic stuff mentioned in the paragraph above we, meaning BAA, would of course greatly appreciate your business. Here is a huge thank you to the many who have been using our links on a regular basis and visiting the BAA Online store as well.
This Brown Pelican image was created in January, 2010 with the Canon EF 70-200mm f/2.8L IS II USM lens (hand held at 108mm) and the EOS-7D (now replaced for me by the Canon EOS 5D Mark III Digital camera body). ISO 500. Evaluative metering +2 1/3 stops off of the cloudy white sky: 1/500 sec. at f/5.6 in Manual mode.
Central Sensor AI Servo Rear Focus AF as framed active at the moment of exposure. Click here to see the latest version of the Rear Focus Tutorial. Be sure to click on the image to enjoy a larger version.
Your browser does not support iFrame.
Why You Need to learn to Work in Manual Mode for Flight Photography
It's simple. If the possibility of rapidly changing background tonality exists (as it almost always does with flight photography), you need to be in Manual mode to ensure the correct exposure for the bird. If I had been working in Av mode for this image, the camera would have seen all of that white water on a cloudy day and would have severely underexposed the RAW file. And that is the last thing that you would ever want to do with the small pixels of the EOS-7D. If you lighten an underexposed image you are simply increasing the noise. That is why learning to Expose to the Right (ETTR) is more than important. It too is mandatory and imperative….
The above, however, does not mean that you should be working in Manual mode all the time. That is a myth. To learn the whole story, see the "At Long Last, As Promised: the Greatest, Most Educational Blog Post Ever? Manual… Av… Tv… Program… Which is The Best Shooting Mode?" blog post here. What is the best plan? Bookmark it and study it. Often.
Do understand that if you do not understand exposure theory, if you do not know how to work in Manual mode–don't be scared it's really the same as Av and Tv, and if you do not know how to check for blinkies, analyze a histogram, and adjust your exposure parameters you will not consistently come up with perfect exposures. (If you are scared of Manual mode, be sure to see the blog post of July 18, 2015.)
Being in one mode or another does not guarantee a proper exposure unless you are well-versed in all of the above. To learn to get the right exposure every time I recommend getting the 2-Book Bundle. In The Art of Bird Photography (the original ABP in soft cover–the classic how-to book on bird photography) you will need to study the Exposure chapter and most especially the section on Exposure Theory. In The Art of Bird Photography II (ABP II: 916 pages, 900+ images on CD only), you will need to study Exposure Simplified and all 900+ of our educational image captions. Each explains how I metered and how I compensated in order to come up with a workable exposure in short order.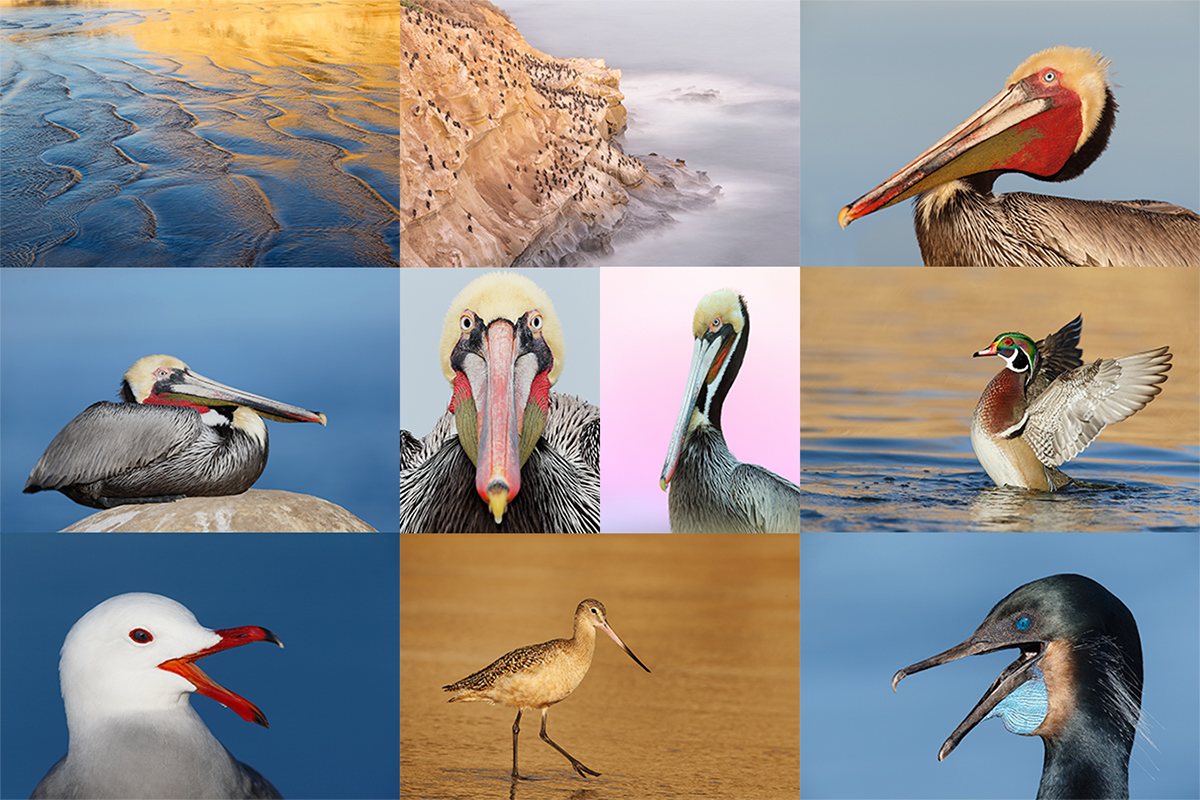 San Diego offers a wealth of very attractive natural history subjects. With annual visits spanning more than three decades I have lot of experience there….
2015 San Diego 4 1/2-DAY BIRDS AS ART Instructional Photo-Tour (IPT) JAN 8 thru the morning of JAN 12, 2016: $1899 (Limit: 10)
Meet and Greet at 7:00pm on the day before the IPT begins
Two great leaders: Arthur Morris and Denise Ippolito
Join us in San Diego to photograph the spectacular breeding plumage Brown Pelicans with their fire-engine red and olive green bill pouches; Brandt's and Double-crested Cormorants in breeding plumage with their amazing crests; breeding plumage Wood and Ring-necked Duck; other species possible including Lesser Scaup, Redhead, and Surf Scoter; a variety of gulls including Western, California, and the gorgeous Heerman's, all in full breeding plumage; shorebirds including Marbled Godwit, Willet, Sanderling and Black-bellied Plover; many others possible including Least, Western, and Spotted Sandpiper, Whimbrel, Black and Ruddy Turnstone, Semipalmated Plover, and Surfbird; Harbor Seals (depending on the current regulations) and California Sea Lions likely; and Bird of Paradise flowers. And as you can see by studying the two IPT cards there are some nice landscape opportunities as well.
Did I mention that there are wealth of great birds and natural history subjects in San Diego in winter?
This IPT will include five 3 1/2 hour morning photo sessions, four 2 1/2 hour afternoon photo sessions, five lunches, after-lunch image review and Photoshop sessions, and a thank you dinner. To ensure early starts, breakfasts will be your responsibility.
A $499 non-refundable deposit is required to hold your slot for this IPT. You can send a check (made out to "Arthur Morris) to us at BIRDS AS ART, PO Box 7245, Indian Lake Estates, FL, 33855. Or call Jim or Jennifer at the office with a credit card at 863-692-0906. Your balance, payable only by check, will be due on 11/1//2015. If we do not receive your check for the balance on or before the due date we will try to fill your spot from the waiting list. Please print, complete, and sign the form that is linked to here and shoot it to us along with your deposit check. If you register by phone, please print, complete and sign the form as noted above and either mail it to us or e-mail the scan. If you have any questions, please feel free to contact me via e-mail.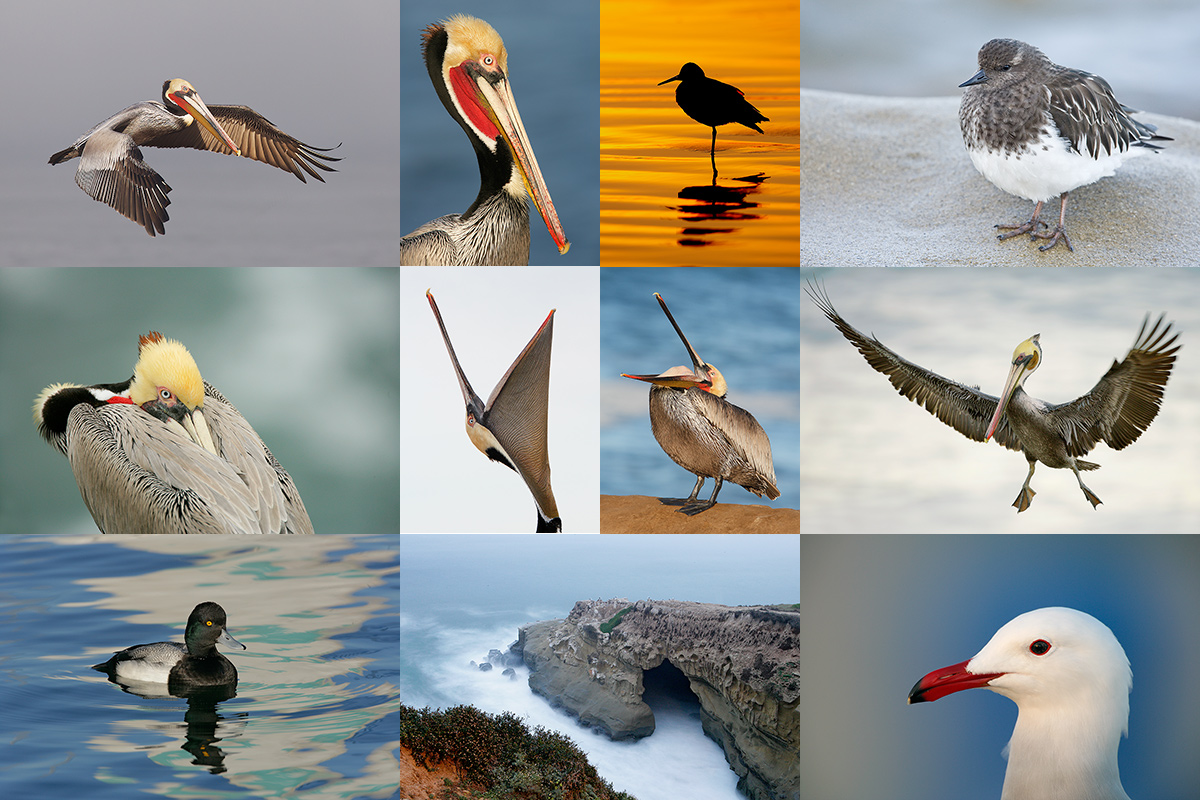 Though the pelicans will be the stars of the show on this IPT there will be many other handsome and captivating subjects in wonderful settings.
Facebook
Be sure to like and follow BAA on Facebook by clicking on the logo link upper right. Tanks a stack!
Support the BAA Blog. Support the BAA Bulletins: Shop B&H here!
We want and need to keep providing you with the latest free information, photography and Photoshop lessons, and all manner of related information. Show your appreciation by making your purchases immediately after clicking on any of our B&H or Amazon Affiliate links in this blog post. Remember, B&H ain't just photography!
…..
Amazon.com
Those who prefer to support BAA by shopping with Amazon may use this link:
Amazon Canada
Many kind folks from north of the border, eh, have e-mailed stating that they would love to help us out by using one of our affiliate links but that living in Canada and doing so presents numerous problems. Now, they can help us out by using our Amazon Canada affiliate link by starting their searches by clicking here. Many thanks to those who have written.
Typos
In all blog posts and Bulletins, feel free to e-mail or to leave a comment regarding any typos or errors. Just be right :).