What's Up?
I am in my hotel room in Guayaquil, Ecuador after experiencing a truly memorable voyage and group. When I got up last night to make a pit stop, the hotel room was rocking gently….
We finished off the 2015 Galapagos Photo Cruise yesterday with a spectacular morning at North Seymour Island. Our session lasted from 6:00am till 9:30am; we were blessed with spectacular early morning light and then again by thickening cloud cover. Just what the doctor ordered. We spent a magical morning photographing fluffy white frigatebird chicks, adults with inflated red pouches both perched and in flight, and displaying Blue-footed Boobies. Best of all was a bright yellow Land Iguana basking in golden early morning light.
We bid a fond farewell to our ship, our great guide, and our great crew. Most folks wound up tipping several crew members above and beyond the required generous tip schedule. I began working on this blog post several day ago, worked on it on the flight to Guayaquil on Tuesday, and put the finishing touches on it this morning after arising at 1:56am. My wake-up call was at 3am, my flights home begin at 5:58am. Jim will be picking up Chris Billman and me a bit after 2pm at MCO.
The 2017 BIRDS AS ART/A Creative Adventure Galapagos Photo Cruise
I would assume that after viewing the variety and quality of the images in this and in coming blog post that most passionate nature photographers would wish to join us on the next Galapagos photo adventure during the first two weeks of August, 2017. If that includes you, please shoot me an e-mail with the words "Galapagos August 2017 Photo-Cruise" cut and pasted into the Subject Line. Details will be announced shortly after I get back. The best news is that there will be two great leaders, yours truly and Denise Ippolito.
Please Help Support My Work on the BAA Blog
Thanks a Stack! June was a Great Month.
The last few weeks have been quite rewarding. Thanks a stack to the many who used our B&H links for purchases large and small. Right now I am working closely with my B&H rep to have four 400 DO and two 100-400 II BAA Affiliate orders expedited. It has been nearly impossible to come by a 400 DO II. I am hoping that my efforts pay dividends fairly soon…. 100-400IIs are now in stock at B&H. The 400 DO II lenses continue to be in very short supply. The sooner you order, the sooner you will get yours; I am working closely with my contact at B&H to have the current orders expedited when a shipment does actually arrive.
To show your appreciation for my efforts here, we ask, as always, that you use our the B&H and Amazon affiliate links on the right side of the blog for all of your purchases. B&H Is recommended for you major photography gear purchases, Amazon for your household, entertainment, and general purpose stuff. Please check the availability of all photographic accessories in the BIRDS AS ART Online Store, especially Gitzo tripods, Wimberley tripod heads, and the like. We sell only what I have used, have tested, and can depend on. We will not sell you junk. We know what you need to make creating great images easy and fun. And we are always glad to answer your gear questions via e-mail.
I would of course appreciate your using our B&H affiliate links for all of your major gear, video, and electronic purchases. For the photographic stuff mentioned in the paragraph above we, meaning BAA, would of course greatly appreciate your business. Here is a huge thank you to the many who have been using our links on a regular basis and visiting the BAA Online store as well.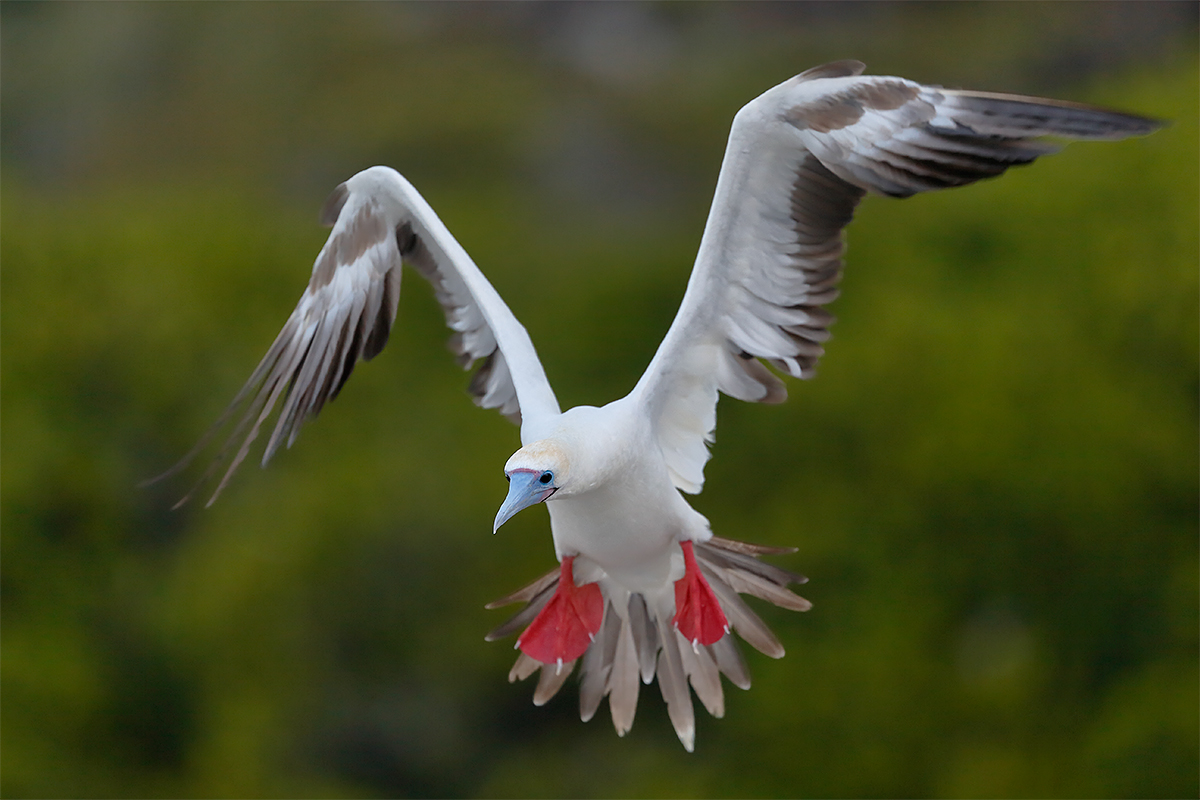 This image was created at Darwin Bay, Genovesa (Tower Island) at 6:18am on Day 13 of the 2015 Galapagos Photo Cruise with the hand held Canon EF 400mm f/4 DO IS II USM lens and the Canon EOS-1D X. ISO 1600. Evaluative metering +2 stops off the grey sky: 1/800 sec. at f/4 in Manual mode in cloudy dark conditions was a slight underexposure. AWB.
Center AF point/AI Servo Expand/Shutter Button AF was active at the moment of exposure. Though the selected AF point was on the bird's upper back the image was exceptionally sharp on the booby's eye. Click on the image to see a larger version.
Image #1: White morph Red-footed Booby landing to collect nesting material
Your browser does not support iFrame.
The Very Challenging Situation…
It was early. It was cloudy dark. Dozens of Red-footed Boobies were coming in to land on the beach right in front of us to gather some vegetation that they would use to line their nests. About 5% of the Galapagos birds are the striking white morphs. About 90% are the intermediate morphs with their light tan heads. And the remaining 5% are the all-brown dark morphs.
There were many challenges:
1-Getting enough shutter speed for flight photography. Here, the big advantage went to the folks with faster lenses. I scrapped my 100-400 II (at f/5.6) in favor of my 400 DO II with its one stop wider aperture of f/4. This saved me one full stop of ISO.
2-As I knew that I would be needing a high ISO, I ditched the 7D II for the heavier 1D X and its better high ISO performance.
3-Lack of contrast. As the light was soft there was barely any contrast for the AF system to work with. AF acquired and locked on a bit faster with the white morph birds but even then acquiring focus and creating sharp images was no gimme. And when you had the intermediate morphs again backgrounds of gray cliff or green vegetation acquiring focus was nearly impossible.
4-Backgrounds other than sky. As pretty much all flight photographers know, photographing birds in flight against sky backgrounds is relative child's play as compared to–as hinted at above–photographing them against backgrounds other than sky. Even with my Custom Case settings the camera will begin to hunt in low contrast, low light, background other than sky situations.
My Solution
I went with the 400 DO II/1D X combination. At times I was wishing that I had brought the 70-200 f/2.8 IS II to shore but in retrospect the wider angle of view would not have allowed for the lovely background in the image above. The extra stop of speed, however, would have been a big plus. I used center point AI Servo Expand. I set the ISO to 1600 and the aperture to f/4. Reading 2 1/3 stops off the sky yielded a shutter speed of 1/500 sec. for the brown birds (even though I knew that this would be a significant underexposure). I went two clicks fast to 1/800 sec. at f/4 for the white morphs. I wound up keep about 50 images from the flight session, 40 of those of intermediate morph birds.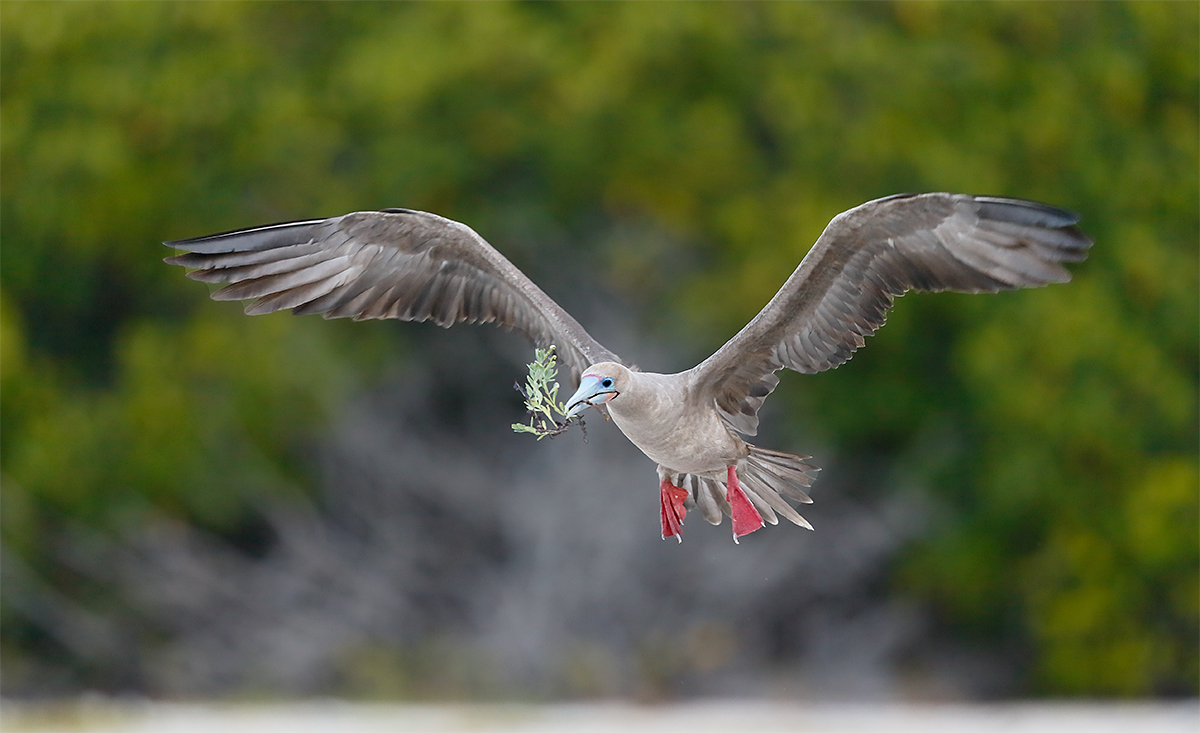 This image was also created at Darwin Bay, Genovesa (Tower Island), this one at 6:31am of Day 13. Again I used the hand held Canon EF 400mm f/4 DO IS II USM lens and the Canon EOS-1D X. ISO 1600: 1/800 sec. at f/4 in Manual mode in cloudy dark conditions. As I was mistakenly set up for a white morph bird this one was about 2/3 stop underexposed. . AWB.
Center AF point/AI Servo Expand/Shutter Button AF was active at the moment of exposure. Though the selected AF point was squarely on the bird's face, a rarity for me…. Click on the image to see a larger version.
Image #2: Intermediate morph Red-footed Booby taking flight with nesting material
Your browser does not support iFrame.
The 100-400 II/7D II Disadvantage…
The many participants with the above combination were in dire straits; their f/5.6 apertures had them at ISO 3200. Note that 1/500 sec at f/4 at ISO 1600 is 1/500 sec at f/5.6 at ISO 3200; there is no getting around the f-stop math. Simply put, working at ISO 3200 is not advised for the 7D II. Note however that if you wanted to try to create a sharp image in the extremely difficult situation that we were faced with you had no choice but to work with ISO 3200.
Shutter Speed Flight Considerations
While many advise using a minimum shutter speed of 1/1600 second or even 1/2000 second for flight photography, I have aways been comfortable working at 1/500 sec. when I am hard pressed to keep the ISO down. Yes, on occasion, the wingtips will be somewhat blurred at 1/500 but I often like that look. And I have seen blurred wingtips at 1/3200 and sharp ones at 1/500. Try it and let me know how you do. Do you have a preferred minimum shutter speed for flight photography?
Facebook
Be sure to like and follow BAA on Facebook by clicking on the logo link upper right. Tanks a stack!
Support the BAA Blog. Support the BAA Bulletins: Shop B&H here!
We want and need to keep providing you with the latest free information, photography and Photoshop lessons, and all manner of related information. Show your appreciation by making your purchases immediately after clicking on any of our B&H or Amazon Affiliate links in this blog post. Remember, B&H ain't just photography!
…..
Amazon.com
Those who prefer to support BAA by shopping with Amazon may use this link:
Amazon Canada
Many kind folks from north of the border, eh, have e-mailed stating that they would love to help us out by using one of our affiliate links but that living in Canada and doing so presents numerous problems. Now, they can help us out by using our Amazon Canada affiliate link by starting their searches by clicking here. Many thanks to those who have written.
Typos
In all blog posts and Bulletins, feel free to e-mail or to leave a comment regarding any typos or errors. Just be right :).