What's Up?
Got lots done yesterday. Changed an important flight for my Alaska trip. Finalized the dates for the 2015 Galapagos Photo-Cruise. And answered dozens of important e-mails. It felt good to get into my lap pool, to do my core exercises, and to start eating well.
This blog post was published just before 7:45am from my home-sweet-home at Indian Lake Estates, FL on Friday, July 31, 2015.
The 2017 BIRDS AS ART/A Creative Adventure Galapagos Photo Cruise Dates Finalized
We will be on the ship for this great trip from August 8-22, 2017. The trip will be formally announced within one week. Though we fully expect this trip to sell out quickly, do understand that we will need at least 8 deposits in had by August 2016 or possibly before that date for this trip to run. Do understand that if you make a photography trip to the Galapagos with us that you will be maximizing your photographic opportunities and getting the absolute most out of your travel and workshop dollars. Join us for a world class learning experience.
I would assume that after viewing the variety and quality of the images in this and in recent and coming blog posts that most passionate nature photographers would wish to join us on the next Galapagos photo adventure during the first two weeks of August, 2017. If that includes you, please shoot me an e-mail with the words "Galapagos August 2017 Photo-Cruise" cut and pasted into the Subject Line. Details will be announced shortly after I get back. The best news is that there will be two great leaders, yours truly and Denise Ippolito.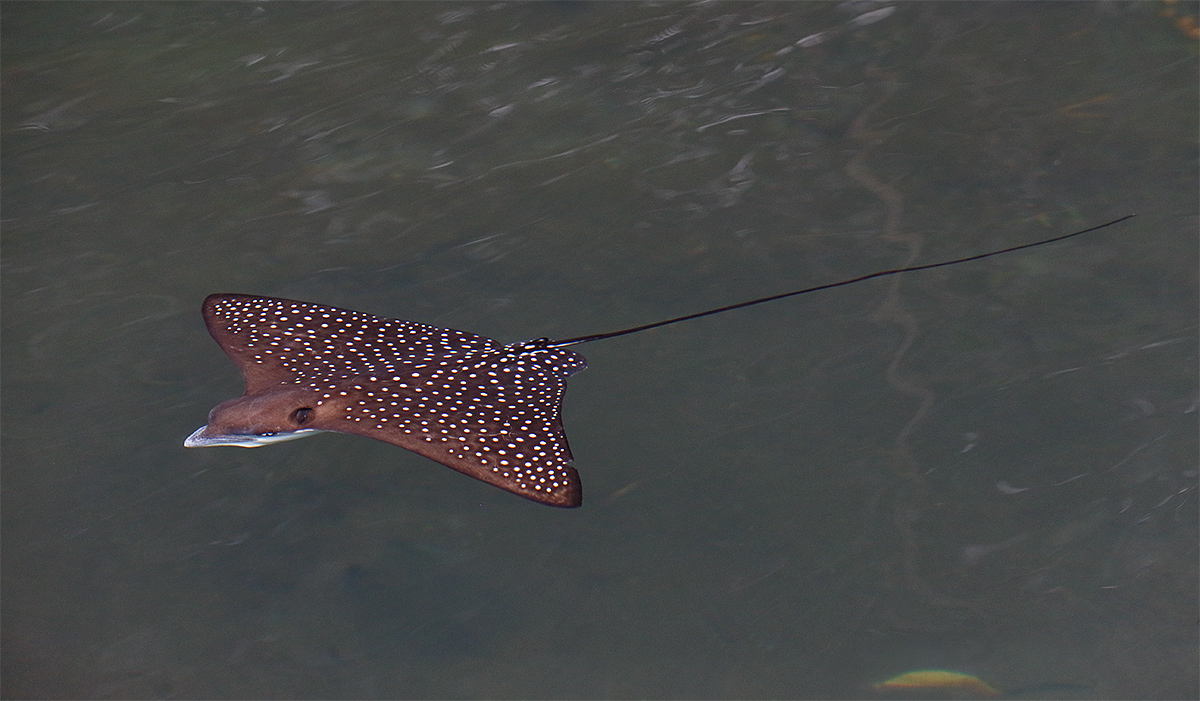 This image was created on a panga ride at Elizabeth Bay, Isabela, on Day 7 of the 2015 Galapagos Photo Cruise with the hand held Canon EF 70-200mm f/2.8L IS II USM lens (at 145mm) and the Canon EOS-1D X. ISO 3200. Evaluative metering -2/3 stop: 1/160 sec. at f/6.3 in Av mode.
Two rows below and four to the left of the center AF point/AI Servo Expand/shutter button AF as framed was active at the moment of exposure (as is always best when hand holding). The active AF point fell on young ray's upper back just behind its head. Click here to see the latest version of the Rear Focus Tutorial. Click on the image to see a larger version.
With the Singh-Ray 77mm Warming Circular Polarizer set to dark. See the tutorial below.
Spotted Eagle Ray/juvenile swimming
Your browser does not support iFrame.
The Anticipated Problem
We had an early panga (zodiac) photo session scheduled. It was cloudy dark. The targets in the red mangrove bays would be turtles and rays along with a few birds. It is usually pretty dark in among the mangroves. When photographing creatures swimming slightly under the surface of the water, it is best to use a circular polarizer set to dark to eliminate the reflections. This allows you (and your camera and lens) to "see" better. The polarizer, however, robs you of light. Most circular polarizers steal 3 full stops of light. With the high quality of the Singh-Ray circular polarizers you lose only two stops of light thereby gaining one full stop of ISO.
In short, it was gonna be dark. Choosing the 1D X over the 7D II for its superior high ISO performance was a no-brainer as we have seen in recent blog posts. And going with the 70-200 f/2.8L IS II was also an easy choice as it would save me two full stops of ISO over the much slower 100-400 II at f/5.6 or so. In addition, the subjects would be at close range, actually right next to the pangas.
The Problem in Reality
I started out with ISO 800 adding 1/3 stop of light and found that my shutter speeds were much too slow so I went to ISO 1600. Juan positioned the zodiac perfectly and I fired away. Upon close inspection none of the images juvie rays were sharp at shutter speeds of 1/50 or 1/60 sec. Enlarged on the rear lCD they looked like crap. As Juan and I often tease each other he enjoyed mocking me in front of the group. All in fun of course.
I was not sure what the problem was. Were my shutter speeds still too slow or was the camera having trouble focusing on creatures that were a bit too far below the surface?
I saw some of Indranil Sircar's images on the back of his 7D II and they looked pretty good. And he was actually underexposing a bit. Thus inspired and fully determined, I went to ISO 3200 and set the EC to -2/3. We had one more good chance and I nailed several images that looked more than sharp enough with the one above being my very favorite.
My Serious Error
Take a close look at the shooting data and leave a comment letting us know what you think was my major error in thinking (and in the execution of today's image).

Singh-Ray Filters
Singh-Ray filters have been used by the world's top photographers for many decades. Most notably the late Galen Rowell. Singh-Ray has been and is the name in quality filters. I often use the Singh-Ray 77mm Warming Circular Polarizer set to dark when photographing rainbows, to eliminate reflections when photographing on or around the water (and when photographing the water itself as with today's spectacular image), and to juice up a cloud-filled sky on a on bright sunny day, the latter especially when working off sun angle.
And I absolutely love the Singh-Ray 3-stop resin and 5-stop glass Neutral Density Filters. I use the 77mm versions of these filters on my 24-105, my 70-200mm f/2.8 L IS, and my new and beloved 100-400mm IS II lens so that I can create blurs on sunny days without having to stop down to f/too-many dust spots…. With a 5-stop glass ND in place I can easily get down to shutter speeds of 1/2 second and slower on clear, bright sunny days.
BIRDS AS ART has been working with Singh-Ray to produce a 5-stop Neutral Density filter to to fit the filter drawers of Canon Super-telephoto lenses. Info on the will be presented here very soon so stay tuned. If you will be heading to Bosque this season, you will want at least one of the 52mm ND filters in your Xtrahand vest.
No other filter manufacturer comes close to matching the quality of Singh-Ray's optical glass; it is comparable to that used by NASA. And they continue to pioneer the most innovative products on the market like their ColorCombo polarizers and the Mor-Slo 15-stop neutral density filter. When you use their filters, you'll create better, more dramatic images and, unlike as with other filters, with absolutely no sacrifice in image quality. All Singh-Ray filters are handcrafted in the USA.
Best News: 10% Discount/Code at checkout: artie10
To shop for a Singh-Ray Warming Circular Polarizer (for example), click on the logo link above or the one in the right hand column of each blog post, click on Polarizers/color enhancing on the menu bar, choose LB Warming Polarizer, choose the size and model, add to cart, and then checkout. Click on Continue to checkout. In the "Have a Coupon?" box (the second from the top), click on this active link: "Click here to enter your code" and then type "artie10" into the box. Click on "Apply Coupon" and a healthy 10% discount will be applied to your total. In addition to enjoying the world's best filter at 10% off you will be supporting my efforts here on the blog.
How to Set A Circular Polarizer to Dark
Mount the polarizer. Put the camera in Av mode with zero Exposure Compensation (EC). Point the lens at the sky 90 degrees off sun angle. Turn the polarizer slowly while noting the shutter speed as you rotate the polarizer. Quit turning the polarizer when you determine the slowest shutter speed. Now you are set up to work right down sun angle several about two stops slower than if you were not using the polarizer (set to dark). Or best photograph rainbows. Or cut down reflections off the surface of the water. Or create more dramatic skies.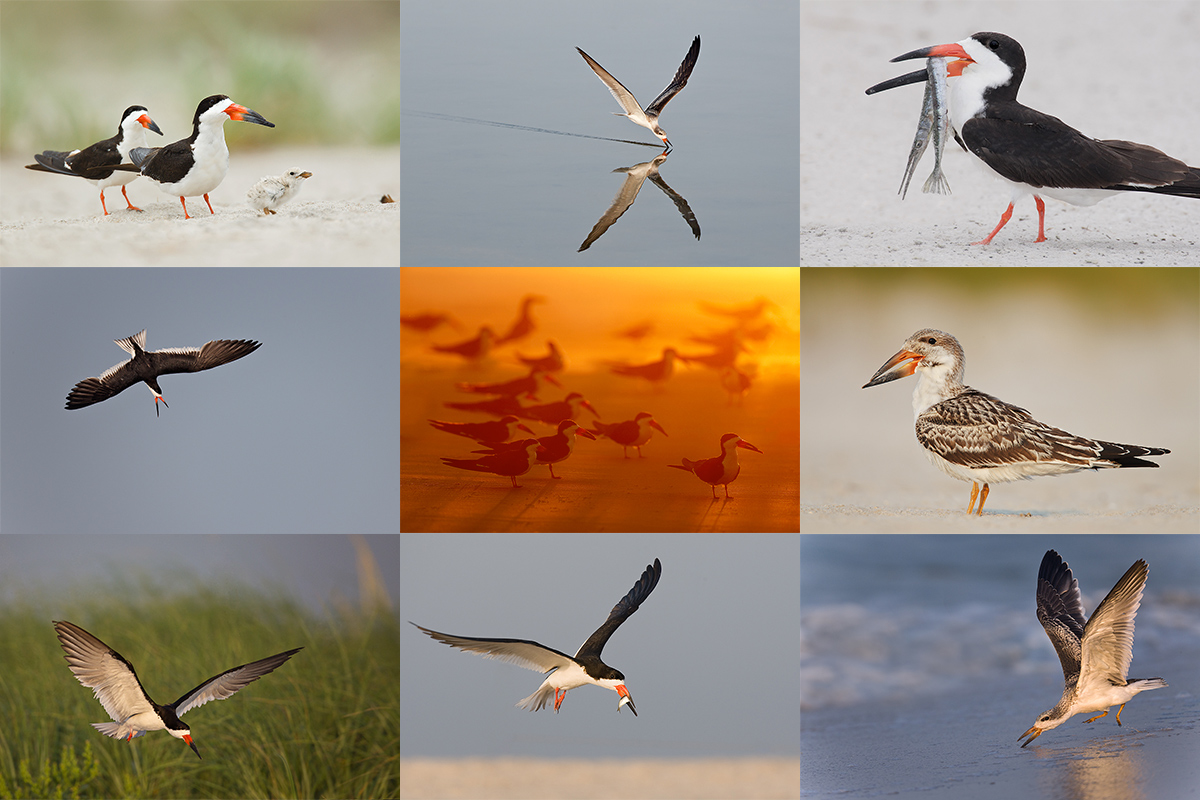 The strange thing is that when I lived in New York, I never knew about this amazing and consistently productive location.
Nickerson Beach/JBWR (possibly…)/Black Skimmer/Oystercatcher/migrant shorebird IPT: August 13-16, 2015. 3 1/2 DAYS: $1399.
Meet and greet on the evening of WED August 12. Limit 10/Openings 2.
Call for late registration discount info!
Most of our seven photo sessions will be spent at Nickerson beach photographing the nesting Black Skimmers. In flight, sometimes battling. Carrying fish. Chicks of varying sizes from a very few just-hatched to lots of fledglings. It is likely that we will get to see some Great Black-backed Gulls preying on the juvenile skimmers. They swallow them whole. There will be lots of gulls to photograph as well as some Common Terns. Locally breeding shorebird species include American Oystercatcher–pretty much guaranteed, Willet, which is likely, and Piping Plover, which is probable but we need to get lucky with those to get close….
Save a space by calling Jim or Jen at the office and arranging to leave your deposit of $499. The check for you balance is due immediately. I hope that you can join us at this late date.
JBWR?
If local conditions are ideal we may visit Jamaica Bay Wildlife Refuge to photograph southbound migrant shorebirds on one or possibly two mornings. Even if we do not visit JBWR we should get some good chances with the migrant shorebirds at the beach, especially Sanderling and Semipalmated Plover. Red Knot and others are possible.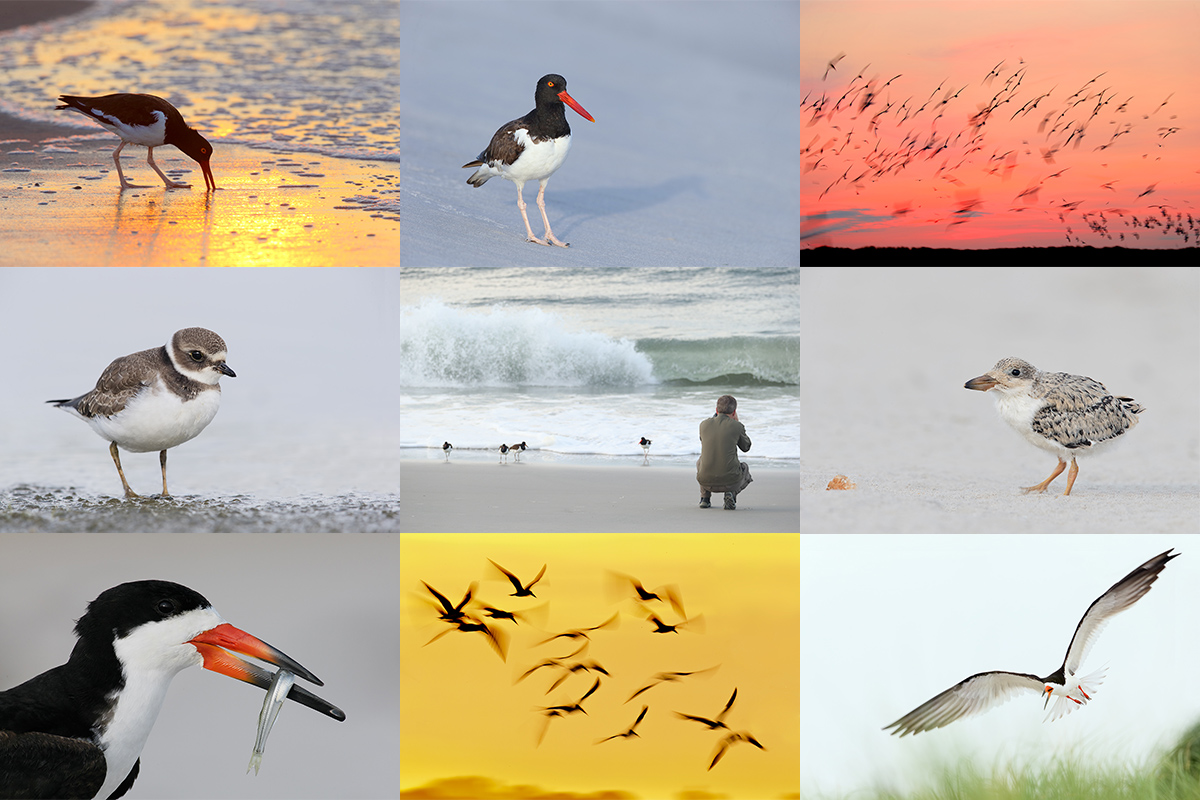 As you can see, the oystercatchers are quite tame at Nickerson. And we will get you up early and we will stay out late.
Facebook
Be sure to like and follow BAA on Facebook by clicking on the logo link upper right. Tanks a stack!
Support the BAA Blog. Support the BAA Bulletins: Shop B&H here!
We want and need to keep providing you with the latest free information, photography and Photoshop lessons, and all manner of related information. Show your appreciation by making your purchases immediately after clicking on any of our B&H or Amazon Affiliate links in this blog post. Remember, B&H ain't just photography!
…..
Amazon.com
Those who prefer to support BAA by shopping with Amazon may use this link:
Amazon Canada
Many kind folks from north of the border, eh, have e-mailed stating that they would love to help us out by using one of our affiliate links but that living in Canada and doing so presents numerous problems. Now, they can help us out by using our Amazon Canada affiliate link by starting their searches by clicking here. Many thanks to those who have written.
Typos
In all blog posts and Bulletins, feel free to e-mail or to leave a comment regarding any typos or errors. Just be right :).