The Namibia IPT
Namibia 2016 BIRDS AS ART/A Creative Adventure Instructional Photo-Safari: April 14-24 on the ground: $8999. Limit: 10 photographers/openings: 6.
Most of Friday was spent on the phone and on Skype setting up the first-ever Namibia IPT. Photos of Namibian dunes, dead trees, and wildlife are honored annually in pretty much all of the prestigious nature photography contests including and especially the BBC Wildlife Photographer of the Year competition and the Nature's Best Windland Smith Rice International Awards Contest. We have set up a truly great itinerary; this workshop was planned with the help of two BBC honored local photographers with an intimate knowledge of the area who will act as our guides for the entire trip. This IPT will be co-led by Denise Ippolito and yours truly. The dates and the price are set in stone: April 14-28, 2016. 15/days/14 nights: $8999 from Windhoek, Namibia (Hosea Kutako International Airport, airport code WDH). Please contact me via e-mail if you would like to register or receive the itinerary. To register, please e-mail first and then send your $3,000 non-refundable deposit check made out to "Arthur Morris" to us at PO Box 7245, Indian Lake Estates FL 33855. We do expect this one to sell out very quickly….
Happy campers only please.
Stuff
I did not get much else accomplished but did catch up a bit on e-mail. I enjoyed an early ice bath, my core exercises, and a late swim. I began this blog post at 3:30 am today. It was published just after 6:15am on Saturday August 1, 2015. All who enjoy the blog, especially those who do not regularly use our B&H affiliate links, are invited to thank us by clicking on the BAA Blog Thanks link here.
Selling Your Used Photo Gear Through BIRDS AS ART
Selling your used (or like-new) photo gear through the BAA Blog or via a BAA Online Bulletin is a great idea. We charge only a 5% commission. One of the more popular used gear for sale sites charges a minimum of 20%. Plus assorted fees! Yikes. The minimum item price here is $500 (or less for a $25 fee). If you are interested please e-mail with the words Items for Sale Info Request cut and pasted into the Subject line :). Stuff that is priced fairly–I offer free pricing advice, usually sells in no time flat. In the past few months we have sold nearly everything in sight. Do know that prices on some items like the EOS-1D Mark IV, the old Canon 500mm, the EOS-7D, and the original 400mm IS DO lens have been dropping steadily. You can see the complete listings here.
Brand New Listing
Canon EF 200-400mm f/4L IS Lens with Internal Extender
Sale pending: August 2, 2016.
Ron Paulk is offering a lightly used Canon EF 200-400 f/4 IS USM Lens w/Internal 1.4x Extender in excellent condition for $9299. The sale includes the following items that come with the lens: the lens trunk, the E145C Lens Cover, the rear lens cap E, the lens strap, the lens hood, the 52mm drop-in filter holder, and the strap for the hard case. Also included are a Realtree Max4 LensCoat (a $104 value), a RRS LCF-53 Foot (a $110 value), and and insured shipping to US addresses via FED-EX Ground. Your new lens will ship in the original Canon box after your check clears unless other arrangements are made.
Please contact Ron by e-mail or by phone at 360-391-2090 PDT.
I have owned and used this great lens pretty much since day one. I have had great success with it in the Southern Ocean, in Africa, in the Galapagos, on the first UK Puffins trip, at Nickerson Beach on Long Island, on the San Diego IPT, and on several Bear Boat trips. When you need reach and the ability to frame perfect from 200 through 560mm (or to 784mm at f/8 with an external 1.4X III TC added), this lens cannot be beat. At $9299 Ron's lens is priced to sell. It currently sells new at B&H for $10,299. The last one we sold through our used gear listings went for $9799. artie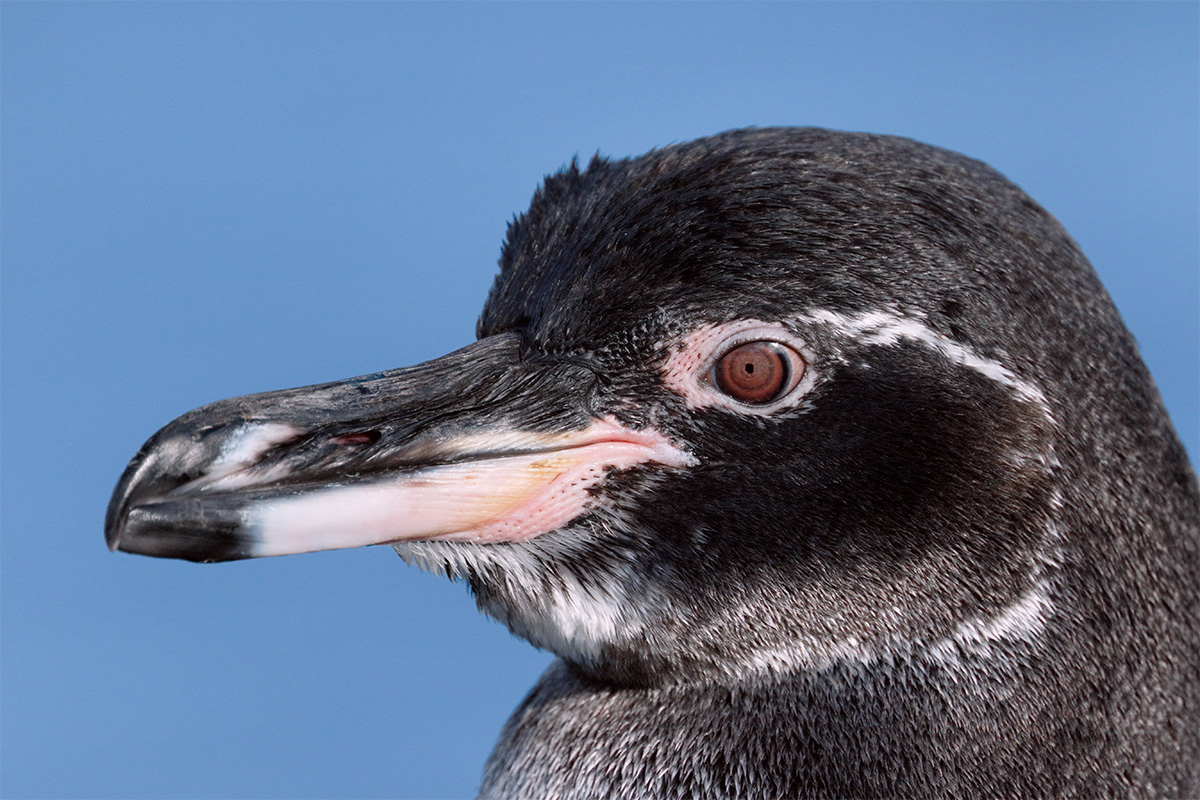 This image was created on a panga (zodiac) ride at Punta Mangle, Fernandina on Day 5 of the 2015 Galapagos Photo Cruise with the hand held Canon EF 400mm f/4 DO IS II USM lensCanon Extender EF 2X III, and the Canon EOS 7D Mark II. ISO 800. Evaluative metering at zero: 1/1600 sec. at f/9 in Manual mode.
Center AF point (by necessity) Manual Selection/AI Servo/Shutter Button AF as framed was active at the moment of exposure (as is always best when hand holding). The selected sensor was on the base of the bird's upper mandible. Click here to see the latest version of the Rear Focus Tutorial. Click on the image to see a larger version.
Galapagos Penguin head portrait
Your browser does not support iFrame.
400 DO/2X III TC/7D II Hand Held Miracle
The zodiac was rocking pretty good and framing any subject at any focal length was difficult at best. In retrospect, I have no idea why I went to the 400 DO II/2X III/7D II combination while working in a panga with six other photographers. The effective focal length of this set-up is 400mm times 2 times the 1.6X crop factor of the 7D II: 1280mm or 25.6X magnification. After making a very few images and seeing on the rear LCD that I had properly framed two decent images I swapped the 2X III for the 1.4X III; I remember that even then I had trouble framing anything as the wind had picked up a bit…. To my mind, the capture of today's featured image was pretty much of a miracle.
Head Angle Comment
Note the perfect head angle with the bird's head turned about 1 1/2 degrees towards us. This places the bill tip on the same plane as the subject's eye giving the impression of greater overall sharpness.
The Image Optimization
Note: this image is uncropped. After converting it in DPP 4, the optimization was pretty much straightforward; the image was so sharp out of the camera that I did not feel the need to run my NIK 50-50 recipe…. As detailed in the DPP 4 RAW Conversion Guide, Arash Hazeghi's 7D II Luminance and Chrominance Noise Reduction values performed admirably. When I shared the image with Denise Ippolito via e-mail she suggested that there was too much BLUE in the BLACKs. After the fact, I brought the image back into Photoshop, selected the BLACKs with the Quick Selection Tool, and reduced the saturation of the BLUEs, GREENs, CYANs, and YELLOWs about 50% as detailed in Digital Basics. Color-wise, the image was much improved. Thanks Lady D.
Image Question
With the sun slightly muted by a thin cloud, why didn't I add a bit of light to the suggested exposure?
Many Folks Think That I was Right, and So Do I
The following appeared in the blog post here:
I was Wrong in Part: My Errors
Thanks to comments first left by first by John Armitage and backed up by Steve Soderling the major premise of yesterday's blog, that camera shake is greater with a crop factor camera, was incorrect. I was tricked (if you were) into this error because the shake appears much more evident when you are looking through the viewfinder of a crop factor camera than when you are looking through the viewfinder of a full frame or 1.3X crop factor camera. I apologize for my error.
Thanks to John and Steve for setting me straight.
On the 2015 UK Puffins and Gannets IPT, Alan Lillich opined that I had indeed been right for the following reason: the amount of shake when considered on a pixel level is indeed greater with the 7D II with its more tightly packed pixels. Others e-mailed and stated the same thing. Today, I firmly believe that in order to create sharp images when working with a 7D Mark II you need to keep a lens more steady than when you are working with any full frame or 1.3X crop factor Canon camera body….
Speaking of John Armitage…
Thanks again to John for loaning me his brand new 400 DO II for the Galapagos trip. The lens was shipped back to him yesterday (in new condition) via Fed-Ex 2nd day air along with a few thank you goodies.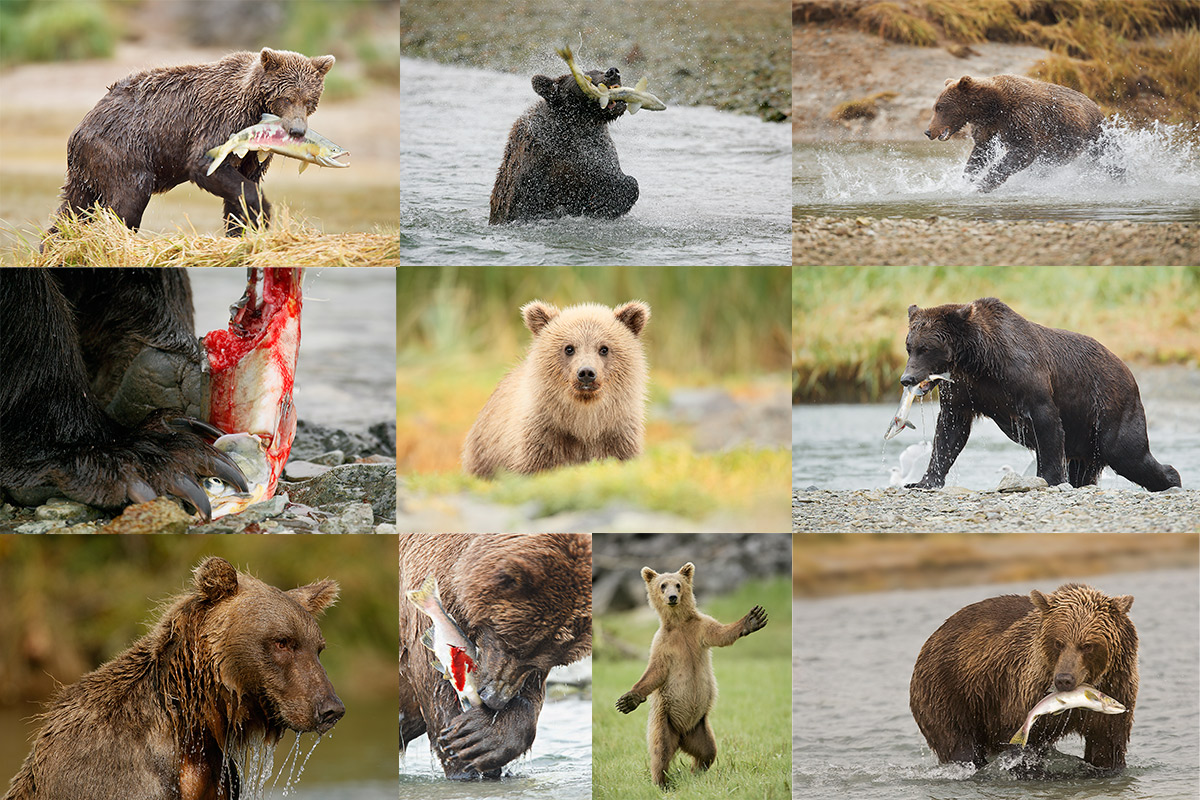 All of the images in the bear boat card above were created in Katmai National Park during the month of September.
Bear Boat/Bears Catching Salmon IPT: September 1-8, 2015 from Kodiak, AK/6 FULL & 2 1/2 DAYS: $6699. Happy campers only! Maximum 8/Openings: 2. Plus the leader: Arthur Morris.
Call for late registration discount info!
Join me in Katmai National Park, AK for seven days of photographing Coastal Brown Bears (grizzlies) catching salmon, fattening up for the long winter. Other subjects will include Mew and Glaucous-winged Gulls in flight and dip-feeding on salmon roe. Did I mention that we live on a boat and that the food is great? Most of our photography will be done in a variety of famed locations: Geographic Harbor, Kinak Bay, and Kukak Bay. We once had 39 bears fishing the creek at Kukak….
It is mandatory that you be in Kodiak no later than the late afternoon of August 31, 2015 September to avoid missing the float planes to the boat on the morning of September 1. With air travel in AK being what it is, with the chance of fog or other bad weather–being on Kodiak on August 30 is an even better plan). I will be on Kodiak on August 30 to avoid any potential disaster. That said in my nearly a dozen bear boat trips I was delayed only once but since I was day early as noted above there was no harm, no foul.
We will take one or more float planes to the boat mid-morning on September 1. We will photograph bears fishing that afternoon and every day for the next six days (weather permitting of course). We should have bears catching salmon every day. In addition, we will get some nice stuff on Mew Gull and Glaucous-winged Gulls dining on roe and the remains of predated salmon. We may–depending on where the concentrations of bears are–get to photograph Harbor seals and some hauled out Steller's Sea Lions (an endangered species). Halibut fishing (license required) is optional. On September 8, our last morning on the boat, those who would like to enjoy one last photo session will do so. The group returns to Kodiak via float plane midday. Most folks will fly to Anchorage and then continue on red-eye flights to their home cities.
The eight days will consist of six full days (Sept 2, 3, 4, 5, 6, & 7) of photography featuring lots of Coastal Brown Bears catching salmon as above plus a variety of other natural history subjects plus some nice scenic photography that I forgot to mention above. Plus the first afternoon and the last morning.
What's included? 8 DAYS/7 NIGHTS on the boat as above. All meals on the boat. (The food is quite excellent.) National Park fees. One night's double occupancy lodging on Kodiak; arrive: Sept 1/depart: Sept 2. The thank-you-in-advance dinner on Sept 1. In-the-field photo tips, instruction, and guidance. An insight into the mind of a top professional; I will constantly let you know what I am thinking, what I am doing, and why I am doing it. Small group image review, image sharing, and Photoshop instruction on the boat.
What's not included: Your round trip airfare to and from Kodiak, AK (almost surely through Anchorage). All necessary lodging other than the cost of your double occupancy room on the night of August 31 should you opt to arrive early–we can arrange that in advance for you. We will let you know the cost of a single supplement for the one night if so desired. The cost of the round-trip float plane to the boat on September 2 and back to Kodiak on September 9. The cost of a round trip this year was $500. The suggested crew tip of $210.
Is this an expensive trip? Yes, of course. But with 6 full and two half days, a wealth of great subjects, and the fact that you will be walking with the bears just yards away (or less….) it will be one of the great natural history experiences of your life. Most folks who take part in a Bear Boat IPT wind up coming back for more.
A $2,000 per person non-refundable deposit by check only made out to "Arthur Morris" is required to hold your spot. Please click here to read our cancellation policy. Then please print, read, and sign the necessary paperwork here and send it to us.
Your deposit is due immediately. That will leave a balance of $4699. The next payment of $2699 will be due on February 15, 2015. The final payment of $2000 is due on May 1, 2015.
I hope that you can join us for this wondrously exciting trip.
Facebook
Be sure to like and follow BAA on Facebook by clicking on the logo link upper right. Tanks a stack!
Support the BAA Blog. Support the BAA Bulletins: Shop B&H here!
We want and need to keep providing you with the latest free information, photography and Photoshop lessons, and all manner of related information. Show your appreciation by making your purchases immediately after clicking on any of our B&H or Amazon Affiliate links in this blog post. Remember, B&H ain't just photography!
…..
Amazon.com
Those who prefer to support BAA by shopping with Amazon may use this link:
Amazon Canada
Many kind folks from north of the border, eh, have e-mailed stating that they would love to help us out by using one of our affiliate links but that living in Canada and doing so presents numerous problems. Now, they can help us out by using our Amazon Canada affiliate link by starting their searches by clicking here. Many thanks to those who have written.
Typos
In all blog posts and Bulletins, feel free to e-mail or to leave a comment regarding any typos or errors. Just be right :).