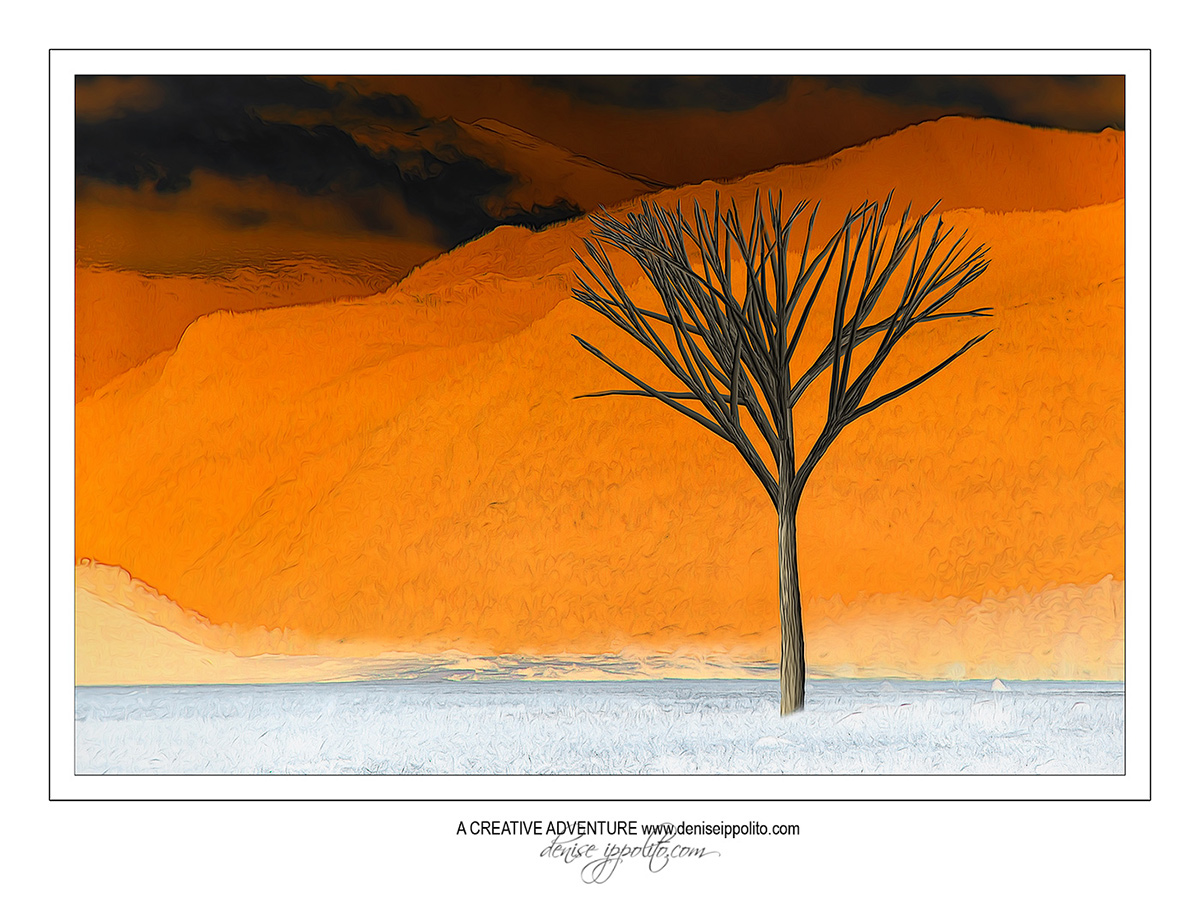 Deadvlei Tree photo illustration courtesy of and copyright 2015: Denise Ippolito/A Creative Adventure
Denise created this artwork by combining an image of some Colorado mountains with a tree that she created in Photoshop. The rest is simply her creative filter magic. It is a given that denise's creativity is virtually unlimited and unmatched. Just don't ask me how she did it….
Namibia
Photos of Namibian dunes, dead trees, birds, and wildlife often grace prestigious natural history calendars and are honored annually in pretty much all of the top flight nature photography contests including and especially the BBC Wildlife Photographer of the Year Competition and the Nature's Best Windland Smith Rice International Awards Contest. Both denise and I have long dreamed of visiting. Our dream is coming true. With four folks signed up before the tour was even announced, this trip is a go. Most traveling from the US will likely want to be on one of the direct flights to Johannesburg, South Africa from New York's JFK (on April 13, 2015 so as to arrive in Windhoek on the 14th). In addition, we would both be thrilled to meet some of our overseas followers on this trip.
In addition to enjoying several world class nature photography locations, you will learn more than you ever thought possible via in-the-field instruction from two of the best and informal image sharing and Photoshop sessions at the lodge. We hope that you can join us.
The 2016 Namibia BIRDS AS ART/A Creative Adventure Instructional Photo-Safari: April 14-28, 2016 on the ground: $8999. Limit: 10 photographers/openings: 6.
Our truly great itinerary is below. This workshop was planned with the help of two BBC-honored local photographers with an intimate knowledge of the area who will act as our guides for the entire trip. This IPT will be co-led by Denise Ippolito and yours truly. The dates and the price are set in stone: April 14-28, 2016. 15/days/14 nights: $8999 from Windhoek, Namibia (Hosea Kutako International Airport, airport code WDH). Please contact me via e-mail if you would like to register. Then please fill out, print, and sign the Registration and Release forms that are linked to here. Then mail it to us here: PO Box 7245, Indian Lake Estates FL 33855 along with your $3,000 non-refundable deposit check made out to "Arthur Morris."
The second payment of $3,000 is due on November 15, 2015 and the final payment of $2,999 is due on February 1, 2015. As with the deposit, checks only.
Single supplements may be available for parts (or all) of the trip. They will be quite expensive. Best not to ask 🙂 Please inquire as to availability. If you or we are unable to line up a same sex roommate for you, you will be charged the single supplement on a pro-rated basis.
Travel Insurance
Please understand that we need the deposits for international trips as arrangements must be paid in full far in advance. If everybody decides to cancel then we are sort left holding a very short straw 🙂 Seriously interested folks are urged to consider getting trip insurance within two weeks of sending their deposit checks. There are lots of options with Travel Services Insurance (TSI). You can explore them here.
The Namibia IPT Itinerary
Day 1: April 14, 2016. Fly into Windhoek (Hosea Kutako International Airport, airport code WDH. Spend the night at River Crossing Lodge. Note: folks traveling from the US and many other destinations will need to depart on redeye flights on April 13th. You need to be sure that you will be in Windhoek on April 14, 2015!
Day 2: Early departure to QuiverTree Forest Lodge on the outskirts of Keetmanshoop. Here we will be able to capture the beauty of the magnificent QuiverTree forest as well as have access to the Giant Playground area for some spectacular landscape photography. The sessions will include afternoon and evening shoots, the latter with stars, milky way, and star trails photography. Night photography instruction will be provided. In addition, we will let you know in advance what lenses and accessories you will need for the night photography.
Day 3: After breakfast we depart for the luxurious Sossusvlei Dune Lodge for 3 nights inside Namib Naukluft National Park. The distance to Sossusvlei is about 550km and the trip should take about 7 hours. Thanks to our experienced guides we will enjoy unparalleled after hours access to dead tree scenics at Dead Vlei. Arrangements have been made to to leave the lodge in the mornings an hour before sunrise to capture the best possible lighting conditions. We will be visiting Dead Vlei and Dune 45. There is a fairly strenuous up-and-down hike to some of the best photo locations that should take really fit folks about 15-20 minutes and as much as 45 minutes for the older fit folks or those with a bad knee. Denise is in the former category, Artie fits in both of the latter categories :). At Sossusvlei two desert systems come together: the beautiful red dunes of the Kalahari desert and the breathtakingly stark Namib desert. The desert experience is a surreal and life-changing one and even the best images do not reflect the amazing beauty of these unique deserts. Deadvlei, with its ancient trees in the now dried up lake, is a feast for photographers who are looking for something stark, different, and dramatic. Along with the spectacular landscapes we should get to photograph some wildlife as well with chances for oryx and springbok among others.
Day 6: From Sossusvlei we head off to Swakopmund to spend some three nights at the Swakopmund Beach Hotel. One morning will head into the dunes to target species such as the Desert Chameleon, Horned Adder, Sand-Diving Lizards, and Palmato Gecko—the world's cutest gecko. We will spend time photographing the amazing bird life in and around the Walvisbay area. The Salt Mine and bay area is especially productive with a huge selection of waders and other waterfowl along with large numbers of flamingoes. We will enjoy one chartered boat trip to target pelicans in flight. Those and a selections of skua's and cormorants will keep the most discerning bird photographers happy. Afternoons in the area will be spent driving along the beach to the huge seal colonies and photographing their playful interactions and antics. A tentative schedule is below:
Day 7: Morning (private tour) Desert Experience photographing Palmato Gecko / Sidewinders / Desert Chameleon etc, etc. Afternoon we either shoot Pelican point for seals or Walvisbay for flamingos and more.
Day 8: Morning bay cruise with chartered boat shooting pelicans flying in . We will likely spend the afternoon with the seals at Pelican point.
Day 9: After breakfast we depart for Etosha; arrive that afternoon at Halali and spend 3 nights there. Just when you thought it could not get any better we head further north to the wide-open plains of Etosha. Here the wildlife spectacle is arguably one of the best in Africa. Etosha is home to not only the Big Five, but also a variety of other species such as Cheetah, Honey Badger, Oryx, Springbok, Dik-Dik, Black-Faced Impala, Eland, Ostrich and more. Depending on our route this could take as long as four hours to get to the park entrance and another 2 hours drive to Halali. We will travel about 400km
Day 12:. We wrap-up at Halali and move down to Okaukuejo where we will spend three nights. Okaukuejo Camp is famous for its large floodlit waterhole, the hub of animal activity especially in the early morning and early evening hours. We will see and photograph many species including and especially the endangered Black Rhino. There will be game drives during the say. For the night water hole photography flash is optional but recommended.
Day 15: April 28, 2016. We make the 4-5 hour drive back to Windhoek in time for your international flights.
This price of this tour includes:
All Accommodations.
All breakfasts and dinners.
Logistics make formal lunches impossible. There will, however, be a variety of snacks including nuts and cheeses along with sodas and bottled drinking water in each vehicle.
Bottled water at the lodges and in the vehicles. Also included at the lodges are soft drinks and sodas and local wines and liquors (excluding premium and imported hard drinks).
All transportation from the time you arrive in Windhoek to the time you leave again.
All park entrance fees
One extra-late night in Deadvlei where we will use NWR vehicles for transport.
The chartered boat activities in Walvisbay.
The Private Desert Experience tour in Swakopmund.
The price of this tour does not include:
Your flights to and from Windhoek.
Visa costs: no visa is needed for folks from the US and most other countries.
Gratuities and items of a personal nature.