Stuff
Sunday was business as usual with great swim, my core exercises, and lots of time spent wrapping up the details of the Namibia IPT and getting our flights. And answering e-mails. For details on the Namibia trip, see yesterday's blog post. The 2016 UK Puffins and Gannets IPT has only one slot left; scroll down for details. Ron Paulk's Canon 200-400 sold almost instantly. He wrote, Hi Art, Just got off the phone with a buyer for my 200-400 who found it on your site. She is sending a check tomorrow: I will let you know when the deal is done and get a check out to you at that time. Great work and thank you! Ron
This blog post took about 2 1/2 hours to prepare was was published just before 6:00am on Monday, August 3, 2015.
Please Help Support My Work on the BAA Blog
Thanks a Stack! July was a Great Month.
Thanks a stack to the many who used our B&H links in July for purchases large and small. The 400 DO II lenses continue to be in very short supply. The sooner you order, the sooner you will get yours. Most everything else is in stock ready to ship to you wherever you live.
To show your appreciation for my efforts here, we ask, as always, that you use our the B&H and Amazon affiliate links on the right side of the blog for all of your purchases. B&H Is recommended for you major photography gear purchases, Amazon for your household, entertainment, and general purpose stuff. Please check the availability of all photographic accessories in the BIRDS AS ART Online Store, especially Gitzo tripods, Wimberley tripod heads, and the like. We sell only what I have used, have tested, and can depend on. We will not sell you junk. We know what you need to make creating great images easy and fun. And we are always glad to answer your gear questions via e-mail.
I would of course appreciate your using our B&H affiliate links for all of your major gear, video, and electronic purchases. For the photographic stuff mentioned in the paragraph above we, meaning BAA, would of course greatly appreciate your business. Here is a huge thank you to the many who have been using our links on a regular basis and visiting the BAA Online store as well.
Selling Your Used Photo Gear Through BIRDS AS ART
Selling your used (or like-new) photo gear through the BAA Blog or via a BAA Online Bulletin is a great idea. We charge only a 5% commission. One of the more popular used gear for sale sites charges a minimum of 20%. Plus assorted fees! Yikes. The minimum item price here is $500 (or less for a $25 fee). If you are interested please e-mail with the words Items for Sale Info Request cut and pasted into the Subject line :). Stuff that is priced fairly–I offer free pricing advice, usually sells in no time flat. In the past few months we have sold nearly everything in sight. Do know that prices on some items like the EOS-1D Mark IV, the old Canon 500mm, the EOS-7D, and the original 400mm IS DO lens have been dropping steadily. You can see the complete listings here.
Brand New Listing
Canon 400mm f/4 IS DO Lens
Multiple IPT veteran Michael Gotthelf is offering a used, super-sharp copy of the Canon 400 mm f/4 IS DO lens in excellent condition (with just a bit of paint wear) for $3250.00. The sale includes the lens trunk and key, the leather front lens cover, the rear lens cap and strap, and a RRS lens plate. The sale also includes insured shipping via either UPS or FED-EX Ground. Your item will not ship until your check clears unless other arrangements are made.
Please contact Mike by e-mail or by phone at 978-407-0679 (eastern time).
I used this lens for several years with great success, especially for birds in flight and while working from various type of water craft. In addition, it would make a great prime super-telephoto lens for folks with a 7D II. Gannets in Love was created with the 400 DO. You can see that one and 13 other killer images that I made with my old 400 DO here. The title of that blog post is "The Canon 400mm f/4 IS DO Lens: Fourteen Images that Prove that the Internet Experts are Idiots." Mikes lens is priced to sell. artie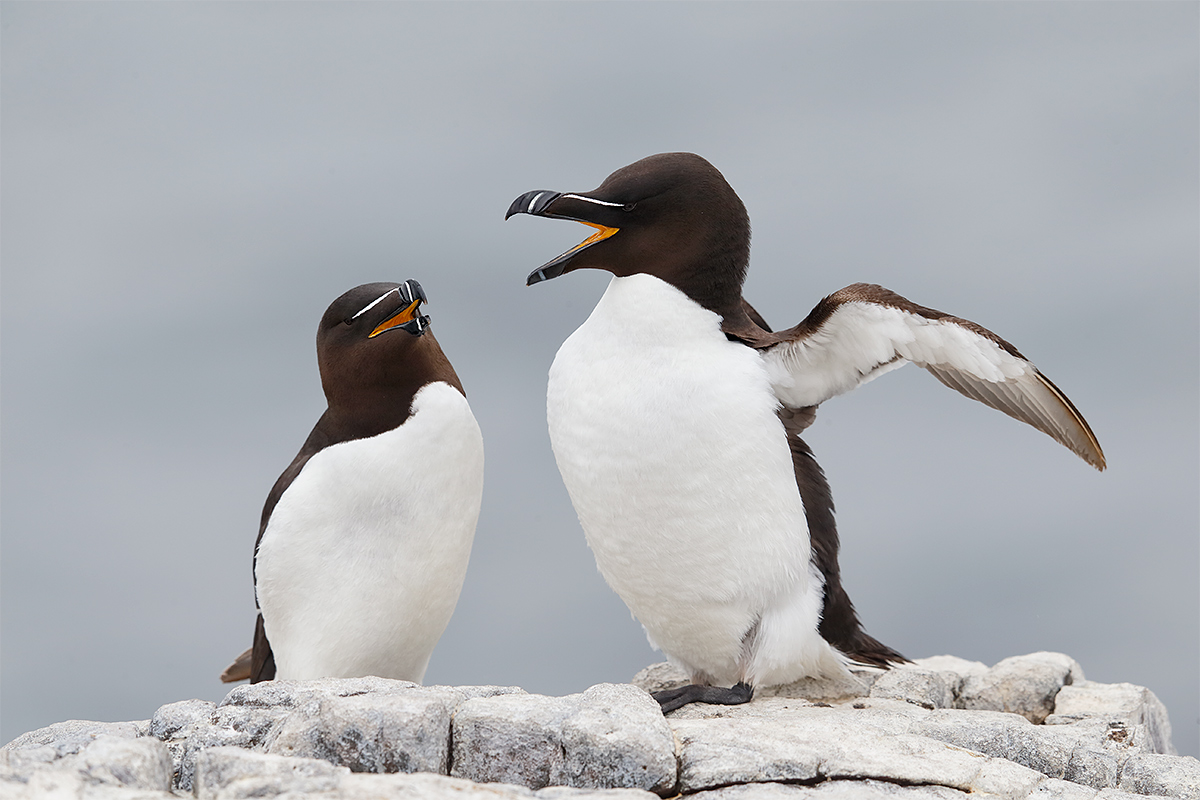 This image was created on the 2015 UK Puffins and Gannets IPT with the tripod-mounted Canon EF 600mm f/4L IS II USM lens, the Canon Extender EF 1.4X III, and my workhorse Canon EOS-1D X. ISO 800. Evaluative metering +1 2/3 stops in cloudy conditions: 1/800 sec. at f/8. AWB.
Center AF point (Manual selection)/AI Servo/Rear Focus AF on the right-hand bird's eye and re-compose. Click here to see the latest version of the Rear Focus Tutorial. Click on the image to see a larger version.
Razorbill pair courting
Your browser does not support iFrame.
Pray for Clouds
One of the two best Razorbill spots on our afternoon landing site desperately needs clouds else the sun is coming right at you and the birds are strongly back or sidelit. Not what you want at 2pm. Most days our prayers were answered. Then it is just a matter of setting the right exposure manually (by adding lots of light) and isolating your subject or subjects. On really gray days I start by reading 2 1/3 or 2 2/3 stops off the gray sky, setting that manually, making a test exposure, checking both histograms, making sure there are no blinkies on the subject, and then adjusting the exposure to taste. With experience you can look at the histogram and know when your WHITEs will come into Photoshop with the RGB values in the low to mid 230s. (Note: denise prefers them to be in the high 230s or the low 240s.) Best way to learn that is on an IPT.
Bad Luck…
We had most of the group in perfect position on the small deck that gets close to the south-facing cliff edge. The pair in today's featured image was sitting alone courting, totally in the clear, for more than 30 minutes. I predicted that they would be copulating soon. Just before they began to mate, a gull landed about a yard in front of them completely blocking my sightline to the birds. Several in the group were well to my right and had a clean shot at the blessed event. I was dead in the water as there was no room for me to move right. They went at it for about three minutes, and eternity for birds. You gotta love it. Bill Lloyd or anyone else: if you got something great on that, shoot me a 1200 wide JPEG.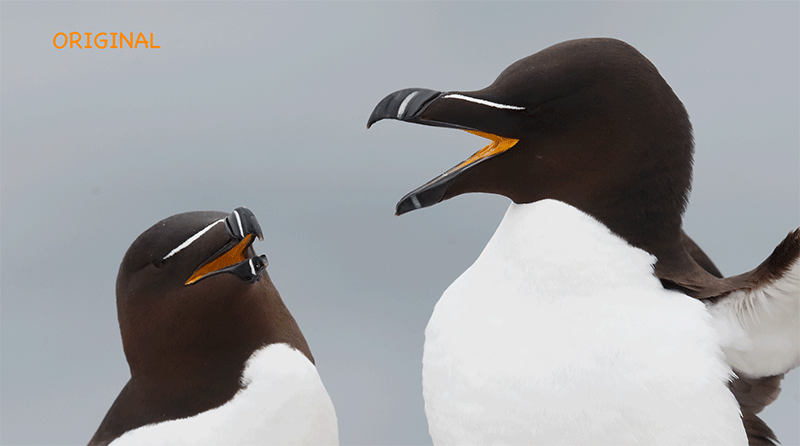 Before and after animated GIF. Note the browner tones and the much-improved eyes in the optimized version….
Dealing With Those Hard to See Eyes…
As with the Sterna terns (like Common, Forster's and Roseate) with their black eyes set in their jet black caps, it can be difficult to get a good look at the eyes of Razorbills… The iris of Razorbill is actually a dark bronze yet in a properly exposed RAW file the irises look dark. In addition, I opened the eye of the Razorbill on the right a bit by Warping a Quick Mask-created layer.
High Level Exposure Question
Why are the irises of Razorbills underexposed about 1 1/2 stops in most properly exposed RAW files?
The RAW Conversion
The RAW conversion in DPP 4 was straightforward. Many folks on the Galapagos Photo Cruise were quite interested in learning to use DPP. They did. All were amazed at how simple it was to use. The key is to create and save a recipe file for each ISO for each camera body. Arash's recommended Luminance and Chrominance settings and the correct Sharpness setting are entered and saved with each recipe. After applying the recipe, the only thing that I need do with 98% of my images is to adjust the Highlight and Shadow sliders on the Perform basic image adjustment tab. Fast, simple, and easy with great color and the highest image quality available…. Learn more about DPP 4 in the DPP RAW Conversion Guide here.
The Image Optimization
The key to successful Eye Doctor work is not to overdo things. I darkened the pupils by selecting it with a Quick Mask and pulling the Curve down. Just a bit. Then, working very large, I lightened the irises and the light line below the eyes ever-so-slightly with a Tim Grey Dodge and Burn layer. Next I applied a layer of my NIK 50-50 recipe and fine tuned that with the addition of a Regular Layer Mask. This turned the apparent black feathers to a more natural rich brown and added detail to the white feathers. Then I sharpened the faces of both birds with a Contrast Mask. Then I did a bit of face and plumage clean-up using the Spot Healing Brush and the Patch Tool. Total time in Photoshop: less than five minutes. All as detailed in Digital Basics.
Everything that I did to optimize today's image is covered in detail in my Digital Basics File–written in my easy-to-follow, easy-to-understand style. Are you tired of making your images look worse in Photoshop? Digital Basics File is an instructional PDF that is sent via e-mail. It includes my complete digital workflow, dozens of great Photoshop tips, details on using all of my image clean-up tools, the use of Contrast Masks, several different ways of expanding and filling in canvas, all of my time-saving Keyboard Shortcuts, Quick Masking, Layer Masking, and NIK Color Efex Pro basics, Contrast Masks, Digital Eye Doctor techniques, using Gaussian Blurs, Tim Grey Dodge and Burn, a variety of ways to make selections, how to create time-saving actions, the Surface Blur (background noise reduction) settings as taught to me by Denise Ippolito, and tons more.
APTATS I & II
Learn the details of advanced Quick Masking techniques in APTATS I. Learn Advanced Layer Masking Techniques in APTATS I. Mention this blog post and apply a $5 discount to either with phone orders only. Buy both APTATS I and APTATS II and we will be glad to apply at $15 discount with phone orders only. Please call Jim or Jennifer weekdays at 863-221-2372 to take advantage of this special offer. I am pretty sure that we have extended that offer to the BAA Online Store as well… No time to check right now. 🙂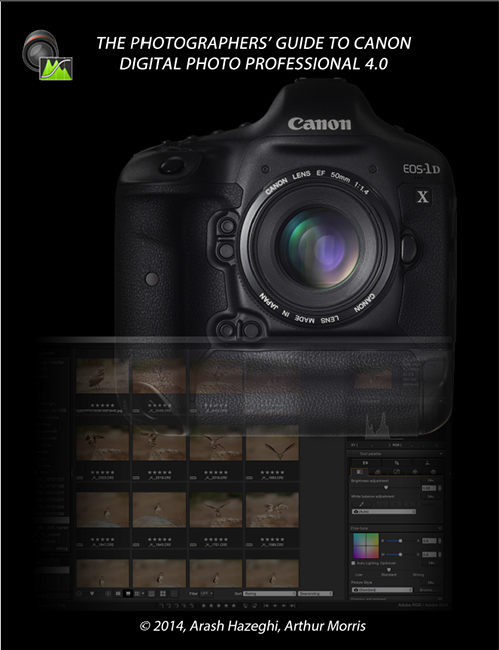 You can order your copy of "The Photographers' Guide to Canon Digital Photo Professional 4.0" (aka the DPP 4 Raw Conversion eGuide) by Arash Hazeghi and Arthur Morris by clicking here.
The DPP 4 eGuide (PDF)
Learn how and why I and many other discerning photographers choose and use only DPP 4 to convert their Canon RAW files in the DPP 4 RAW Conversion Guide by Arash Hazeghi and yours truly. The latest version supports all of the newer Canon camera bodies and several older models including the EOS-7D and the EOS-1D Mark IV. The DPP IV Guide is the ideal companion to the 7D Mark II User's Guide, a runaway best seller.
The DPP 4 eGuide (PDF) Updated for 1D Mark IV and the original 7D
The DPP 4 eGuide was recently updated to include the luminance and chrominance noise reduction values for both the 1D Mark IV and the original 7D. If you purchased your copy from BAA please e-mail Jim and request the DPP 4 1d IV/7D update. Please be sure to cut and paste page 1 into your e-mail as proof of purchase.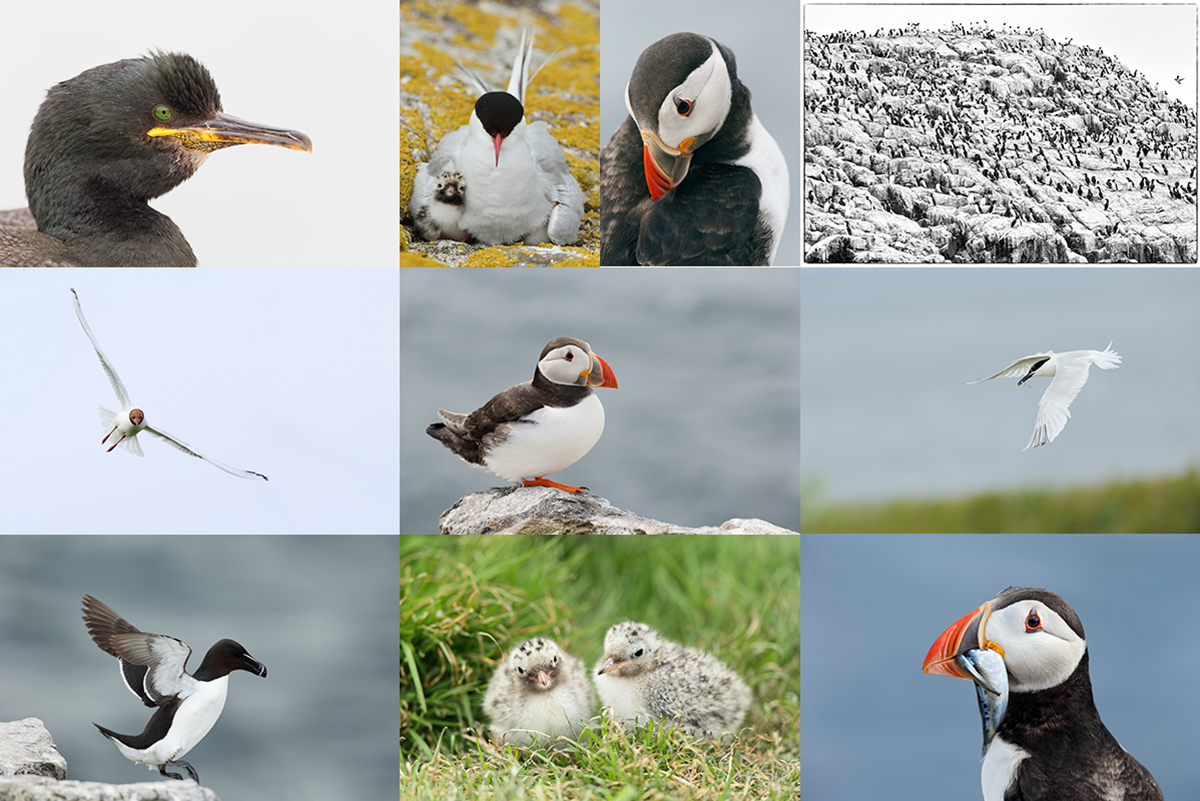 Images and card design copyright: Arthur Morris/BIRDS AS ART. Click on the card to enjoy a spectacular larger version.
2016 UK Puffins and Gannets IPT
June 27 through July 4, 2016: $5699: Limit 10 photographers/only 1 spot left. Two great leaders: Denise Ippolito and Arthur Morris.
This Just In: If all promised deposits arrive only 4 slots left….
Here are the plans: take a red eye from the east coast of the US on June 26 arriving in Edinburgh, Scotland on the morning of Monday 27 June no later than 10am (or simply meet us then at the Edinburgh Airport–EDI, or later in the day at our cottages if you are driving your own vehicle either from the UK or from somewhere in Europe). Stay 7 nights in one of three gorgeous modern country cottages.
There are 5 days of planned puffin/seabird trips and 1 morning of gannet photography, all weather permitting of course.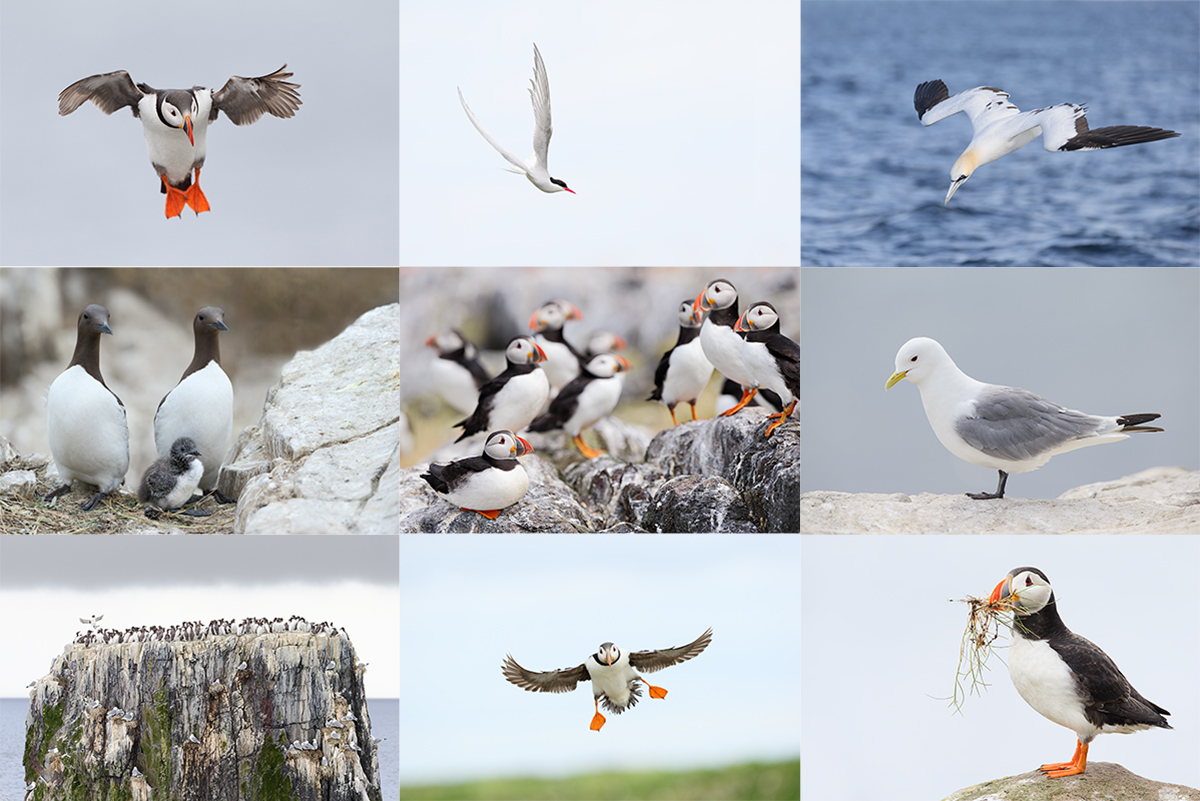 Images and card design copyright: Arthur Morris/BIRDS AS ART. Click on the card to enjoy a spectacular larger version.
The Details
We will get to photograph Atlantic Puffin, Common Murre, Razorbill, Shag, and Northern Gannet; Arctic, Sandwich, and Common Terns, the former with chicks of all sizes; Black-headed, Lesser-Black-backed, and Herring Gulls, many chasing puffins with fish; Black-legged Kittiwake with chicks. And two species of castles 🙂 We will be staying in upscale country-side lodging that are beyond lovely with large living areas and lots of open space for the informal image sharing and Photoshop sessions. The shared rooms are decent-sized, each with a private bathroom. See the limited single supplement info below.
All breakfasts, lunches and dinners are included. All 5 puffins boat lunches will need to be prepared by you in advance, taken with, and consumed at your leisure. I usually eat mine on the short boat trip from one island to the other. Also included is a restaurant lunch on the gannet boat day and a farewell thank you dinner.
Plan to fly home on the early morning of Monday July 4 or to continue your stay or travels.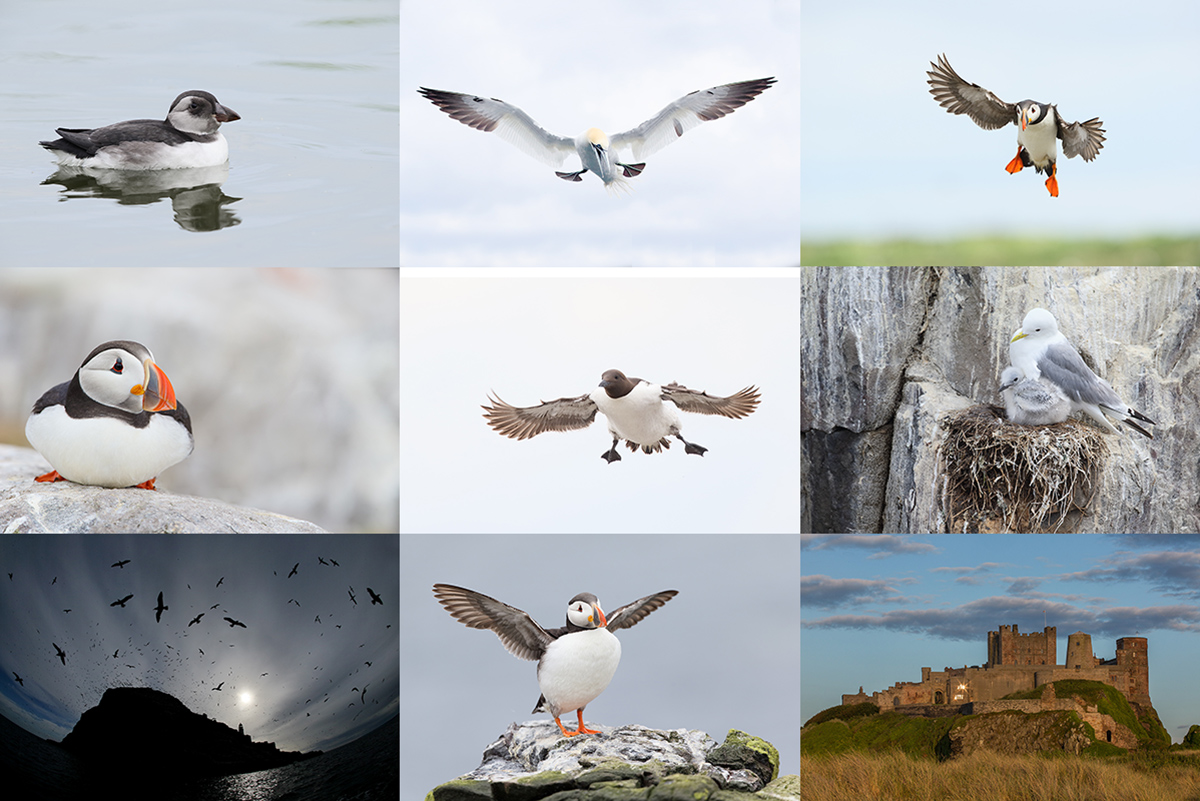 Images and card design copyright: Arthur Morris/BIRDS AS ART. Click on the card to enjoy a spectacular larger version. Scroll down to join us in the UK in 2016.
Deposit Info
If you are good to go sharing a room–couples of course are more than welcome–please send your non-refundable $2,000/person deposit check now to save a spot. Please be sure to check your schedule carefully before committing to the trip and see the travel insurance info below. Your balance will be due on March 29, 2016. Please make your check out to "Arthur Morris" and send it to Arthur Morris/BIRDS AS ART, PO Box 7245, Indian Lake Estates, FL, 33855. If we do not receive your check for the balance on or before the due date we will try to fill your spot from the waiting list. If your spot is filled, you will lose your deposit. If not, you can secure your spot by paying your balance.
Single Supplement Deposit Info
Single supplement rooms are available. To ensure yours, please register early. The single supplement fee is $1575. If you would like your own room, please request it when making your deposit and include payment in full for the single supplement; your single supplement deposit check should be for $3,575. As we will need to commit to renting the extra space, single supplement deposits are non-refundable so please be sure that check your schedule carefully before committing to the trip and see the travel insurance info below.
Travel Insurance
Travel insurance for big international trips is highly recommended as we never know what life has in store for us. I strongly recommend that you purchase quality insurance. Travel Insurance Services offers a variety of plans and options. Included with the Elite Option or available as an upgrade to the Basic & Plus Options you can also purchase Cancel for Any Reason Coverage that expands the list of reasons for your canceling to include things such as sudden work or family obligation and even a simple change of mind. My family and I use and depend on the great policies offered by TIS whenever we travel. You can learn more here: Travel Insurance Services. Do note that many plans require that you purchase your travel insurance within 14 days of our cashing your deposit check of running your credit card. Whenever purchasing travel insurance be sure to read the fine print careful even when dealing with reputable firms like TSI.
We do hope that you can join us. artie and denise
Facebook
Be sure to like and follow BAA on Facebook by clicking on the logo link upper right. Tanks a stack!
Support the BAA Blog. Support the BAA Bulletins: Shop B&H here!
We want and need to keep providing you with the latest free information, photography and Photoshop lessons, and all manner of related information. Show your appreciation by making your purchases immediately after clicking on any of our B&H or Amazon Affiliate links in this blog post. Remember, B&H ain't just photography!
…..
Amazon.com
Those who prefer to support BAA by shopping with Amazon may use this link:
Amazon Canada
Many kind folks from north of the border, eh, have e-mailed stating that they would love to help us out by using one of our affiliate links but that living in Canada and doing so presents numerous problems. Now, they can help us out by using our Amazon Canada affiliate link by starting their searches by clicking here. Many thanks to those who have written.
Typos
In all blog posts and Bulletins, feel free to e-mail or to leave a comment regarding any typos or errors. Just be right :).