Stuff
I set the alarm for 3:15am so that I could meet my three private clients at Nickerson at 5am. We had a great time and the boys and girls learned a ton despite the difficult wind (15+ mph from the NW) against sun conditions. Tonight is the meet and greet for the Nickerson Beach IPT. The one thing that always amazes me is that 90% of the folks at Nickerson (and most other locations that I visit regularly) have no clue as to how to try and make a good image. And that goes for double in difficult situations.
I prepared this blog post at my Mom's in about one hour after optimizing the image on my flight to ISP on Monday past. If I did everything right, it should be published automatically at 6am on Thursday, August 13, 2015.
Thanks to All!
Thanks to the many who have been participating here on the blog more frequently after my recent plea for increased interactivity.
Razorbill Iris Exposure Answer
Many gave answers that would likely receive full credit on an exam but nobody gave the text book answer that I was looking for, the one that showed a complete and thorough understanding of exposure theory. Here is my answer:
The (middle-dark toned) iris of a Razorbill in a properly exposed RAW file will be about 1 1/2 stops underexposed because the correct exposure for a middle-dark tone needs to be about 1 1/2 stops more than the correct exposure for a bright WHITE in the same light. In other words, to be properly exposed, bright WHITEs need less light than a middle tone and middle-dark tones need more light than middle tones….
Learn more in the chapter on exposure in the original classic, The Art of Bird Photography (in softcover only) and in the "Exposure Simplified" section of The Art of Bird Photography II (ABP II: 916 pages, 900+ images, on CD only). Best bet: Save $10 by ordering the two-book bundle here. I can only wish that the info in these two comprehensive books had been available when I started in 1983….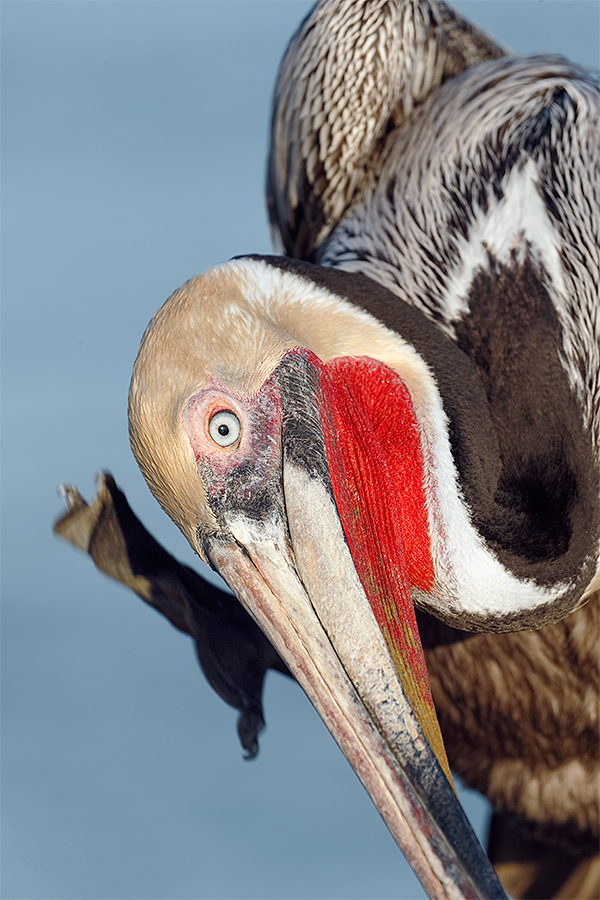 This image was created with the tripod-mounted Canon EF 100-400mm f/4.5-5.6L IS II USM lens, the Canon Extender EF 1.4X III (at 560mm) and the Canon EOS-1D X.. ISO 400. Evaluative metering at zero: 1/400 sec. at f/9 in Manual mode. AWB.
Center AF point/AI Servo Expand (by necessity)/Rear Focus AF as framed. The active AF sensor was fell on a spot to the right of and just below the bir's eye. Click here to see the latest version of the Rear Focus Tutorial.
Image #1: Breeding plumage Pacific race Brown Pelican scratching.
Your browser does not support iFrame.
Secrets to Success with the Hand Held 100-400 II/1.4X III/1D X Combination
Sorry; there will be nothing earthshaking here.
#1: Whatever the camera body, hand holding the 100-400 II with the 1.4X III TC yields the very best results when the sun is shining. That goes for double if you are using a 7D Mark II or another 1.6X crop factor body.
#2: For topnotch results when the sun is shining, work right on sun angle with your shadow pointed directly at the subject.
#3: Do not use One-Shot or Rear Focus and re-compose AF; doing so will result in unsharp images should you shift your position even a fraction of a millimeter as you do when you are breathing. With all due respect to the doubters, this too goes for double if you are using a 7D Mark II or another 1.6X crop factor body; with denser pixels the effects of gear shake will be greater on a pixel level with a crop factor camera than with a full frame body.
#4: The corollary to #3: always work in AI Servo mode and, after choosing a spot on the bird that will yield a sharp eye, have AF active at the moment of exposure.
#5: Even when working with AI Servo AF actively tracking, be sure to support your left forearm for added stability (and thus, increased sharpness). For today's image my left forearm was resting on top of a cliff. I was standing in a natural, chest-high trench.
Note: The speed of initial AF acquisition with this combo is slowed as it is whenever a TC is added to the mix. This goes double for the 7D II or any of the pro-sumer bodies because the pro bodies have stronger batteries that better drive the AF system. My best advice for combatting this problem is to pre-focus at the approximate distance to the flying birds.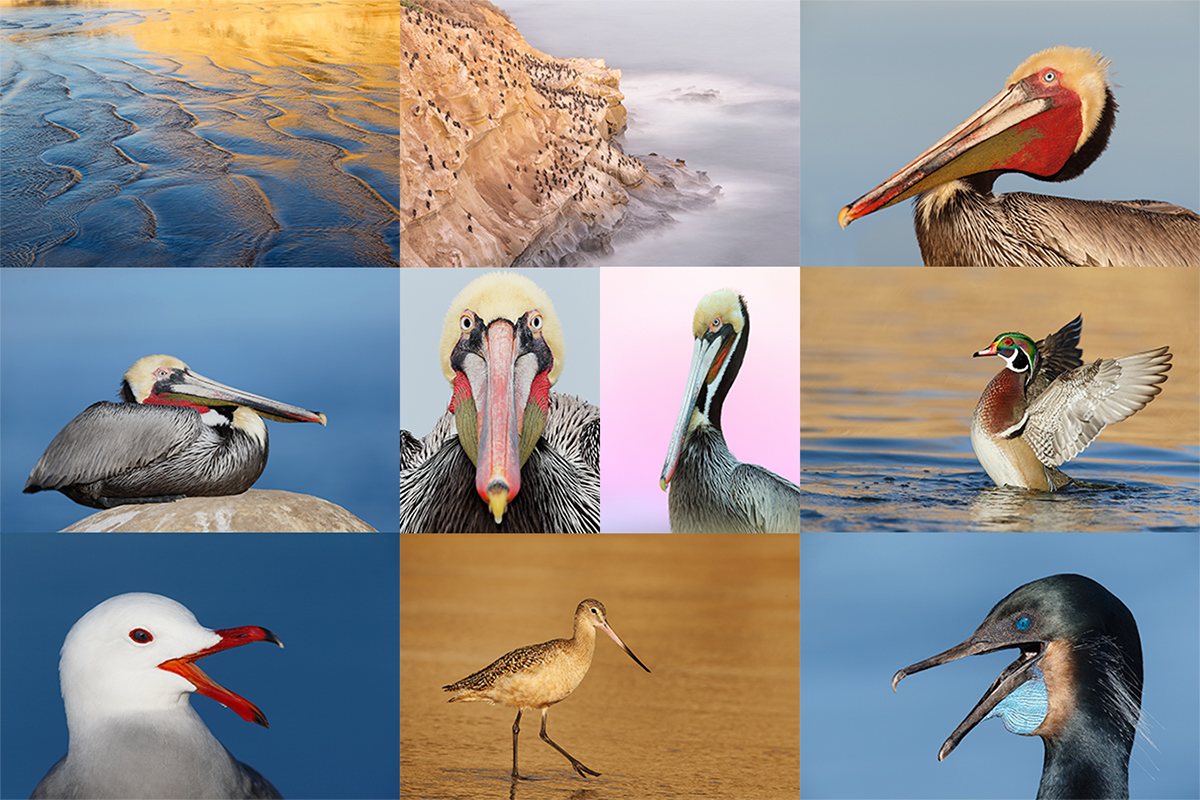 San Diego offers a wealth of very attractive natural history subjects. With annual visits spanning more than three decades I have lot of experience there….
2016 San Diego 4 1/2-DAY BIRDS AS ART Instructional Photo-Tour (IPT) JAN 8 thru the morning of JAN 12, 2016: $1899 (Limit: 10)
Meet and Greet at 7:00pm on the day before the IPT begins
Two great leaders: Arthur Morris and Denise Ippolito
Join us in San Diego to photograph the spectacular breeding plumage Brown Pelicans with their fire-engine red and olive green bill pouches; Brandt's and Double-crested Cormorants in breeding plumage with their amazing crests; breeding plumage Wood and Ring-necked Duck; other species possible including Lesser Scaup, Redhead, and Surf Scoter; a variety of gulls including Western, California, and the gorgeous Heerman's, all in full breeding plumage; shorebirds including Marbled Godwit, Willet, Sanderling and Black-bellied Plover; many others possible including Least, Western, and Spotted Sandpiper, Whimbrel, Black and Ruddy Turnstone, Semipalmated Plover, and Surfbird; Harbor Seals (depending on the current regulations) and California Sea Lions likely; and Bird of Paradise flowers. And as you can see by studying the two IPT cards there are some nice landscape opportunities as well.
Did I mention that there are wealth of great birds and natural history subjects in San Diego in winter?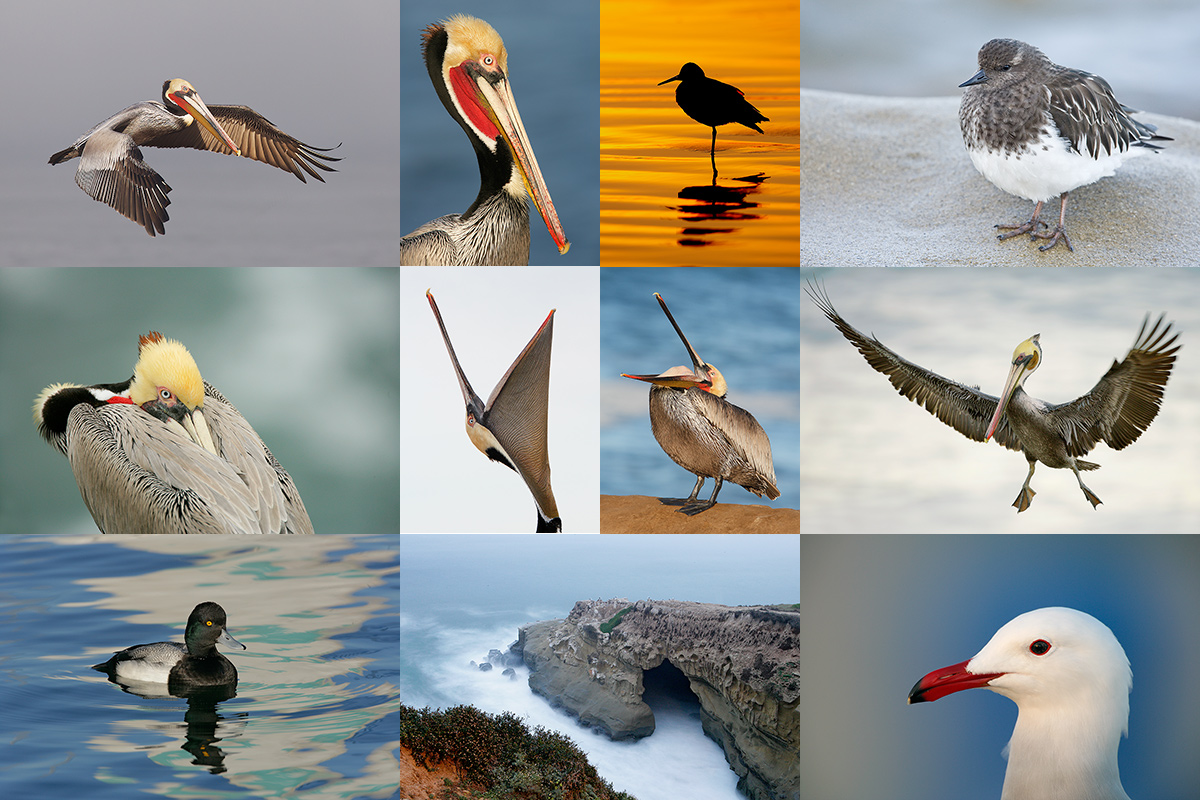 Though the pelicans will be the stars of the show on this IPT there will be many other handsome and captivating subjects in wonderful settings.
The San Diego Details
This IPT will include five 3 1/2 hour morning photo sessions, four 2 1/2 hour afternoon photo sessions, five lunches, after-lunch image review and Photoshop sessions, and a thank you dinner. To ensure early starts, breakfasts will be your responsibility.
A $499 non-refundable deposit is required to hold your slot for this IPT. You can send a check (made out to "Arthur Morris) to us at BIRDS AS ART, PO Box 7245, Indian Lake Estates, FL, 33855. Or call Jim or Jennifer at the office with a credit card at 863-692-0906. Your balance, payable only by check, will be due on 11/1//2015. If we do not receive your check for the balance on or before the due date we will try to fill your spot from the waiting list. Please print, complete, and sign the form that is linked to here and shoot it to us along with your deposit check. If you register by phone, please print, complete and sign the form as noted above and either mail it to us or e-mail the scan. If you have any questions, please feel free to contact me via e-mail.
Facebook
Be sure to like and follow BAA on Facebook by clicking on the logo link upper right. Tanks a stack!
Support the BAA Blog. Support the BAA Bulletins: Shop B&H here!
We want and need to keep providing you with the latest free information, photography and Photoshop lessons, and all manner of related information. Show your appreciation by making your purchases immediately after clicking on any of our B&H or Amazon Affiliate links in this blog post. Remember, B&H ain't just photography!
…..
Amazon.com
Those who prefer to support BAA by shopping with Amazon may use this link:
Amazon Canada
Many kind folks from north of the border, eh, have e-mailed stating that they would love to help us out by using one of our affiliate links but that living in Canada and doing so presents numerous problems. Now, they can help us out by using our Amazon Canada affiliate link by starting their searches by clicking here. Many thanks to those who have written.
Typos
In all blog posts and Bulletins, feel free to e-mail or to leave a comment regarding any typos or errors. Just be right :).