Stuff
We photographed at Jamaica Bay Wildlife Refuge on Friday morning and after a relatively slow start we did quite well. Everyone enjoyed seeing and photographing the shorebirds in the mud.
I prepared this blog post in my motel room after our Friday afternoon image review and Photoshop session. This blog post took less than an hour to prepare and, if I did everything right, it should be published automatically at 6am on Saturday, August 15, 2015.
Namibia IPT
If you missed the info on this great trip, please click here. So far we have assembled a cast of international participants: one from the US, two from South Africa, one from Hong Kong, and one from Australia. More than a few are world class photographic talent….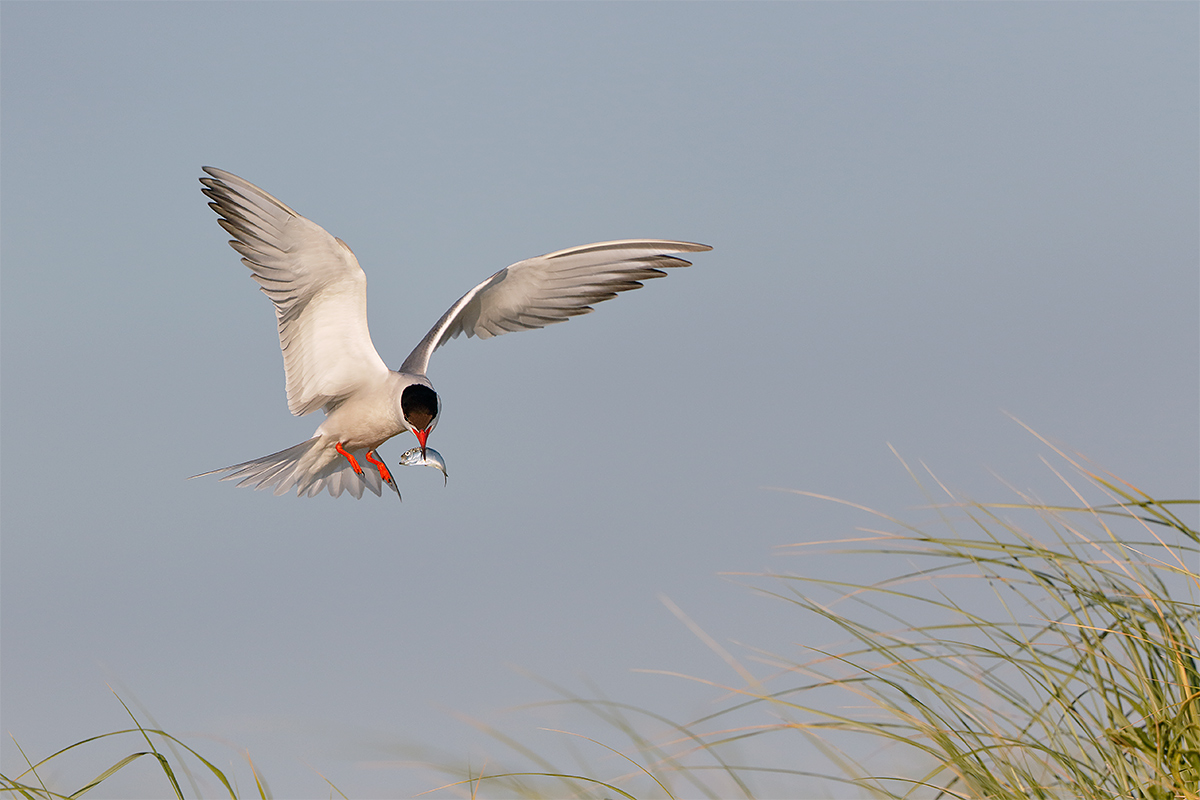 This image was created at 6:42pm on the first afternoon of the Nickerson IPT with the hand held Canon EF 400mm f/4 DO IS II USM lens and the amazing Canon EOS 7D Mark II. ISO 400. Evaluative metering +2/3 stop off the blue sky: 1/5000 sec. at f/4. AWB.
Center AF point/Manual selection/AI Servo/Shutter Button AF as framed was active at the moment of exposure (as is always best when hand holding). The active point missed the subject's head by a bit but kept tracking accurately most likely due to my Custom Case settings (as detailed in the 7D Mark II Guide. Click on the image to see a larger version.
Common Tern above nest with baitfish for chick
Your browser does not support iFrame.
400 DO II/7D II for Flight
While the winds with westerly components have made things difficult on clear mornings (can you say wind against sun?) they are just what the doctor ordered for the afternoons. We enjoyed lots of great flight photography opportunities on Thursday afternoon and expect more of the same on Friday. I was quite pleased with the performance of the 400 DO II/7D II combo. Though you obviously lose the ability to zoom out that you have with the Canon EF 100-400mm f/4.5-5.6L IS II USM lens, the extra stop of speed (f/4 as compared to f/5.6) provides faster initial AF acquisition. In addition, you can enjoy super-fast shutter speeds at ISO 400. Aside from being able to zoom out when needed the 100-400mm IIis lighter than the 400 DO II, 3.5 lbs as compared to 4.63 lbs. For some folks that is a huge difference. Which is best for you? There are many, many factors involved and in the end, that needs to be a personal decision.
There will be lots more here over the next few weeks on the 400 DO II as it will serve as my super-telephoto lens on the Bear Boat IPT. I'll be shipping the 600 II home just before I fly to Alaska in a week.
Unfortunate Nickerson News
All visiting photographers were dismayed on Friday afternoon when they realized that the ropes that protect the colony had been moved back 25-40 feet during the day…. Someone in the group asked a birder if they new anything. "They thought that the photographers had been too close to the birds."
I am not sure who they is. All that I can say is that all of the photographers respected the colony boundaries and that the breeding skimmers were pretty much at peace with our presence. Adults Black Skimmers routinely fed their chicks, some fairly close to the ropes, despite the presence of photographers.
Many times in my career I have seen large groups of well-behaved photographers enjoying great conditions only to have them (the authorities whomever they are) dramatically alter the situation either overnight or in a matter of hours for a variety of reasons….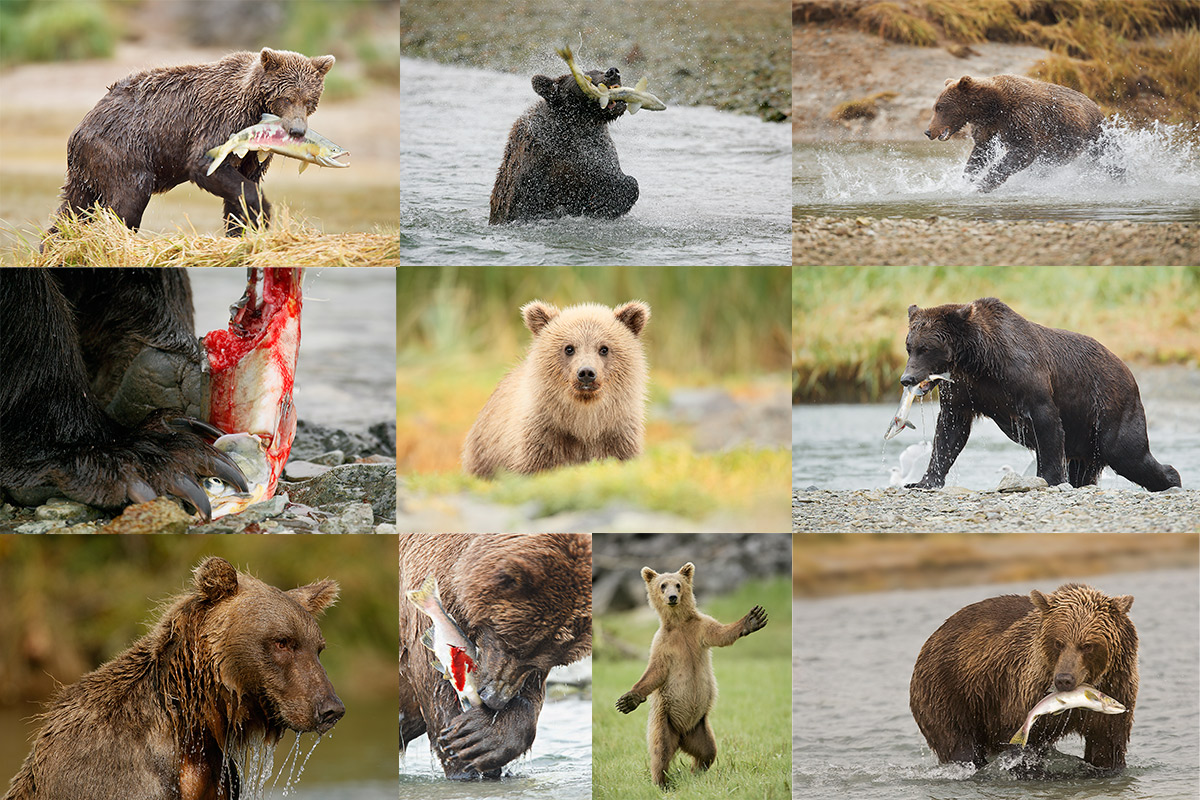 All of the images on the bear boat card above were created in Katmai National Park during the month of September.
Bear Boat/Bears Catching Salmon IPT: September 1-8, 2015 from Kodiak, AK/6 FULL & 2 HALF DAYS: $6699. Happy campers only! Maximum 8/Openings: 2. Plus the leader: Arthur Morris.
Please e-mail or call me on my cell at 863-221-2372 for late registration discount info; leave a message if I do not pick up.
Join me in Katmai National Park, AK for seven days of photographing Coastal Brown Bears (grizzlies) catching salmon, fattening up for the long winter. Other subjects will include Mew and Glaucous-winged Gulls in flight and dip-feeding on salmon roe. Did I mention that we live on a boat and that the food is great? Most of our photography will be done in a variety of famed locations: Geographic Harbor, Kinak Bay, and Kukak Bay. We once had 39 bears fishing the creek at Kukak….
It is mandatory that you be in Kodiak no later than the late afternoon of August 31, 2015 September to avoid missing the float planes to the boat on the morning of September 1. With air travel in AK being what it is, with the chance of fog or other bad weather–being on Kodiak on August 30 is an even better plan). I will be on Kodiak on August 30 to avoid any potential disaster. That said in my nearly a dozen bear boat trips I was delayed only once but since I was day early as noted above there was no harm, no foul.
We will take one or more float planes to the boat mid-morning on September 1. We will photograph bears fishing that afternoon and every day for the next six days (weather permitting of course). We should have bears catching salmon every day. In addition, we will get some nice stuff on Mew Gull and Glaucous-winged Gulls dining on roe and the remains of predated salmon. We may–depending on where the concentrations of bears are–get to photograph Harbor seals and some hauled out Steller's Sea Lions (an endangered species). Halibut fishing (license required) is optional. On September 8, our last morning on the boat, those who would like to enjoy one last photo session will do so. The group returns to Kodiak via float plane midday. Most folks will fly to Anchorage and then continue on red-eye flights to their home cities.
The eight days will consist of six full days (Sept 2, 3, 4, 5, 6, & 7) of photography featuring lots of Coastal Brown Bears catching salmon as above plus a variety of other natural history subjects plus some nice scenic photography that I forgot to mention above. Plus the first afternoon and the last morning.
What's included? 8 DAYS/7 NIGHTS on the boat as above. All meals on the boat. (The food is quite excellent.) National Park fees. One night's double occupancy lodging on Kodiak; arrive: Sept 1/depart: Sept 2. The thank-you-in-advance dinner on Sept 1. In-the-field photo tips, instruction, and guidance. An insight into the mind of a top professional; I will constantly let you know what I am thinking, what I am doing, and why I am doing it. Small group image review, image sharing, and Photoshop instruction on the boat.
What's not included: Your round trip airfare to and from Kodiak, AK (almost surely through Anchorage). All necessary lodging other than the cost of your double occupancy room on the night of August 31 should you opt to arrive early–we can arrange that in advance for you. We will let you know the cost of a single supplement for the one night if so desired. The cost of the round-trip float plane to the boat on September 2 and back to Kodiak on September 9. The cost of a round trip this year was $500. The suggested crew tip of $210.
Is this an expensive trip? Yes, of course. But with 6 full and two half days, a wealth of great subjects, and the fact that you will be walking with the bears just yards away (or less….) it will be one of the great natural history experiences of your life. Most folks who take part in a Bear Boat IPT wind up coming back for more.
A $2,000 per person non-refundable deposit by check only made out to "Arthur Morris" is required to hold your spot. Please click here to read our cancellation policy. Then please print, read, and sign the necessary paperwork here and send it to us.
Your deposit is due immediately. That will leave a balance of $4699. The next payment of $2699 will be due on February 15, 2015. The final payment of $2000 is due on May 1, 2015.
I hope that you can join us for this wondrously exciting trip.
Facebook
Be sure to like and follow BAA on Facebook by clicking on the logo link upper right. Tanks a stack!
Support the BAA Blog. Support the BAA Bulletins: Shop B&H here!
We want and need to keep providing you with the latest free information, photography and Photoshop lessons, and all manner of related information. Show your appreciation by making your purchases immediately after clicking on any of our B&H or Amazon Affiliate links in this blog post. Remember, B&H ain't just photography!
…..
Amazon.com
Those who prefer to support BAA by shopping with Amazon may use this link:
Amazon Canada
Many kind folks from north of the border, eh, have e-mailed stating that they would love to help us out by using one of our affiliate links but that living in Canada and doing so presents numerous problems. Now, they can help us out by using our Amazon Canada affiliate link by starting their searches by clicking here. Many thanks to those who have written.
Typos
In all blog posts and Bulletins, feel free to e-mail or to leave a comment regarding any typos or errors. Just be right :).