Stuff
On the last morning of the Nickerson Beach IPT we had some nice clouds in the east to go with our steady diet of west winds…. Hooray. The group was great. I took everyone out on Saturday afternoon for an early thank you dinner. As always, the food at Centre Thai Bistro at 268 Atlantic Ave., East Rockaway, NY 11518 was beyond superb. The appetizers were so amazing that we wished that we had not ordered our dinners so that we could have sampled more appetizers!
After dinner we headed out to the beach for our last afternoon. I woke an hour before the alarm at 3:06am and decided to pack up the car. I headed back to my Mom's after our morning shooting session.
I took me close to an hour to optimize today's featured image–see below for details–and another 45 minutes to prepare the blog post. If I did everything right, it should be published automatically at 6am on Monday, August 17, 2015.
Namibia IPT
If you missed the info on this great trip, please click here. So far we have assembled a cast of international participants: one from the US, two from South Africa, one from Hong Kong, and one from Australia. More than a few are world class photographic talent….
Selling Your Used Photo Gear Through BIRDS AS ART
Selling your used (or like-new) photo gear through the BAA Blog or via a BAA Online Bulletin is a great idea. We charge only a 5% commission. One of the more popular used gear for sale sites charges a minimum of 20%. Plus assorted fees! Yikes. The minimum item price here is $500 (or less for a $25 fee). If you are interested please e-mail with the words Items for Sale Info Request cut and pasted into the Subject line :). Stuff that is priced fairly–I offer free pricing advice, usually sells in no time flat. In the past two months we have sold almost everything in sight. Do know that prices on some items like the EOS-1D Mark IV, the old Canon 500mm, the EOS-7D, and the original 400mm IS DO lens have been dropping steadily. You can see the complete listings here.
Brand New Listing
Used Canon EF 400mm f/4 IS DO Lens
Sold! 8/19/2015
John Armitage is offering a used Canon 400 mm f/4 IS DO lens in like-new condition for $3,000.00. As Steve Leimberg did, John is giving this one away…. The lens was recently cleaned, checked, and calibrated by Canon Factory Service. The sale includes the lens trunk and key, the leather front lens cover, the rear lens cap and strap, and a Wimberley lens plate. The sale also includes insured shipping via either UPS or FED-EX Ground. Your item will not ship until your check clears unless other arrangements are made.
Please contact John by e-mail or by phone at 970-250-6080 (Pacific time).
I used this lens for several years with great success, especially for birds in flight and while working from various type of water craft. In addition, it would make a great prime super-telephoto lens for folks with a 7D II. Gannets in Love was created with the 400 DO. You can see that one and 13 other killer images that I made with my old 400 DO here. The title of that blog post is "The Canon 400mm f/4 IS DO Lens: Fourteen Images that Prove that the Internet Experts are Idiots." John's lens is priced to sell immediately. artie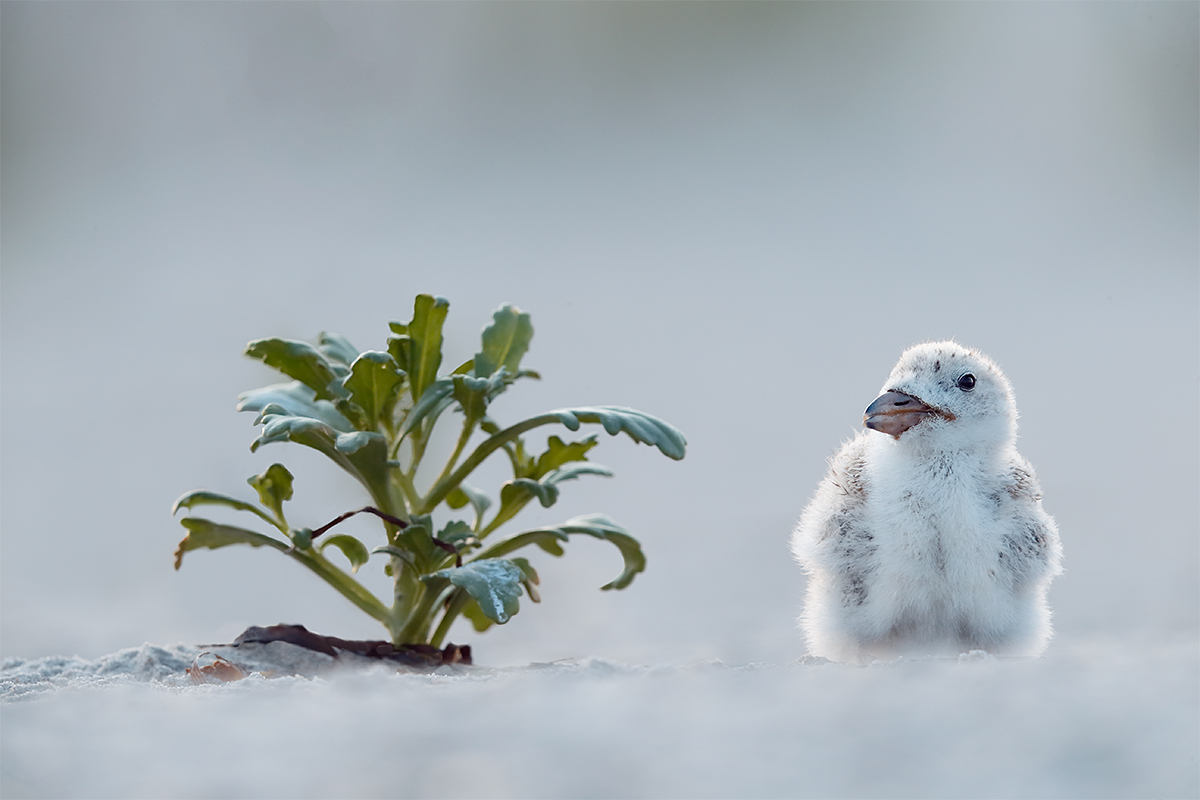 This image was created on the last morning of the Nickerson Beach IPT. I used the tripod-mounted Canon EF 600mm f/4L IS II USM lens, the Canon Extender EF 2X III, and the Canon EOS-1D X. ISO 640. Evaluative metering +2/3 stop: 1/640 sec. at f/9.
Center AF point (by necessity)/AI Servo Expand/Rear Focus on the chicks eye and re-compose. Click here to see the latest version of the Rear Focus Tutorial. Be sure to click on the image to see a larger version.
Black Skimmer chick on cloudy morning
Your browser does not support iFrame.
Simplicity Defined
I was photographing another chick when I noticed this one to my left. I took a frame or two but the image was way too cluttered. I scrambled on my belly dragging my splayed tripod with the 600 on it through the sand. I stopped and made another image but was still not thrilled so I scrambled another two yards to my left. Voila!
Sun Angle Lesson
With the wind from the west the chick was facing west. Had it been a clear morning we would have enjoyed some nice backlit situations for a very short while after the sun came up. Had it not been for the blessed cloud, this image, created an hour after sunrise, would not have been possible as the backlight would have been far too harsh.
The Image Optimization
After converting the RAW file in DPP I brought the TIFF into Photoshop. The first thing that I did was eliminate the color cast. Next, I went after the dark areas behind the bush using the Protective Cloning on a Layer technique as taught to me by Denise Ippolito. This depends on a thorough mastery of Layer Masking; it alone took me more than 30 minutes. Denise could have polished it off in about 1/3 of that time…. Then a bit of beach clean up using my usual tools: the Spot Healing Brush Tool, the Clone Stamp Tool, my beloved Patch Tool, a few Quick Masks that were refined by Layer Masks, and even a few Content Aware Fills.
Then I selected the bird, applied a layer of my NIK Color Efex Pro 50/50 recipe at about 40% opacity. I pulled the curve up on the bird only to lighten it and finished things off with a Contrast Mask to sharpen the face. It was a great way to end the IPT.
Digital Basics
Nearly everything that I did to optimize today's image is covered in detail in my Digital Basics File–written in my easy-to-follow, easy-to-understand style. Are you tired of making your images look worse in Photoshop? Digital Basics File is an instructional PDF that is sent via e-mail. It includes my complete digital workflow, dozens of great Photoshop tips, details on using all of my image clean-up tools, the use of Contrast Masks, several different ways of expanding and filling in canvas, all of my time-saving Keyboard Shortcuts, Quick Masking, Layer Masking, and NIK Color Efex Pro basics, Contrast Masks, Digital Eye Doctor techniques, using Gaussian Blurs, Tim Grey Dodge and Burn, a variety of ways to make selections, how to create time-saving actions, the Surface Blur (background noise reduction) settings and Brush Opacity Magic both taught to me by Denise Ippolito, and tons more.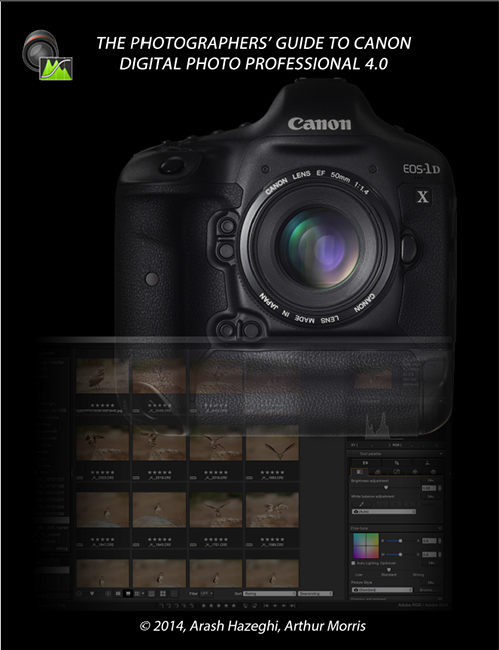 You can order your copy of "The Photographers' Guide to Canon Digital Photo Professional 4.0" (aka the DPP 4 Raw Conversion eGuide) by Arash Hazeghi and Arthur Morris by clicking here.
The DPP 4 eGuide (PDF)
Learn how and why I and many other discerning photographers choose and use only DPP 4 to convert their Canon RAW files in the DPP 4 RAW Conversion Guide by Arash Hazeghi and yours truly. The latest version supports all of the newer Canon camera bodies and several older models including the EOS-7D and the EOS-1D Mark IV. The DPP IV Guide is the ideal companion to the 7D Mark II User's Guide, a runaway best seller.
Facebook
Be sure to like and follow BAA on Facebook by clicking on the logo link upper right. Tanks a stack!
Support the BAA Blog. Support the BAA Bulletins: Shop B&H here!
We want and need to keep providing you with the latest free information, photography and Photoshop lessons, and all manner of related information. Show your appreciation by making your purchases immediately after clicking on any of our B&H or Amazon Affiliate links in this blog post. Remember, B&H ain't just photography!
…..
Amazon.com
Those who prefer to support BAA by shopping with Amazon may use this link:
Amazon Canada
Many kind folks from north of the border, eh, have e-mailed stating that they would love to help us out by using one of our affiliate links but that living in Canada and doing so presents numerous problems. Now, they can help us out by using our Amazon Canada affiliate link by starting their searches by clicking here. Many thanks to those who have written.
Typos
In all blog posts and Bulletins, feel free to e-mail or to leave a comment regarding any typos or errors. Just be right :).