Stuff
It is now 5:45am on Monday, August 24, 2015. I have been up for a few hours. We will be departing to the south about 1 1/2 days late for our Inside Passage adventure in a very few minutes.
This blog post is scheduled to be published from the Cloud at 6:00am on Friday, August 28, 2015.
The 2017 BIRDS AS ART/A Creative Adventure Galapagos Photo Cruise
I would assume that after viewing the variety and quality of the images in recent and past blog posts that most passionate nature photographers would wish to join us on the next Galapagos photo adventure during the second and third weeks of August, 2017. If that includes you, please shoot me an e-mail with the words "Galapagos August 2017 Photo-Cruise" cut and pasted into the Subject Line. The best news is that there will be two great leaders, yours truly and Denise Ippolito.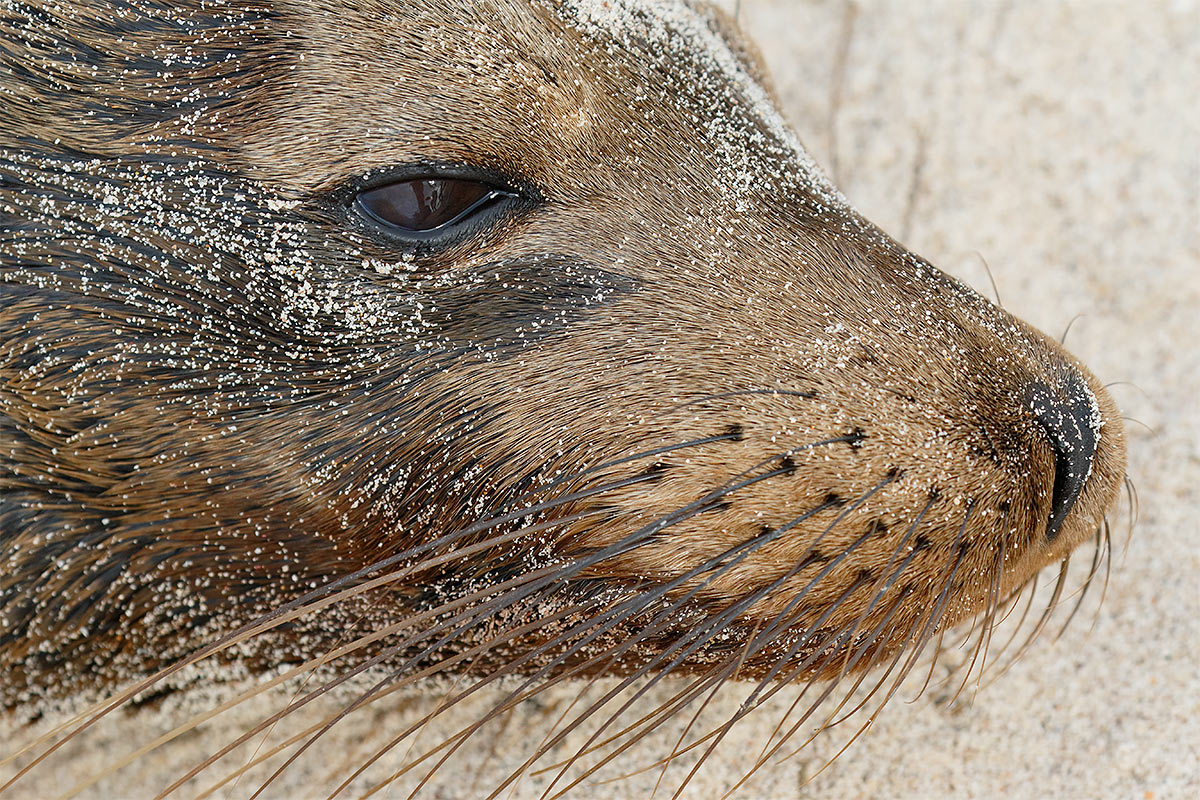 This image was created at Sante Fe, at 7:45 am on Day 12 of the 2015 Galapagos Photo Cruise with the hand held Canon EF 100-400mm f/4.5-5.6L IS II USM lens (at 255mm) and the amazing Canon EOS 7D Mark II. ISO 800. Evaluative metering +1/3 stop as framed: 1/400 sec. at f/8 in Manual Mode. AWB.
Center AF point (Manual selection)/AI Servo/Rear Focus AF as framed was active at the moment of exposure (as is always best when hand holding). Click here to see the latest version of the Rear Focus Tutorial. Click on the image to see a larger version.
Image #1: Galapagos Sea Lion–tight face portrait of youngster showing whiskers
Your browser does not support iFrame.
No Flies!
We usually do very well with the sea lions on the afternoon landings at Gardiner Bay on Hood Island but this year every Galapagos Sea Lion was covered with flies, even those that had just come out of the bay. Two days later on our morning landing at Sante Fe the group made up for the lost opportunity in spades; the weather was on the cool side with some nice cloud cover and the virtual absence of flies. The pinnipeds were practically smiling.
100-400II Versatility
I continue to be amazed by the incredible versatility of the relatively new Canon 100-400mm II IS L lens with its remarkable .98 meter minimum focusing distance. Here I was able to get close, zoom out to 255mm (yes, the actual focal length at close range was actually a bit less but who cares?), and create a lovely portrait. I varied my framing and wound up with about ten keepers in the series. Another favorite showed whiskers only.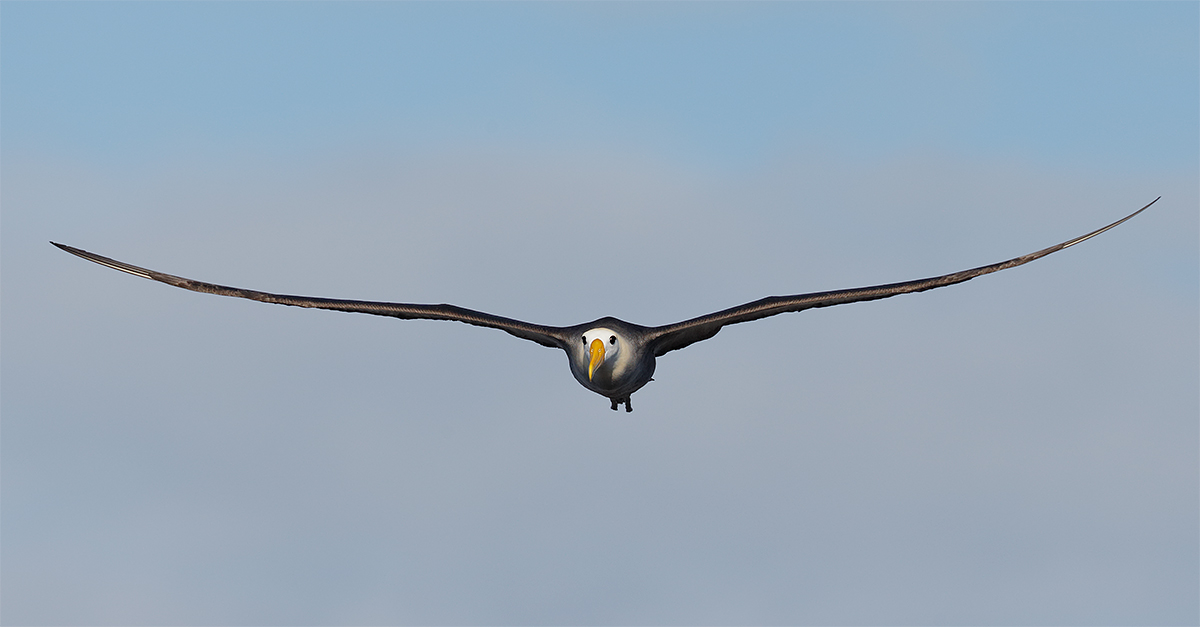 This image was created on our second of consecutive Hood Island (Espanola) landings at at 7:41am on Day 11 of the 2015 Galapagos Photo Cruise with the hand held Canon EF 100-400mm f/4.5-5.6L IS II USM lens (at 400mm) and the Canon EOS-1D X. ISO 400: 1/3200 sec. at f/5.6 in Manual mode. 1/2500 sec. at f/5/6 yielded blinkies on the bird's head. AWB.
Center AF point/Shutter Button AF Expand AI Servo AF was of course active at the moment of exposure as is pretty much mandatory with moving subjects. The selected AF point fell just above the base of the bird's right wing. This meant that the assist point directly below the center AF point had grabbed and tracked the leading edge of the bird's right wing right next to the head. This yielded a very sharp on the eye image. Click to see a larger version.
Image #2: Waved Albatross/flat flight right at me
Your browser does not support iFrame.
Less Wind Can Be a Good Thing
On our second visit to Hood Island and the Waved Albatross colony there was barely any wind at all in the early morning. These rare and benign conditions found the albatrosses flying due east along the coast into the gentle breeze and towards us and the light. But best of all they were flying much lower than they usually do. I grabbed my favorite new flight lens, the 400 DO II, and went to work hand held.
Facebook
Be sure to like and follow BAA on Facebook by clicking on the logo link upper right. Tanks a stack!
Support the BAA Blog. Support the BAA Bulletins: Shop B&H here!
We want and need to keep providing you with the latest free information, photography and Photoshop lessons, and all manner of related information. Show your appreciation by making your purchases immediately after clicking on any of our B&H or Amazon Affiliate links in this blog post. Remember, B&H ain't just photography!
…..
Amazon.com
Those who prefer to support BAA by shopping with Amazon may use this link:
Amazon Canada
Many kind folks from north of the border, eh, have e-mailed stating that they would love to help us out by using one of our affiliate links but that living in Canada and doing so presents numerous problems. Now, they can help us out by using our Amazon Canada affiliate link by starting their searches by clicking here. Many thanks to those who have written.
Typos
In all blog posts and Bulletins, feel free to e-mail or to leave a comment regarding any typos or errors. Just be right :).