A Belated Happy Birthday
I'd like to wish my Mom, Hazel Louise Morris, a belated happy birthday; she was 93 on Saturday. She's been a great Mom forever. I got to "see" her today when my younger daughter Alissa Skyped me on her i-Pad.
Condolences
Condolences to both the NY Football Giants and their fans (like me). They made history on Sunday. They became the first team in NFL history to lose their first two games after leading both by ten or more points in the fourth quarter.
Stuff
After tons of work today I have only one major task to complete before tidying things up for the audit of my 2013 tax return, all Schedule C. With what I have learned going over 2013 however, I will be completely re-doing my 2014 return…. Therefore, no end is in sight.
Another sunny swim today and another very cold ice bath. This blog post should be published automatically at 6am on Monday, September 21, 2015.
Selling Your Used Photo Gear Through BIRDS AS ART
Selling your used (or like-new) photo gear through the BAA Blog or via a BAA Online Bulletin is a great idea. We charge only a 5% commission. One of the more popular used gear for sale sites charges a minimum of 20%. Plus assorted fees! Yikes. The minimum item price here is $500 (or less for a $25 fee). If you are interested please e-mail with the words Items for Sale Info Request cut and pasted into the Subject line :). Stuff that is priced fairly–I offer free pricing advice, usually sells in no time flat. In the past few months, we have sold just about everything in sight. Do know that prices on some items like the EOS-1D Mark IV, the old Canon 500mm, the EOS-7D, and the original 400mm IS DO lens have been dropping steadily. You can always see what is for sale and what has sold along with the prices on the Used Gear Page by clicking here.
Brand New Listing
Canon EOS-1D X
Multiple IPT and a Creative Adventure Workshop veteran Patrick Sparkman is offering a used Canon 1D X in excellent condition for $3,650. The sale includes the manual, an extra battery, the battery charger, two 32 gb CF Cards, and insured shipping via FED-EX Ground. Your item will not ship until your check clears unless other arrangements are made.
Please contact Patrick by e-mail or by phone at 858-740-8455 (Pacific Time Zone).
This rugged professional body has been my everyday workhorse camera for more than 2 1/2 years. It is fast and dependable and has what is surely the world's greatest AF system. Best of all, Patrick takes very good care of his gear.
ps: Patrick and wife Robin have traveled with denise and me pretty much from one end of the planet to the other. We consider them both the dearest of friends. artie
This image was created at Old Car City in White Georgia with the tripod-mounted Canon EF 200-400mm f/4L IS USM Lens with Internal 1.4x Extender (at 274mm) and the Canon EOS 5D Mark III. ISO 400. Evaluative metering +1/3 stop: 1/6 sec. at f/22 in Av mode.
As with many of my flower images I used the 2-second timer and Live View (for mirror lock) to ensure a sharp image. Central sensor/AI Servo/Rear Focus on the emblem and re-compose. Click on the image to see a larger version.
Image #1: Emblem, side panel, and bumper trim detail: vintage Chevy Impala
Your browser does not support iFrame.
Why is an old car graveyard like a heron and egret rookery?
Why is an old car graveyard like a heron and egret rookery?
At rookeries such as those at Gatorland and St. Augustine it is easy to create more than 1,000 lousy images in a single photo session. There are lots of subjects and there are lots of distracting elements.
At old car graveyards like the one at Old Car City, GA it is easy to create more than 1,000 lousy images in a single photo session. There are hundreds of subjects and there are lots of distracting elements.
Join denise and me in White, GA during the second week of October: learn to see a good image, to frame what you see, and to isolate your subject while winding up with a pleasing background. In short, learn to see and think like a pro. We will be looking over your shoulder and reviewing your images on the rear LCD while we are in the field so that we can offer compositional and exposure guidance right on the spot.
Creative Thinking Question
Do you see one or more images within today's image? If yes, what is it that you like, and how would you go about framing and creating the image that you see in your mind's eye?
Old Car City
Old Car City, in White, Georgia, boasts 4,500 old cars on 34 acres mostly along wooded trails. Old cars have an allure that can't be explained. They feature sublime colors, are full of interesting curves and lines, and many have unique hood ornaments and emblems. Old Car City is a treasure trove just waiting to be unwrapped by folks who have or learn to develop a creative eye. During this workshop we will cover all of the steps needed to produce eye popping HDR images of old cars, trucks, buses, wheels and much, much more. So get out your old jeans and dirty sneakers and prepare to roll up your sleeves for another creative adventure. Join us for a workshop and seminar rolled into one.
My Old Car City Gear Bag
Canon EF 100-400mm f/4.5-5.6L IS II USM lens. Talk about versatility…. This lens, on the tripod, will practically be a one-size fits all answer to my lens needs on this IPT. It was a fairly easy decision to leave the Canon EF 70-200mm f/2.8L IS II USM lens at home for OCC. Why? With the 100-400 II being a a tripod 100% of the time, the speed of the 70-200 f/2.8 is a non-factor.
Canon EF 24-105mm f/4L IS USM Lens. I am not very good with this lens and in addition, I love to work tight rather than wide. I would expect to use it rarely if ever during the workshop. Denise is a master with this lens. At some point, I would love to do a blog post featuring some of the many outstanding images that she has created over the years with this lens. The images feature an amazingly wide range of subject matter.
Micro Four-Thirds Stuff
If things worked out as planned, denise and I will be testing some of the latest/greatest micro 4/3 cameras and lenses. If that happens, we will let you know if we had any fun and made a few good images….
Camera Bodies
5D Mark III. For flowers, scenics, and Urbex photography the 5D III is always my first choice.
EOS-1D X. I will have my rugged pro body along as a back-up.
Think Tank Rolling Bags
As I will be traveling very light I will be using the smaller of my two Think Tank rolling bags, the Airport International™ LE Classic.
Think Tank Urban Disguise Laptop Shoulder Bag
Both denise and I use and love this amazing bag as it has tons of room and enables us to bring tons of extra stuff. We both use the largest, top of the line model.
Please click on my Think Tank affiliate link here to earn a free gift when you purchase a Think Tank Rolling Bag.
Delkin Flash Cards
As always, I will have a 64gb Delkin e-Film Pro Flash Card in each camera body so that I never have to change cards in the field thus reducing the chance of losing a card…. Please note the new lower prices here. I do have a few extra 32 and 64gb cards in a Delkin CF Memory Card Tote, mostly to protect against loss.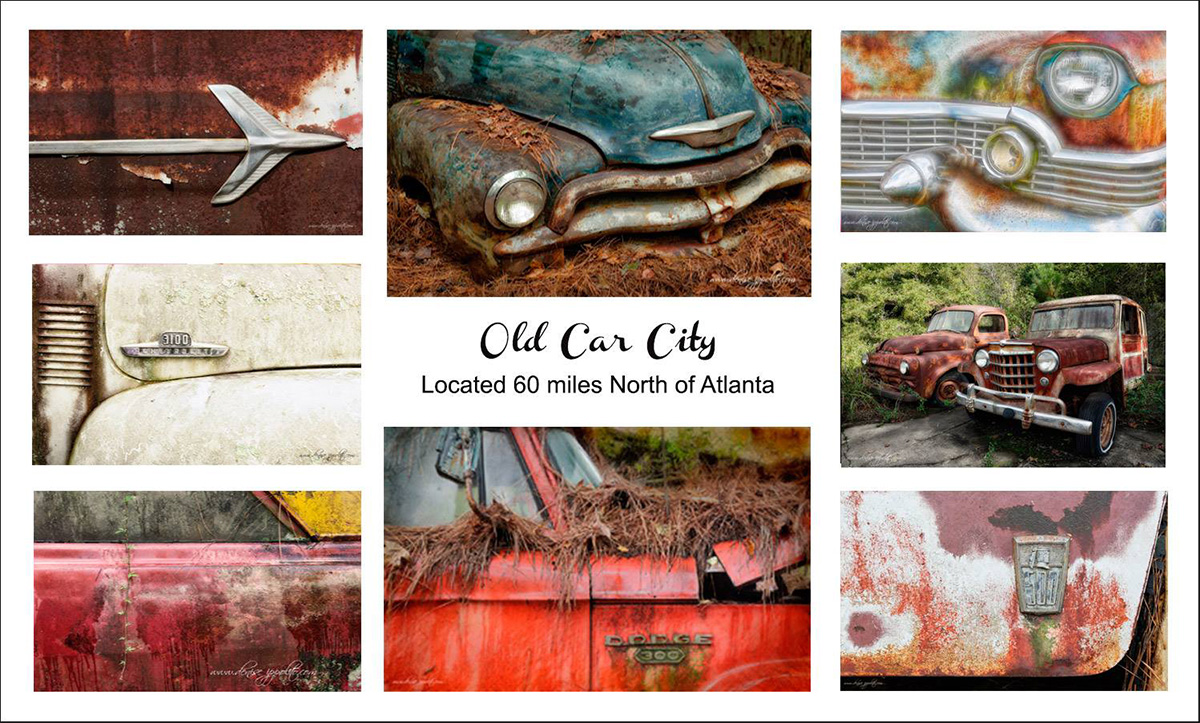 Images and Card Design courtesy of and copyright 2014: Denise Ippolito
Old Car City Workshop October 9,10, & 11th 2015: $399. Workshop fee includes two $25 admissions!
Two great leaders: Denise Ippolito and Arthur Morris.
Monday Morning Railroad Museum Add-on: $50!
Thursday Evening, October 8, 2015
Meet & Greet. 8:00 pm at the hotel ~ Join the group for an informal meet and greet session: folks will have the chance to get to know each other and the schedule a little bit better. Denise will give a brief orientation and while this is not mandatory it is a valuable addition to the workshop. Door Prizes will be given out at the Meet & Greet; you must be present to be eligible.
Friday October 9, 2015
9:00am- 9:30am ~ HDR Photography Overview, on location at Old Car City
9:30am -10:30am ~ Exposing Properly for HDR's & Histogram Review. During this session at Old Car City we will show how to properly expose all of your bracketed images. This will help you to capture all of the information needed to create a true HDR image. Note: this is more involved than simply setting your camera to auto bracketing. We will also explain in-depth how to correctly read your histogram while uncovering lots of misconceptions.
10:30am-12:00noon: ~ Composition Work: In-the-field hands-on work including creative image design, highlighting interesting details, when to go wide, and getting in close for background elimination.
12:00noon- 1:00pm ~ Break for lunch on your own-there is a restaurant directly across the street from OCC.
1:00pm- 4:00pm ~ Photo shoot at Old Car City.
Saturday October 10, 2015
9:00am-12:00 noon ~ Photo shoot Old Car City
12:00noon- 1:00pm ~ Break for lunch on your own.
1:00pm- 4:00pm Photo shoot Old Car City
Sunday October 11, 2015
9:00am- 1:00pm~ HDR Image Processing using Nik HDR Efex Pro and creative post-processing tips using a variety of plug-ins, filters and effects, layers and masks. At this time workshop participants are encouraged to share 5 images that they have captured during the workshop. These can be shared and viewed on your laptop or iPad or you can put them on a thumb drive for us to project. Best but not mandatory to bring your laptop.
Optional Add-On Day, Monday October 12, 2015
If you would like to join us at a nearby railroad museum/yard for a morning of photography the day after the workshop, simply let us know. You can pay the additional fee upon registration or on the spot with cash or check. Arrangements have been made so that we will have the place entirely to ourselves; they are normally closed on Mondays. We will be able to photograph the insides and outsides of the old trains, even an old mail car. If you like old trains then this day is a perfect addition to the workshop.
To Register
To register, please shoot me an e-mail and then either send your check made out to "Arthur Morris" for the total amount due to Arthur Morris/BIRDS AS ART, PO BOX 7245, Indian Lake Estates, FL 33855 or call Jim at or Jen at 863-692-0906 with your credit card in hand. At this late date payment in full is due.