What's Up?
More work on the audit. Almost done. Another sunny day swim and another great ice bath (though not as cold as last night's). Try this on for size: when I am away from home without ice baths I get up almost every hour to make a pit stop. Not good. As soon as I get home and take my first ice bath I consistently sleep four hours and then three or four more after just the one pit stop.
This seemingly simple blog post took more than 1 1/2 hours to prepare…. It should be published automatically at am on Tuesday, September 22, 2015. Please remember to use my B&H affiliate links for your major gear purchases; online orders only/no phone orders. It won't cost you a penny and helps me out tremendously. Many thanks for considering this important request.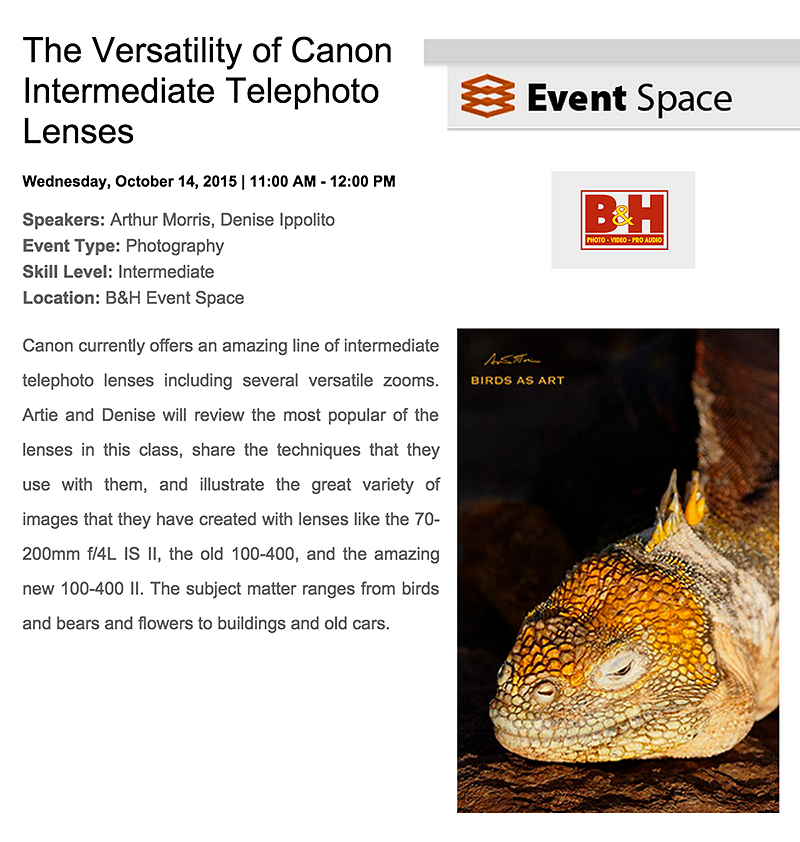 Please follow this link and the click on the "Register" button on the new page to register for the intermediate telephoto lens program.
B&H Event Space Programs
Denise and I are offering three great B&H Event Space programs on Wednesday October 14. We'd love to see each and every one of you there but the space is extremely limited to no more than 80 folks. If you would like to meet us, learn a ton, see lots of inspiring images, and get to ask questions, you need to register online. Registration is free, but you will need to register for each program separately. We hope to see you there.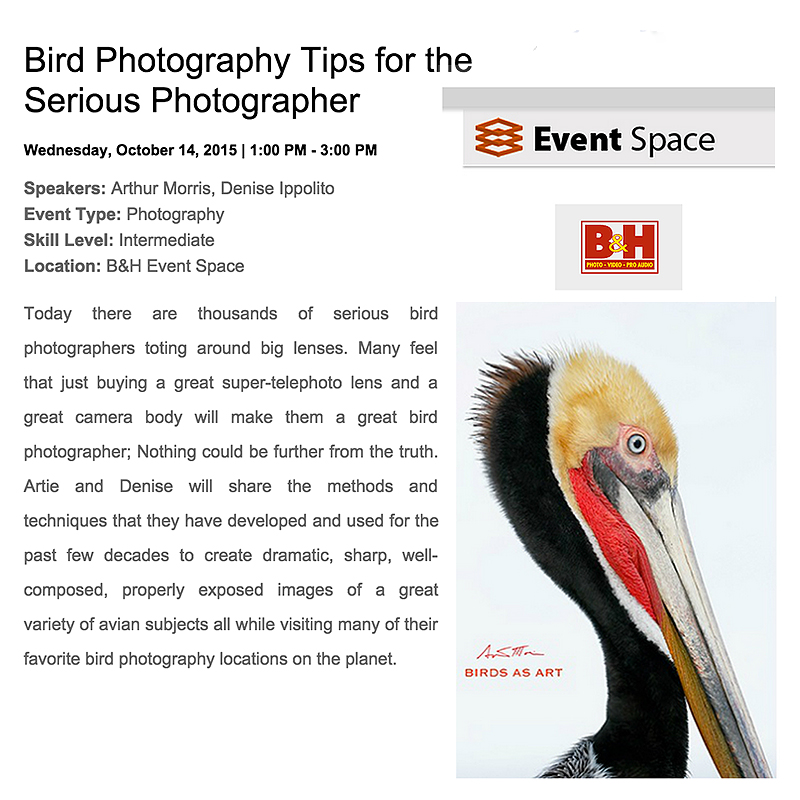 Please follow this link and the click on the "Register" button on the new page to register for the bird photography tips program.
If You Miss Them…
The full day program will surely be worth a long drive or a flight or two. If, however, you cannot make it into the city the plan is to have each program captured on video and available online at some point. Please do not ask when. 🙂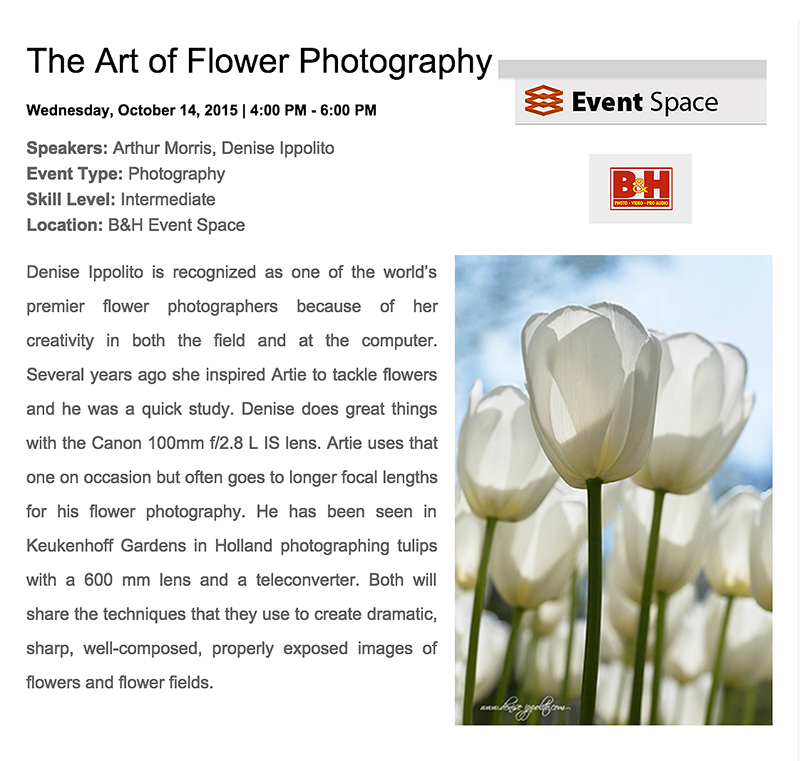 Please follow this link and the click on the "Register" button on the new page to register for the flower program.
Lenses for Bird and Nature Photography: Birds As Art Style
If you missed my first B&H Event Space program, click here to enjoy.
Learning to Create Pleasing Blurs
If you missed the Pleasing Blurs video featuring the lovely Denise Ippolito and yours truly, click here to learn, laugh, and enjoy.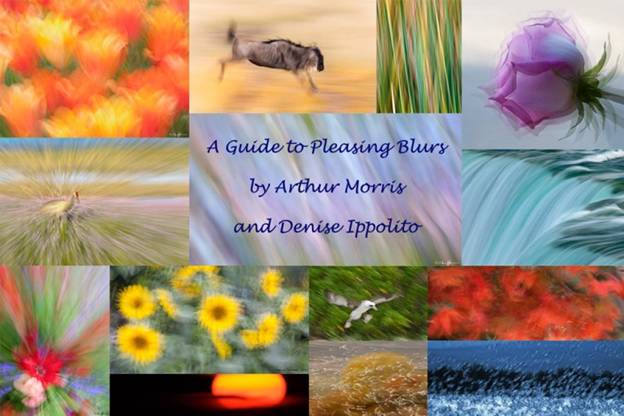 Learn the secrets of creating contest winning images in our "A Guide to Pleasing Blurs."
A Guide to Pleasing Blurs
In our A Guide to Pleasing Blurs by Denise Ippolito and yours truly, we discuss just about every technique ever used mankind to create pleasingly blurred image. Ninety-nine point nine percent of pleasing blurs are not happy accidents. You can learn pretty much everything that there is to know about creating them in this instructive, well written, easy to follow guide.
The Husband by Dean Koontz
We have your wife. You get her back for two million cash. On an ordinary afternoon, an ordinary man, a gardener of modest means, gets a phone call out of his worst nightmare. The caller is dead serious. He doesn't care that Mitch can't raise that kind of money. If she's everything to you, then you'll find a way.
Mitch loves his wife more than life itself. He's got sixty hours to prove it. He has to find the two million by then. But he'll pay a lot more. He'll pay anything.
I got this one in a trade on the 2015 Galapagos Cruise. Once I picked it up, I simply could not put it down. I finished it in one day. I loaned it to two others who like to read. They each finished it in one day. Now that is not easy to do when you are photographing and snorkeling for nine or ten hours a day but I defy anyone to put this one down….
The Queen of the Tearling, the debut novel of Erika Johansen
A #1 Indie Next Pick and LibraryReads Selection
Magic, adventure, mystery, and romance combine in this epic debut in which a young princess must reclaim her dead mother's throne, learn to be a ruler—and defeat the Red Queen, a powerful and malevolent sorceress determined to destroy her.
On her nineteenth birthday, Princess Kelsea Raleigh Glynn, raised in exile, sets out on a perilous journey back to the castle of her birth to ascend her rightful throne. Plain and serious, a girl who loves books and learning, Kelsea bears little resemblance to her mother, the vain and frivolous Queen Elyssa. But though she may be inexperienced and sheltered, Kelsea is not defenseless: Around her neck hangs the Tearling sapphire, a jewel of immense magical power; and accompanying her is the Queen's Guard, a cadre of brave knights led by the enigmatic and dedicated Lazarus. Kelsea will need them all to survive a cabal of enemies who will use every weapon—from crimson-caped assassins to the darkest blood magic—to prevent her from wearing the crown.
I got this one in a trade with Jackie Hill. I was turned off when I noted the reference to the "magical sapphire." I usually don't like fantasy, but without anything to read, I started it and quickly grew to love the writing and the heroine. I finished it quickly and loved the ending. I can't wait to get my hands on the second book of the trilogy, The Invasion of the Tearling
Eye of the Needle by Ken Follet
One enemy spy knows the secret of the Allies' greatest deception, a brilliant aristocrat and ruthless assassin—code name: "The Needle"—who holds the key to the ultimate Nazi victory. Only one person stands in his way: a lonely Englishwoman on an isolated island, who is coming to love the killer who has mysteriously entered her life.
Ken Follett's unsurpassed and unforgettable masterwork of suspense, intrigue, and the dangerous machinations of the human heart.
I am not sure why, but this one laid on my nightstand for several years. I picked it up just last week and devoured it. Great writing with a consistently breathtaking plot and an ending that will leave you crying tears of joy.